Last night I decided to sell my old cell phone on Craigslist and I didn't want to wait a couple of weeks to get rid of it.
So I implemented the following steps and I was able to sell it within 2 hours of listing it.
Here are the tips I used to sell my phone quickly and I'm sure they'll help you to sell your items on Craigslist quickly and at a decent price.
Tips to Sell Items on Craigslist Quickly
Below are my top tips on how to make sure that your item sells pronto on Craigslist.
1. Determine the Market Price
When looking for the market price, you can start by going to Ebay and checking the 'completed listings' because this will show you what has actually sold and for how much. This will give you an idea of what the demand is for your particular item.
If there is no demand then your item will not sell fast. Another option is to check current Craigslist listings in your area for similar products and see what they are going for.
If you're selling a big ticket item such as a car or boat, you can check prices online through sites like Kelley Blue Book or NADA.
2. Price it Right
Once you've done your research and checked out the market price, you'll want to price your item competitively. You can do that by pricing it similarly or slightly less than one in a similar condition to yours.
For instance, when I sold my phone on Craigslist there was a phone like mine on there for a $240 asking price, so I listed mine at $220.
Remember, just because something is listed at a certain price, doesn't mean somebody will get that price for it. If there are items similar to yours listed, you'll want to have the better deal.
3. Be Willing to Negotiate
You must be willing to negotiate otherwise you may end up stuck with the item that you are trying to sell. People always feel better about a purchase when they get a deal.
A good expectation would be to plan to sell your item for 10-20% less than the list price. When I sold the phone I talked about earlier, I listed it for $220, but in my mind I expected that I would sell it for $200.
One of the first things the guy who bought my phone asked me was what my lowest price was. I told him that I just listed it and the lowest I could go was $200. He bought it and did not even try to negotiate any lower.
4. Describe the Item in Detail
Have this question in mind when you list the product, "What would I want to know if I were buying this item?" Here are some good answers you might consider when determining what details to include in your description:
Condition
Does it have any flaws, damage, and is it fully functional?
The better you describe the condition, the less awkward the conversation will be when the person comes to look at it because they will have clearer expectations when they see the item in person.
If a person knows exactly what to expect when they're coming to see your item, the chances of purchase are higher.
However, if you list your item in "excellent" condition and it's full of wear and tear, prospective buyers will likely walk away disappointed.
Specs
What are the specific characteristics? When I sold my old phone I listed the screen size, storage capacity, processor speed, how many mega-pixels the camera was, etc.
Some people are searching Craiglist for an item with certain specifications, so if you list the specs, you will have a better chance of these types of buyers finding your listing.
For instance, if you are selling a car on Craigslist, you should consider listing the engine size, whether not it is 4 wheel drive, how many miles it gets to a gallon, current mileage, etc.
Accessories
What comes with the item? Listing the accessories is important because it could be a reason someone buys your item over somebody else's.
For example, when listing a cell phone some accessories would include a case, a car charger, or even an extra wall charger.
When selling items such as cars, talk about accessories such as heated seats, power windows, CD players or DVD players, etc.
List a Reason
What is the reason you are selling it? This does not have to be long. One sentence should do. This way people know the "why" behind the listing and they will be more comfortable about giving you a call.
Sometimes if the price is too low and there is no reason, people may avoid call because they think it may be a scam.
Or they might think you're trying to get rid of a poor quality item. If you have a good reason for selling, people are more likely to take a second look at your listing.
Telephone Number
You must list your phone number to sell it quickly. I actually don't even contact people with just an email address. Oftentimes those are scams or marketing ploys to get your contact info. Also, use the digits like this: 602-555-5555.
Don't do this: Six 0 Two 555-555Five. This is annoying because often I like to call from my cell phone. if done right, I can just touch the number when I see the ad and it instantly places a call. If you list it the latter way, this is not possible.
Special Features
Is there anything about this item that is different from others listed? If there is, make sure to put that as well.
Share special features without criticizing similar listings – the goal is to share what it is about your product that makes it worth taking a look.
Lets say you are selling fine china, make sure to list the markings, brand or anything else that is special about the item.
This could be the difference between someone buying yours or another item they find.
5. Take Good Pictures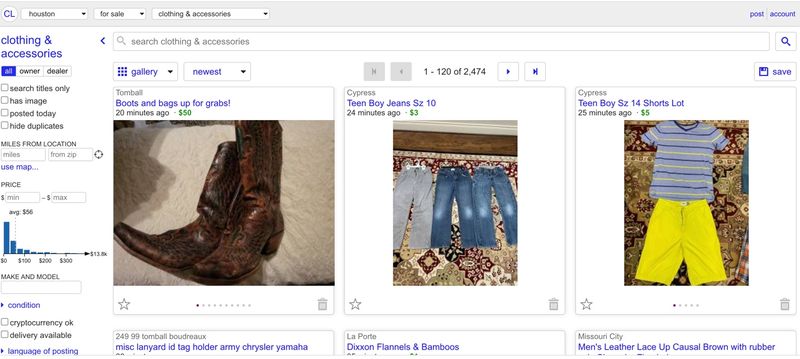 People want to know the quality of a product before they will take the time to come and see it. If the pictures of your item are taken from the Internet, that tells the buyer that you're not crazy about revealing the actual condition of the item.
If you take poor quality pictures that are blurry or have poor lighting, they might make the item you're trying to sell look in worse condition than it actually is.
You don't have to have an expensive camera to take great photos for Craigslist, but it is important to make sure the pictures are clear and taken in natural daylight for the best results.
Also, if there is any damage on an item, add a picture of that as well so people know up front what to expect.
6. Sell Items in Batches
If you have more than one item to sell, list all of the items at one time, and check the "include more ads by this user" box when you list your items.
This will help you get more exposure for all of the stuff you want to sell and might encourage potential buyers to pick up other things they need or want that you are selling, even if they're only initially calling about one particular item.
7. Allow Text Messages
The fact of the matter is that we live in a world where people would rather text than talk. If you allow text messages on your ad people might be more likely to respond and to come and see your product.
Text messaging is more convenient for potential buyers and often results in a faster response time than communicating through traditional email.
Conclusion
If you want to sell your item quickly, then you need to separate yourself from the competition.
By describing your item well, taking great pictures and making it easy for potential buyers to contact you, you have a better chance of selling on sites like Craigslist faster than the competition sells theirs.
These are tips that I have personally used to get rid of stuff fast and if you implement them, you may be surprised to see how quickly you can turn your stuff into cash.