Many people have fine china sets that have been collecting dust in a spare drawer for years. If you have a set of china that you no longer use, why not turn it into cash?
There are several places where you can sell used fine china, both online and in person. You don't even need a full set since it's also possible to sell individual pieces of china.
We've found the best places to get the most cash for your fine china.
Where to Sell Fine China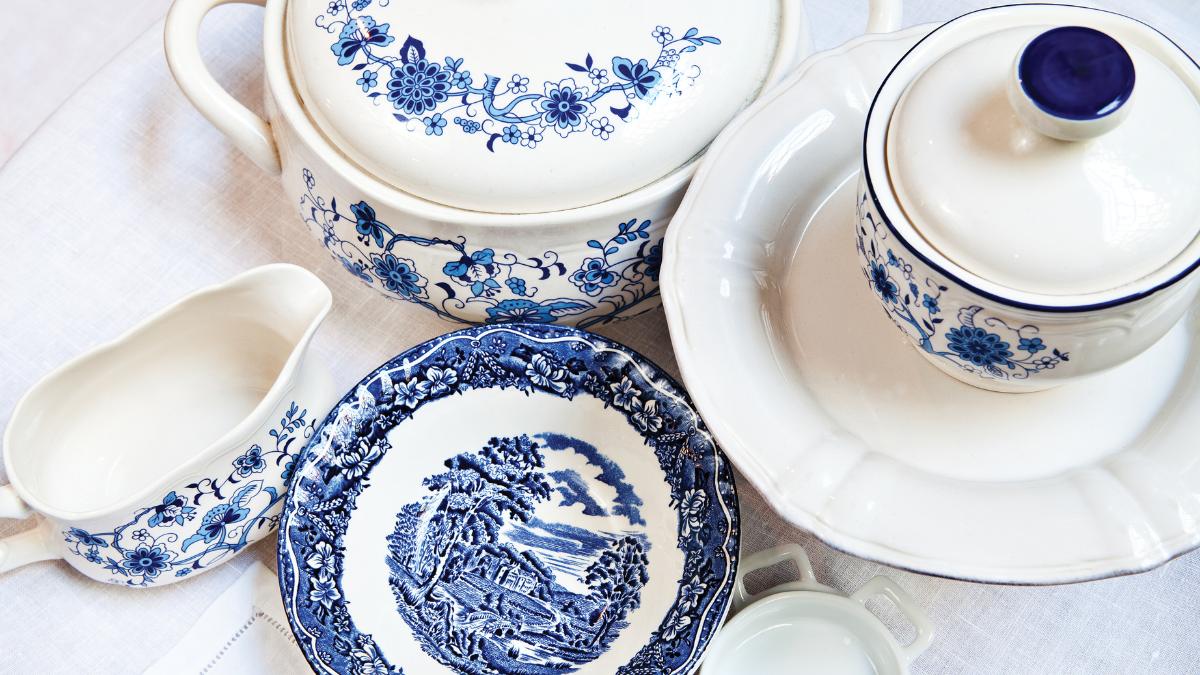 The ideal place to sell fine china will depend on how fast you want to sell your pieces and how much money you want to make. Check out this list to see which options might work best for you.
1. 5miles
5miles is a local buy/sell site that focuses on selling items within five miles of your location. However, buyers from anywhere can see your listing and make an offer.
While 5miles does charge listing fees for some items, it's free to sell fine china and other household goods on the site.
5miles is similar to Craigslist and sites like it, with very little user monitoring. As a result, it's important to take appropriate safety measures and only accept cash payments so that you don't get scammed.
2. Craigslist
Craigslist can be one of the best places to sell fine china because you won't pay a fee to sell items. All you have to do is list the items, post a few pictures and hit "publish."
It's important to note that there are no security measures in place on Craigslist. Consequently, you'll have to implement some basic security measures.
One critical safety tip is to meet your buyer in a public place. Tell people close to you where you're going and when you expect to be back. Additionally, only accept cash for purchases.
In your listing, note that the china will sell first come first served with no holds. This way, you can weed out buyers who are not serious.
3. eBay
eBay can be another one of the best places to sell fine china. The site boasts over 100 million users worldwide, which means china listed for sale on the site will have one of the largest viewing audiences.
You will pay fees with eBay. These include 13.25 percent per sale and a $0.30 fee per order.
The fees may seem high, but they are actually less than you'll pay at consignment shops and many other online marketplaces.
Another benefit of selling your fine china on eBay is that you have other comparable listings you can look at. Finding comparable listings means you can get a better idea of what price point to list your pieces for.
When selling on eBay, remember that you'll need to choose whether you'll have buyers pay for shipping or if you'll pay for it yourself. If you're choosing to include shipping in your price, consider the cost of shipping the pieces as you set your price.
4. Consignment Stores
Local consignment shops are another option for selling fine china. However, not all consignment shops accept fine china, so you'll want to check with shops near you to see if they will buy your items.
Consignment shops typically take a percentage of the selling price of your items. For example, they'll take 30% of the sale price and give you the remaining 70%. As a result, you might want to try other selling methods first to maximize your profits.
That said, if you are in a rush to sell, this can be one of the more efficient options if you need money fast.
5. Etsy
Etsy was created for designers and crafters who want to sell their handmade items online. However, there are some exceptions to the site's selling rules.
One exception is that you can sell vintage items. If your china is considered "vintage" by Etsy (over 20 years old), you can list it for sale.
Etsy boasts nearly 100 million users. The site is a go-to for anyone searching for gifts or other items that are handmade, vintage, and/or stand out from the crowd.
Note that Etsy does charge fees for selling fine china and other items.
Etsy's fees are as follows:
$0.20 listing fee for every item
6.5% transaction fee for every sale made
Payment processing fees
Payment processing fees vary based on which country you live in. Visit the website for more details on fees, the selling process and other information if you want to make money on Etsy.
6. Local Auction Houses
You might be able to sell your fine china at local auction houses. Keep in mind that most local auction houses may only accept entire sets of china. However, you might be able to find auction houses that take individual pieces, especially serving pieces.
As with consignment shops, auction houses will take a percentage of your sale. The percentage amount varies based on which auction house you're using. Additionally, some auctions will only sell your fine china if you're selling an entire estate.
That said, many auction houses have days where they sell a variety of items from different sellers. Some may also list your items online and work to sell it that way instead of via an in-person auction.
7. Mercari
Mercari is a buy-and-sell site that originated in Japan. It lets you sell everything from household goods to clothing and more.
It's free to list your fine china items on Mercari. However, when you sell items, you'll pay a 10% seller fee and a 2.9% + $0.30 payment processing fee.
There might be other fees with Mercari. For example, instant transfers will incur a $2 fee. Standard transfers are free but can take a few days to complete.
You'll be charged a $2 fee if your bank rejects your direct deposit transfer. Plus, you'll also be charged a $2 fee if you initiate a direct deposit transfer for an amount less than $10.
Learn more: Mercari Review: Is It a Legit Way to Buy and Sell?
8. OfferUp
OfferUp is a site that operates like Craigslist, but it has some added benefits. One of the main perks of OfferUp is that they show pictures of listings on the main listing page.
Another benefit of OfferUp is that each user must create a user profile. These profiles and the coordinating ratings help give you a clearer picture of who you're connecting with.
There are no fees for selling fine china on OfferUp. The platform does have a subscription plan called Promote Plus. It comes with a monthly or annual fee and allows you to put one item at a time at the top of buyers' feeds.
With Promote Plus, you can keep your one item at the top of feeds for up to a year, or you can switch your item for another item anytime. It can be a smart add-on for you to purchase if your fine china piece or set is expensive and you want to sell it quickly.
Learn more: OfferUp Review: Is It Worth It To Sell Your Stuff?
9. Pawn Shops
Pawn shops can be another great place to sell fine china. The main benefit of selling here is that you'll likely get paid immediately.
It's important to note that all pawn shops work differently. However, most will give you an offer price that allows them to resell your fine china at a substantial profit.
Pawn shops want to make that profit while reselling your china at a good price for their purchasing customers. As a result, sellers might suffer because of the large profit margin.
Your best approach when considering selling to a pawn shop is to check with several shops for offers. Then, compare those offers with offers outside of pawn shops or online buyers to choose the best selling method for you.
10. Replacements, Ltd.
Replacements Ltd. is a North Carolina-based company that focuses on connecting people with missing china pieces, estate jewelry pieces, and collectibles.
In order to sell your fine china to Replacements, you'll start by filling out the company's online form. From there, they'll send you an email with an offer price.
If you like the offer price, you'll ship the china to the company warehouse. Once they examine the china pieces for their condition, you'll either receive your payment or be notified of an adjusted offer.
Your original offer might be adjusted if your china pieces are not in "excellent" condition. You will likely be offered a lower price if the pieces have chips, scratches or other imperfections.
For example, slight imperfections will be discounted by 25% from the original offer prices. Noticeable imperfections will incur a 50% discount, and considerable flaws will incur a 75% discount.
This company focuses on reselling the china pieces it buys, so it's probably best to only use this option if your china pieces are in excellent condition.
Also, you are responsible for packing, shipping, insuring and paying for shipping for your china, which can cut into your profits. Plus, there are no guarantees that the company will buy your china until they've analyzed it.
Methodology
When evaluating different places to sell fine china online and in person, there were key criteria we assessed to determine the best options. In-depth research was performed to identify the top ways to sell fine china.
For online options, we included places that met the following criteria:
Apple App Store rating of 4.0 or higher
Multiple ratings on the Apple App Store
Reputation among industry leaders
Ease of use
Low fees
Potential for decent payouts
For brick-and-mortar options, we focused on the following factors:
Ease of accessibility
Likelihood of purchasing fine china
Potential for decent payouts
We chose this methodology to ensure we're doing our due diligence as we determine the best places for you to consider when selling fine china online or in person.
How to Sell Fine China
Selling fine china and getting the most money for your items does take some work. Follow these tips to maximize your profits.
Know What You Are Selling
Knowing what kind of fine china you are selling will help attract the right buyers. Be sure to list the manufacturer of the china, the pattern name and the year it was released.
Buyers of fine china often search for specific patterns or manufacturers, so sharing this information on your listing will help.
Be Clear About the Condition
You'll want to be transparent about the condition of your china pieces or sets. Be sure to note any scratches, chips or other imperfections.
When selling sets of fine china, make sure to note if there are any missing pieces in the set. Taking clear photos will also help potential buyers get a full understanding of the condition.
Have an Idea of Your China's Value
As you get ready to sell your china, do some research to get an idea of your china's value. Check eBay and other sites to determine what an appropriate price point would be.
If your china is older, it might be considered an antique. That means the value could be significantly higher than other fine china pieces on the market. In this case, you may even be able to sell them at some of the best places to sell antiques.
List Your Fine China on Multiple Sites
If you're selling on a buy-and-sell site, you may want to consider listing your fine china on multiple sites. The more exposure your item gets, the better chance it has of selling.
Summary
The best places to sell fine china offer a broad customer base, fair commission splits and an easy selling process.
Of course, the method you choose for selling your fine china depends on how fast you want the money, which selling method is most convenient for you and your own personal preferences.
Whether you use a selling app or a brick-and-mortar option, these places to sell fine china can help you declutter while putting some extra money in your pocket.