Selling your stamp collection can be an easy way to make money while downsizing your belongings. There are several places to sell old stamps that can have a high collectible value.
It's possible to get free appraisals to compare buyers and receive quick payments. Your appraisal offers can vary widely depending on what's in your collection so it's essential to find the best stamp prices.
Where To Sell Stamps for Cash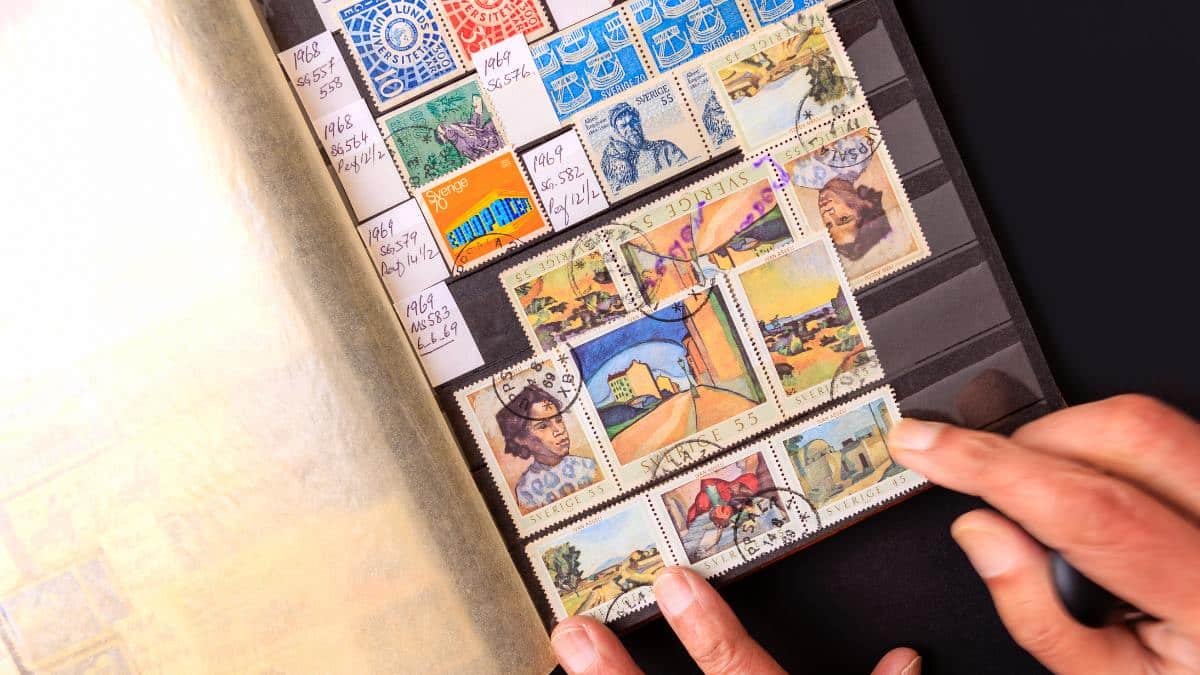 Finding stamp collectors locally and online is easier through these platforms.
1. Apfelbaum
Apfelbaum has been helping philatelists expand their stamp collection since 1910. It's possible to ship your valuable stamps with free shipping directly to the merchant and receive an instant cash offer.
In-person appraisals are also available for high-value portfolios. An Apfelbaum representative will travel to your location to make an evaluation. For example, the service can help you prepare for auctions or estate planning.
You can start the process by providing your name, email and phone number. A representative will help you decide if mailing off your collection or a local appraisal is better. You will receive a prepaid UPS shipping label when your stamps are ready for shipment.
2. eBay
Consider eBay to sell a collection that may consist of many common issues or might be too small to sell through a specialized stamp-selling service. You may also be able to earn more through this platform as you are connecting with philatelists directly and can pay fewer fees.
Here are some examples of recent product listing titles:
1,000 Stamps From Hoard Of Millions of Stamps I Collected for 70 Years I've Quit
Mint US Postage Stamp Lots 50 to 120 years old MNH Vintage Stamps
1000s All Different Old World Stamps
Discount Postage — Over $25 Face Value
Many listings sell used stamps at approximately $15 for 1,000 stamps. There are also many listings for modern U.S. Postal Service Forever Stamps and can still be used to mail letters in addition to being collected.
You can also sell rare stamps and make money on eBay. The most valuable single stamps sell from $6 to $10,000. The seller fees are 13.25% for the first $7,500 in transactions and 2.35% on amounts above $7,500.
3. Etsy
You can successfully sell postage stamps on Etsy that are excellent matches for craft supplies or wedding invitations.
There are many listings for vintage stamps that are in mint condition and are hard to find. Some sellers organize their collection by theme such as by color (blue, red, green) or theme (Christmas, historical figures, wildlife).
While you most likely won't be selling to a traditional stamp collector, you might be able to make more money on Etsy if you have an elegant collection. That's because the new owner will be proud to display in their home decor.
It's free to create a seller account but each listing costs $0.20. Additionally, you pay a 6.5% transaction fee when an item sells plus a payment processing fee of 3% plus $0.25.
4. Facebook Marketplace
You may prefer selling rare stamps and postage stamp lots on Facebook Marketplace as you don't need to risk damage or loss during shipping. Further, the potential buyer can inspect your collection before paying which can lead to a smooth negotiation process.
Local sales are fee-free although the seller fee is approximately 3% for sales requiring shipping. Your friends can share your listing which may help you connect with a buyer sooner.
I personally find Facebook to be one of the best apps for selling locally as it has many active users and numerous product listings. It's also nice having the ability to view the buyer's profile to look for potential scams and arrange contactless pickups due to schedule conflicts.
5. Mystic Stamp Company
The Mystic Stamp Company is a well-known stamp seller in operation since 1923 with a mailed catalog and online orders. I purchased stamps several times from this service during my stamp collecting days.
You can sell these types of postage stamps to this company:
United States
Foreign
United Nations
First day covers
Specialty collections
First, start by calling Mystic or submitting an online inquiry providing the basic details about your collection. There are separate contact forms for casual and serious collectors. From there, you can decide if it's worth mailing your collection for an appraisal.
One downside is that you will pay for shipping. Additionally, your final appraisal value can differ from the initial estimate.
6. Sandafayre
Sandafayre operates from the United Kingdom but is open to international sellers and buys international stamps. Shipping expenses for United States-based sellers can be higher because of the geographic distance.
Depending on the value of your collection, you can receive an instant purchase offer for less valuable portfolios. The platform may recommend public auctions for rarities and high-value stamps.
You can start by emailing images to the vendor for a quick assessment. Next, you can mail your collection or visit their Knutsford, Cheshire office for an in-person appraisal.
7. Sotheby's
Sotheby's can help you sell valuable stamps in various public and private channels. Auctions and online buy-now listings are popular but private sales and retail locations are available for exclusive products.
Receiving a preliminary estimate is free and your items can be listed for sale within 20 days. You will send pictures and a basic product description to complete the initial estimate.
Depending on the type of listing, you may need to send your item to Sotheby's to prepare the item for sale. Your agent will review your collection and help you navigate the selling process. Transaction fees vary by sales method.
Many listings on this platform are typically 100 years or older. However, modern stamps such as rare first day covers or sketches are also likely to sell.
8. Stamp Dealers
Working with a local stamp dealer can help you make a quick sale when you don't want to spend time finding a buyer or preparing your collection for the mail.
To add a layer of credibility, look for dealers associated with either reputable organization:
If you're trying to sell international stamps, you can also find dealers that specialize in a particular region or topic. Several dealers accept mail shipments if you are comfortable with a long-distance transaction.
One benefit of going local is that you can receive a free appraisal that you can accept or reject without processing delays or return shipping costs. You can receive competitive purchase offers and can be an effective option for stamps not valuable enough to take to auction.
9. Warwick and Warwick
Warwick and Warwick conducts monthly online stamp auctions in the United Kingdom. It can be an excellent option for rare stamps from across the commonwealth and non-British entities. UK residents can request in-person pickups for extensive and valuable estate collections.
Appraisals are free but you will need to pay for shipping. Return shipping costs are incurred after an unsuccessful auction or assessment. Unsold items can also relist for an upcoming auction for a lower price. Auction fees are approximately 21% of the hammer price.
In select situations, the platform will negotiate private treaty sales to guarantee a certain transaction price instead of risking earning less at auction.
The standard payment method is by bank check once a buyer submits payment. Additional payment options are available but should be discussed upfront.
10. West Coast Stamp Company
The West Coast Stamp Company purchases domestic and international stamps of any size or quantity. You will receive a free appraisal and the merchant pays for shipping or will visit you.
Your payment options include check or wire transfer. Some online customer reviews indicate receiving payment in as little as three days after mailing off their stamps, although more extensive appraisals can take up to seven days.
You can start the selling process by providing your name, email and phone number from their website. Residents of Fresno, California can visit their local store for same-day appraisals and payments but should schedule an appointment first.
After conducting the appraisal, the dealer sends payment within one business day after accepting your offer. Return shipping is free if you reject the appraisal bid.
Sell Your Stamp Collection for Money
Here are several tips to sell your stamps for more money.
Look for Pre-1930 Stamps
Stamps with issue dates before 1930 tend to be more valuable due to higher scarcity levels. Their collectible value can be higher than the face value. Stamps with a higher face value tend to be more valuable as fewer were made and even less remain in existence today.
While old to present-day consumers, stamp production levels increased significantly starting in the 1930s and there are many used and unused issues on the market. Consequently, most stamps produced within the last 90 years are "modern" and more likely to sell for face value.
Organize Your Collection
Being organized can require more time but the effort can be worth it if you are able to make a few extra bucks. For instance, you might sort your stamps by issue year or country instead of having a mixed bag the buyer must sift through to assess the value.
Mounted stamps in a clear plastic sleeve can also fetch higher premiums as they are protected. However, stamp mounts add cost and are space-consuming which can make them a hassle to store and transport.
Sell Unused Stamps
Unused stamps can be more valuable than those with a postmark as they are rarer. A few exceptions aside, ones without errors, fading and wrinkles can be worth more.
Further, it's common for stamp collectors to hinge old stamps which may use some of the gum to keep the item in place. Non-hinged stamps with undisturbed gum are more valuable as the collectible is closer to its original mint condition.
Sell Directly to Collectors
It can take longer to sell directly to a person, but you avoid the intermediaries who also need to make a profit. Facebook Marketplace, eBay and sites like OfferUp can be the best way to connect with collectors with no or minimal seller fees.
Use a Stamp Catalog
Consider picking up a copy of the Scott Stamp Catalog before getting price appraisals so you have a ballpark idea of a stamp's current market value. Stamp dealers may ask for a "Scott number," which is the identification number for a particular stamp in the catalog.
Possessing a rough idea of how much your stamps are worth makes it easier to compare buyback offers and avoid low-ball appraisals. You should strive to receive fair market value and a price guide can be worth the investment.
Frequently Asked Questions
Here are several factors to consider as you try selling postage stamps for more money.
Where can I sell stamps near me?
Finding a stamp dealer nearby can be the quickest way to sell your stamp collection as they will provide instant cash offers.

However, you might be able to receive a higher premium by selling directly to collectors on Facebook Marketplace and other local buy-and-sell apps but must wait for a buyer to contact you.
How much are forever stamps worth?
The U.S. Postal Service began issuing "Forever Stamps" in 2007 and the face value is always worth the current first-class postage price for one ounce. New stamps sell for $0.66 each as of August 18, 2023.

Forever Stamps purchased before a postage rate increase are worth the new rate even though you spent less. So, if you bought the first-ever Liberty Bell forever stamp for $0.41, it now has a face value of $0.66 and will continue to match future postage rates.
What stamps are worth the most money?
U.S. postage stamps issued earlier than 1930 are more likely to sell for a premium higher than face value as they are rarer. More specifically, unused postage stamps minted in the 1800s are usually the most valuable.

Three of the most valuable stamps to sell at public auction are the 1868 Ben Franklin Z Grill ($3 million), 1918 Inverted Jenny ($1.74 million) and the 1867 Abraham Lincoln Z Grill ($1.6 million).
Summary
Comparing online stamp dealers can be the quickest way to see how much you can make and receive payments soon.
However, you may try selling locally or on a do-it-yourself selling site to avoid fees and sell stamps that dealers may not be interested in.