Selling stuff online is a good way to make extra cash. For example, I bought a modem/router at a yard sale for $5 and sold it for $60 on eBay.
If you like that kind of profit margin, you might want to consider selling stuff on eBay or similar sites as a legitimate side hustle. You can make some serious money if you do it right.
For example, this mom makes $3,000 per month selling thrifted clothing on eBay. The key to success is doing it right.
Because of that, we're sharing 14 things to consider when selling stuff on the internet.
How to Make Money Selling on eBay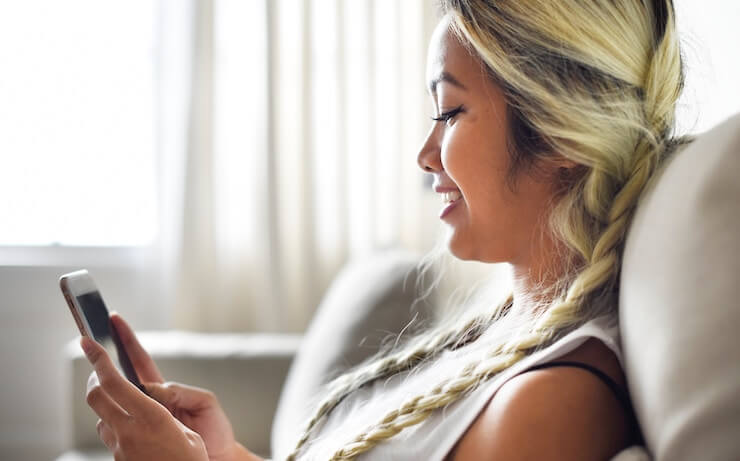 You can sell items on eBay successfully. You just need to know how to do it. Here are some tips for making money selling on eBay.
1. Stick With What You Know When Selling on eBay
Many successful eBay sellers buy items low and then resell them at a profit. To do this, work on reselling items that you are familiar with.
For instance, I used to work at Ultimate Electronics so I am very familiar with what different electronics are worth. That's why, when I'm looking for stuff to resell on eBay, I focus mostly on finding good deals on electronics items.
What products do you know the most about? You'll likely have the best results selling those types of products. For that reason, search for items in those categories to avoid taking unnecessary risks.
2. Check What Price the Item HAS Sold For on eBay
Another good tip for eBay selling success is to search for the product on eBay before you purchase it. You can download the eBay mobile app if you haven't already. It is available for both Android phones and iPhones.
Use the completed listing feature to see what it has actually sold for. As I talked about previously in How to Sell Things on Craigslist Extremely Fast, it does not matter what people have an item listed at now. What matters is what sellers have actually been able to get from a buyer for a particular item in the past.
By checking previous sold prices for an item you're thinking about buying to resell, you can get an idea of what you need to pay for it to make a profit.
3. Buy Only Quality Items to Sell on eBay
Selling quality items on eBay is another important tip. I once bought an item with a broken accessory. I listed it at a price below one without any accessories.
I clearly disclosed that the accessory was cracked, but I still received negative feedback and it was a huge hassle. For that reason, I now make sure to only buy fully functional items that are in very good condition.
Don't bother with sub-par products. Rather, focus on selling quality items in great shape and keeping customers happy.
4. Purchase High-Margin Items to Sell on eBay
I used to sell items that I knew I could make $5 or more with. The challenge with having a profit margin that low is that you start losing money on the first product that is returned.
Shipping is not cheap these days. Let's say you pay $5 to ship the item each way. Consequently, if you have a return, that means you are out $10 in shipping costs — and you still have to try to resell the product.
Because of this fact, I usually won't bother with selling items unless I can make $20 or more.
Related Post: 19 Simple Ways to Make Money With Retail Arbitrage
5. Post Great Pictures on eBay
Including high-quality photos of the items you're selling is equally important. eBay buyers want to know exactly what they're getting, and they don't care for surprises.
Similarly, great pictures show you're running a professional business. Be sure to use a higher quality phone or camera when taking pictures of things you're selling on eBay.
Set up an area of your home with a plain, attractive background. Use a cheap drop cloth if you need to. Make sure the lighting is good enough that you can see the item and key features clearly. Then, take several pictures of the item from all angles.
6. Write Great Descriptions for Items You're Selling
Writing a detailed description is very important, too. Be thorough with the details about what you're selling. In addition, include any negative facts they might need to know.
For instance, if you're selling a phone with a lower storage capacity, be sure to mention that "this phone has an 8GB storage capacity," for example. Be honest.
Also, point out the item's attractive features and benefits. For example, you might say, "This is a great starter phone for a younger child."
Look at descriptions for similar products to get an idea of how to write your descriptions.
7. Price Your Item at or Below Competitor Prices
Another tip for eBay selling success is to price your items at the going rate on eBay — or lower. I've used this tip regularly and it's worked well.
For instance, let's say you've found a great deal on an old iPhone. If you see others that are a similar model and in a comparable condition selling for $300, try pricing yours at $290 or $295.
Those few dollars can make the difference when a buyer is deciding which seller to go with. If you're selling lower-cost items, just reduce your price by a few cents or a dollar.
8. Consider Offering Different Payment Options
Another way you might find success is to consider more than one payment option. For example, you might take debit card payments from buyers.
Note that if you do that, you will likely have to pay fees from a debit card processing company.
9. Keep Shipping Costs in Mind
Shipping costs can take a huge bite out of your profit when selling on eBay. Furthermore, if you have to pay for return shipping costs, you're losing even more money.
Therefore, it's important to keep shipping costs in mind when listing your for-sale items. Work to find the best method of shipping for the products you are selling.
In addition, be honest with buyers about how much you'll charge for shipping. Another option is to include shipping in your sales price.
However, make sure to raise your price accordingly if you do this. Or to buy your item at a lower price to make up for shipping costs.
10. Choose the Right User ID on eBay
Choosing the right user ID for your eBay account is more important than it might seem. As your business grows, people will start searching for you within eBay.
Consequently, you'll want to have a user ID that is easy to remember and reflects your niche. Consider several options until you come up with something that is easy to remember and helps people identify your niche.
You'll want them to be able to recall your user ID quickly when telling others about your store, too.
11. Maintain 100% Feedback on eBay
I am very comfortable purchasing products on eBay because of their feedback system. It seems to do a great job of weeding out the "bad" sellers.
Because of this, as a seller you should do everything you can to make sure the buyer is 100% satisfied. This includes but is not limited to:
Shipping items quickly.
Clearly describing the product.
Communicating promptly with the customer.
Packaging the product so that it arrives safely.
Remember, you are running a business. Therefore, treat it like a business and work to keep customers happy. Strive for that 100% rating and fix any issues that arise promptly.
12. Be Clear About Your Policies on eBay
It's important to be clear about your business policies when selling on eBay. Clearly describe return policies, shipping policies, warranties, etc.
This way, potential customers will know exactly what to expect when buying from you. In addition, if a customer is unhappy after buying your product, you can revert to your clearly stated policies.
You may still end up bending those policies on occasion to keep a client happy. However, you can remind them of the policies for any potential issues going forward.
13. Consider a Shipping Schedule
In order to help your business run more smoothly, consider setting up a shipping schedule. Doing so will help you avoid running to the post office every single day.
Or, have a set day of the week when UPS or another carrier comes to get packages from your house. Along with helping you cut down on shipping days, a set shipping schedule will help clients better know when to expect their orders.
14. Keep an Eye Out for New Products to Sell
A niche is important when selling on eBay. However, that doesn't mean you can't expand your niche or add a second one.
Work to keep an eye out for new products you can offer your customers. For instance, if you sell smartphones, consider expanding and selling smartphone accessories.
Or, look into selling smartphone cases. Work to stay within your niche while still finding coordinating or similar products to offer your customers.
Summary
Selling stuff on eBay can be a profitable venture when done right. Make sure you take the steps to find an item you can make a profit on.
Then, create a great listing, let buyers know your policies, and strive for 100% satisfaction in order to get repeat customers.