If you are a pro at finding amazing deals on items that people want, you may be able to make some extra money with retail arbitrage.
This secret side hustle can be a great option if you need cash and know how to flip items for profit.
We'll show you how retail arbitrage has the potential to help you reach your financial goals.
What is Retail Arbitrage?
At its most basic level, retail arbitrage is the practice of buying retail items at a low price and then reselling them for a profit.
You do this by getting bargain rates on a variety of different products that you find online or in person at stores.
Once you find a great deal, you resell the item at a higher price on Amazon, eBay or using your own ecommerce store.
How Do You Make Money With Retail Arbitrage?
It takes some time, knowledge and experience to make money with retail arbitrage.
In order to be successful, you must ensure that the spread between what you pay for items and what you sell them for is large enough to cover your time and expenses.
Before buying an item to resell, make sure to evaluate how much your time is worth to ensure you are making a decent profit. If you plan on shipping items, make sure that cost is considered as well.
Where Can You Find Inventory For Retail Arbitrage?
The first part of succeeding at retail arbitrage is to find inventory at the right places. Here are some ideas on where you can search for great deals on products you can resell.
Thrift Stores
Thrift stores can be a great place to find inventory for retail arbitrage. This is because thrift stores are often ripe with new and gently used clothing and household items.
Most thrift stores don't charge over $5 or so for clothing items. Household and personal items such as accessories are priced affordably as well.
Visit local thrift stores on deal days to save even more on your purchases.
Department Store Clearance Racks
At the end of each season, your local brick-and-mortar department stores will clear out all the seasonal merchandise by selling it at lower prices.
For instance, you can expect super low prices on any remaining summer items once autumn rolls around.
Clothing, outdoor patio furniture and summer toys will be on clearance. Stores do this because they need to clear the merchandise out to make space for fall items.
If you search well, you can get great deals on clearance items that you can turn around and resell.
You also can take advantage of clearance deals by shopping at retailers' online stores. Some of the deals might not be offered in-store.
If you can meet the free shipping requirements, you can save even more. The cheaper your items, the higher your profit when you sell.
Tuesday Morning
Tuesday Morning is a retail store chain that specializes in selling closeout merchandise from other retailers.
The company has over 400 stores located throughout the United States. If you live near a store location, you might be pleasantly surprised at the deals you can find.
Search for items that are easy to ship and will appeal to a wide variety of buyers.
Video Game Stores
If a video game store has a game or package deal on clearance, you might be able to find some arbitrage deals.
Selling video games can be lucrative because many people enjoy this hobby.
One area to consider is retro video games. These are games that are no longer made but often make a comeback.
Parents introduce their favorite childhood games to their children and the games become popular again.
Bookstores
Books are another great arbitrage item since you can ship them at the discounted media mail rate.
You can look for sales and bargain bin specials at your local bookstores. Thrift stores and garage sales might sell books for cheap as well.
As with any item you plan to flip, your profit potential increases if you can buy large quantities.
Some merchants will give you a bigger discount when you buy in bulk. However, buying more items requires a larger initial investment.
Fortunately, you can recoup your money with increased sales volume. Just be sure to price your books for a profit.
If you plan on selling textbooks online, check out the 26 best places to sell books and textbooks online for money.
Grocery Stores
You may be able to score exciting deals at grocery stores. If you can find a store that is clearing out non-perishable items, you may be able to get a bargain.
Grocery stores that are going out of business are another option for finding deals.
Each grocery store has a clearance section. You might find your best deals in the middle of the week when stores restock their aisles.
Weekends can result in cleared-out shelves. You may have better luck on Mondays and Tuesdays.
It can also pay to visit several stores across towns. This is because some areas tend to discount more products than others.
Walmart or Target Clearance Sales
Target and Walmart can be great places to find inventory for retail arbitrage.
Look at season clearance items, but search store racks and end caps for items that the store simply wants to get rid of so they can make room for new merchandise.
Don't forget to search Target and Walmart online as well. You can find some great deals on their websites.
Costco and Sam's Club
Warehouses like Costco and Sam's Club are known for selling items at great prices.
If you can double down on those prices by finding clearance items, you may be able to earn cash by reselling them.
It does help to know how to spot clearance prices at warehouse clubs. For instance, Costco clearance prices always end in "97," like $10.97.
Sam's Club clearance prices usually end in a "1," such as $15.91 or $7.41. You might find a "C" on the sign as well, which can indicate a clearance price.
eBay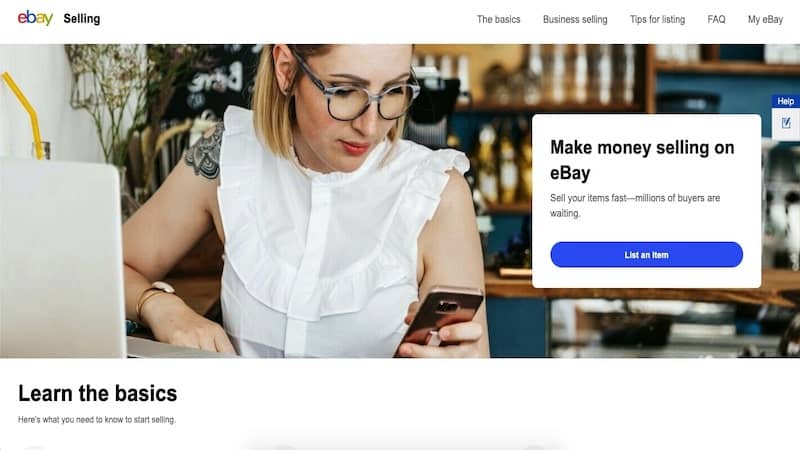 You could consider looking at eBay for deals. Your best option might be finding items available for local pickup.
Local items might sell for a higher amount on a different selling platform. Note that they may need some slight refurbishing.
Bidding in low-price auctions can also be advantageous.
When you're ready to resell the item, you can list it on eBay, Amazon or Craigslist. Alternately, you could choose another online or physical store.
Ikea
Many people rave about Ikea products. However, if you don't live near a store, you have to pay for shipping.
You can buy items from Ikea and offer free Amazon Prime 2-day shipping.
This will be cheaper than Ikea's shipping costs, and you could make a profit. It's also possible to offer Ikea products on eBay with free shipping to allow for additional product exposure.
Toy Stores
You can visit the clearance section of toy stores for timeless toys like Legos and Barbies. Choose toys that are always in demand.
Maybe you even played with some of these toys as a child. Toys based on the latest movie or game might be profitable as well.
However, these toys can be a bigger risk because their demand usually decreases over time.
Dollar Stores
You could have success at in-person or online dollar stores. Receive a discount by buying in bulk, then charge retail prices.
Sometimes dollar stores sell products for $1 that are selling for the normal retail price on Amazon.
Buy what you can and sell it online to pocket the difference as profit.
You could find deals by buying from wholesalers, too. Some that sell to brick-and-mortar dollar stores will also sell to you.
Where to Sell Items For a Profit
Many retail arbitrage side hustlers target specific outlets when they go to resell the items they buy.
You can resell just about anywhere, but consider these options to start.
EBay
EBay is a popular site with retail arbitragers. Although eBay is welcoming to sellers, be prepared to pay fees.
Basic (non-business) sellers will pay about 12% as a commission on each sale. Business sellers can choose from one of three seller plans.
Prices for the business seller plans range from about $60 per year to over $700 per year. You can choose monthly or annual plans.
This means that eBay can accompany your retail arbitrage business through several stages of growth.
Amazon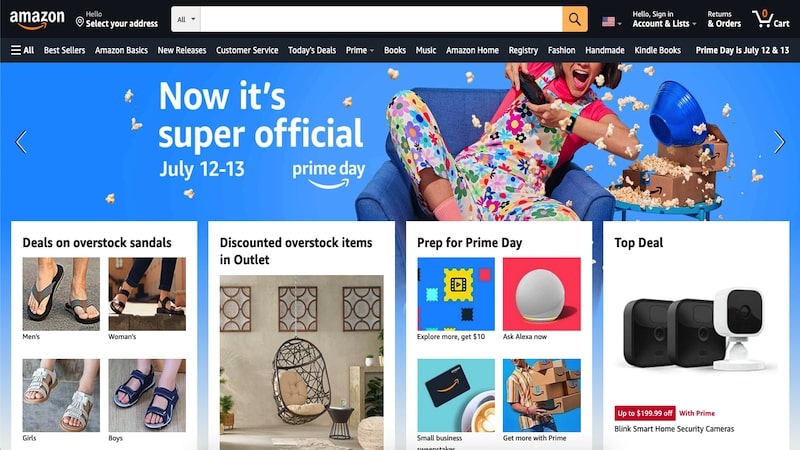 You can also resell your goods on Amazon with the Amazon FBA program. The program will show you how to set up an Amazon seller account.
From there, all you need to do is buy the product and send it to the Amazon fulfillment center (warehouse). They will ship it to the buyer when you make a sale.
If you need more of a tutorial on how it all works to flip items on Amazon using the FBA program, check out this retail arbitrage guide from The Selling Family. It will give you a rundown of how retail arbitrage works.
There are also a couple of best practices to follow when it comes to reselling items on Amazon. These can help you maximize your success.
Use the App to Scan Clearance and Sale Products
Before you begin buying and selling, you'll want to do some research on prices for the types of items you want to sell. The Amazon Seller App can help with this.
Look for items you think may be bargains and easy to sell. Then find out what the same item is selling for online using the app.
If you can't sell it for close to or less than the price Amazon charges, you need to find another item.
Buy Products With a $3+ Profit and 50% ROI
It's important to be sure that your spread is profitable enough to cover the work you put in to find your items and sell them.
Make sure that every item you sell meets two criteria:
It ensures you earn at least a $3 profit (after expenses, shipping, etc.)
You get at least a 50% return on your investment
Another rule that The Selling Family recommends is the 3x rule. This rule states that you shouldn't buy an item unless you can sell it on Amazon for three times the purchase price.
The 3x rule works best for items you can resell for $15 and up. So, your sale price of $15, minus your purchase price of $5, minus fees of $5, equals a profit of $5.
Using little tips like these when you look for items to sell helps ensure you're not making too small of a profit for your efforts.
OfferUp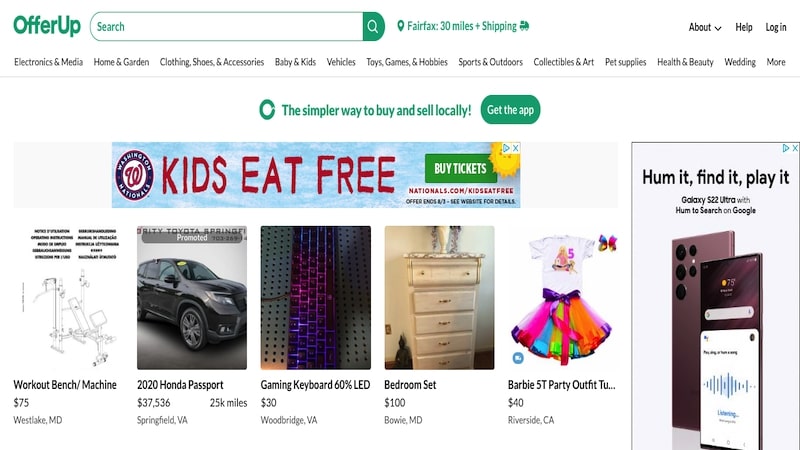 Selling on OfferUp or sites like it can be another option. OfferUp can be a bit more appealing to buyers than Craigslist simply because it features photos right on the homepage.
Great photos attract buyers and help make an item more likely to sell faster. With Craigslist, you have to click through a page or two before you get to photos.
This can be a hindrance to fast sales. Homepage photos are one reason OfferUp is fast outpacing Craigslist as a go-to online sales site.
Your Own Store
Another option is to start your own ecommerce store to sell items. You can do this by creating your own site through a hosting service like Bluehost or using a platform like Shopify.
To have the best chances of success with this option, make sure to use great photos and price your items competitively.
Retail Arbitrage Tips
Retail arbitrage can be profitable. However, like any business, it can also be an utter failure. Here are some tips to consider as you begin your retail arbitrage venture.
Know Your Numbers
It's critical to know your numbers if you're going to succeed at retail arbitrage.
Have set numbers you can stick with to ensure you make a decent profit once an item sells. Don't waste your time on items with a low profit margin.
Similarly, work to learn how much of an item you should buy from a quantity standpoint. If you choose the right items, you should buy as many as you can get your hands on.
Learning the numbers will take time, but you'll get there if you keep putting in the effort.
Don't Assume
Another tip for a successful retail arbitrage side hustle is to never assume.
It's easy to fall into the habit of thinking that just because you wouldn't buy something, another person won't either.
Never assume. We all know what "assume" stands for. People have different tastes and different needs.
Use outside metrics such as the Amazon Best Seller Ranking to help you get an objective idea of what might sell.
Learn Store Markdown Schedules
Make sure you know the markdown schedules of stores around you. You can do this by simply keeping an eye on when certain items tend to get marked down.
Or, if you're brave enough, you can ask an employee at your favorite stores.
If you can catch markdowns as soon as they happen, you can get more of the items you want to resell and hopefully increase your profit in the process.
Be Patient as You Learn
Succeeding in your new retail arbitrage business is going to take patience. It takes time to learn how to find the best deals.
Learning markdown schedules takes time, as does understanding which items will sell and which won't.
You will probably lose money on some items as you learn what sells, what doesn't and what you need to price items at in order to earn a profit.
Be patient with yourself through the trial and error period. Keep pressing forward and taking notes as you learn what works and what doesn't.
Take Your Time in Each Store
Don't rush yourself in each store. Get to know the layout and where they display their clearance and closeout items.
Taking your time to learn the ins and outs of each store will help you save time in the long run.
Eventually, you will know exactly where to go to find the best deals at each store.
FAQs
Here are some answers to frequently asked questions you might have about starting and running a retail arbitrage business.
How much money can you make with retail arbitrage for Amazon FBA?
It depends. The amount of money you can make is based on which items you resell, how much you paid for those items, demand for your items and more.

How much time and money you spend on your business will be a factor as well. Using your time and resources wisely will help increase your profit.
Can I find free things to use for retail arbitrage?
Yes. The first thing you should do is check out your own closets and storage bins for items to resell.

Next, you can hit up local garage sales to find freebies. Many garage sale hosts will start giving away items as the end of the sale draws near.

Lastly, check out the free sections of Craigslist and sites like it. You never know what you might find.
Aside from retail stores, where else can I find items for retail arbitrage?
You can look for items to resell at your local library. Libraries sell used books at steep discount prices. They often have giveaway sections of books as well.

Flea markets are another place you can shop to find items to buy cheap and resell for a profit.

As with other outlets, it's important to know that you're buying at a price that will allow you to sell for an attractive profit margin.
Summary
Starting a retail arbitrage side hustle can be a great way to make extra money, but it will take some learning on your part.
Don't expect to jump in and get rich within the first six weeks. Learn the process and learn from your mistakes as you go. If you do, you'll be on the road towards reaching your financial goals.