Beanie Babies were a 90s craze, but many people still collect them today. According to the manufacturer, there are over 800 different varieties.
If you collected these toys back when they were a hot commodity and are ready to turn them into cash, you are in luck. We've found the best places to sell Beanie Babies.
Where to Sell Beanie Babies
There are many places to sell Beanie Babies for top dollar. The best place to sell them will vary depending on the timing and demand.
Whether you are looking for an online option, a selling app or a local brick-and-mortar store, these are the best places to sell your Beanie Baby collection.
1. Antique Stores
Since Beanie Babies were hot in the 90s, some people consider them to be antiques. As a result, you can head to a local antique shop and likely find Beanie Babies for sale. These stores may buy your collection as well.
Your best bet is to find antique stores specializing in vintage toys. This will help you get the actual amount your Beanie Babies are worth since these stores have a customer base for them and know their value.
To make the most money selling at antique stores, consider selling Beanie Babies in perfect condition with tags attached and no visible damage.
Antique stores are also a good option if you have a large collection of Beanie Babies because they can buy items in bulk. However, you'll want to sell rare Beanie Babies individually in order to ensure that you don't get shortchanged on their value.
2. Bonanza
Bonanza is an online marketplace with a high Apple App Store rating. It lets you sell almost anything, including Beanie Babies.
The site charges lower fees than other online options, like eBay. For example, it charges $0.25 for each item you sell and a 3.5% final value fee.
Plus, you can use the same listings you used on other platforms, like eBay or Amazon, and integrate them into the Bonanza platform.
Keep in mind that you're responsible for shipping the items to the buyer, so include that cost in your prices to ensure you don't lose money.
3. Collectible Stores
Depending on where you live, there might be a few collectible stores interested in buying your Beanie Babies. Like antique stores, it's best to find collectible stores specializing in toys for the best results.
Consider getting quotes from a couple of different stores to see who can give you the best price.
Since they operate as the middleman, these stores pay you less than you might get selling your Beanie Babies directly. As a result, you'll want to choose the store that charges the fewest fees.
Also, make sure that you'll be paid immediately when you sell to collectible stores. Some stores sell items on consignment, so you won't get paid until the items sell. Depending on the demand for Beanie Babies in your area, this could take months.
4. Craigslist
If you prefer to sell directly to buyers instead of using a middleman and want to keep it local, consider selling on Craigslist. The platform has a high score on the Apple App Store.
It's free to list your Beanie Babies for sale on Craigslist, but it's also up to you to handle any questions, negotiations and payments. It's a good idea to have a way to vet buyers to ensure they are interested and will pay.
If you offer local pickup, consider doing it at a public place, like the local police station or another popular area. This can ensure your safety.
Selling Beanie Babies locally may get you the most money because you'll have a niche audience or people interested in Beanie Babies who might be willing to pay more.
5. eBay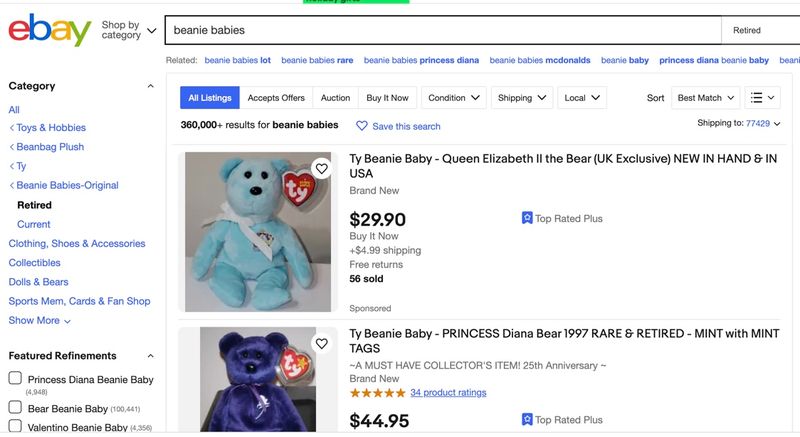 Everyone knows eBay, and it's even better today than it was when it first launched. It's a great marketplace when selling collectibles or antiques because you can appeal to a niche audience using the right keywords.
The platform is easy to use and has a high Apple App Store rating. That said, they charge listing and final value fees. Keep that in mind when you list your products.
You can sell items on eBay at a fixed price or create an auction by setting the minimum bid. It's even possible to set a reserve price if you want to make a certain amount before accepting a sale.
The site has the largest audience out of all the options on this list, so you'll appeal to people worldwide. However, before creating your listing, you should determine where you'll ship to.
You must also decide if you'll pay the shipping costs or pass those on to the buyer. If you make the buyer pay for shipping, you must note that in the listing.
6. Etsy
Most people know Etsy for its crafts, handmade goods and art. But did you know they have a large audience for collectibles as well?
Opening an Etsy store is easy and free. Like most apps on this list, there are fees, including a listing, transaction and payment processing fee. It costs only $0.20 to list an item, but the transaction and payment processing fees depend on the item's cost.
When selling on Etsy, you set fixed prices and decide how to ship the items. Buyers can view your items, save them or ask questions through the platform.
Etsy works best with a large collection because you can fill up your Etsy store with them, selling them individually or as a bundle, depending on the demand.
Plus, you can be confident that the platform is respectable thanks to its high Apple App Store rating.
7. Flea Market
If you love talking to people about your collection and don't mind spending a couple of days each month at a flea market, you can make good money selling your Beanie Babies there.
Most people who attend flea markets are after antiques and collectibles. Check out the most popular flea markets in your area and choose a time that makes the most sense for the Beanie Babies you have to sell.
While you'll likely deal with some hagglers or people who offer a lower price than what you're asking, flea markets can still be fun. Not only can you sell your collectibles, but you'll even meet other collectors.
Another benefit of selling at flea markets is you don't have to worry about shipping. That said, you'll likely pay a fee for the booth.
8. OfferUp
OfferUp is another online marketplace that allows people to sell their items, including Beanie Babies.
You can list items for local sale, accept cash payments and pay no fees. However, there might be service fees if you offer to ship items or take electronic payments.
Fortunately, OfferUp is transparent with its fees, so there aren't any unpleasant surprises.
All communication goes through the app, so you don't have to worry about divulging personal information. You can also set up local sales to be picked up in a safe location or offer to ship for non-local buyers.
With a high rating on the Apple App Store, you can use this app with confidence.
Related: OfferUp Review: Is It Worth It To Sell Your Stuff?
9. Pawn Shop
Pawn shops can be a good option if you need cash fast. However, it's best to find pawn shops specializing in toys and collectibles. Otherwise, you might not get nearly as much as your collectibles are worth.
It's best to sell the Beanie Babies that you can't sell to antique shops or directly to customers to pawn shops instead. This way, you can get higher prices for your more valuable collectibles elsewhere.
10. Sell2BBNovelties
Sell2BBNovelties is an online store that buys products from collectors. One of the hottest items they're currently looking for is Beanie Babies, so you might make more money selling your collection to them.
They cover the shipping charges if you have over $30 worth of toys to sell. Better yet, they don't charge selling fees.
You can sell your items individually or in bulk. Plus, you don't have to worry about an auction ending too low, leaving you with less than you wanted for the item.
The Beanie Babies you sell to Sell2BBNovelties might be sold to other collectors (for a profit), wholesalers or stores looking specifically for the Beanie Babies you have for sale. They may even be donated.
Methodology
When evaluating places to sell Beanie Babies, we analyzed key criteria to determine the best options. We performed in-depth research to identify the top places to make money selling Beanie Babies.
For online options, we included options that meet one or more of these criteria:
Apple App Store rating of 4.0 or higher (if applicable)
Multiple ratings on the Apple App Store
Reputation among industry leaders
Ease of use
Potential for decent payouts
For local options, we focused on the following factors:
Likelihood of purchasing Beanie Babies
Decent potential earnings
Ease of accessibility
We chose this methodology to ensure we did our due diligence as we determined the best places to sell Beanie Babies.
Tips for Selling Beanie Babies
Beanie Babies are often worth money, but the value can vary. Their condition, demand and where you sell them will impact how much you'll make.
Here are tips to help you get the most money for your collection.
Include Photos
Pictures sell collectibles like Beanie Babies much more than descriptions. Buyers want to see the condition of the items you're selling.
When you include photos, take them from different angles and in good lighting. Don't hesitate to include close-ups of the tags or certain features, especially ones that are most sought after on certain Beanie Babies.
The more photos you include, the more likely you will sell the item for what you're asking, especially if the photos match the listing.
The Condition Matters
Buyers care about how the Beanie Baby looks from the outside. However, they also care about the inside.
In regards to the outside, buyers want Beanie Babies in mint or near-mint condition. Mint condition means perfect. The toy needs to be in excellent condition with no rips, tears or stains. It also means the tags should still be attached and in good condition.
Near-mint condition still means the Beanie Baby is in perfect condition, but there might be an issue with the tag. For example, it could be torn or stained but still attached.
The inside of the Beanie Baby is important as well. While a mint Beanie Baby will likely sell, if it's made of Polyvinyl Chloride (PVC) pellets, you might get more money for it because this form of stuffing is rarer.
Animals stuffed with Polyvinyl Ethylene pellets are more common. Nevertheless, they might still sell for a good value if they're in mint condition.
If you need help determining what your Beanie Babies have inside, check the tag. It will state the material.
Try a Beanie Baby Facebook Group
Believe it or not, there are many Facebook Groups for Beanie Babies. This is where you'll find dedicated collectors interested in what you are selling.
You'll also get tips to help you sell your collection for more. This advice can be helpful if you aren't sure what a particular Beanie Baby is worth.
Can You Make Money Selling Beanie Babies?
Depending on the Beanie Babies you have to sell and your timing, you might make money. But, as with any collectible, there's no guarantee.
Before selling your collection, take the time to research and determine if you have any toys that are extremely valuable. If you do, sell them individually using the method that will get you the most money.
However, if you don't have rare or highly sought-after Beanie Babies, you can sell them as a collection to make the most money.
Summary
If you have Beanie Babies you're ready to part with, you can sell them and get paid today. How much you'll earn depends on what you have and how you sell them.
Nevertheless, it can be a fun way to declutter and make money on the side.