Sports cards are an exciting way to recognize the best athletes from your favorite league or team. Many people collect trading cards as a hobby, and you might have the next addition to their collection.
Whether you're a long-term collector or want to flip cards, now is a great time to sell some of your portfolio. However, finding the right place to sell your cards may seem overwhelming.
There are several places to sell your sports cards online or locally to make money, and we've found the best options to help you maximize your profits.
Where To Sell Sports Cards
When it comes to selling your sports cards, you have many options to choose from. Try getting quotes from several outlets to find the best price for the cards you want to sell.
In alphabetical order, here are some of the best places to sell sports cards.
1. Beckett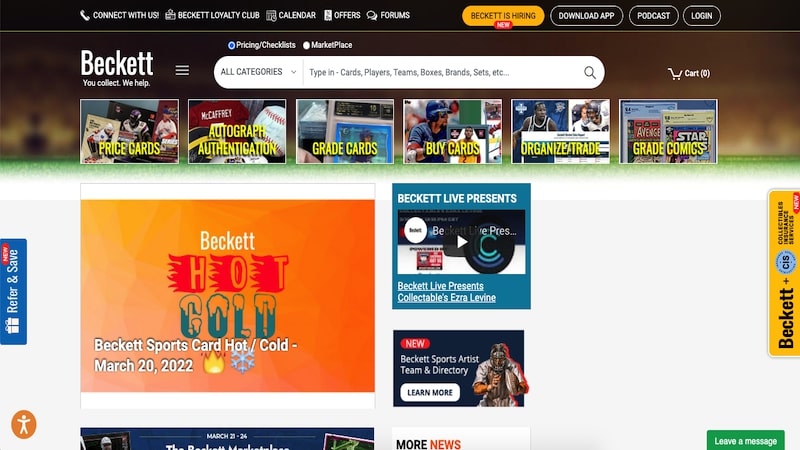 Many sports card collectors are familiar with the Beckett pricing guides and checklists. The online website also lets you trade cards with registered members.
Unfortunately, individual collectors cannot sell their cards for cash.
However, if you have an extensive collection and can authenticate your card grades, you can call the service to become a registered dealer on the Beckett Marketplace.
This costs $6.99 per month or $64.99 annually after a 30-day free trial.
Some of the membership perks include:
Real-time price guide
Track selling price for your cards
Trading platform
Organize multiple collections
Create wishlists
If you're still collecting cards, you can also join the loyalty program. You receive bonus points that you can redeem for discounts on future orders.
2. Blowout Forums
Blowout Forums lets you talk with other collectors about the latest sports news and your collection.
Threads exist for these sports and hobbies:
Baseball
Basketball
Coins
Comic books
Fantasy sports
Football
Gaming
Soccer
Unfortunately, these threads don't let you sell or trade sports cards.
Instead, you will need to visit the online Blowout Store and see if you have any cards from the "Wanted" list. In most cases, you must sell unopened boxes from the last five years.
It's also possible to sell these collectibles through the online store:
Autographed cards
Game-used collectibles
Panini rewards points
Pokemon boxes
Your payment options include PayPal, check and store credit.
3. Card Shows
Local card shows can be a fun way to connect with dealers and collectors. Multiple buyers can inspect your collection, which gives you many opportunities to make a sale.
You can also sell a wider variety of cards as you're not restricted to an online marketplace wanted list.
Selling locally can even help you avoid platform and shipping fees that online stores may charge. However, you might need to purchase an entrance pass and drive to the convention site.
You can find upcoming shows by researching "card shows near me" online or by asking your local sports card shops.
4. COMC
Check Out My Collectibles (COMC) lets you sell sports cards, trading cards and collectibles.
This platform is similar to an online consignment store since you mail your items, then COMC advertises and ships the purchase to a buyer.
You can sell individual cards. Currently, this site doesn't support unopened packs or complete sets.
Your processing fee per card is between $0.50 and $2. Splurging for a more expensive fee expedites your processing time from up to 16 weeks to as soon as two weeks to list items.
Cards with an anticipated selling price above $50 can also be listed on eBay. Lower-priced cards sell on the COMC online store but have cheaper processing fees.
Some of the services you can receive include:
Scanning the front and back of each card
Condition appraisal
Advertising
Shipping to the buyer
Customer service support
Your payment options include store credit, PayPal and check.
5. Dave & Adam's
You can sell modern as well as vintage cards and sets to Dave & Adam's. Non-sports gaming sets are also welcome.
Modern, individual cards may need to be worth at least $50 or have a professional grade (i.e., PSA, BGS or SGC).
Graded or raw vintage cards from 1970 or earlier are welcome as well.
It's even possible to sell sealed packs and complete sets. The buy list displays which products the service is currently buying and your selling price.
You ship your collection by UPS or FedEx and receive a payment within 48 hours after the package arrives. As a bonus, you get a $25 gift certificate when you sell at least $500.
While you pay to ship your items, return shipping is free for any rejected card.
Your payment options are PayPal, check or store credit.
6. eBay
You can sell your sports cards on eBay if you're comfortable listing your own products and finding a buyer. Auction-style and fixed price listings give you the flexibility to earn top dollar.
Selling your own collection can minimize your seller fees as you're not paying someone else to list the product for you.
However, potential buyers may be hesitant to buy from an individual seller vs. a reputable dealer since they may want to avoid scams. Professionally grading your cards and high-resolution photos can help.
While you might be able to make more money on eBay, you will incur fees.
These fees include:
Seller fees: 12.35% of the final sale value
Shipping: Varies (you can require the buyer to pay this charge)
You currently don't pay an insertion fee to list your product. If something doesn't sell, you won't incur any charge.
7. Facebook Groups
Facebook lets you reach local and distant buyers through its Marketplace feature. It's free to list your items and sell them locally.
However, items that require shipping incur a selling fee. You pay 5% for each shipment ($0.40 for sales of $8 or less). This fee is lower than other online selling apps.
Joining local buy and sell groups is another way to make money on Facebook. You may also find online groups specializing in sports cards.
While you can avoid the platform fees and reduced payouts that you encounter with sports card dealers, Facebook offers fewer seller protection benefits.
Be sure to screen the potential buyer to avoid payment scams common on any DIY marketplace. Thankfully, there is a Facebook scammers database that lists some of the profiles you should avoid.
8. Kruk Cards
Kruk Cards has a local store in Michigan, but you may consider paying to ship your valuable cards.
If you have a large collection, it's also possible the company will arrange to pick up your items.
The online site has an active buy list for various sports of the most wanted items. You can compile a list of your "star" cards and autographed cards to receive an estimate as well as discuss shipping and payment options.
If you have at least 5,000 common cards, you can sell them for a few dollars.
You can also sell Pokemon, Magic and Yu-Gi-Oh cards.
9. Local Hobby and Sports Card Shops
One of the easiest ways to profit from your collection can be by visiting your local card shop. You may prefer this option if you have a relationship with the store owner and trust their operation.
Staying local means you can also make money fast as you don't lose time with the shipping process or waiting for the vendor to process your collection.
It may take some online stores two weeks or longer to appraise your collection due to high volumes. By selling to your local store, you might get a same-day offer and can easily take the unwanted cards home.
While local sports card shops are convenient, your buyback offer can be lower than other places. Unfortunately, these stores are not as prevalent since more collectors shop online.
10. OfferUp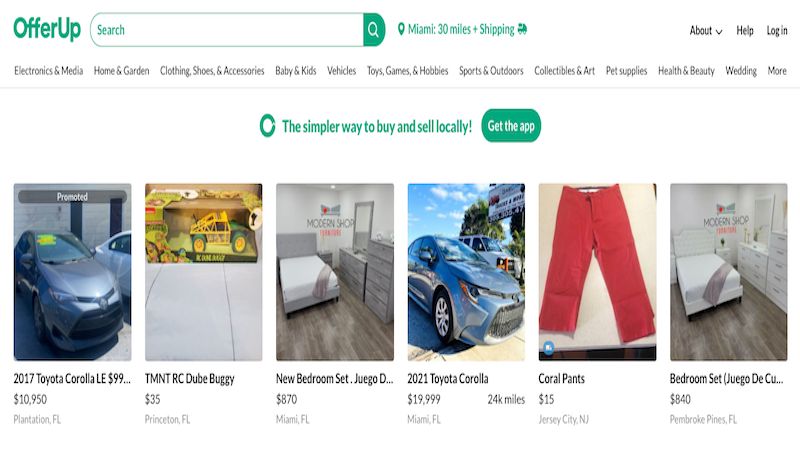 OfferUp is a popular buy and sell app that lets you sell locally or nationwide. However, it may not have as many users as Facebook.
After downloading the app, you can upload pictures of your cards with your phone, write a brief description and set your selling price.
You communicate with the potential buyers inside the app to negotiate a sale. Local meetups are free, but you pay a 12.9% service fee ($1.99 minimum) when shipping an item.
Buyers pay the shipping costs, which helps minimize your seller fees.
Our OfferUp Seller review can help you learn how to sell your unwanted items effectively.
11. Otia
Otia Sports primarily buys vintage sports cards from 1975 or earlier. You can sell modern cards and sets as well.
The platform states they will buy your entire collection instead of mailing back the rejected cards.
Before mailing your cards, you can send a message with an inventory of your collection and photos of your vintage cards. You will receive a tentative buyback offer valid for 30 days.
If you accept the offer, you mail your cards and receive payment by cash, check or PayPal.
After successfully selling your cards and memorabilia to Otia, you may recommend the service to a friend. If they use Otia, you can receive a 10% finder's fee of the purchase price.
12. PSA Card Forums
There are several sports card grading services that are worth the cost of selling valuable trading cards. Professional Sports Authenticator (PSA) is one such service, and you can sell or trade in their online forum.
First, you start a thread and upload photos of the items you wish to sell. The forum accepts modern and vintage cards from any sport.
Then, you will negotiate the payment and shipping details directly with the buyer.
13. SlabStox
SlabStox is a free online trading platform that helps you track current prices for popular cards and your collection.
You can also sell cards to other community members. However, this site is relatively young and still has a small user base, so it may take longer for your cards to sell.
14. StockX
StockX is an online collectibles marketplace that tracks real-time prices. You can set your asking price and wait for a buyer to accept.
The site's selling fees include:
Transaction fee (Up to 10%)
Payment processing fee (3%)
You can reduce the transaction fee by having at least three sales and $500 in sales.
Most of the offerings are for complete series, but you can sell single cards as well.
In addition to trading cards, you can also sell:
Collectibles
Gaming cards
Sneakers
Streetwear
Read our StockX review to learn more about this platform.
15. TonyeTrade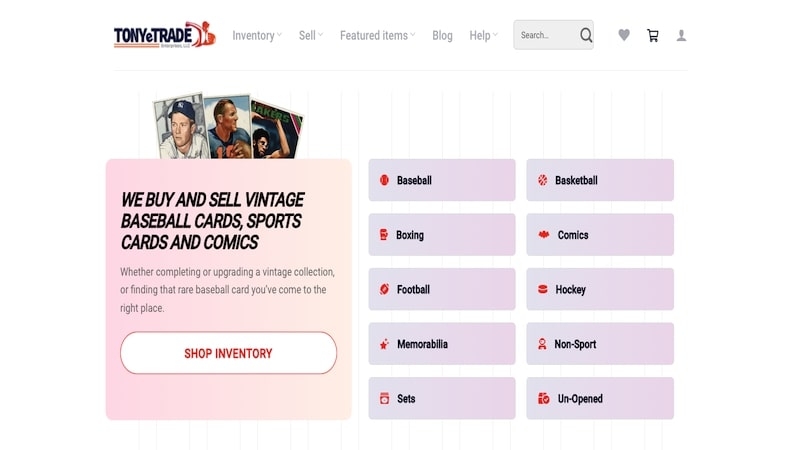 TonyeTrade focuses on selling vintage baseball cards, which are usually the most valuable sports cards.
You can also sell these items:
Comics
Non-baseball sports cards
Sports memorabilia
Most of the listings are for vintage items from the 1970s or earlier. However, the most valuable modern trading cards can also be profitable.
You can start the selling process by contacting the service to share your inventory and condition. For your most valuable items, you might get an instant purchase offer.
In other instances, TonyeTrade can consign your item and help you find a buyer. However, your selling fees may vary by selling method.
What Determines The Value of Sports Cards?
The value of sports cards is determined by several factors, including rarity, condition, age, and historical significance.
Generally, the scarcer the card, the more valuable it will be. The condition of the card is also critical, with high-quality, well-preserved cards commanding a premium price.
The age of the card may also play a role, with older cards often being more valuable due to their historical significance.
Additionally, the player featured on the card can have a significant impact on its value. Cards that have popular players or legends often being worth more than those featuring lesser-known athletes.
Lastly, demand for sports cards can also influence their value. This can fluctuate the market, impacting the prices that collectors are willing to pay.
Tips For Selling Sports Cards
If you're looking to sell your sports cards, there are a few tips to keep in mind to maximize your chances of success.
First, take the time to accurately assess the value of your cards by considering factors such as condition, rarity, and demand.
Second, explore different selling options, such as online marketplaces, auction sites, or consignment programs. Be sure to research fees and commissions before choosing a selling platform.
Lastly, make sure to market your cards effectively by using clear, high-quality images and detailed descriptions, and be prepared to negotiate with potential buyers to reach a fair price.
Frequently Asked Questions
Here are some frequently asked questions about how to sell sports cards.
What kind of sports cards are valuable?
Vintage sports cards manufactured before 1975 can be the most valuable as they are rarer and have higher collectible value.

Unfortunately, sports cards from the 1980s and later tend to be less valuable as manufacturers produce more copies.

For modern cards, autographed cards and limited editions for famous athletes have the most value.
Can you make money flipping sports cards?
It's possible to profit from flipping sports cards if you track the most popular athletes and card sets.

In addition to knowing the latest price trends, you should also evaluate the condition grade to verify the seller is accurately describing and pricing the product you wish to flip.

When selling, make sure you find a platform with the lowest transaction fees and shipping costs to maximize your profit.

What is the best way to sell sports cards?
First, you must decide if you're more comfortable selling your cards locally or online. Selling online can make it easier to compare buyback prices, and you can reach buyers nationwide.

Local sales make it easier to avoid platform fees. In addition, if you have many non-desirable cards, it's also easier to keep your remaining collection and avoid return shipping fees.

Also, keep in mind the type of cards you want to sell since certain platforms will only accept specific types of cards.

Summary
When it comes to selling your sports card collection, you have many options. Some platforms support new and collectible productions, while others specialize in one era.
Certain platforms will accept sealed packs or complete sets, and others won't. It's also worth the effort to compare fees and processing times.
Whether you sell your cards locally or make money from home by using online platforms to sell them, doing a little research can ensure you get the best price possible.