Selling collectibles can be an exciting way to make money and clean out your closet at the same time. One popular option is to sell Pokemon cards to collectors or the next generation of fans.
While selling newer editions of Pokemon cards can help you make money, the original cards may be the most valuable.
In addition to knowing how much your cards are worth, it's important to sell your Pokemon collection at the best places to earn top dollar.
Where to Sell Pokemon Cards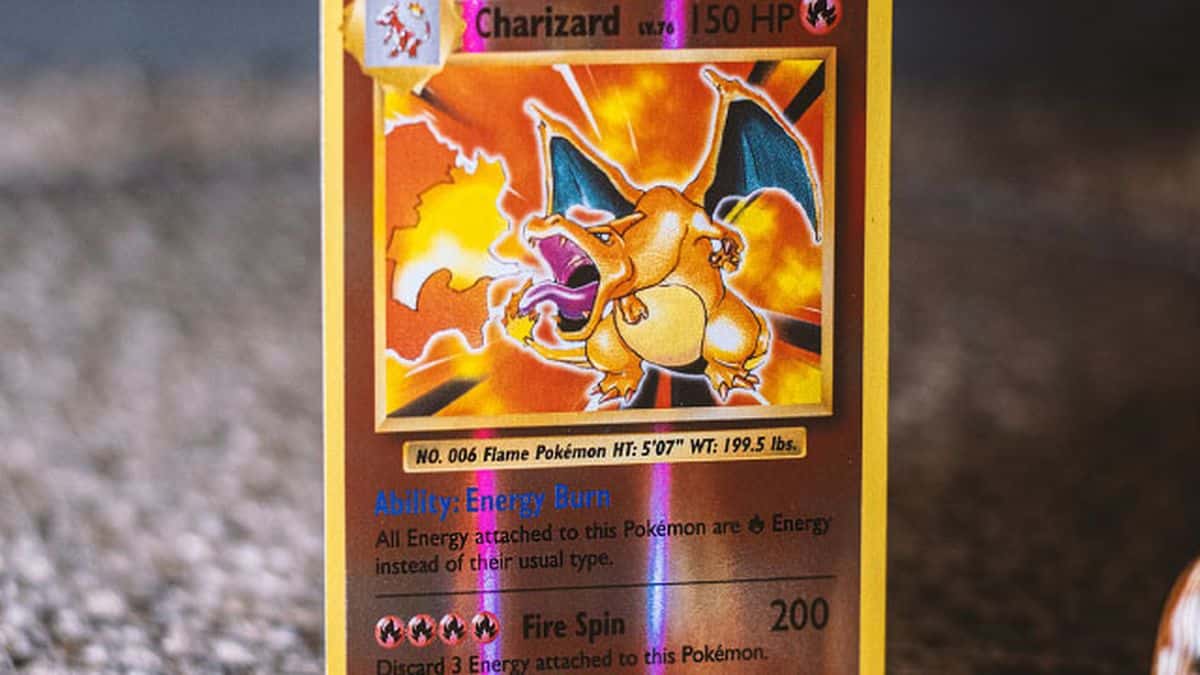 Depending on what is most convenient for you, it's possible to sell your Pokemon cards online or locally. Take the time to compare selling prices online and in-person to maximize your profit.
1. eBay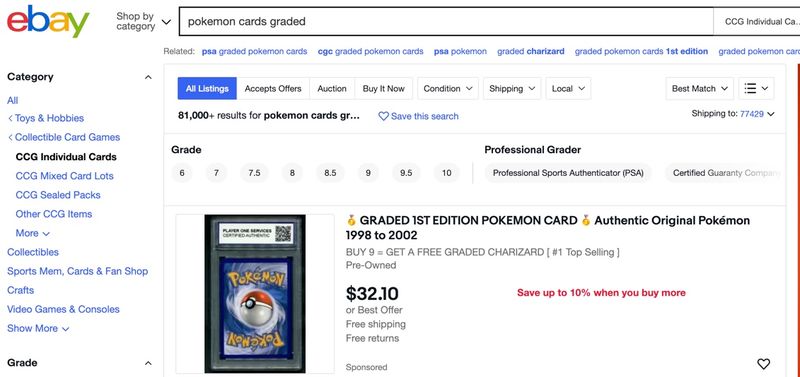 eBay is one of the best places to sell Pokemon cards and other collectibles because sellers can choose their own selling price.
The eBay online marketplace lets you sell your items at a fixed price or as an auction where buyers "bid up" the sales price. Buyers can submit offers if you're willing to haggle on the price.
You can see what other sellers are listing their collections for to get an idea of how much money you might make. It's still a good idea to use an official card pricing guide to accurately price each card so you don't charge too little.
For rare cards, getting a professional grading inspection can build trust with potential buyers and help you sell your cards faster.
While you have to find a buyer using eBay, you can sell your cards for a higher price. Your first 200 listings each month are free, and your selling fees are approximately 10% of the final sales price.
Shipping costs are paid by either you or the buyer. Be sure to carefully package your cards to avoid potential disputes from the buyer if a shipping accident happens.
It can also be worth your time to explore eBay alternatives that may have fewer seller fees and help you reach more buyers.
2. Facebook Marketplace
Facebook Marketplace is one of the top local selling apps in many cities. To use the site, you will need to create a Facebook account if you don't already have one.
With Facebook Marketplace, it's free to list your Pokemon cards and other items you no longer need. Better yet, there are no seller fees when you make a sale.
Buyers will communicate with you on the platform or mobile app. Like eBay, you can see what other sellers are listing their Pokemon cards for so you can sell yours at a fair price.
You will need to schedule a pickup time and location with the buyer. A "porch pickup" is also possible to keep your distance. Just place the item in a secure spot, then the buyer leaves payment without you having to interact in person
Buyers can pay with cash or a debit card. If a buyer pays with a card, you can deposit your earnings into a checking account.
3. Local Comic Shops
You can see if your closest comic shop buys Pokemon cards. Selling your cards to a local comic store can be more convenient than trying to sell them by yourself or having to mail them to a buyer.
Comic shops may pay more than pawn shops or used book stores that don't specialize in selling trading card games and accessories.
One downside of selling to a local comic shop is that you won't make as much money as using an app to sell stuff. Since the store still needs to make a profit and find a final buyer, you get "trade-in value."
Most comic stores offer cash and store credit payments. You can usually earn more if you opt for store credit.
Call your local stores before visiting to ask if they're currently buying Pokemon cards. If so, see if they can estimate how much they might offer per card and their payment options.
4. TCGPlayer Marketplace
TCGPlayer Marketplace is an online market for selling trading card games like Pokemon. This site can help you reach collectors and gamers, potentially earning you higher prices.
With TCGPlayer, it's free to create an account and list your Pokemon cards. You'll only pay fees when you make a sale.
Seller fees depend on your seller type and are a maximum of 10.25% of the final sales price plus an approximately 3% PayPal fee. If you're a frequent seller, you can upgrade to a Pro Seller account and pay reduced fees.
To expand your potential selling opportunities, TCGPlayer allows you to sell your cards both domestically and internationally.
5. Troll and Toad
Troll and Toad is an online marketplace that buys Pokemon card singles and lots.
You have to mail your collection to Troll and Toad. Payments are generally sent within five days of the final inspection.
The easiest way to sell your cards with Troll and Toad is by building a buy list. You can browse the various Pokemon series, and then enter your items to see the current buyback price.
Your entire lot must be worth at least $30 to receive a check or PayPal payment. Sellers can get a 35% bonus on shipments larger than $30 when choosing online store credit.
Orders worth less than $30 only receive store credit and don't earn the 35% payout bonus.
Sellers must pay shipping costs and mail their items within seven days.
6. Cape Fear Games
You can ship or hand-deliver your Pokemon collection to Cape Fear Games.
Checking the site's buylist lets you see which single cards and bulk Pokemon cards Cape Fear Games is currently buying. Their seller's page also lists how much you can expect to earn per card based on its condition grade.
If you decide to ship your cards, you can mail them after receiving an acceptance email. Your shipment must reach Cape Fear Games within one week to receive payment.
Mailed cards receive payment in one of these methods:
PayPal
Check
Store credit (30% bonus)
MTGOTraders.com store credit (20% bonus)
Keep in mind that there is a 3% to 5% fee for PayPal transactions. Paper checks require a $10 minimum shipment.
If you live nearby, you can take your items to the Wilmington, North Carolina store to make money fast. Orders up to $300 are payable in cash and PayPal. Store credit is available as well.
7. Card Cavern
Card Cavern buys up to $250 in cards from individual sellers each day. If you have more than $250 worth of cards to sell, you will need to send multiple shipments or get special permission.
Sellers can use a mobile app like Pokellector to generate a Pokemon Trading Card Game Online (PTCGO) code. This code can offer a more accurate estimate.
It's also possible to get a shipping credit of up to $12 when mailing single cards.
8. Dave & Adam's
Dave & Adam's purchases card games. This includes Pokemon and sports cards.
You can start the selling process by contacting the corporate office with your lot details. Then, you can mail your cards to Dave & Adam's and receive a payment within 48 hours.
It may also be possible for a buying team member to pick up your collection at your house or office. While you only receive 95% of the buy price with this method, you don't have to mail your items.
Your payment options include cash, PayPal and check.
If Dave & Adam's rejects any of your cards during the final inspection, return shipping is free. Free return shipping is unique for an online card site.
9. CCG Castle
CCG Castle buys many trading card game series. The site lets you browse the buylist and items you wish to sell.
You can also view their store catalog, see the current buyback price, click the "Sell us Yours" button and add items to your cart. The product listing states how many cards they are currently looking to buy for that particular item.
Sellers pay shipping fees to send sold items to CCG Castle. Payment options include PayPal and store credit.
There is also a rewards program to earn digital coins if you buy items at CCG Castle.
10. Sell2BBNovelties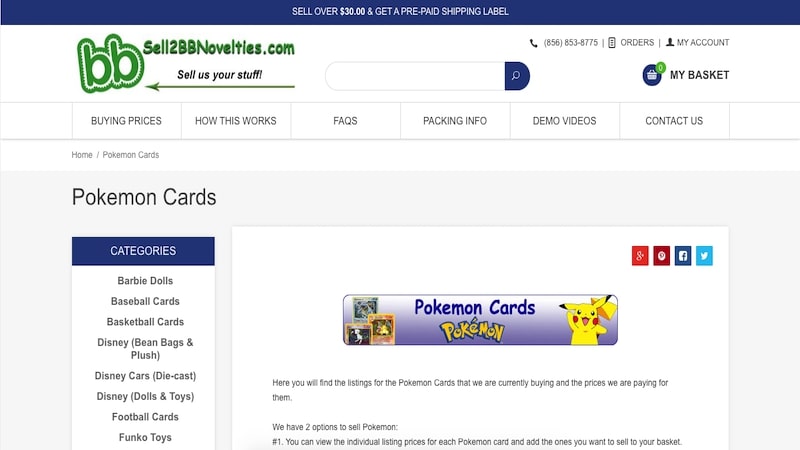 You can sell your Pokemon cards, sets, and tins to Sell2BBNovelties. Most online and local stores offer the same buyback option.
Checking the buy list lets you see what Sell2BBNovelities is currently looking for and their purchase prices.
All cards must be the standard US version and in mint or "like new" condition. You will need to use another site to sell worn cards or the ultra-rare Japanese editions.
Payout methods include PayPal cash or BBToyStore.com store credit.
Shipping is free for orders above $30, which is unique since most stores require the seller to pay all shipping and insurance fees.
11. Card Market
Card Market is an online platform that offers an easy way to sell your Pokemon cards online. With a focus on Pokemon trading cards, you'll likely be impressed with the ease of listing your cards.
The process starts by creating an account. After your account is set up, you can use a fillable list to help you find the specific card you have for sale on the platform. For example, if you type in "cinccino," then all of the versions of Cinccino cards will pop up in the fillable list.
Once you choose the card you have from the list, you'll finalize the listing. Another part of the listing process is grading your card according to Card Market's trading guidelines. Within this step, you'll assess the condition of your card.
You'll have access to average price points for similar cards. But ultimately, you'll choose your own price point. As Europe's largest marketplace for trading cards, your listing will be in the right place for a customer to buy it.
12. Pawn Shops
Most cities have several pawn shops around town. Some pawn shops are interested in buying Pokemon cards. That's especially true if you have a valuable card in your collection.
Of course, the pawn shop has to make money on the deal. With that, you likely won't score top dollar for the cards. But you might be able to walk away with cash in hand. Plus, you won't have to deal with the hassle of finding an end customer.
Typically, selling your cards at the pawn shop is as easy as heading to the counter at your local pawn shop. But you can save yourself some hassle buy doing your research ahead of time to find out which pawn shops in your area buy cards.
Tips For Selling Pokemon Cards
It's important to know the value of your Pokemon cards and carefully package them to earn the most money. Below are some suggestions to maximize your profit potential.
Organize Cards by Set
Pokemon has been around for over 20 years. In the United States, there are more than 70 sets from the 1990s until now.
It's best to organize your cards by set and then numerical order. This organization lets potential buyers quickly inspect cards and can help you earn more money since the store doesn't spend time cataloging the cards.
You can find a complete setlist on sites like Pokellector. Creating a free account lets you build a checklist to quickly see which cards you have and the ones you're missing.
There are other apps and websites you can use as well. The best catalogs display the current sales price, letting you estimate how much money you can make by selling the full collection.
Look for Rare Pokemon Cards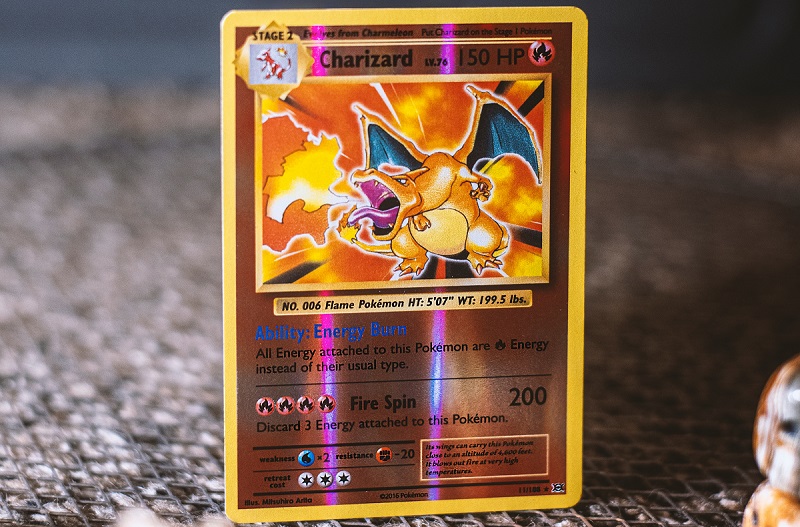 Some cards could be worth more than others because they have unique features like holofoil or a special symbol. Other cards may not have many copies.
Here's how to identify rare Pokemon cards.
Rarity Symbols
To determine how common or uncommon a card is, you can look for rarity symbols.
Most Pokemon cards have one of three rarity symbols:
| | | |
| --- | --- | --- |
| Description | Symbol | Rarity |
| Stars | ★ | Rare |
| Diamonds | ♦ | Semi-rare |
| Circles | ● | Common |
Cards with a star icon on the back are the rarest and can be worth the most money. You will want to pay closer attention to these rare cards and look for additional special features that add value.
Holofoil
If you collected Pokemon cards as a kid, you likely got excited when a pack of cards contained a holofoil card. They just looked cooler than all the other cards.
Now there's another reason to be excited about holofoil cards. These cards are more valuable than a standard card that's ink-only. The entire Pokemon image may be holographic or only the reverse side.
Rare Letters
Certain card series have rare letters stamped on the front.
Some examples include these stamped letters:
These letter stampings can be for recent releases with the United States version of the Sun & Moon set launching in 2016.
Secret Numbers
Some cards may have a "secret number" that is higher than the actual number. For example, you might have card number 123 of 100 printed cards.
It can be worth your time to have a professional card grader verify the authenticity and condition of rare cards.
Most Valuable Pokemon Card Sets
There are valuable cards in each set, but some sets are rarer than others.
You might see if your collection contains any of these Pokemon sets:
Base cards from the premiere 1999 United States set year
Full Art EX and GX cards
Neo Destiny Cards
Pikachu Trainer Trophy Cards
Tropical Mega Battle Cards
Some sets can be more common, such as the base cards from the first Pokemon cards.
Tournament and Convention Cards
Other rare cards were only given away at special tournaments and conventions. If you have one of these ultra-rare cards, you may be sitting on a small fortune.
Grade Pokemon Cards
It's essential to accurately grade your Pokemon cards before you try to sell them.
Accurate grading can be more important if you plan on mailing your cards to a store or vendor. You can avoid rejected purchases and return shipping fees.
The PSA grading system is a 10-point scale that is widely recognized among vendors and collectors. A grade of eight or higher may be necessary to sell to buyers who want mint or near-mint condition cards.
You can self-grade your cards, but finding a local PSA-certified grader can be worth it for rare cards. Some of the rarest cards can sell for over $1,000 each.
It's also smart to put your most valuable cards in plastic sleeves to protect the corners and edges.
Here are a few other places to consider grading Pokemon cards:
Follow Selling Instructions
Whether you mail your cards to a store or visit a local comic shop, it's important to follow the selling instructions.
The guidelines can differ by vendor for how to pack and ship your items.
There are some common selling guidelines, including:
Cards must be organized to avoid sorting fees
Shipment must reach the store within one week to receive payment
Sellers usually pay shipping costs
Final sales value depends on an official inspection
You may also have to clearly mark your packages with your buy list invoice number. This number identifies your package and expedites the sorting process.
Frequently Asked Questions
Summary
Selling old and new Pokemon cards can be a quick way to make money. Some cards are worth more than others. Once you know how much your collection is worth, you can decide if it's better to sell online or locally.
This is just one item that you can sell from home, there are so many other things you can sell to make some extra cash.