When you want to buy or sell items, you may be tempted to use eBay or Amazon. However, a new site called Mercari has become a popular alternative for your buying and selling needs.
Whether you are looking to declutter or find a few new treasures to give your home a fresh look, Mercari might be the platform you've been searching for.
This Mercari review can help you determine if the site is right for you.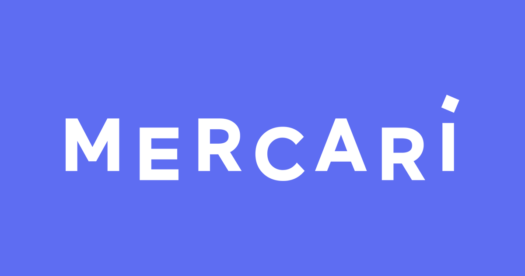 Summary
We gave Mercari a 3.9 out of 5 stars. Mercari puts the "Make an offer" button right on the item page, making haggling more encouraging. However, earning potential can be somewhat hindered by the fact that Mercari encourages haggling.
Pros
Easy to use
Shipping label provided
Ratings for users
Cons
High fees
Haggling encouraged
Some concerns about scammer behavior
What Is Mercari?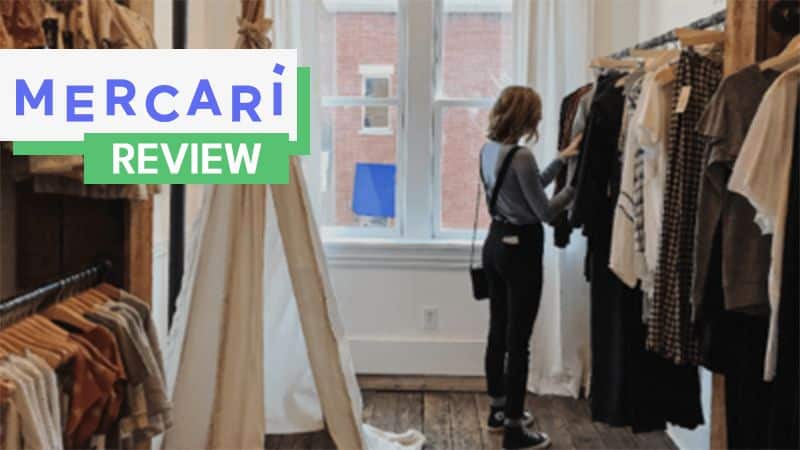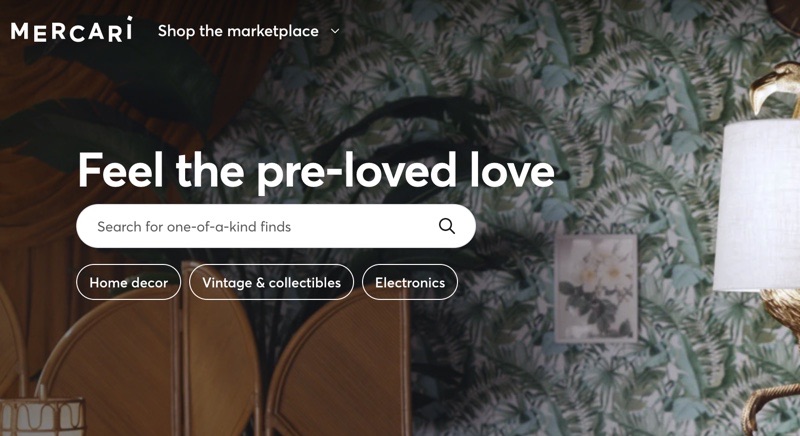 Mercari is a shopping website that was founded in Japan. A year after its launch, the company started a U.S. site as well.
Today, Mercari connects millions of people across the United States to buy and sell just about anything online.
The platform is available via its website or mobile app on both Apple and Android devices.
Similar to eBay and Amazon, you can use it to buy or sell items such as:
Clothing
Home items
Beauty items
Sports items
Toys
Electronic items
And more. You can list items for free, but you will pay fees once your item sells.
There are no meetups to exchange goods and payments with Mercari. Everything you sell must be shipped to the buyer.
| | |
| --- | --- |
| Company | Mercari |
| Fees | 10% |
| Minimum Age | 18 Years Old |
| Location | United States |
Who Is Mercari For?
Mercari is for U.S. residents who have something they want to buy or sell. You must be at least 18 years of age to use the site.
The platform is great for people who want to buy and sell items online but don't want the hassle or safety risk of meeting up with a stranger in person.
Mercari is not for people who want to sell prohibited items, including
Illegal items
Stolen goods
Alcohol and tobacco products
Items that are a safety hazard
Or any of the other prohibited items listed on their site.
How Does Mercari Work?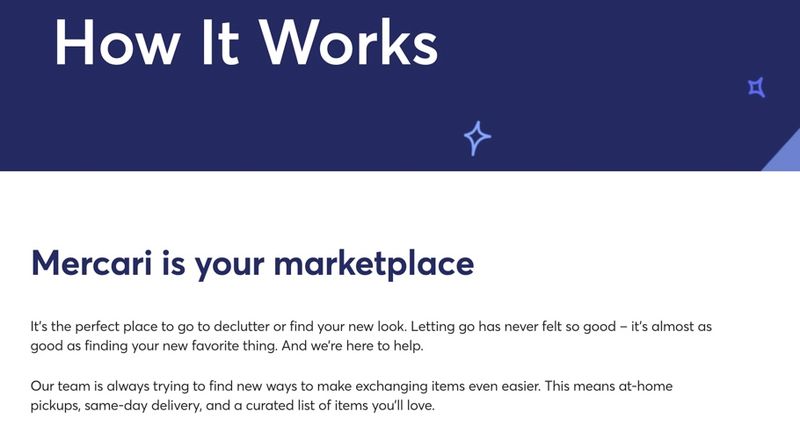 Mercari functions similarly to eBay or Amazon when it comes to selling and buying items. However, there are some key differences.
Regardless of if you are a buyer or a seller, you have to create an account on Mercari to get started. The platform does require you to verify your phone number when registering.
Selling On Mercari
If you are thinking about selling on Mercari, here's how it works.
List Your Item
The listing process is similar to other sites. You take photos, write a description for your item and price it competitively.
It takes just a few minutes to publish your item on the platform.
Item Badges
After you list your item, you can keep an eye out for two badges on the search results page for your listing.
The first is the Mercari Authenticate badge. This shows other users that the Mercari team has authenticated your item.
The second badge is the price drop badge. This will show up on your listing if your item is promoted.
Making a Sale
When another user buys your item at full price, you've made the sale. But, if a buyer makes an offer on your item, you can either accept it, reject it or counter it.
Shipping
Once your item sells, Mercari will send you a shipping label. As the seller, you choose whether you want to pay for shipping or have the seller cover that cost.
Of course, if you pay for shipping, you'll want to factor that cost in as you determine your price.
If you follow Mercari's shipping guidelines, all packages are protected with insurance of up to $200.
Payouts
After your sales transaction is complete, you can rate your buyer using the Mercari rating system. Once you rate the buyer and vice versa, your money is transferred into your Mercari account.
From there, you can choose to receive your funds via direct deposit or Instant Pay. With Instant Pay, you get the money transferred to your debit card instantly.
Returns
Buyers have a three-day window to return the item they bought from you. However, they need to have a good reason, and the return needs to be approved by Mercari.
Buying On Mercari
When you buy on Mercari, the process is a bit different than on other sites. Here is how it works.
Purchasing Options
If you find an item you want to buy, you can choose the Buy Now option or the Make an Offer option to submit a bid. The seller then has the choice to accept, reject or counter your offer.
You can send a private message (PM) to the seller as well. When you send a PM, you can make an offer or ask questions about the item.
After that, you can choose how to proceed based on your interest level.
Bundling
Note that when you're purchasing multiple items from one seller, you'll want to try and use Mercari's "bundle" option.
The "bundle" option helps buyers and sellers work together to process one transaction instead of several transactions. The benefit to you as a buyer is that you'll save on shipping costs.
Finalizing Your Purchase
When you're ready to check out, you can pay via credit card, debit card or PayPal. After you receive your shipment, you have three days to inspect the item.
If you want to keep it, you need to rate the seller. Once you do this, the payment is released to their account.
That said, if you choose not to rate the seller, Mercari will pay them 72 hours after you've received the item using your payment information. This will complete the deal and close the transaction.
Returns
If you want to return the item, you simply follow Mercari's instructions for returning items.
Note that you cannot return an item for just any reason. Mercari has parameters regarding purchase returns. Make a note of these before you purchase.
For instance, you can return an item if it wasn't as described in the listing. You'll have to include photos as proof.
Mercari Features
Mercari offers a few unique features that set it apart from other selling and buying sites like Amazon or eBay.
Verification
While not required, you have the option of verifying your profile to get a badge. You need to verify your email, SMS and government ID to get the badge showing other users that you are who you say you are.
Verification also allows you to access Instant Pay and gives you the ability to clear alerts on your account.
Ratings
To help build trust, Mercari has a rating system. Buyers and sellers can rate each other within three days of the confirmed delivery of an item.
Ratings are listed publicly, and scores are out of five stars. They can be updated, but only positively.
Beyond basic ratings, Mercari offers two additional sections to help buyers and sellers be successful on the platform.
Known For
The "known for" section shows compliments that you have received from buyers and sellers. This section is displayed publicly on your profile.
Things to Improve
This section is only visible to you and provides you with feedback on things you can improve in future listings and transactions.
Coupons
It's possible to earn coupons from Mercari as a thank you from the platform or via promotions. Coupons are automatically applied to your purchases.
You do have the option to remove a coupon from your transaction and use it later if you prefer.
Smart Pricing
Mercari has a useful feature called Smart Pricing to help you sell your items.
If you enable Smart Pricing, the price of your item will drop at specified intervals if it doesn't sell. You can set a floor price too so that you don't accept less than your preferred bottom line.
What Are The Fees?
One downside of Mercari is the fee structure. While sites like Craigslist are free, Mercari does charge you fees.
Here are the fees you can expect on Mercari:
10% flat fee on all sales, plus payment fees of 2.9% +$0.30.
$2 fee for Instant Pay
$2 fee for direct deposits under $10
Direct deposit is free if your transfer amount is over $10.
Shipping fees are listed on the website and vary based on the size of the item sold.
Is Mercari Legit?
Mercari is a legit company. With over 50M downloads and 350K new items listed everyday, they are a leader in the resale industry.
The site offers buyer protection and seller protection. Their terms of service are very detailed and provide comprehensive information for sellers.
The company has millions of reviews from apps stores.
Mercari Reviews
We found millions of reviews for Mercari. Trustpilot offers mixed reviews from both buyer and sellers. Most of the reviews from the Apple store seemed to be outdated. Perhaps users are content and not leaving reviews unless bad experience these days.
| | | |
| --- | --- | --- |
| SOURCE | RATING | REVIEWS |
| Trustpilot | 3.2 / 5.0 | 18K |
| Apple App Store | 4.8 / 5.0 | 1.4M |
| Google Play Store | 4.6 / 5.0 | 368K |
Here's what some of the reviewers had to say:
"Great app for selling and buying. Geared more towards the buyer but does have seller protections as well. The wait time to get paid when you sell something is something I wish they would shorten but overall a great app!"

Danny H.
"I am very happy with the items I have purchased from this app. Will definitely be using it again. My shoes were shipped in a timely fashion and we're exactly in the condition the seller said they would be."

Kayla M.
"My item looked exactly what it was described and it got here really fast. The seller was very friendly and helpful. I would definitely buy something again from the seller."

Jason P.
Alternatives to Mercari
There are other options that are worth checking out if you are looking to buy or sell something online.
OfferUp
One of the most popular apps to use to buy and sell is OfferUp. You can message people on the app so that you don't have to give out your telephone number.
There is even a review system where you can see how people rated the potential seller for the their past transactions.
Read our full OfferUp review for more details.
Craigslist
This is probably the most well know option, however, it is not very user friendly. Even though Craigslist is an old school way of buying and selling online, there are still many items available for sale.
This can be a great way to sell large items like furniture, cars, etc.
Ebay
Ebay is one of the most trust online auction sites around. They have been around almost since the start of the internet and this can be a great place to sell unique items like antiques, trading cards or other collectibles.
FAQs
Here are some answers to some popular questions about Mercari.
How popular is Mercari?
According to Mercari, their platform is popular. Their website states that they have had over 50 million app downloads in the United States and that 350,000 new items are listed on their site daily.
What are the most popular items to sell on Mercari?
Small electronics and smartphones, designer clothing and accessories, gaming paraphernalia and outdoor recreational equipment are some of the best selling items on Mercari.

Of course, this list may change over time. These are just the items that are selling fastest on Mercari as of publication.
What safety guidelines does Mercari use?
Mercari's biggest safety push for users is the fact that buying and selling on the site doesn't require in-person meetups.

Since everything is shipped, you don't have to worry about meeting strangers to exchange goods and payments.

In terms of buying items, buyers have three days to inspect an item before rating the seller and approving payment. This can ensure you actually get what you pay for.
How does customer service work?
Mercari's customer service options consist of an extensive help center and an email contact option. The email contact form says you can expect a response within six hours.

With a little digging, you can find a customer service phone number of 1-888-325-2168 listed on Google.
What are some Mercari alternatives?
eBay and Amazon are two of the most well-known alternatives to Mercari. Like Mercari, both have selling fees around the 10% range and offer free listings.

If you're searching for fee-free alternatives to Mercari, your best bet is to check out OfferUp, Facebook or Craigslist. These sites don't charge fees to list or sell.
How Do You Bundle On Mercari?
First you need to confirm which items the buyer wishes to purchase. Then you need to create a new listing with all the items in a bundle. Next, delete the listings of the individual items. Then have the buyer purchase the bundle in the new listing.
Summary
Mercari is a popular site for buying and selling a variety of goods. Whether you're looking to buy or sell clothing, accessories, electronics or other items, you'll likely have success with Mercari.
Keep in mind that it's important to pay attention to seller and buyer ratings. That will give you some protection as you use the platform.
If you are looking for an app to buy or sell your stuff online, Mercari is worth checking out.