Consumers spent nearly three million dollars on handcrafted items at Etsy alone – this is just one store's worth of sales.
That's a lot of cash, which means that crafters everywhere have the opportunity to get in on the deal and make some money by selling their crafts online.
If you're good at crafty stuff and are wondering how you can start making some side hustle money by selling crafts online, you'll be happy to know that there are several sites that promote those making and selling crafts.
Where to Sell Crafts
Here is a list of some of the more popular craft selling sites, along with what they might charge (if anything – some are completely free) to allow you to advertise your handmade crafts for sale online.
1. Handmade at Amazon
Amazon Handmade is a sub-store of the wildly popular Amazon site. The site allows crafters to create a personalized storefront for showcasing their items.
You can sell any number of handmade items at Amazon, as long as they are either handmade, hand-altered or hand-assembled (not from a kit).
Handmade at Amazon has two plans for those wanting to sell handmade items: a free Professional plan for those who sell under forty items in any given month, and a $39.99 per month Professional plan for those who sell over forty items in any given month. Plus selling fees.
If you currently have an Individual selling plan at Amazon you must upgrade to one of the Professional selling plans before registering with Handmade at Amazon.
Sellers also pay a fifteen percent referral fee on all items sold through the Amazon site, with a $1.00 minimum referral fee per item.
While this fee is quite a bit higher than most craft site fees, exposure for your items will likely be much higher with Amazon as well.
Also, Handmade at Amazon does occasionally run discount programs where they waive the $39.99 monthly selling fee for handmade crafters selling over 40 items per month.
One of the cool things about selling handmade items on Amazon is that they allow craft sellers access to a seller app that allows them to manage sales on the go.
They also have a customer support service center for handmade sellers.
2. Facebook Marketplace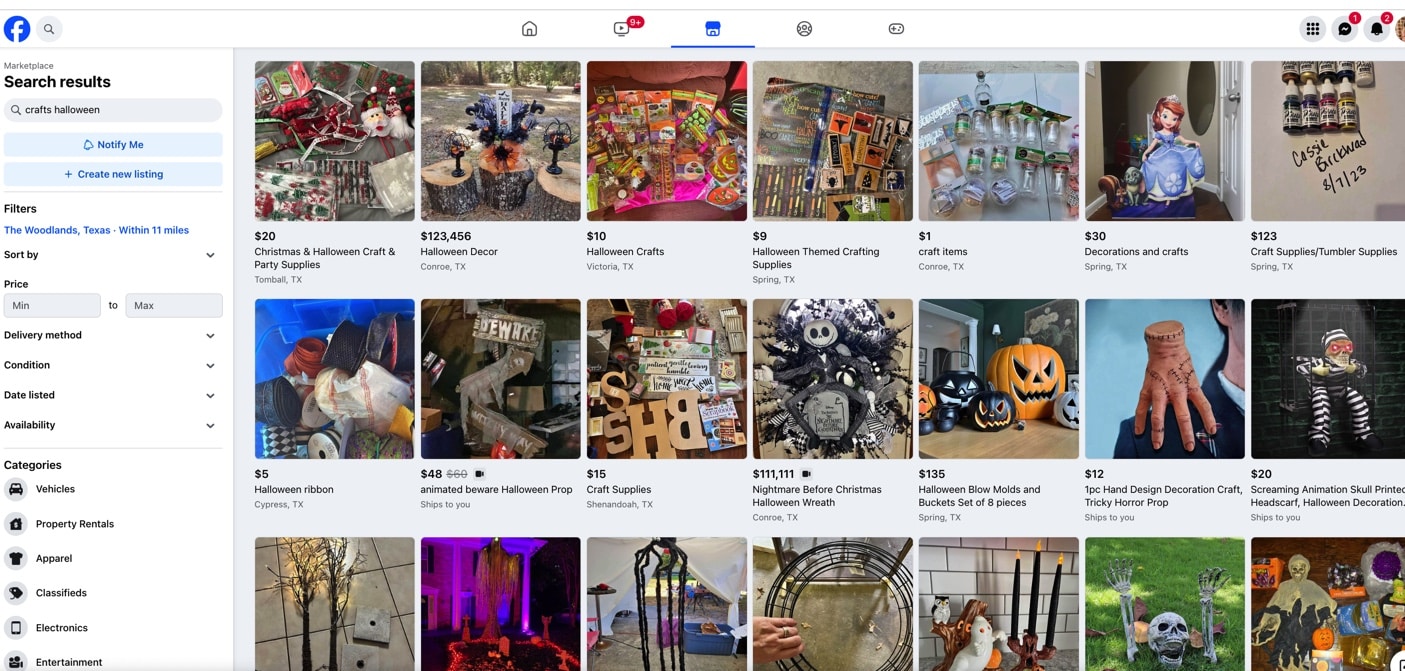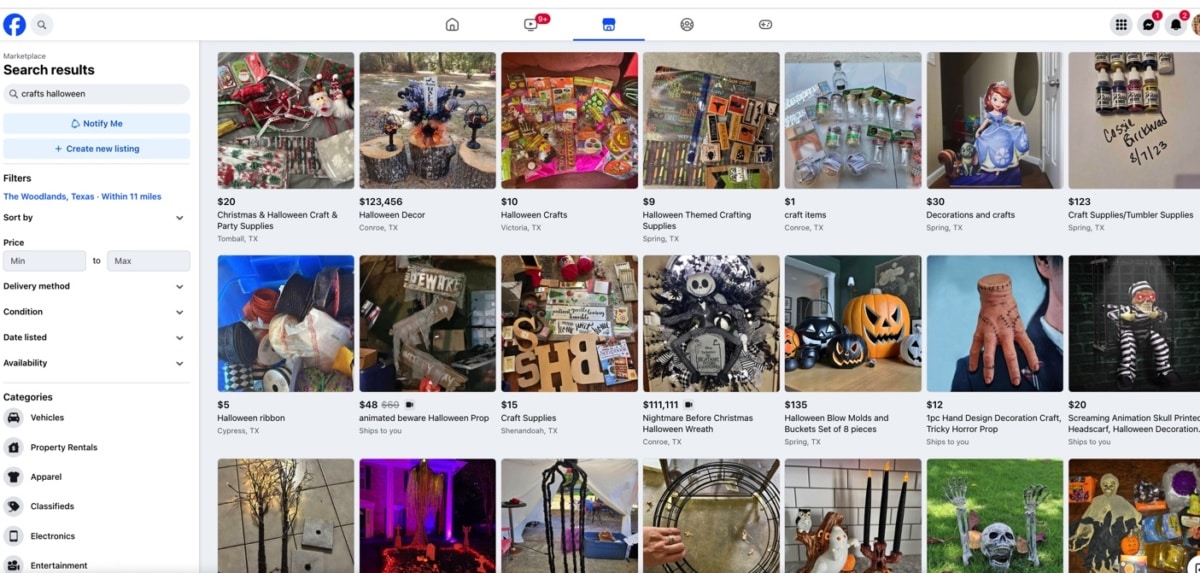 Facebook Marketplace is a great way to showcase crafts online and local.
If you have a specialty craft, say make halloween decorations, you can sell them locally (or nationally) using Facebook Marketplace.
Just as you would sell on any other online store, simply take a photo of your item, set the price, set how you the buyer receive your product (mail, meet up, porch pick up).
Another way to use this site is to showcase where you will be selling your items. For example at a garage sale, farmers market and more.
3. Etsy
Etsy is definitely the original craft selling website, at least from the view of most buyers. As referred to above, recent sales numbers show that Etsy buyers spent billions of dollars on Etsy products.
It's cheap to list your handmade items on Etsy. Transaction fee are 6.5% of the price you display for each listing plus the amount you charge for shipping and gift wrapping
You can also accept payments via PayPal or via major credit or debit card. Additional forms of payment are available to accept such as Google Wallet and Apply Pay. There are no monthly store or other fees with Etsy.
4. Bonanza
Bonanza is set up as a store similar to how Amazon is. They offer commercial retail items as well as handmade items in a variety of genres including health and beauty, jewelry, accessories, home and garden items and clothing.
Bonanza doesn't charge any store fees or listing fees, and the sell rate is only 3.5%. Great deal in terms of fees; you don't pay a thing unless you sell something.
5. eBay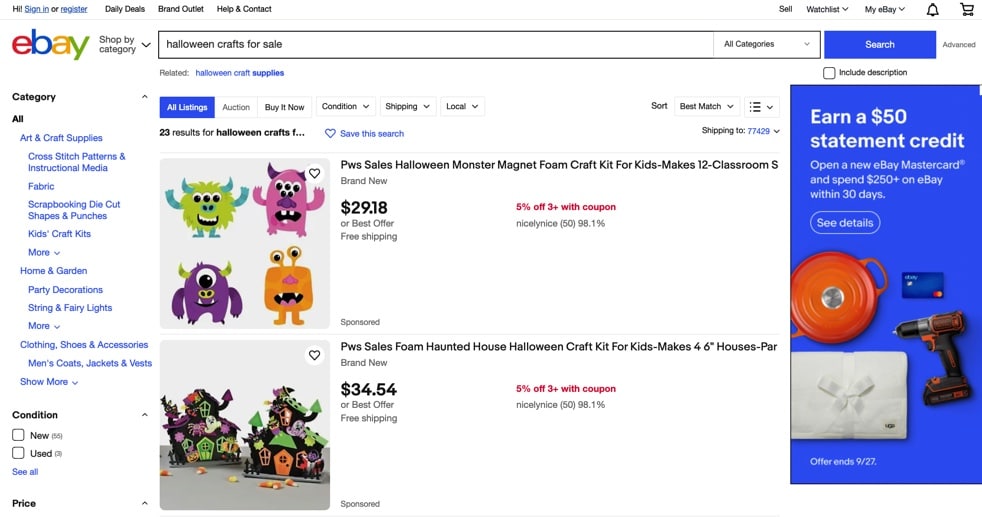 You've likely heard of eBay. One of the largest and most well-known sales sites for handcrafted and other items, eBay will likely have one of the most expansive customer reaches when it comes to selling your crafts.
eBay has a number of selling plans you can choose from. As an occasional seller, you can list up to 50 items per month and pay zero listing fees. You'll only pay a 10% to 15% of sales after your item sells and you don't need a store to list under 50 items per month.
6. Folksy
Folksy is a craft selling site that's open to British sellers only. With Folksy you can sell your handmade clothing, jewelry, art, stationery and more.
They currently offer two different plans for sellers; the Basic Plan which features a per item list fee and a sales commission, and the Plus plan which features a small yearly fee, no listing fees and a sales commission fee.
Great site for British crafters, and a wonderful selection of items for everyone to buy.
7. iCraft
iCraft advertises that it offers sellers and buyers "creativity without borders". As a seller on iCraft you are strictly limited to selling only handmade art, crafts and fashion.
They charge $15 per month to list unlimited products, and they don't charge any listing fees or commissions. Plus a $25 registration feel. A ten percent discount is available for those who sign up for at least twelve months of membership.
The site features a wide variety of items for sale, including jewelry, clothing, accessories, toys and games, artwork, crafts, home décor, and bath and body items. Note that all items sold on iCraft must be new: vintage (previously owned/used) items are not allowed.
iCraft also sorts available crafts into easy-to-use categories such as Gifts for Him, Gifts for Her and Gifts for Kids.
8. eCrater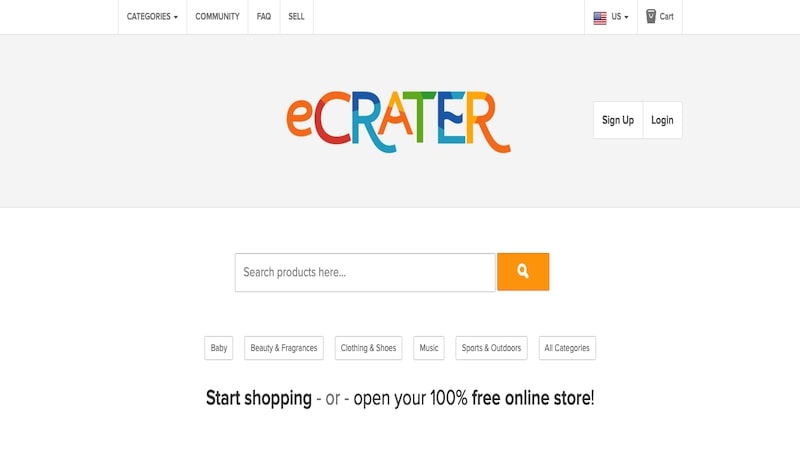 eCrater is an online marketplace similar to eBay. It's completely free to open a store on eCrater, and there are no listing fees for using the eCrater marketplace either.
Most sales will be charged a 2.9 percent sales fee, however. eCrater does have a limit of 10,000 items per store, so it would probably be sufficient for most small craft business owners.
eCrater also has a feature that allows you to import items you have listed on eBay for quick store setup.
9. Handmade Artist's Shop
The Handmade Artist's Shop web site reminded me a lot of the GLC Craft Mall site. It is set up with a similar design and has a wide variety of different craft types available for sale.
This web site also charges a straight monthly subscription fee with no listing fees and no commission payments.
Crafters can pay $5 per month to join, or save a bit of cash and pay $50 annually. Note that Handmade Artist's shop does not take any mass-produced items, nor do they allow unaltered vintage items to be sold on their site.
All items sold her must have a handmade component to them and must be family friendly.
10. Craftisart.com
Craftisart.com is a great way to sell your wares. It is super easy to use and set up your online selling store.
Set up a free (5.5% commission) or premium account (No commissions but $7.99 a month or save and pay $79.99 a year). Whe you sign up, you get an easy-to-use shop that is customizable, plus your own web address. This way you can promote your page URL.
Some fun features you can offer your customers are coupons and sales. With a premium account, you can offer unlimited coupons.
Additionally, they offer facebook integration and a quick blog so you can keep up with social postings. Plus a handful of other great features to highlight your products.
Summary
If you have a knack for creating crafts, and you think people might enjoy purchasing the designs you make, selling your crafts on the web sites mentioned here could be a great way for you to make some extra cash.
Who knows, maybe your crafts could turn into a side hustle and go from there.