Are you searching for Halloween crafts to sell? Decorating for Halloween is becoming more and more popular. Many families have a Halloween spending line item in October every year. Halloween is just around the corner. And it's a favorite holiday for kids and adults alike.
Costumes, candy, fall decorations abound. What's not to like?
However, have you thought about earning cash for Halloween? By creating some fun crafts to sell, you can help make the holiday extra fun.
You can create crafts that will make giving out candy extra fun. Or you can make decor items for customers who love to decorate.
Bonus: You'll make some money in the process. Check out these ideas for easy Halloween crafts you can sell.
Easy Halloween Crafts to Sell
I'm not much of a crafter. It's not that I don't like crafting. I love it. I'm just not gifted at it like some people. It takes work for me to make a craft worthy of selling.
Lucky for you (and me) we've chosen easy craft ideas for this post. You can work these ideas even if you're not a crafter. And why not have the kids help?
They can add little touches like gluing plastic spiders. Ready? Let's make some money and have some fun.
Halloween Craft Items
Here are some items you can sell as home or office decor. Help your customers make the holiday a bit more festive.
1. Furry Monster Pillows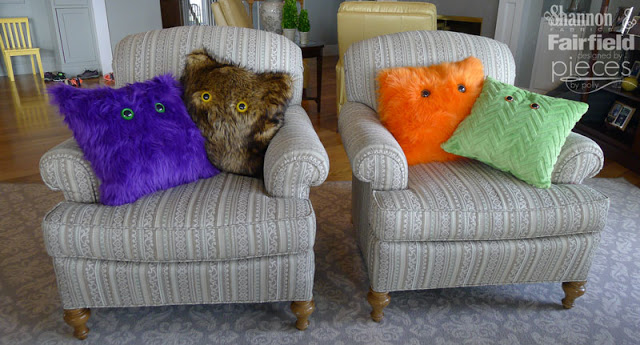 These cute Furry Monster Pillows could be a great Halloween gift or you could sell to those looking to add Halloween decor to their homes.
Just choose your favorite faux fur, get some poly fill stuffing, and use the right "googly eyes."
Note that if your local craft store doesn't have the best selection of stuffed animal or googly eyes, you can always check out craft sites such as Etsy.
I'm betting that these fun pillows could be an easy sell to family members, friends, and fellow parents at your child's school.
Think about including this craft if you're looking to find ways to make $500 quickly.
2. Halloween Bingo Game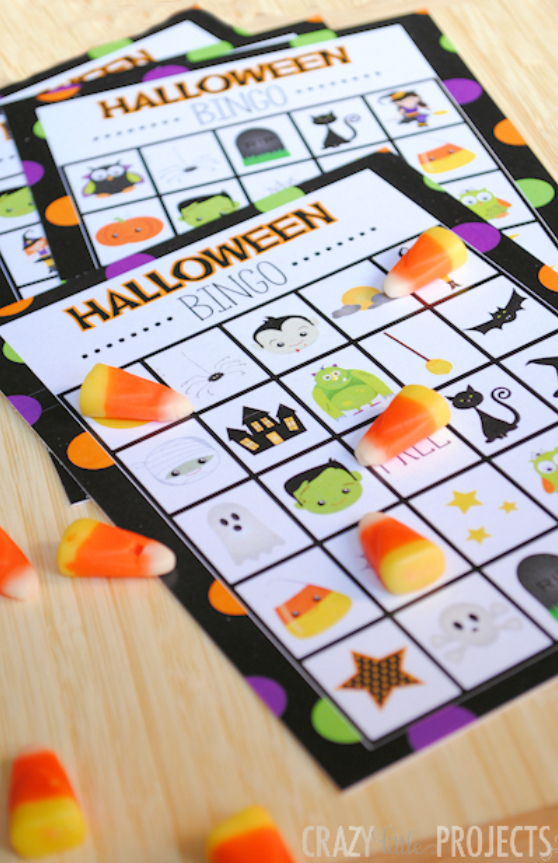 Amber over at Crazy Little Projects offers a free Halloween Bingo game printout for readers.
However, you could always create your own and sell the game to neighborhood friends and family members.
You'll need to have a bit of graphic design knowledge to make this craft your own. And you'll want to print it out on a heavy cardstock paper.
If you don't have a high quality printer, consider getting the cards printed at a local office supply store.
Search online stores for bingo chips to include with your game, or do like Amber does and suggest that buyers use candy corn in lieu of bingo chips.
3. Snake Wreath
Warning: This section not for ophidiophobics. 🙂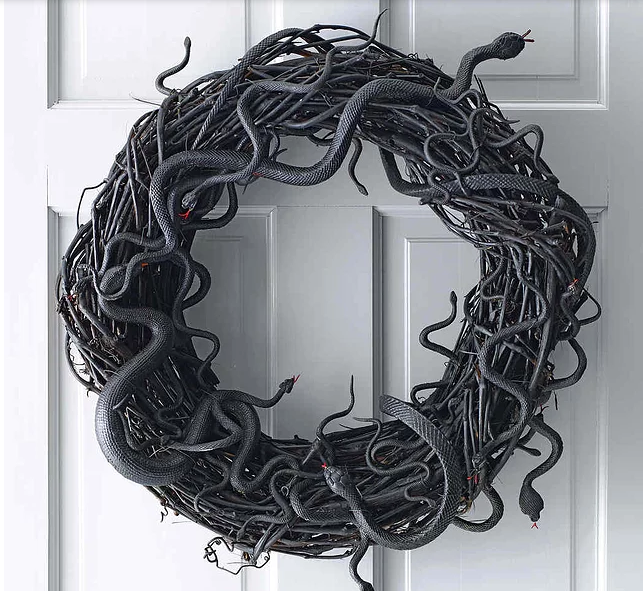 When my oldest daughter asked me in 2018 if she could bring home a snake, my knee-jerk response was "Absolutely not."
Today, she has four of them living in her room, including a four foot long female ball python who is as sweet as pie.
In the years she's had her snakes I've learned two very important things about snakes:
Well-trained ball pythons are timid and sweet
Many people are terrified of them
If you can learn to love snakes like I have, you might like making and selling this cute snake wreath.
All you'll need is a basic grapevine wreath, some toy snakes, and some black spray paint.
Use floral wire to attach the toy snakes to the wreath, and paint the wreath.
And tell potential customers and fearful onlookers not to worry; they're not real snakes. 🙂
4. Painted Pumpkins
With a little paint, glitter, and creativity you can make cute pumpkins. The ideas are endless. White base with black paint. Black base with orange paint.
You could monogram the pumpkin with a customer's name. Or the first letter of their last name. Add painted ribbons, spiders, pumpkins and more.
Use the front of the pumpkin to make a cat face. Paint ears near the top.
Be creative and choose your design. Add a ribbon on top for extra pizazz. Offer to personalize the pumpkins for kids.
Paint a child's name on the pumpkin in a fun font. Use craft glue to add a picture of the child.
Customers can use the pumpkins to decorate indoors or out. Paint tiny pumpkins for use as table decor.
5. DIY Halloween Canvas Art
Why not create your own canvas art to honor Halloween? Buy canvas boards on sale at your local craft store.
Use your imagination for ideas. Paint a brown background with pumpkins. Or a black background with spider webs.
Add a spooky saying or a "Happy Halloween"' for added effect. Search online or in craft stores for picture ideas.
6. Painted Pumpkin Jars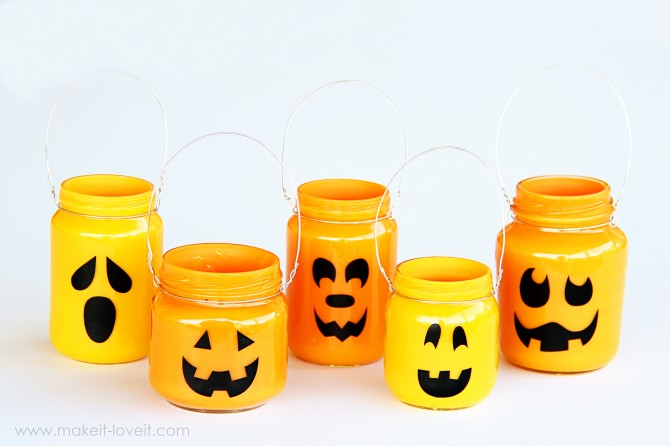 These cute painted pumpkin jars are easy to make. You can put votive candles inside and place them on the front steps.
Another idea: place them on the fireplace mantle or dining table. All you'll need is a few basic supplies:
Canning or other jars
Orange acrylic paint and brushes
Votive candles if necessary
Black electrical tape and scissors
Paint the outside of the jar. Let it dry completely. Cut out eye and mouth shapes using the tape. Tape the designs on the front of the jar.
Add votive candles for customers looking for decorative pumpkins.
Hint: This craft can double as a treat holder! Or, you can paint the lid, punch a hole in it and add a straw. Use it to serve apple cider or other drinks.
(Hat Tip to MakeIt-LoveIt.com)
7. Wooden Halloween Blocks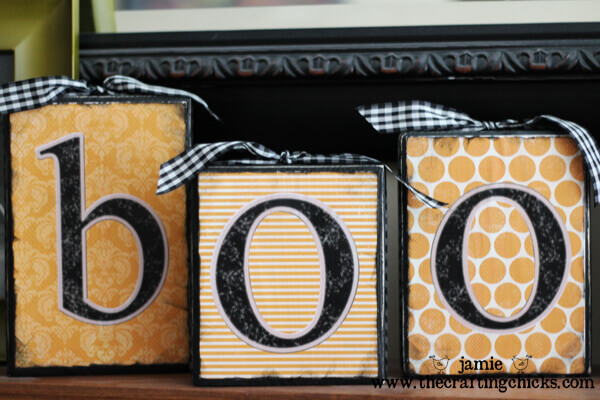 Another idea for home decor is to make Halloween-themed wooden blocks. You'll start by buying wooden blocks from a craft store.
Use paint, scrapbook paper or stamps to decorate the blocks. Buy pre-made letters or make your own from scrapbook paper. Be sure it coordinates with the base design on the blocks.
Glue a ribbon at the top of each block for extra spice. Or make a pipe cleaner spider with googly eyes for the top. A small foam or plastic pumpkin would work, too.
8. Halloween Picture Frames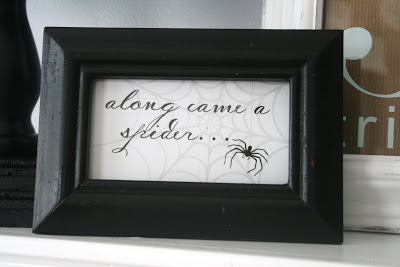 This Halloween picture frame is another idea with endless possibilities. Buy a basic wood picture frame. Paint it black, orange or white.
Leave the frame with the basic color, or add more design. For instance, you could paint white spider webs on a black frame.
Or tiny pumpkins on a white frame. Customers can use the frames to display pictures of kids in costumes.
Or, you can use Photoshop to make and print a cool saying and design. Another idea is to make a printout with a spooky monogram. The pictures can act as Halloween home decor.
9. Halloween Wreaths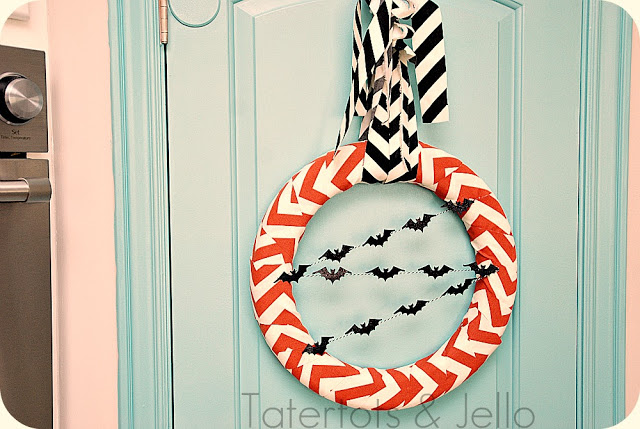 You can make Halloween wreaths to sell in many designs. Most fabric stores have a wide array of Halloween-themed fabric.
Foam wreaths are sold at craft stores. Use your imagination and get attractive fabric. Add a long hanger made out of coordinating fabric. Tie it with a bow at the top for hanging the wreath.
Craft Items to Add Pizzazz to Candy Treats
This next section of ideas can help you spice up your Halloween treats.
10. Candy Corn Treat Bags
How about making bags for holding Halloween candy? These trick-or-treat bags look like a giant piece of candy corn. They're fun and easy to make.
Search online for different patterns. There are several available in various sizes and shapes. Add a sturdy handle so kids can firmly carry their bounty of candy.
11. Personalized Treat Bags
Why not sell personalized treat bags made with simple tote bags. The first step would be to find a tote bag at a local craft store like Joann or Michaels.
Use your imagination to decorate the bags. Some ideas for decorating include:
Paint the bag orange or black
Paint a spider, cat or pumpkin on the bag
Add a child's name to the bag
Paint "Happy Halloween" or "Trick or Treat" on the bag
Use glitter or other accessories to add pizzazz
Search online for ideas or get ideas from crafty friends.
12. Mason Jar Candy Holders
This could be a fun craft idea to sell to teachers or daycare providers. Buy pint-sized mason jars.
Cut out triangle-shaped eyes from electrical tape. Attach them to the jar. Add a triangle-shaped nose. Make a mouth fit for a pumpkin with the tape.
Take the lid of the jar and add Halloween-themed scrapbook paper. Use the lid to cut out the right size. Glue the paper to the lid. Place the lid on the jar and add the ring to keep it in place.
Add small candy to make it ready to hand out. Or let customers add their own candy. Some candy ideas include:
Candy corn
Sixlets
Skittles
M&Ms
Use your imagination. There's no need to paint the jars for this craft. The candy will add the color.
13. Soda Bottle Halloween Wraps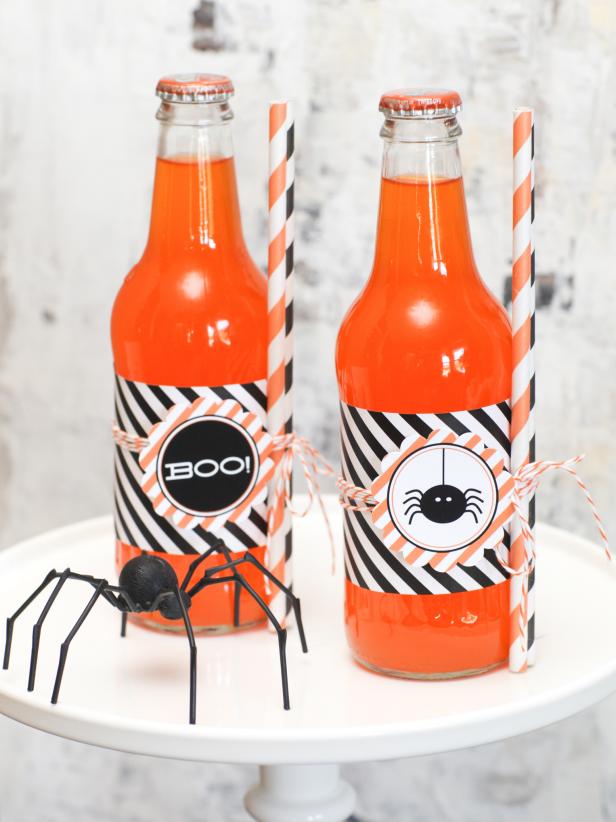 Soda Bottle Halloween Wraps are another idea you could sell two ways. You could sell the soda with wraps attached. Or you could sell the wraps and let clients glue them to soda bottles.
Find Halloween-themed scrapbook paper, or use Photoshop to make your own. Cut out a piece that's the right size to cover the print on the soda bottle.
Glue it in place with craft glue. Add special touches such as a plain circle of orange paper taped in the middle. Write "Boo!" on it with a black sharpie.
You can sell the wrappers without bottles, too. Instruct buyers how to glue them on the bottles themselves.
14. Bat Straws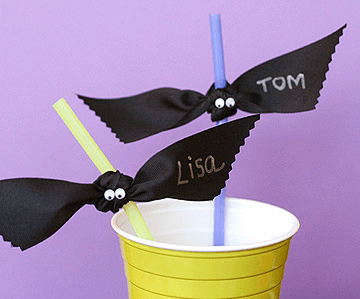 These bat straws are a great idea to sell to people who have Halloween parties. You'll need a few simple supplies:
Colored straws (plain ones work too)
Shiny black ribbon about 1.5 inches thick
Small peel-and-stick googly eyes
Cut ribbon pieces roughly 5 inches long. Cut a zig-zag pattern on the ends of each piece. Tie the ribbon piece around the straw. Spread the knot so it's wide enough for the eyes.
Attach the peel-and-stick eyes (or glue them) on the knot. Buy flexible straws to make the bat stay in place. Or use glue in the middle of the ribbon to help them stick.
Customers can personalize the ribbons if they like. Have them use gold or silver Sharpies for writing names.
15. DIY Cupcake Toppers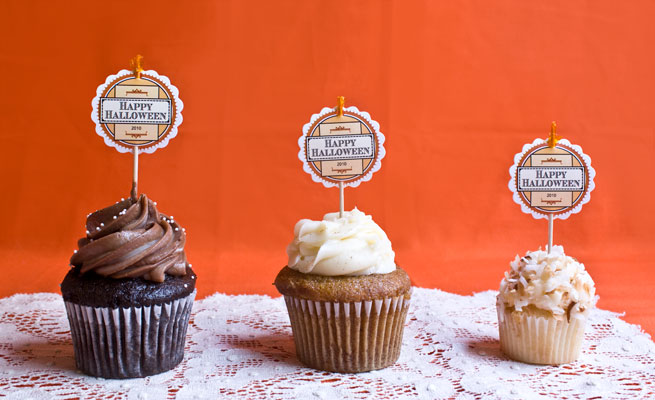 These cupcake toppers are another craft item that is simple to make and sell. The topper craft idea is up to you. Use scrapbook paper with a Halloween design.
Or, use plain paper and add your own design. Make the topper roughly 3 inches by 2 inches. Add a foam pumpkin, some glitter or a paper spider cut-out.
Or, use Photoshop to create a printable design you can cut out.
Leave room to write names if you'd like. Use craft glue to glue an extra long toothpick onto the back of the design. Or punch tiny holes in the topper and slide the toothpick through.
Bonus Idea: Create Your Own Halloween Themed T-Shirts
Did you know you can create your own t-shirts and sell them online with little work beyond your initial design and some marketing?
Sites such as Zazzle, CafePress, and Redbubble will let you upload t-shirt designs for free.
You take care of the marketing, they take care of printing, fulfilling orders, and customer service.
They just send you a check when your t-shirt design sells. Your designs can also sell on mugs, pillows, and other items.
Places to Sell Your Crafts
These craft ideas are cute and easy to make. Next, you'll need some ideas on how to sell them. Check these out.
Tip: Marketing is key to making sales. Use a good camera to take great pictures of your crafts.
Showcase your ideas in their element. Take pictures of cupcake toppers on top of cupcakes. Add suckers to sucker holders. Fill your candy bowl full of candy.
Place home decor items in your home in an attractive manner. Take the pictures showing how cute they look.
Be descriptive to give potential clients ideas for using them. Help them envision how your craft can make their life better.
Advertise your crafts on the following venues.
Facebook Marketplace
Facebook Marketplace is a nice place to advertise because it's free. Share the links to your crafts with your followers.
eBay
eBay is great because of the huge audience. But know that eBay will charge listing and selling fees.
In addition, take into account shipping costs as you determine your price. You may encounter a lot of out-of-town buyers.
Advertise Locally
You may be able to advertise locally. Check craft stores for bulletin boards that allow advertising. Or participate in fall craft fairs.
Talk to teachers at your kids' schools and see if they're interested. They might want some of the treat crafts to hand out to kids.
List your items on your neighborhood listserv or app. Hand out flyers to your neighbors. Or have an open house showcasing your products.
Have Friends and Family Help Spread the Word
Let family and friends know about your new business. Ask them to share links on their Facebook accounts.
The more people who know about your business, the better. People can't buy your crafts if they haven't seen them.
Summary
There are so many easy craft ideas for Halloween. Create and sell them to earn extra cash. Or use them to celebrate Halloween at your house.