Want to know how to make $500 fast?
All of these money-making options can help you raise $500 in a week or even less if you work them right.
If you do a combination of the tasks you may even be able to earn more than $500.
Check out the list and see which ideas will help you get cash as soon as possible.
How to Make $500 Fast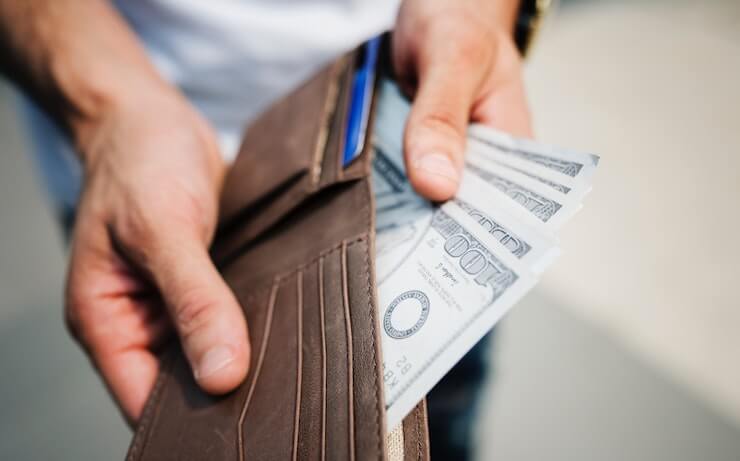 Whether you want to grow your emergency fund, save money or pay for a big purchases, here is a comprehensive list of ways you can make $500 fast.
1. Take Care Of Pets
Do you like pets? Check out Rover.com where you can get paid to take on a variety of pet care gigs.
Some people might hire you to walk their dogs. Others might hire you to pet sit while they're away on business or pleasure trips.
Or they might hire you to drop in and check on their pets once or twice day. You can find gigs to care for pets in your own home as well.
You create your profile and share which services you provide and what you charge.
Then you choose which jobs you want to take based on your preferences and schedule.
This is a nice feature because you can be in total control of your hours and the types of pets you care for.
Payment is usually made within a couple of days after the job is completed. And clients often give tips for great service, making it easy to earn extra money.
Note that sites like Rover.com have review sections too. The more good reviews you get, the more likely people are to request your services.
This is why stellar service is so important when you're doing gigs on sites like Rover.com.
2. Find Babysitting Or Nannying Gigs
Would you rather care for kids than for pets? Care.com functions similar to how Rover.com does.
You create a profile that shares a bit about yourself and your experience as a caregiver.
You choose the days and hours you are available and also what you charge for your services.
For instance, you could offer your services for occasional babysitting jobs or for part or full-time nanny jobs.
You can offer to work days, nights, weekends or all of the above.
Clients see your profile on the Care.com site and call you to discuss having you care for their children.
When you finish the job, the client pays Care.com and Care.com pays you.
As with other gig jobs, you might receive tips when completing a job as well.
Care.com is a great resource for finding babysitting or nannying gigs if you want to make $500 fast. The site offers free and paid memberships, depending on your needs.
3. Care For The Elderly
There is a huge need for people to care for the elderly. You might be hired to simply sit and visit with an elderly person.
Or you might be hired to provide some light care for an elderly person. If you enjoy older people and are responsible and caring, you might like doing gigs in this arena.
See sites such as Care.com or FindaCareGiver.com to post your profile offering your services to care for the elderly.
Each job that involves caring for the elderly is different so it's important to get the details about the job when someone wants to hire you.
You might be hired for long-term jobs or for shorter jobs. You get to choose when you're available and which jobs you choose.
Each site has different terms and conditions, so read all contracts carefully.
4. Tutor Students
Tutoring is another option for making $500 fast. There are several companies that hire online tutors in a variety of subjects.
You can work teaching English as a second language to students. Or tutor in basic subjects like math, reading, and grammar.
You can choose what age of student you want to tutor as well, whether that includes young children, older children, or adults.
Many tutor companies allow you to choose the hours you work. Depending on the work schedule you choose, you get paid after the job is done or on a weekly basis.
Note that different tutoring companies have different experience qualifications for tutors they hire.
Some companies might require a college degree of any sort, while some might require a teaching degree. Others require no experience at all.
See the rules for each tutoring site for more details.
5. Take Surveys
Survey Junkie is a company that is 10 million members strong. Each day their members have the opportunity to receive points by taking online surveys.
Those points are then transferred into cash to your PayPal account or into gift cards from popular stores such as Amazon and Target. The option to earn cash rewards makes Survey Junkie a great platform.
However, you can't receive direct deposits to your bank account.
The great thing about these types of phone gigs is that you can do them here and there in your spare time.
If you're waiting at the dentist office for an appointment, sitting at home bored or in between classes at school you can be earning some quick cash.
Now, you'll have to do a lot of paid online surveys and other activities to make $500 fast, but if you're on your phone a lot anyway this could be a great option for you.
6. Search The Internet
Swagbucks has paid out over $400 million in rewards to its members. Swagbucks members do a number of things to earn points. If you want to make money, this is a fantastic option to try.
There are more than just a few ways to earn points with this platform. These include searching the Internet, completing surveys, taking the time to watch videos or playing games.
In fact, this is one of the best platforms to make money by playing games. It's also one of the top survey sites.
Swagbucks also gives members points for online shopping purchases. After you've earned a certain number of points, Swagbucks will pay you in the form of gift cards.
You can get gift cards to your favorite store or restaurant, OR they'll make a cash deposit into your PayPal account. This means you can earn cash rewards with this platform.
Related article: 6 Ways To Make Money Searching The Internet
7. Watch Videos
Are you interested in making money online by watching videos? InboxDollars is an Inc. 5000 company that pays real cash to millions of its members.
In fact, the company boasts over $50 million paid out so far and is one of the best survey sites if you want to make money.
Once you become a member, InboxDollars will pay you for doing things you probably already do such as watching videos, taking surveys, shopping online and searching online.
For instance, you might watch videos for ads about products or services. Or you might watch an ad for a preview for an upcoming release for a movie or TV show.
Each activity you do earns you money. Watch your account's monetary balance increase with each activity or shopping excursion.
When you're ready to cash out, you can request payment via a PayPal payment, making this a great option to earn cash rewards.
Related article: 15 Ways To Get Paid To Watch Videos
8. Gigwalk
When it comes to odd jobs, signing up to be a Gigwalk member is another way you can use your phone to earn cash fast.
This company works differently than the others we've talked about.
Gigwalk is in the business of helping companies make sure they're advertising in a way that attracts clients.
They use "gigwalkers" to help them do that.
As a gigwalker you might be asked to take a picture of a product display stand at a local store or take a picture of a menu at a restaurant.
Or you might be asked to verify the layout, number of floors or take pictures of stairwells in a building.
Some gigs include counting the number of products situated on a product display.
Gigs through Gigwalk pay anywhere from $3 to $100.
You'll get told what you need to do, how much the gig will pay and how long it will take before you accept the job.
The better job you do at completing your gigs, the more high paying gigs you can be offered.
9. Task Rabbit
Task Rabbit can be a great place to find jobs you love at the rate you choose. Yes, you heard that right. You can make money and set your own rate, allowing you to make $500 fast.
When you become a tasker for Task Rabbit, you're given access to a list of available gigs in your area.
If you want to do the job, you simply offer to do it for the rate of pay you choose. If the client accepts your rate, you're in and off to work.
Task Rabbit "taskers" are called on to do a number of different types of tasks for clients.
Here is a list of some of the task opportunities you'll have as a tasker:
General handyman jobs
Moving and packing
Mounting and installation
Yard work
Home improvement
A client might also hire a Task Rabbit tasker to make a delivery for them or help them get their home ready for a social gathering.
Taskers don't have to deal with payment either; the company does that for you.
Bonus: some clients give their taskers tips when the job is complete, meaning you can make $500 fast.
10. Pick Up A Food Delivery Gig
Companies such as DoorDash, are always hiring delivery drivers to bring meals to customers.
When you work for one of these companies you'll be delivering grocery store orders, restaurant meals, or take out food such as coffee.
The great thing about food delivery gigs is that you can typically set your own hours. The apps for each company will show you where to go and what you'll get paid.
You get paid weekly and a lot of drivers earn tips on the spot for providing excellent service.
And depending on where you live, you can use a car, bike, or other modes of transportation.
This is a gig that will earn you the most cash if you live in a highly populated area where there are several restaurants close by. You may also be able to make more money if you work during busier times.
Check out this article on the best delivery apps to work for in order to get more information on this method to make $500 fast.
11. Simply Hired
Simply Hired is a jobs website that might be able to get you cash fast.
When I searched our city on the site, I found a temporary job for a dishwasher that started immediately and paid daily.
Just go to Simply Hired, type in "temporary" in the first search box and your city in the second.
The site will populate a list of jobs, many of which start immediately and offer flexible hours and great pay and/or fast pay.
By working for just a few days you could make $500 fast and then be done, or keep working and earning extra money if you like the job opportunities.
Simply Hired advertises full-time jobs, part-time jobs, permanent jobs, temporary jobs and more.
12. Craigslist Gigs
Craigslist has a search box on their homepage below the "jobs" section called "gigs". Gigs are jobs that are generally completed and paid within a day or a few days.
In Craigslist's gigs section, you'll find a variety of short-term, quick-paying jobs such as domestic jobs where you're helping someone clean their house or pack for moving.
You might also find a job in the "event" area of gigs where you're helping set up, tear down or work at an event that is being held.
Other gig opportunities might include computer work such as setting up or repairing a computer for someone.
There's also creative work available such as helping someone write a story, or labor work such as helping someone complete a landscaping job.
Clients usually state the exact help they need on the site as well as the amount of money they're willing to pay the person(s) they hire.
When I searched the Craigslist gigs section for my area, I found a variety of opportunities including:
Social media management
Online coding
Photography jobs
House cleaners
Pet sitters
And more. Craigslist will probably have gigs advertised pretty much any time you want to work.
13. Ask Around to Neighbors, Friends and Family
Another easy way to make $500 fast is to send out an email, text or Facebook post asking friends, family and neighbors if there are any jobs they might want you to do for them.
Some examples might be:
Cleaning and organizing a garage or a room in their house
Mowing their lawn and other small landscaping tasks
Washing and vacuuming their car
Babysitting their kids or pets
Washing their windows
Helping them pack for a move or rearrange their house
Bringing a load of trash to the local landfill for them
Explain in the email that you are needing to earn a few hundred dollars very quickly, and give them ideas of jobs you are willing to do for quick cash.
For instance, you could ask them if they need errands run for them or if they need help decluttering their home or garage.
Or simply ask them to suggest a job if they have something they need done.
If you do your job well it's likely they may call on you in the future when they need something done as well.
Most of your family and friends will want to help you make money if you need support, so don't be shy about asking for help or referrals.
14. Search Job Sites for Jobs
Many employers have job positions open that need to be filled immediately and pay cash quickly. One example is that of a server at a restaurant.
As a server in a restaurant that needs you to start immediately it may take a week or two before you're paid your hourly wage.
However, you can start earning tips the first day you work if you do your job well.
Other options that usually hire quickly and can get you cash right away are working as a pizza delivery driver or a restaurant delivery driver.
Pet walkers and lawn maintenance jobs often pay right away as well. House cleaning jobs often pay after each job.
Indeed and Craigslist are two sites that you can search to find jobs that are hiring immediately.
With sites like Indeed you can search for jobs in many ways. You can look for part-time or full-time, temporary jobs, jobs based on location, pay, and more.
15. Find Online Jobs
Another way to potentially make hundreds of dollars quickly is to find available online jobs.
Sites such as Upwork and Fiverr feature jobs that you can generally do from home and complete fairly quickly.
Although you can find longer term jobs on Upwork, you can also find freelancing gigs like graphic design, website maintenance jobs and writing jobs.
Fiverr features the same types of jobs.
These sites are largely used by smaller companies that need short-term tasks done and pay as soon as the work is complete.
By short-term, I'm talking about jobs that may take you a few hours, a day, a few days, a few weeks or a few months.
With sites like Upwork and Fiverr, the potential is there too to build long-term relationships with your clients.
If you do a great job at the gigs they give you, they may decide to contact you again for future work.
That means they can contact you directly and you will no longer have to compete with other job seekers on the sites.
16. Recycle Stuff
Another way to bring in cash fast is to recycle items – either your own stuff or the stuff that friends, family and neighbors want to get rid of.
Depending on which state you live in there are several options for recycling things. You can collect aluminum cans, collect scrap metal, or recycle old appliances.
You might also be able to recycle old electronics or glass bottles and jars.
Depending on what you recycle and how much of it you bring in, you could earn several hundred dollars in just a few days.
You'll have to put in some time as you go to different houses to pick up their discarded recyclables, but in the end, you'll have cash in hand.
We recommend starting by checking for items in your home that can be recycled for cash.
After you've done that, reach out to family, friends and neighbors and ask if you can take recyclable items off their hands.
They'll probably be glad to get rid of the clutter without having to do much work.
Lastly, put out a notice on community Facebook pages offering to pick up scrap metal, aluminum cans and more.
Plan your pick-up trips so that you're hitting customers who live nearby each other at the same time.
This will minimize gasoline usage and maximize income as you pick up recyclables. Then bring all of your collected items to the proper recycling centers.
17. Amazon Trade-In Program
The Amazon Trade-In program allows customers to receive Amazon gift cards in exchange for hundreds of thousands of eligible items.
These items include Kindles, books, electronics, DVDs, and more. The process is easy and convenient with an immediate offer and free shipping.
Amazon sends you a prepaid shipping label via email, so it won't cost you anything to ship your items to them.
Depending on what you have to sell, Amazon may or may not take it. But if they do, they'll give you an offer price.
Then you choose to sell it to them they'll pay you in the form of Amazon gift cards within two days of analyzing your stuff.
Qualified customers who send in a video game, console or accessory can be paid immediately by selecting Amazon's Instant Payment option.
However, it's important to be accurate about the stuff you're sending in for trade-in. If your package arrives and things aren't as described Amazon will request the money be returned.
Is the item you need money for not available on Amazon? How about selling the gift card to family, friends or on eBay at a discount so you can get cash on the spot?
Most people shop on Amazon at least once in a while so it shouldn't be difficult to sell your Amazon gift card if you'd rather have straight-up cash.
18. Decluttr
Decluttr could be a good way for you to make cash if you've got a lot of CDs, DVDs, books or video games laying around that you no longer use.
The company even buys Lego building block sets. It's a great option to help you sell stuff.
Decluttr is the easiest way to sell your unwanted tech stuff online. You enter the ISBN number of the product you want to sell, and Decluttr gives you an immediate offer.
After you've finished entering all ISBN numbers and agree to the offer prices, you accept and then Decluttr sends you a free prepaid label for shipping.
When you send your items in, Decluttr processes them and then sends payment within just a day or two.
Decluttr can pay you a number of different ways: via PayPal, via direct deposit to your checking or savings account or they can mail you an actual check.
PayPal payment will be the fastest way for you to get your cash with Decluttr.
Having trouble finding items you can sell to Decluttr? Reach out to family, friends and neighbors and ask if you can take any CDs, DVDs or old electronics off their hands.
You can help them declutter while you "Decluttr" your way to extra cash.
19. eBay
eBay is probably one of the most popular sites for selling stuff as its reach is far – you can sell to people all over the world.
When you're selling stuff on eBay it's important to list with competitive prices.
You can do this by checking prices of items already listed on eBay that are similar to what you would like to sell.
If you price just below what the others or asking your item will probably sell quickly.
Remember as you price your item to think about shipping and add any shipping costs into your price if you're promising free shipping.
And remember to write a great description and to take good pictures for the items you're selling on eBay.
Most eBay buyers pay via PayPal, which means fast payment for you. Search your home and garage for items to sell on eBay, or pick up quality free stuff from Craigslist.
You can always ask family, friends and neighbors if they have anything they want to get rid of as well. Be sure to only take quality items that you can resell.
20. Craigslist
When you want to make money by decluttering, Craigslist is another great venue for selling your stuff.
Although your reach isn't as far (you'll probably only be selling to local people) you will be able to sell items potentially on the same day you list them.
In fact, we recently listed a car on Craigslist that sold on the same day, and we got a great price too.
Bonus tip: Some people make money fast by picking up the free items offered on Craigslist's "free" section and then reselling them for cash.
If you find some great items that are listed in the "free" section, this could be a ticket to making $500 fast too.
Note that it wouldn't be a bad idea to list your "for sale" items on other venues as well.
There are several sites like Craigslist that also allow you to list items to sell without charging you a sell fee.
21. Consignment Shop
When it comes to making money, consignment shops can be a great way to make fast cash if you have a lot of clothes or household items that you can do without.
Note that the fastest sellers in consignment shops are generally name brand items that are in great condition.
When you list items with consignment stores, the store employees price the item, and when it is sold the store owner splits the earnings with the seller according to predetermined terms.
Consignment stores can be an effective way to sell higher quality items because you don't have to worry about shipping and you have customers coming into the consignment store.
Google search "consignment shops in my area" to find stores near you, and call to get specific information about the types of items they take and how payment works.
Be sure to read the consignment store's consignment contract thoroughly before you agree to sell your items at the store.
22. Pawn Shops
Neighborhood pawn shops sell items for people too, but in a different way.
A pawn shop will generally give you a "pay now" price and then resell your item later for a profit.
When you bring your items to a pawn shop they'll determine a selling price and pay you immediately in most situations.
Note that the prices you get will be lower than what you may be able to sell them for directly, but you will get paid on the spot in most cases, which is nice.
As with consignment shops, pawn shops will have a contract you need to sign. Be sure to read all terms on the contract carefully.
It won't hurt to read online reviews for the pawn shops you're considering either. Some pawn shops treat their customers very well while others don't.
Choose a pawn shop that has a good reputation and offers you a fair deal.
But as mentioned earlier, you won't get the same price you would if you were selling your items outright. Be prepared to get offered low prices on the items you're selling.
23. Garage Sale
Hosting a garage sale can be a lot of work, but they can also help you earn hundreds of dollars quickly.
At our last garage sale, we sold all of our baby items as our youngest child was out of the baby stage and into toddlerhood.
We raked over $750 in at that sale. It seems baby items are in high demand at garage sales.
If you choose to make extra money by having a garage sale, consider the following tips for selling your stuff quickly:
Advertise your sale with signs in your neighborhood
Advertise on sites such as Craigslist or other alternatives
Choose to sell items that are in good shape
Stuff that's in not so good shape can be put in a "free" box
Price your stuff competitively – Ten percent of retail price is a good guideline
Be willing to bargain with shoppers
Have your items clearly priced
Organize items neatly on tables to make for easy shopping
Also, have your sale on or near a weekend: Thursdays, Fridays and Saturdays are the best days for sales.
In addition, try and have your sale when the weather forecast is for a nice, sunny weekend.
With some organization and hard work, you can prepare for your sale in just two or three days and have hundreds in cash by the weekend.
24. Facebook Marketplace
If you are interested in making extra money online, Facebook Marketplace is a popular option to sell things these days.
This is especially true if you're selling baby or kids' items, or higher end items that are in great shape.
The awesome thing about selling on Facebook is that it's easy: you simply post a message sharing what you're selling and how much you want for it.
Depending on the value of what you want to sell – or on how many items you have to sell – you could make $500 fast.
Hint: For baby and kids' clothes, I'd suggest selling them in bundles by naming how many of each item you have (i.e., pants, shirts, onesies) and putting a group price for taking the whole bag or box. This can help you make more money.
Another way to maximize your chances for a quick sale is to check out similar listings to get an idea of how to price what you're selling.
Do this so that you don't price too high and not get any bites, or price too low and miss out on cash you could have had.
Also, be patient!!! Give your advertised items some time to sell and wait for the right buyer.
25. Bookscouter
Bookscouter could be a great way for you to make cash fast if you are a recent college graduate and have a lot of textbooks to sell. It's also a great way to save money on textbooks.
If you look at their website, Bookscouter says will help you get the best price for your textbooks. Here's how it works.
You enter the ISBN number for your textbook (you can usually find it on the back of the book) into the Bookscouter system.
Bookscouter searches its database for price offers from booksellers around the world. The site then populates a list of sellers, from which you can accept or reject their offer to buy.
After you accept their offer to buy, they send you a prepaid label you can use for shipping, and you send in your books.
Within 1-2 days of receiving and checking your order, the bookseller will pay you via PayPal.
It's important to note that not all booksellers pay for shipping, so be sure to check the fine print before choosing a seller offer.
Also, many booksellers have a minimum payout before they'll send a prepaid label that you can use to ship your books, so this site might work best for those selling multiple textbooks at a time.
Summary
Some of the best professional financial advice out there is to find ways to increase your income. Luckily, there's never any shortage of ways to make $500 fast. You simply have to know where to look.
Whether you want to save money, pay down debt or cover an emergency expense, there are dozens of ways you can make $500 fast if you're willing to put in the work.
By checking this list and determining which of the ways of earning cash are most conducive to your lifestyle, you can earn the money you need fast.