Are you upgrading your appliances soon? Do you need to replace that old refrigerator, freezer, dishwasher, washing machine, dryer, stove or other large appliance?
If so, you might be able to sell your old appliance and get some cash for it. There are many places where you can sell old appliances that you are getting rid of when you purchase new ones.
There are also people who make a serious living by selling used appliances for extra cash.
If you have old appliances you would like to get rid of, or if you think you might want to make a living selling used appliances, read on for some reselling tips.
Best Places to Sell Old Appliances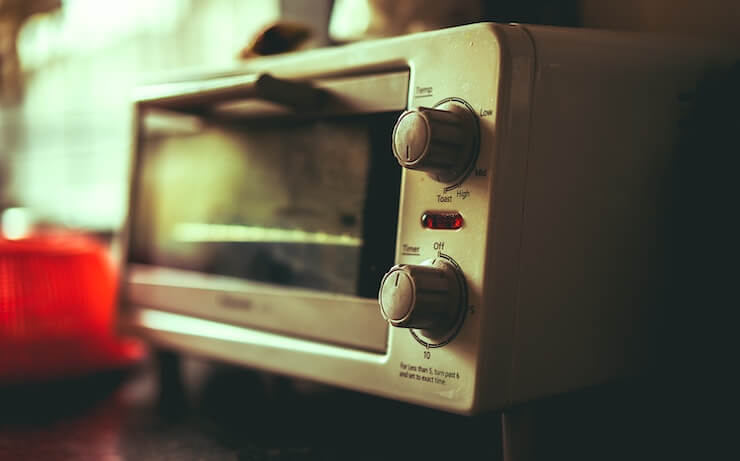 Most people choose to sell their appliances on their own through social media or online sites. The best online site for selling appliances like washers or dryers for cash tends to be Craigslist.
Here are some tips for getting top dollar as you work to sell your old appliances on Craigslist.
1. Craigslist
There are reasons why some things sell faster than others on Craigslist. When you search to buy items on Craigslist, you'll find some things going quickly and others sitting for weeks.
Here are some keys for a quick sale if you are looking to sell your used appliances on your own via Craigslist.
Be Honest About the Condition
People dislike having their time wasted, and I'm sure you do too. When selling your used stuff on Craigslist, be honest about the condition of it.
If there are scratches or dents on the appliance, let people know. Be clear about how old the appliance is and how much use it has had.
For instance, if you're selling a clothes washer you may have really given it a run for its money if you have lots of kids.
However, if you are a single person or retired couple, you are probably only doing one to two loads a week.
People like knowing what the history of an appliance is before they go to look at it.
Take Good Pictures
Taking good pictures is key to a fast sale on Craigslist. Make sure to use a halfway decent camera that gives a clear reflection of the condition of the appliance.
Include pictures of any damaged areas as well. The more a person knows about an appliance, the better judgment they can make if it might be the right one to fit their needs.
Check Similar Ads for Pricing Ideas
It's a good idea before you price your appliance to make sure you have an idea of how much similar items are selling for.
If you price too high you could be holding on to the appliance for longer than you want to and end up lowering the price eventually anyway.
If you price too low you may get rid of the item quickly but you could be losing out on some cash.
As you try and gauge a competitive price, know that while the comparison items don't have to match your appliance exactly, look for similar models and what they are selling for.
Just try and price your item in a range that will be sure to let buyers know they're getting a good price.
Specify Your Location
Location is important when selling used stuff on Craigslist – especially big ticket items such as appliances.
Many people want to drive around 5 to 10 miles for bulky items. Others will drive far just to get a deal. Be clear about where you're at so people know right away whether or not they want to make the drive to buy your item.
List the Appliance Specifications
Appliance specs are also important for a quick sale. Most of the time you can find the specs for the appliance you're selling on the Internet and just copy and paste them into your Craigslist ad.
If you can't find online specs for your appliance, be sure to include the dimensions as you write up the ad.
Height, weight, and depth of an appliance is important so that buyers know whether the appliance will fit in the space they've designated for it.
Title Your Ad in an Attractive Manner
As you write your ad, make sure to be a bit creative as you title it. Check out these two real life ad examples for refrigerators that were selling on my local Craigslist site.
Example #1: "Old Refrigerator"
Example #2: "Vintage Kenmore Brand Refrigerator 21 cubic ft"
Which listing title sounds more attractive to you and would make you consider reading on? The second example is definitely more enticing, even though the first refrigerator might be a better buy.
You want to pull out potentially attractive features for your appliance as you title. Key phrases in your title such as "in great condition", "rarely used" and "like new" work well for getting stuff sold quickly.
Be Clear About Your Price
As you set your price, think about how willing you are to deviate from that price. Even if you are set on getting your highest price, think about how you would feel if the item didn't sell after a couple of weeks.
Would you be willing to go lower at that point? If so, you may want to start out being more flexible. For instance, you could say "$200 or best offer".
Think too about what the minimum price is you think you would take, and just how set you are on that minimum price. Try not to let emotion influence you as you determine your price.
Are you willing to hold on to the appliance longer to get your price or is it more important to you to get the item off of your hands?
If your main concern is simply getting the appliance out of your house, consider adding "or best offer" to your sale price.
Most Craigslist buyers are looking for a deal, and stuff that is priced too high or close to what they can buy it new for is going to be more difficult to sell.
Mention Whether You Will Deliver or Not
Many buyers looking for appliances have no way to come and pick them up. As a seller, it's important to be clear about whether or not you will deliver, and if so what your charge for delivery will be.
Knowing that information could be key for some buyers and again, it will save time as it sifts through potential buyers.
Share What's New on the Appliance
If you have recently replaced a part on the appliance you are selling, it's wise to mention that in your listing. Knowing recent upgrades or maintenance improvements can help you sell used appliances faster.
For instance, a person might be more likely to buy an older clothes dryer from you if they know you've recently replaced the heating element.
Or if there is a specific part that is known to go bad on an appliance, a potential buyer will be more likely to purchase if they know you've replaced that part recently.
Any type of upgrade or recent repair is vital buyer information that needs to be shared on your listing.
State Why You are Selling
People often fear buying used items – especially costlier items such as appliances – because they fear you're selling due to poor performance.
This is why it's important to mention the real reasons you are selling the item. Are you upgrading from white to stainless steel?
Is the current item not large enough to handle your needs, or is it just not working as it should? Be honest and be clear about the reasons you are selling so a potential buyer knows what to expect.
Provide Links to Specifications/Reviews
Sometimes it can be helpful to provide some online links to information about the appliance you are selling in your listing.
This gives potential buyers the whole story on the appliance itself and can help encourage them to buy if the appliance has good reviews.
Provide Proper Contact Information
Potential buyers on Craigslist are more likely to purchase from a seller who gets back to them quickly.
As a seller, it's important that you list the contact information that will allow you to get buyer notifications quickly and get back to them soon.
As an example, don't use your email address if you can't access it from your phone and rarely check it.
Use an access avenue that is common for you to use, such as your cell phone number, and get back to potential buyers quickly.
If a potential buyer doesn't hear back from you soon, they may just move on to another seller.
These are the tips that many people find helpful when working to sell appliances on Craigslist, but you may want to try another route: selling on Facebook.
2. Facebook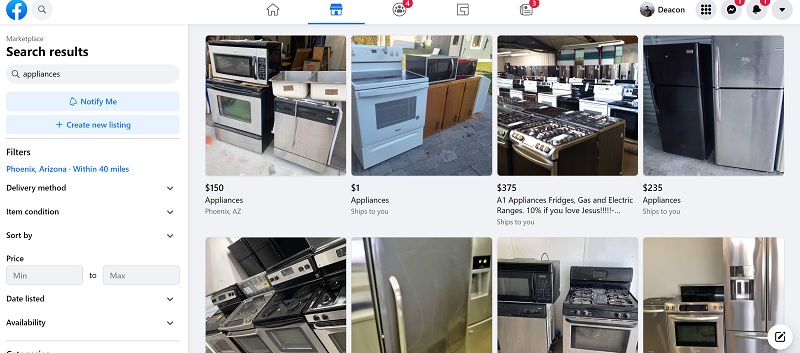 Facebook Marketplace has grown over the past few years. Most neighborhood groups also have a neighborhood buy and sell page.
The great thing about Facebook is most buyers are near you. This can be good for you if you are trying to get rid of your items fast.
Neighborhood selling pages are a great way to buy and sell items. You and also extend your search to community buy and sell pages. Some pages use the term beg, barter or sell.
As with any social media selling page, make sure to vet your buyer. Facebook allows you to click on the buyer and seller profile and see if their profile is a legit page.
3. Garage Sale
Garage sales can be great venues for selling used appliances as well. Despite what some might think, there is still a large audience out there for garage and yard sales.
Some people really enjoy finding deals in an atmosphere where they can come and look at stuff first hand at their convenience.
And you can post your garage sale listing on Craigslist too, which could result in an online offer even before your garage sale starts.
When posting a garage sale listing on Craigslist, it's important to share a short list of what you are selling for the purpose of potentially attracting buyers before the sale starts.
4. Local Appliance Stores
Another avenue for selling used appliances might be found with local appliance stores. Many appliance stores have a "used" section in their stores, and some appliance stores only sell used or "scratch and dent" models.
Take some time to call local appliance stores and outlets and find out if they are interested in buying your used appliances, whether it's a personal appliance or one you've purchased to resell. Check to see if they will give you cash or payout in the form of a rebate or instore credit.
5. Local Scrap Metal Recyclers
Many larger metropolitan areas have scrap metal recycling businesses that willingly pay for old appliances, which can result in a fast way to make money.
Now, selling to a scrap metal recycler might take some work; some recyclers only take the metal parts of the appliance which means you'll have to remove any non-metal parts.
Also, it's important when calling recycling businesses to make sure they do take scrap metal as not all recyclers do.
Scrap metal recyclers generally pay by the pound – and prices for recyclers can vary – so it's smart to call a few scrap metal recycling yards before choosing which one to sell your appliances to.
6. Local Appliance Resellers
Along with stores that resell used appliances, you might also be able to find local side hustlers that will buy your appliances for the sake of reselling them.
Although this route won't get you the most money for your appliance (remember; the goal of the reseller is to buy super low and sell for a profit) it might be a faster way to sell the item.
Check your local Craigslist ads and local newspaper ads as well as you search for resellers who might be interested in buying used appliances.
Selling Appliances for The Most Money
Some people do run a serious side hustle where they are making money buying and reselling used appliances.
You'll need a truck or trailer to run an appliance selling side hustle, as you'll need to be able to go quickly to pick the appliances up from the sellers you find.
As you look for items that will resell quickly, you'll want to look for three things:
Appliances that are in good shape or need minor repairs that you can make yourself
Appliances that are priced well below what you could resell them for
Appliances that aren't terribly far away from your current location
Pick the Right Items to Resell
As you browse a selling app for items to buy for resale purposes, you want to make sure that the items are either in great working shape or can be fixed with a good cleaning or by replacing simple parts.
Selling used appliances is probably the best side hustle choice for people who know a little bit about how to repair appliances or are willing to take some time to learn.
Appliance repairs are often much simpler to accomplish than you might think. When the heating element went out in our clothes dryer, my husband spent a couple of hours searching the Internet on how to replace it.
Next, he ordered the part from a local appliance parts store (it only cost $40) and got the dryer working again in less than three hours.
Doing that saved us over $200 on what the repair cost we were quoted from the appliance store was, and he learned a valuable skill in the process.
Most appliance repair isn't terribly difficult but you do need to know what you are doing. The Internet is a great resource for learning how to repair appliances.
Buy Appliances that Are Priced Well
You'll have to be quick and check Craigslist often as you look for the items that are going for the best price and will make you the most profit as you resell them.
Check Craigslist or other sites every day, and check the "free" section as well. Many people who are selling used appliances aren't looking to make a huge profit – they just want the item gone.
They also don't want to have to pay to get rid of them, and many appliance retailers and junkyards do charge a fee for taking old appliances.
You may also be able to negotiate a lower sale price if you can get the appliance picked up sooner rather than later.
Buy Items that Aren't too Far
When buying used appliances in order to resell them, it's important to take into account the gasoline you have to use when picking them up.
It may not be worth it to drive your truck an hour away to pick up an appliance you'll only make a $50 profit on when you resell.
Therefore, it's smart to calculate the time and money you'll spend as you consider how far to drive to pick up appliances that you can buy and sell for a profit.
If you are looking to make a business selling used appliances and do not want to travel too far, look on Craiglist, Facebook Marketplace, Ebay local or OfferUp for finding good deals on appliances that you can resell for a profit.
You'll have to put in some time and money as you go to pick up the appliances, to get them in optimum shape as you clean them up, do some paint retouching and do minor repairs, but the profit you make on the resell could make it a worthwhile side hustle.
Sell Used Appliances to Replace Items
The other reason you might want to know how to sell used appliances for cash is if you are replacing older appliances for a new appliance.
There are several reasons you might want to sell your old appliances:
The appliances may no longer be in the best working order
The features and benefits of the appliance may no longer fit your needs
You may be doing an upgrade for the purposes of remodeling
Whatever your reasons for selling your old appliances, there are ways you can get cash for them.
Having a Store Pick Up Your Appliance
Years ago, many bigger appliance chains used to pay you to haul away your old appliances but that's not the case so much anymore. Before you agree to have a store haul away your appliances, it's important to know what their policy is for doing so.
Here are some of the current policies for a few of the bigger stores that might be willing to take old appliances.
Best Buy
Best Buy will also haul away your old appliances for a fee. If you are replacing an old appliance with a similar item, Best Buy will charge you $14,99 per item they haul away.
However, if you are having them remove items that are not being replaced with similar items purchased from their store, they charge a $99 removal fee for each item.
Lowe's Home Improvement Stores
Lowe's will haul away your old appliances for free when you purchase a similar replacement item – IF you buy the item using your Lowe's Business Credit account. I've heard they do make some exceptions in this area, but it's probably a smart idea to contact your local Lowe's store for their specific guidelines on hauling away old appliances.
Home Depot
The Home Depot website is pretty vague about how much they charge to haul away old appliances. The web site simply states "Haul away of old appliance at additional charge."
Again, it might be a good idea to call your local Home Depot store for specific information as each store location might have its own haul away rules.
Salvation Army
Although your purpose is to make money from the sale of an appliance, sometimes selling may be too much of a hassle, therefore making a donation to a non-profit can be feasible as well. Check places like the Salvation Army to see if they will pick up your item and provide you a donation slip that you can put toward your taxes.
Summary
The bottom line is this: you can pay someone to haul away your old appliances, and you can also pay to bring them to the local scrap yard or junk yard.
However, there are ways to make extra money by selling your old appliances, and it's always nice to make a little money rather than spend a lot for having someone else take away your appliances.