Out in our garage there sits our old (about seven years old or so) refrigerator. It works just fine, and we use it pretty regularly since we have six people in the house and a small refrigerator in our kitchen.
We also find it comes in handy when we are hosting an outdoor party, so that people can have access to drinks and cold foods via the garage instead of having to go into the house.
Where to Get Money For Your Old Refrigerator
However, what would someone like me (or you) do if they wanted to get rid of an old refrigerator?
Maybe you need or want to buy a new one and want the old refrigerator gone. Maybe the old refrigerator, like ours, is an extra one that you no longer have use for.
There are many reasons why you might have an old refrigerator laying around, and many reasons why you might no longer want it.
The good news is that it is possible to get cash for that old refrigerator. You just have to know where to look.
It does help if your old refrigerator is in working condition. People generally pay more to buy things that are in working condition than they do to buy items that are not working.
If your old fridge isn't working, it might be a problem you could fix easily and cheaply in order to get more cash for it.
It will help you to know whether or not the refrigerator is working as you peruse this list of ways you might be able to gain some cash for your old refrigerator.
1. Sell it on Craigslist
Craigslist can be a gold mine for people looking to get rid of old appliances. Your working old refrigerator might be of use to someone like me who wants or needs to keep a second fridge in the garage or basement.
If the refrigerator is in decent shape, it might be useful to someone who needs a new refrigerator but doesn't want to pay full price for a brand-new model.
Or it might be of use to someone who owns a rental property that they need a new refrigerator for.
To get cash for your old refrigerator, try listing it for sale on Craigslist at a price that is well below what someone would pay for a similar new model and see if you can help someone get a great deal on something they need or want.
For more tips on how to successfully sell your refrigerator or other items on Craigslist, check out this article on How to Sell Stuff on Craigslist Extremely Fast.
2. Sell it in a Yard Sale
You could also try selling your old refrigerator for cash by having a yard sale. Chances are you (or your friends or family members) have other things in your house, garage or storage garage that you no longer need or want.
This could be a great time to gather that stuff together, create an attractive shopping venue for local garage sale aficionados and make some extra cash at the same time.
Advertise your yard sale in local papers and on Craigslist, include your old refrigerator in the listing description (many people are looking specifically for larger items like this) and price it to sell.
You could even offer delivery for an extra fee in order to make a bit more money from selling your fridge.
3. Sell the Scrap Metal in It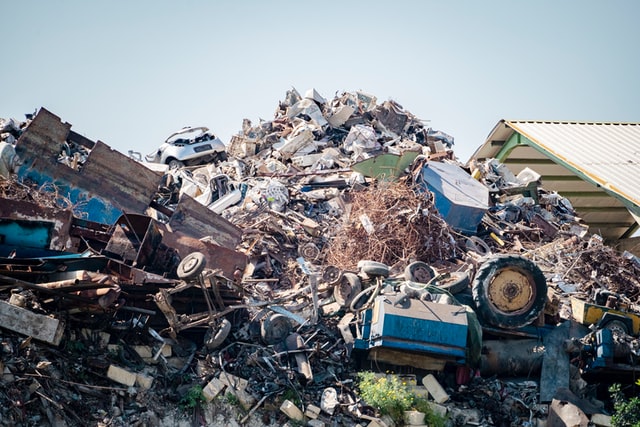 Selling your refrigerator to a company or individual that recycles scrap metal could bring you some cash even if the fridge no longer works.
Scrap metal companies and individual recyclers will often buy old appliances and break them down, selling them for parts or to companies that turn the metal into other items.
Got Scrap and other similar web sites help people find scrap yards that will pay you if you bring in your old refrigerator.
Just click on the link, and you'll be directed to a search bar that asks what you are looking to recycle and what your zip code is.
When you enter and search, the site will bring up the companies listed with them that take old appliances such as refrigerators.
If you are not having any luck finding a scrap recycler using the Got Scrap website, you can check your local yellow pages, or check online sites such as Yelp that share information about companies such as scrap recyclers.
The good news about online sites like Yelp is that they often share reviews of the companies they list so that you can get an idea of what a scrap recycling center might pay you for your old fridge before you load it up and bring it in.
Call an Appliance Recycling Center
There are also companies out there that exist for the sole purpose of recycling appliances.
Unlike basic scrap metal yards, appliance recyclers focus on accepting items such as old stoves, dishwashers, refrigerators, microwaves and more.
You can use this website to search for appliance recyclers in your area that may take your old refrigerator.
Again, not all appliance recycling centers pay cash for appliances, so it's important to ask what they might pay before you bring your old refrigerator in.
It's important to note too that some recycling centers actually charge money for you to bring in your old appliances.
Since the goal if you're reading this post is to make money and not pay money, you'll want to read the fine print and ask questions at all of the recycling centers or scrap yards you call or visit on the web before you take the time to bring them your old refrigerator.
That way you can be sure you'll be receiving cash for your fridge and not paying it out.
Many recycling centers will pay you for aluminum cans and other items too, so if you decide to go the recycling center route, see if you have other items at home that you can bring in along with your old refrigerator.
Call Local Power Companies
Local power companies often run programs where they will pay you to drop off your old refrigerator.
Sometimes they will pay you just to take it off of your hands so that you're not wasting energy by running it when you don't really need it.
Other times power companies will pay you for your old refrigerator if you replace it with a new, more energy efficient model.
You can call your local power company directly to find out if they offer rebates or cash payments for your old refrigerator or other appliances.
You can also visit the Energy Star web site, a government web site that can help you locate any appliance rebates currently available in your area.
When I checked with our local power company, I learned that they are currently paying out $35 for old refrigerators, and they'll come and pick it up for you as well. However, our power company does require the refrigerator to be in working order.
Your power company might have a different program though, so it might be wise to call and check in order to see where you can get the best deal.
You could always try selling it outright on Craigslist as I mentioned earlier first too, to see if you could get a higher price. If you can't, your local power company payment would be a good second choice. After all, some money for your old refrigerator is better than no money.
A Note about Appliance Stores
If you are buying a new refrigerator or other appliance and want to see if you can get some cash for your old refrigerator or other old appliance directly from the store, you are probably out of luck.
Most of the bigger appliance stores I checked with (Lowe's, Sears, Home Depot) will either take your old refrigerator for free, or charge you to haul the old refrigerator – even if you are purchasing a new one from them.
Here are the current recycling rules for some of the major appliance and home improvement stores.
Best Buy
Best Buy will pick up your old refrigerator for $14.99 if you are purchasing a new refrigerator from them to replace it. They will also pick up your old refrigerator without you having to buy a new one, for a fee of $99.99.
Lowe's
The Lowe's web site states that it will not haul away old refrigerators or other appliances in most cases, but you may want to talk with employees at your local Lowe's store to be sure.
Home Depot
The Home Depot web site states that they'll haul away old appliances at an additional charge, but doesn't specify what that charge is.
As with Lowe's, it's probably a good idea to check with your local store before agreeing to have them come and take away your old refrigerator when you are buying a new one there.
Summary
So, although there are places that will take your old refrigerator for free, and some that will take it for a fee, why not try and put some cash in your pocket by working to sell it to a private party, power company, recycling center or scrap metal yard?