If you enjoy exploring your city, why not get paid in the process?
Gigwalk is a side hustle app that lets you complete odd tasks at stores around your city. Plus, beyond in-person opportunities, you'll find online earning options to rake in money without leaving the comfort of your couch.
Our Gigwalk review can help you determine if this opportunity is a good fit for your money-making needs.
Summary
Gigwalk pays you to complete tasks at stores around town. Depending on your location, there may be plenty of opportunities to rake in extra cash.
Pros
Easy payment through PayPal
In-person and online opportunities
Typical gig takes 30 minutes
Cons
Not many gigs in smaller cities
Cost of travel not included
What is Gigwalk?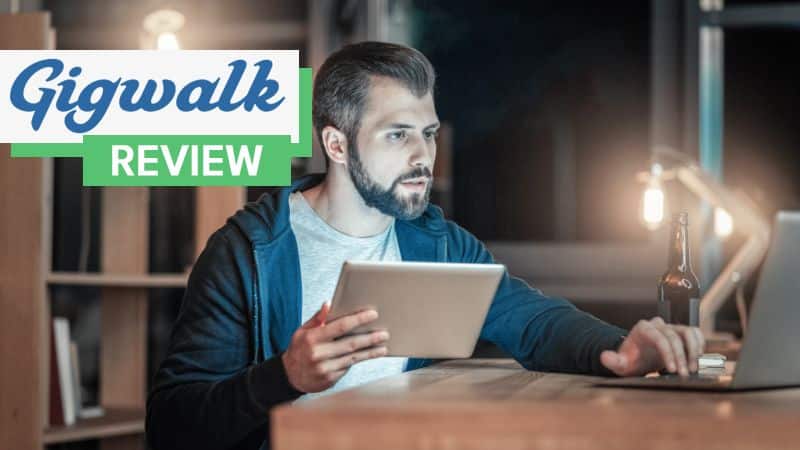 Gigwalk is a platform where users can complete tasks that are offered by various companies.
For example, a retailer may want to know what their customer service experience feels like for their patrons. They can work with Gigwalk to pay everyday people to conduct a store audit.
This audit involves completing specific tasks, such as shopping around for an item or completing a purchase. While this means you might be spending money, the payout from the gig should easily cover the cost of any item you buy.
As a user, you can get paid to complete a variety of tasks on Gigwalk. Although the platform started with in-person opportunities, it also offers online surveys and digital experience testing.
Most of the opportunities available from the Gigwalk aoo are located in the United States and Canada. However, the platform also supports companies and Gigwalkers in the United Kingdom, France, India, Germany and Australia.
You can work when and where you want to with Gigwalk, making it an excellent side hustle app if you'd like to give your bank account a boost.
Is Gigwalk Legit?
Yes, Gigwalk is a legitimate company. It claims to have over 1.7 million Gigwalkers.
Companies large and small work with Gigwalk to assess their customer service experience.
A few major brands that work with the Gigwalk app include:
Frito-Lay
Pfizer
Whirlpool
Sonos
Unilever
The app allows users to make between $3 to $100 per Gig. Payouts are sent via PayPal.
Although it's a legit opportunity, that doesn't mean it's perfect. There are some reports that the app can be glitchy and payments are slow.
How Does Gigwalk Work?
Gigwalk provides an exciting opportunity to earn money. But how does it actually work?
Here's a look at the step-by-step process of signing up for Gigwalk.
1. Download the App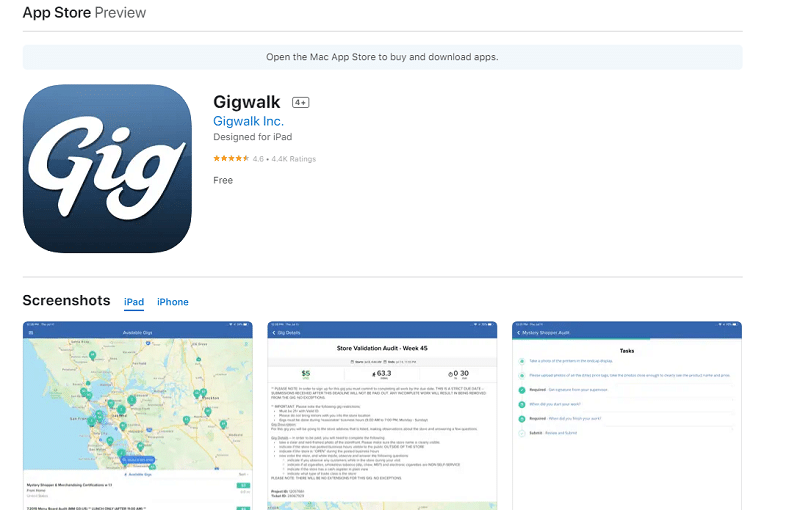 The process to become a Gigwalker and make extra money starts by downloading the app for free.
You can find the Gigwalk app in the Apple App Store and the Google Play Store.
2. Register
After you've downloaded the app, it's time to create a Gigwalk account.
You'll be required to enter an email address and verify your email through a confirmation email. Once the Gigwalk app confirms you have a valid email address, you'll need to answer some basic questions about yourself.
A few of the questions include whether or not you have the ability to lift 30 pounds, your level of education and if you have a valid driver's license.
Plus, Gigwalk will ask about any memberships to retailers you already have. For example, you can indicate if you have a Costco or Sam's Club membership.
The answers to these questions will help the app match you to relevant Gigs.
3. Link PayPal
When you earn money through Gigwalk, the funds are distributed via PayPal. With that, you'll need to link your PayPal account to get started.
You can accomplish this by updating your payment email in your Gigwalk account. Simply enter your PayPal account email address, then you are good to go.
4. Find and Complete Gigs
Once your account is set up, you can start searching for Gigs in your area and earn extra money. This is easy to do through an interactive map of your area that shows pins of all the available Gigs.
When you click on a particular Gig, you'll find more information. Specifically, you'll learn about how much money you can earn, the location of the Gig, an estimated time for the task, a description of the Gig and a timeframe to complete the Gig.
The most common Gigs require you to go to a store and either:
Inspect displays
Take pictures of products on a shelf
Inspect event promotions
Once you find a Gig that seems interesting, you can apply for it. Depending on the situation, it can take a few hours to get approved. Gigs that approve you will move into the "My Gigs" section of the app.
If you are accepted, you can complete the Gig by following the instructions. All your work is submitted directly through the Gigwalk app. Some of these tasks only take a few minutes to complete.
5. Get Paid
After completing a Gig, it's time to get paid. How much money you make depends on the Gig.
Also, when it's time to get paid, this won't happen immediately.
Instead, the customer must approve your work before you receive payment. Depending on the situation, it can take a few days or up to 14 days for the customer to approve your work.
If the work is approved, you'll see your funds via PayPal within two days. However, if you need to get cash fast, you may want to keep the potentially lengthy approval period in mind before starting a Gig.
How Much Does Gigwalk cost?
Gigwalk is free to use as a Gigwalker. You can earn money through the platform at no monetary cost to you.
The only thing it will cost is your time. Plus, sometimes you'll have to make a purchase during your Gig. That said, the cost of your purchase should be less than what you are earning from the Gig.
Brands and companies pay Gigwalk to provide a connection to Gigwalkers. If you are ever asked to pay for a mystery shopping opportunity, that's a red flag.
Key Features
Gigwalk is one of many opportunities to earn money for completing tasks. Here's what sets this app apart from the crowd.
Flexible Work Schedule
Gigwalk provides an excellent opportunity to make extra cash. Part of the appeal is the flexible nature of the platform.
You have the chance to work when you want to. Simply log into the app and see the available gigs.
Just remember that the more hours you put in, the more you can earn.
Choose the Gigs You Want
You can scan the list of opportunities in the Gigwalk app to see what interests you. Whether you have a few minutes or a few hours, you can apply for the Gigs you want.
As a Gigwalker, you can prioritize interesting tasks or opt for the Gigs that have the highest payouts. Beyond that, you can choose where you want to complete your Gigs.
For example, if you don't want to leave your house, you can choose Gigs that can be done from home. Alternately, you can choose a Gig that takes you on a new route or to a new location.
Easy Reporting
As a Gigwalker, you'll submit all of your work through the app. You won't need to fill out timesheets or send any confirmation emails to track down your payment.
Instead, you'll simply upload the required information for the task to your app. From there, the Gigwalk platform takes care of passing it along to the brand.
Quick Payments
When a client approves your work, you'll receive the funds via PayPal within a few days. That's a speedy way to get cash when you need it.
The only downside is that you won't receive payments until the client approves your work. Depending on the client, this could take a few hours or a few weeks.
Streetcred
As a Gigwalker, brands can rate your work. High-quality work translates into good ratings, which leads to Streetcred.
Building Streetcred leads to better earning opportunities. According to the platform, some Gigwalkers with plenty of Streetcred earn up to $1,000 per month from the platform.
Gigwalk Reviews
Gigwalk offers an interesting opportunity to anyone looking for a flexible and unique side hustle. But the customer reviews are very mixed.
Here's how Gigwalk stacks up on the different rating websites:
Here's what some reviewers had to say about the app:
"Fun app, easy to use. New to the whole side gig business but its proven itself worthy of time. It gives plenty of detail and instruction on how to use. You know when you'll get paid at all times. Its good." – Anna Carmadella
"You do a gig and it sits in unreviewed forever. Don't waste your time. Seems like an easy way for them to get a "gig" done for free." – K Nakano
"I have found this app to be easy to use with relatively low issues. Additionally, the jobs offered by Gigwalk pay and are explained well. Getting paid has been much faster than other same type gigs companies." – Cory Watts
"Absolutely 0 gigs in my area. I live in a rural area so I expected there would be very few, but there are NONE! You should make gigs available in areas with less population." – Shayley
Alternatives To Gigwalk
Gigwalk isn't the only app that will pay you to complete in-person shopping assignments. If the platform isn't for you, then check out these apps like Gigwalk.
Field Agent
Field Agent is another one of the best apps like Gigwalk that gives brands an opportunity to connect with paid users.
This service offers to pay you for checking out inventory levels, trying new products and providing feedback on marketing.
The gigs usually pay between $3 to $10.You can find opportunities in the United States, the United Kingdom, Canada, Mexico, Australia and South Africa.
Wonolo
Wonolo is a bit different from the other options on this list. Instead of providing mystery shopping gigs, you'll find temporary jobs at a variety of companies.
A few opportunities include:
Warehouse operators
Delivery drivers
Event staffing,
Administrative tasks
And more
The amount you can earn per hour varies. However, you can expect it to be in the $12 to $15 per hour range. After completing a temp job, you'll usually get paid within five days.
Employers have the opportunity to rate your performance. When you do a good job, that could lead to more opportunities for additional work down the line.
Frequently Asked Questions
If you aren't sure whether or not the Gigwalk app is the right option for you, these answers to commonly asked questions about the platform can help.
What customer service options does Gigwalk offer?
If you have questions about your Gigwalk experience, you can get in touch with the platform through a contact form.

Additionally, you can contact Gigwalk via their Facebook, LinkedIn, Twitter and Instagram profiles.
How much can I earn with Gigwalk?
The amount you can earn with Gigwalk varies. Each task will pay between $3 to $100. That said, the number of Gigs in your area can vary dramatically.

For those living in a big city, you can expect more opportunities through Gigwalk. If you live in a smaller city or rural area, it can be difficult to make money using the app.
Is Gigwalk available for both Android and iOS devices?
Yes, Gigwalk is available for both Android and iOS devices in the Google Play and Apple App Stores.
How can I make the most money with Gigwalk?
As you use Gigwalk, you'll earn a performance score. You can access a higher score by completing Gigs as instructed. A higher Gig score means you'll have more access to more lucrative Gigs in the future.

A thorough and professional approach to Gigwalk can set you up to earn more through the platform. Plus, you might get invited to special workforces by particular clients if you do a fantastic job on a Gig.
Do I need permission to complete Gigs at certain stores?
While you need to apply to receive Gigs, some stores may also require you to show a Credential Letter or Letter of Authorization. You can get this letter in the Gig instructions.
Summary
Gigwalk offers an opportunity to boost your income through a flexible side hustle. Although it's a great way to earn extra cash, the unpredictable availability of the Gigs means that you likely won't be able to replace your full-time income.
Nevertheless, if you are looking for a way to give your income a small boost when you have extra time to explore new stores around town, consider giving Gigwalk a try.