Increasingly, people are turning to side jobs as a way to boost their earnings and make more progress on their financial goals. Side hustles are great because you can earn extra money on your terms.
There's no daily schedule you need to maintain, and the money you earn is entirely dependent on your level of effort. If you're currently looking for a new side hustle, you might consider becoming a driver for DoorDash.
But how does DoorDash work? Is it worth it?
In this article we will review DoorDash and discuss how to get paid as well as the pros and the cons.

Summary
I gave DoorDash four stars because it is a great way to earn extra cash in your spare time. However, it's not scalable, and there's a limit to how much you can earn every month.
Pros
Side hustle
Easy to get started
Fast growth
Cons
Not scalable
Bonus variations
Not long-term
What is DoorDash?
DoorDash is a food delivery app where customers can order from a wide variety of local restaurants. As a "Dasher," you're a delivery driver for the company DoorDash.
But how does DoorDash work for restaurants and Dashers?
When it comes to restaurants, DoorDash opens up additional revenue opportunities for restaurant owners by providing delivery services to customers who want to order food from home.
The way it works for a delivery person is that customers who want food delivered place a new order from one of the many local restaurants listed on the food delivery service app. DoorDash customers pay a delivery fee.
DoorDash's app can be downloaded on the Google Play Store or Apple App Store.
After a customer places their order, the app sends it to available DoorDash Drivers.
If you, as a Dasher, accept the order, you'll pick it up at the restaurant and deliver it to the customer. The DoorDash website and app lays out these guidelines for its drivers.
Many people like driving for DoorDash because Dashers are not employees. Instead, you're considered a freelance delivery driver. You don't have a weekly schedule, and you aren't required to work a certain number of hours per week.
There's also no dress code you need to follow. Whenever you're ready to take orders, you just sign into the app and make deliveries for as long as it works for you.
How Much Can You Make With DoorDash?
At this point, you're probably wondering how much you can actually make by driving for DoorDash. According to the DoorDash website, the amount you earn as a Dasher depends on how often you work and how quickly you deliver the orders.
It's also influenced by when you're able to work. To explain, if you can work during peak ordering hours, you'll earn more money with this food delivery service.
According to the company's website, dashers get paid in three different ways.
Base Pay
How does DoorDash work in terms of base pay?
Like other food delivery apps, the DoorDash app charges customers service and delivery fees every time they order food. These delivery fees can vary based on the distance and order total.
For drivers, you can think of the base pay as your minimum required earnings for every order. This amount is DoorDash's base contribution for every order, and it will typically fall between $2-$10.
DoorDash states that a Dasher's base pay is determined by the time, distance and desirability of the order. The more complex the order is, the higher your base pay will be because customers are charged higher delivery fees.
For instance, if you're willing to drive long distances or accept orders that other Dashers won't take, you could earn a higher base pay.
Ultimately, your earnings will come from the service fees and any delivery fee charged to the customer.
Promotions
In addition to receiving base pay, the DoorDash app offers various challenges and promotions that allow drivers to earn extra money.
Here is an overview of how you can make more with promotions.
Peak Pay
This allows DoorDash Drivers to earn more on especially busy nights. Opportunities to earn peak pay will be identified on the app, and you can click on the menu to learn what the requirements are.
However, peak pay means customers don't pay lower service fees, which may mean they tip less.
Challenges
The DoorDash app sometimes offers challenges to incentivize drivers to work more quickly. For instance, you could earn extra money by completing 15 deliveries within a week.
If a challenge is available in your area, you'll see it when you log into the app. All eligible Dashers are automatically enrolled in challenges, so you don't need to opt-in.
Drive
Dashers can earn extra money for large catering orders. However, these orders are reserved for more experienced Dashers.
To qualify, you need to have delivered a minimum of 100 deliveries, and you must maintain a 4.8 rating on the app. Once you are eligible, the DoorDash app will send you an invitation.
Tips
And finally, customers have the option to leave Dashers a tip when they order food. Dashers always earn the full tip, and your tips will never affect your base pay or how much you earn from promotions.
How Does DoorDash Work?
One of the benefits of being a Dasher is how easy it is to get started. The online registration only takes a couple of minutes, and once you're signed up, it can take up to two weeks until you're ready to begin.
And the requirements for getting started are pretty minimal. You need to be at least 18-years old with a car, driver's license and insurance.
And depending on where you live, you may be allowed to use a motorcycle, scooter or bike. In specific markets, you may even be allowed to walk. You can find out what is permitted in your area through the app.
Assuming you meet those basic requirements, you can sign up on the company's website under the "Become a Dasher" tab. You'll start by entering your email address, phone number and zip code.
From there, you'll enter your personal information and create a password for your account. Also, you'll have to give DoorDash your Social Security Number and consent to a background check.
Once the DoorDash app has all the information they need, you'll attend an orientation session, and the company will mail you an Activation kit. Once you've activated your Red Card, you're officially considered a DoorDash driver.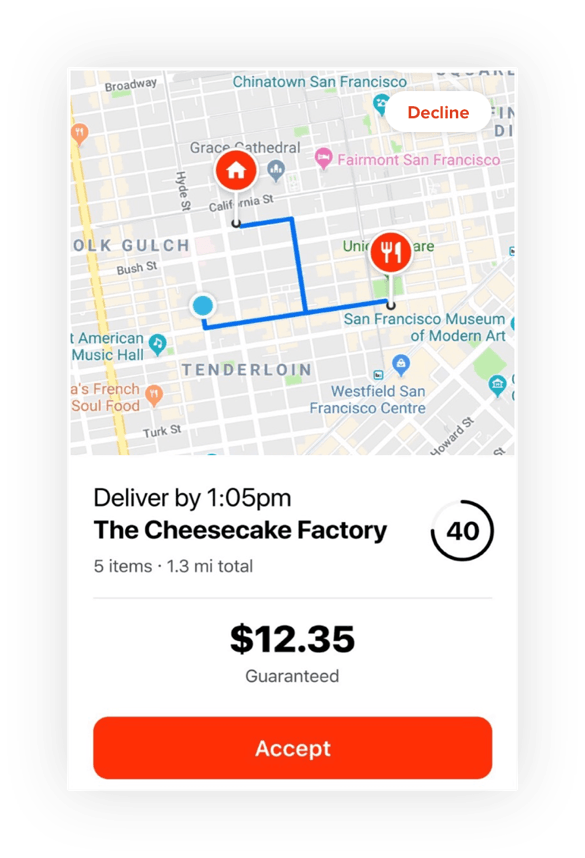 What Does it Cost to be a Dasher?
Any job or side hustle you take will come with some costs that you have to cover, and the DoorDash app is no exception. For instance, you will be responsible for paying for your phone and gas every week.
You also need to make sure that you keep up with your car insurance payments, so you meet DoorDash's requirements to deliver food. And if you're spending a lot of extra time driving, this will result in additional wear-and-tear on your vehicle.
It's important to track your mileage every week and keep a close record of all of your expenses. This information can help you reduce your tax payment come tax season.
If you've never had to track your expenses for a job before, finding the right accounting software can help.
Luckily, you won't have to worry about costs like subscription service fees to be a DoorDash driver.
Plus they offer dasher discounts. Get financial discounts on serviices you need like taxes, insurance and more.
Positives and Negatives of Doordash
There are a lot of advantages to becoming a driver for DoorDash, but it won't be the right choice for everyone.
Here are some pros and cons you should consider before signing up.
Pros
These are the perks of using the app.
Minimal Requirements
We all know how tedious it can be to apply and interview for a new job. In comparison, there are very few requirements for DoorDash Drivers to get started. All you need is a smartphone and a vehicle, and there are no vehicle requirements.
Easy to Get Started
If you find yourself suddenly strapped for cash and need to earn some quick money, DoorDash could be a good solution. With many side hustles, you have to invest a lot of time and effort before you begin to see any real payoff.
With DoorDash, you could start earning money right away.
Choose Your Hours
Since you aren't a DoorDash employee, you get to choose your hours. You can work when you want to, and make as many deliveries as you feel like making that day.
Fast Growth
DoorDash is growing fast and quickly expanding into new cities and restaurants. As the service becomes more in-demand, this provides additional opportunities for drivers.
Referral Bonus
If you have any friends that you think would make great Dashers, you could earn some extra cash. DoorDash offers a referral program where Dashers can make additional money by referring their friends to sign up as drivers.
However, DoorDash does put some restrictions on the program. You'll want to make sure and check DoorDash's terms and conditions to ensure you qualify for your bonus.
Cons
Here are the downsides of using DoorDash as a driver.
Not a Reliable Source of Income
Like most side hustles, DoorDash doesn't guarantee any amount of earnings. The amount of money you earn can fluctuate, especially if you're not always able to work during peak hours to accept DoorDash orders.
If you need an income guarantee, getting a job delivering pizzas could be a better choice.
Not a Long-Term Career
If you're looking for a way to earn some extra cash on the side, DoorDash or other food delivery apps can be a great option. But it's not going to provide you with a full-time income, and it isn't going to be something you can turn into a long-term career.
Bonuses Vary by City
Many of the perks you receive by driving for DoorDash are going to change based on where you live. For instance, peak pay and challenges will be different for different cities.
Income Depends on Effort
This final point could be positive or negative, depending on your viewpoint. The more deliveries you make, the more money you will earn. So if you're not able to commit to that, you're going to struggle as a Dasher.
Also, if you are going to accept DoorDash orders, evaluate the estimated delivery time of each opportunity to ensure it's worth your effort.
How to Maximize Your Pay With DoorDash
How does DoorDash work in terms of maximizing your pay?
The income reports you read from DoorDash drivers will vary greatly. Some Dashers claim they earn up to $25 an hour, while others say their earnings barely cross the minimum wage threshold.
One of the best ways you can maximize your DoorDash earnings is by being strategic about the orders you accept. Dashers are free to take any order they choose, so it can benefit you to only select larger orders that pay more money.
You're also going to earn more if you work in an area that doesn't have a lot of traffic. Less traffic will allow you to accept more orders. And customers will likely be happier because they don't have to wait as long for their orders.
Most importantly, you should focus on delivering a high level of customer service. You may not see being a Dasher as a customer service job, but it is.
If you want to earn good tips and qualify for the best orders, then you're going to need to have a high driver rating. So don't be in such a hurry to cram in more deliveries that you neglect the customer service aspect of the job.
If an order is taking a long time, send the customer a message and let them know what's going on. And when you drop off their order, be friendly and say hello.
Just putting in that little extra effort to focus on the customer will pay off in the long run.
Is DoorDash Worth It?
If you're looking for a way to earn some extra money every month, DoorDash could be a good option for you. It's not going to be a long-term career option, but it's a good way to earn an extra $500 per month.
Dashers can pick their hours and work when it's convenient for them. To maximize your income, sign up for multiple delivery apps, and try to always deliver during peak pay.
However, there is going to be a limit to what you can earn with DoorDash or any meal delivery service. So if you're looking to scale your income over time, then you may want to consider a different side hustle.
DoorDash Reviews
DoorDash Dasher is a very popular app. It comes with mixed ratings between Apple and Google.
Here's a look at what dashers have to say about the app.
This app seems like it was definitely designed for iPhone. Unfortunately I have Android and it crashes too often. – Sandy P.

I love using the app to make quick cash when I need it. Though it's buggy at times. – Russel M.
Other Delivery Apps like DoorDash
Because DoorDash will have highs and lows when it comes to deliveries, successful drivers are usually active on several delivery apps. Using other food delivery services simultaneously can increase your earnings.
Here are a few DoorDash competitors in the food delivery market.
Postmates
Postmates offers meal deliveries and groceries. Unlike DoorDash, Postmates allows customers to tip drivers after the order is complete.
Postmates pay drivers weekly or let you cash out your earnings daily.
Related: DoorDash vs. Postmates: Which is Better for Drivers
Uber Eats
Uber Eats is available in more markets. However, UberEats has a more complex structure for how it pays drivers than DoorDash.
GrubHub
GrubHub claims to receive more orders than any other food delivery service, which means there are a lot of opportunities for drivers.
You must be at least 19-years-old to sign up and have a valid driver's licenses and insurance.
Instacart
Instacart focuses on grocery delivery instead of meal deliveries, so there's going to be a little more work involved on your end.
You'll need to be able to lift at least 50 pounds to become an Instacart driver.
Related: Instacart Vs. Doordash: Which Is Better?
Summary
If you are looking for a flexible way to earn extra money, DoorDash is worth considering.
However, if you live in a city where DoorDash isn't as prevalent, you might want to use multiple apps to increase your earnings.
Regardless, DoorDash is worth trying since it costs nothing to get started.
Doordash driver earnings disclaimer: Actual earnings may differ and depend on factors like number of deliveries completed, time of day, location, and expenses. Hourly pay is calculated using average Dasher payouts while on a delivery (from the time you accept an order until the time you drop it off) over a 90 day period and includes compensation from peak pay, tips, and other incentives.