Are you looking for a way to make extra money in your free time?
One option to consider is delivering food with Uber Eats. Various restaurants partner with the delivery app and you get paid to deliver the order to the customer. But with several delivery apps to choose from, is Uber Eats the best option?
In this review, we look into what it is like to deliver with Uber Eats. Plus, you can get advice from actual delivery-partners.
Summary
Uber Eats is a flexible side hustle to earn money driving your bike, car or scooter depending on your city. You get to choose which deliveries you make and can receive daily payments. However, you might earn more for your effort being a rideshare driver or pursuing an online side hustle with fewer expenses.
Pros
Be your own boss
Flexible hours
Promotional features
Cons
Tips not guaranteed
Location availability limits
Car expenses
What is Uber Eats?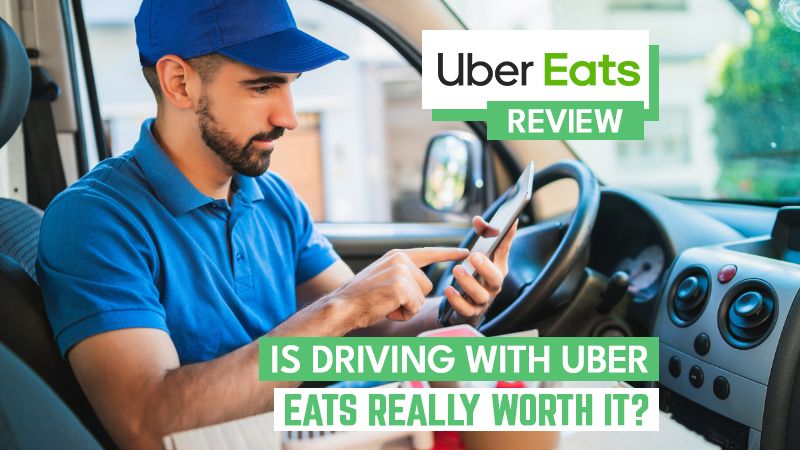 People have been making money delivering with Uber Eats since 2014. It is part of the better-known Uber rideshare company.
Delivering with Uber Eats means you deliver food instead of transporting people around town. This can be a less stressful side hustle if you are not comfortable being a rideshare driver.
Right now, maybe you use Uber Eats to order food or drinks for an office, date nights or just because you don't feel like leaving home. Restaurants need delivery partners to feed their hungry patrons. For this reason, using a delivery app like Uber Eats can give you an idea of how to be a successful delivery-partner.
How to Make Money Delivering with Uber Eats
Making money with Uber Eats is similar to other gig economy jobs. You choose which deliveries and schedule you want to make money. Uber Eats is very flexible.
Whether you are available for one hour or all day, you can make deliveries when it's most convenient for you.
To deliver food, log into the Uber Eats app and accept open delivery requests. After completing the delivery, you can accept another delivery request to continue making money.
Besides locally-owned restaurants and cafes, it's also common to deliver from national brands.
Driver Requirements
Uber Eats is available in over 100 cities in most states in the US.
These are the requirements:
Age requirements: Must be at least 19 years old to deliver by car or scooter (age requirement varies by city if delivering by bike).
Vehicle requirements: Own an automobile that's a model year 1999 or newer. Scooters must be 50cc or less. You must have a current driver's license, vehicle registration and automobile insurance.
Local laws may require a higher minimum age to deliver in your city. Also, you must have at least one year of driving experience if you plan on driving your car.
Uber Eats also lets you deliver by bicycle in select urban areas. You will need to indicate this when you sign up to deliver.
There may be fewer requirements to become Uber Eats delivery-partner requirements than becoming an Uber driver-partner. For instance, you are not required to be at least 21 years old and own a four-door vehicle. The flexible requirements make Uber Eats a legit way to make money in college.
How to Become a Delivery Partner
Signing up with Uber Eats is pretty straightforward. Expect the initial onboarding process to take a variable amount of time.
Step one is to sign up on the Uber Eats website which can take several minutes. Then you'll complete the background check process.
Current Uber driver-partners might get cleared to delivery faster because they have already completed the background check process. After completing the background check process, you can begin making deliveries.
Delivering with Uber Eats
With Uber Eats, everything you do (from accepting delivery trips to requesting payment) happens in their mobile app.
The Uber Eats mobile app works for Android and Apple devices. You will need a GPS-enabled smartphone to accept delivery gigs.
To clarify, the app uses your current location to offer available deliveries. Being in a restaurant district could increase your odds of receiving a trip request.
When a delivery becomes available, you will receive a notification that states where the restaurant is. You will only see the name and location of the restaurant. In some cases, the restaurant may be a few minutes from your current location.
You may decide to decline the request.
After accepting a request, you go to the restaurant, pick up the order and make the delivery. The order information and customer's address will also be in the app after accepting the request.
In some cities, customers may request that they meet you at the curb to pick up the order. Otherwise, you may need to park and walk to the customer's front door.
How to Get Paid
You request payment inside the Uber Eats app. The standard payment frequency is one payment at the end of each week. A quicker (but potentially more expensive) payment option is InstantPay.
You can request payment up to five times daily to your debit card. Terms Apply. To avoid the $0.50 charged for cashing out, you can use a Uber debit card.
Uber Eats Delivery-Partner Pay: How Much Can You Earn?
Based on several Uber Eats driver interviews, your earnings will really vary especially when you consider expenses. These expenses can include income tax, vehicle maintenance, gas, parking, etc.
To earn more money, you may need to accept multiple trips. Delivery-partner earnings can vary by city and time of day, but all Uber Eats delivery-partners get paid by the delivery.
How much you earn per trip depends on these five factors:
Pickup: Initial payment for arriving at the restaurant.
Mileage: Uber Eats pays a flat rate based on distance to the pick up location.
Time: Rate based on pick up to completion.
Drop-off: You collect another amount for dropping the order off.
Customer tip: Customers can leave an optional tip using the Uber Eats app.
Delivery-partners may pay a fee to Uber that varies from trip to trip.
Expected wait times and travel times are now calculated into the time rate.
Still, even if you only deliver one hour, Uber Eats can be an easy way to make money on the side.
Uber Eats Promotions
There are three ways you can earn more per trip without relying on customer tips or accepting more requests.
Boosts
During certain times, you may be able to earn more by delivering food within a certain area.
Quests
Sometimes, quests may be available that you could earn extra when you complete a certain number of trips within a specific amount of time. If you complete the required number of trips, you could earn extra.
Multiple Orders
If there are multiple orders for the same restaurant, you might have the option of accepting more than one trip at a time.
Do Uber Eats Drivers Get Tips?
Yes, it's possible. Uber Eats delivery-partners can receive tips through the mobile app. But customers are not required to leave a tip, so you shouldn't expect one with all deliveries.
However, there are several ways you can increase your chances of receiving a tip by trying to provide the best customer service possible.
Financial coach, Whitney Hansen, recommends attaching a small business card to the food bag. The business card can thank the customer for their order and state how your Uber Eats income is helping you achieve a specific goal.
Tips for New Uber Eats Delivery-Partners
Delivering with Uber Eats isn't difficult but following some of these suggestions experienced delivery-partners share can help you earn more money.
Order ith Uber Eats Before Delivering
Before you accept your first delivery, try ordering a meal through Uber Eats. This lets you see how Uber Eats works from a customer's viewpoint. You can see first-hand how the driver delivers your food and their level of customer service.
Then you can adopt the habits they performed well to possibly improve your odds of receiving a tip.
Track Your Mileage and Expenses
Like many side hustles, Uber Eats considers you an independent contractor.
Buy Insulated Food Bags
Josh Overmyer recommends buying insulated food bags. These bags help keep food either warm or cold. Delivering the food as fresh as possible could increase the likelihood of receiving a tip.
One option is buying a bag online from Amazon or other stores.
Deliver During Busy Times
Whitney Hansen also recommends delivery during busy times. And if there's a promotion you could earn more per trip.
As you complete more trips, you will know which areas help you make the most money.
Like any side hustle, there will be periods of the day when there are very few food orders. You might consider driving with Lyft or Uber in between trips.
You might follow this strategy to minimize your downtime.
Avoid Time-Consuming Restaurants
Mastering this tip can require driving a few trips and knowing your local geography.
There are three reasons why you might decline certain trips:
You must drive far to arrive at the restaurant
The restaurant tends to have long wait times
Parking is difficult or expensive
Making some money is better than not making anything at all. However, time-consuming trips may not be an effective use of your time.
Positives and Negatives for Uber Eats
Like anything, there are pros and cons to delivering with Uber Eats.
Pros
Flexible hours
Optional daily payout
Can deliver from multiple restaurants
Fewer driver and vehicle requirements
Cons
Can only be busy certain days and hours of the week
Won't always receive a customer tip
Not available in every city
Summary
Delivering food with Uber Eats can be less stressful than being a rideshare driver. Still, there are vehicle expenses that you must factor into your earnings.
However, if you are comfortable using your vehicle to deliver food, this can be an engaging way to make extra money.