If you've been looking for a vehicle-based side hustle, delivering food is a great option. Instacart and Doordash are two of the top platforms in the space.
Both of these food delivery services work with drivers across the nation and offer many opportunities to earn money in your free time. However, the real question is which one of these income-earning opportunities is better for your situation.
We'll explore the similarities and differences between Instacart vs. Doordash so that you can decide which platform is right for you.
About Instacart vs. DoorDash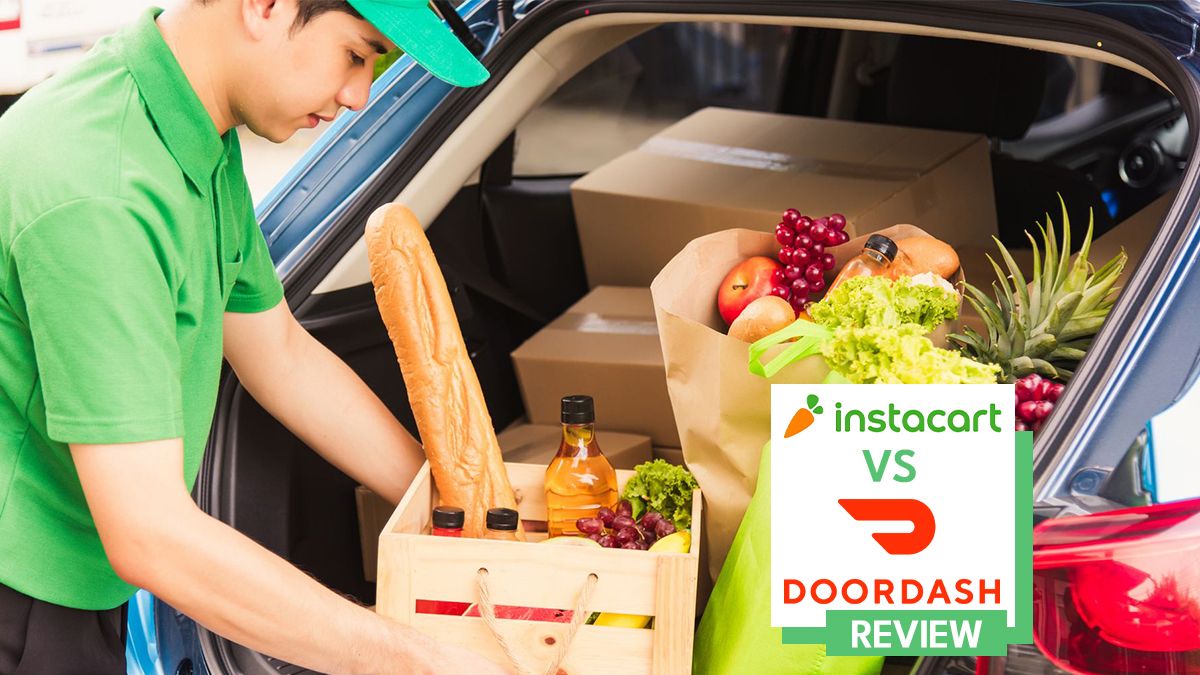 Instacart and Doordash are popular food delivery services. As a consumer, you might love the convenience of ordering groceries or your favorite takeout through these services.
However, if you are considering these as a potential side hustle to make money driving, you'll need to look at each one through a different lens.
Here's an overview of what these two food delivery service options offer.
Overview of Instacart
Instacart is a platform that lets people order their groceries online. Instead of heading to a physical store, customers can choose a store, create their shopping list and order groceries from anywhere.
After a customer places their order, Instacart shoppers find the products, purchase them and drop them off at the customer's door.
There are two types of Instacart shoppers, including full-service shoppers and in-store shoppers.
Full-service shoppers are independent contractors who handle everything from accepting orders to shopping for items to delivering groceries. You'll need a car to become a full-service shopper.
You also have the opportunity to be an in-store shopper. These are part-time employees of the company who are responsible for finding everything on a customer's shopping list.
In-store shoppers never leave the grocery store. While there is a limit of 29 hours per week, these workers don't need a car.
Overview of DoorDash
DoorDash is a platform that lets customers order takeout from various restaurants. The company works with many freelance delivery drivers, also known as Dashers, to deliver food to customers.
As a Dasher, you'll have complete control over your hours. When you are ready to deliver food, you can log into the app to accept orders.
Depending on your situation and location, you can deliver orders via bicycle, motorcycle or car.
Instacart vs. DoorDash: Requirements
Both Instacart and DoorDash have requirements for their workforce. Let's take a closer look at the requirements for both apps.
Requirements for Instacart Shoppers
In order to work for Instacart, you'll need to meet some basic requirements.
If you want to work as an in-store shopper, you must:
Be eligible to work in the U.S.
Have a compatible smartphone that supports the Instacart app
Be at least 18 years old
Have the ability to lift 50 lbs, with or without accommodation
As a full-service shopper, you'll also need a reliable car to deliver groceries around your city.
Requirements for DoorDash Dashers
Dashers also need to meet some requirements to work for DoorDash.
Here's what you must fulfill to work as a Dasher:
Be at least 18 years old
Have a vehicle (a car, scooter or bicycle)
Own a compatible smartphone
Have a valid driver's license (and present a copy)
Consent to a background check
Have a Social Security number
The requirements for both Instacart and DoorDash are relatively similar.
Instacart vs. DoorDash: How Much Can You Make?
The amount you can earn through either platform varies based on your time commitment. Of course, drivers who put in more time will have higher earnings.
In general, here's what you can expect to make with either service.
Instacart Shopper Pay
As a full-service shopper, Instacart says you can expect to make between $15 to $20 per hour with their grocery delivery service.
Full-service shopper earnings will depend on the availability of work and the tips you receive from customers. With that, some shoppers will earn more than others.
Plus, shoppers might qualify for bonus earnings if they make deliveries during peak hours or get good ratings from customers.
Full-service shoppers can increase their hourly earnings by shopping efficiently. You can move through orders faster if you learn where everything is in a particular grocery store.
Keep in mind that as an independent contractor, you'll need to withhold taxes. Beyond that, driving around town will put some wear and tear on your vehicle. You'll also need to pay for your own gas.
In-store shoppers won't see their income vary based on tips. Instead, in-store shoppers earn an hourly rate. According to Indeed, this hourly rate can range from $7.25 to $24.25 per hour.
DoorDash Dasher Pay
According to DoorDash, the national average earning is $25 per hour. However, this figure includes tips, which means there may be some fluctuation in your actual earnings.
Like Instacart full-service shoppers, Dashers are independent contractors, which means they need to withhold taxes. Also, they'll have wear and tear on their vehicles and have to pay for their gas.
The Dasher compensation scale includes three tiers. Here's what to know about each.
Base Pay
The base pay is the company's contribution to the order. Depending on the details of the order, DoorDash will offer base pay between $2 to $10+.
Tips
Customers can leave a tip for their Dasher. When a customer leaves a tip, the Dasher will get the 100% of the tip amount.
Promotions
DoorDash offers promotional incentives for Dashers. For example, you'll earn peak pay if you make deliveries during peak times.
Additionally, you can earn more by completing a set number of deliveries within a specific timeframe.
You can also earn more through DoorDash by delivering large catering orders. While you can get paid extra for these orders, they are reserved for more experienced Dashers.
Instacart vs. DoorDash: When Are You Paid?
The whole point of using a delivery driver app is to earn money. Luckily, both Instacart and DoorDash make getting paid simple.
Instacart Payouts
Instacart shoppers are paid once a week through direct deposit. In-store shoppers who prefer a physical check can request check payments from the company.
If you are a full-service shopper who wants faster access to your earnings, you can use the Instant Cashout feature. Through Instant Cashout, your funds are transferred to your debit card up to five times a day.
However, this feature has a 50-cent transaction fee and a daily limit of $3,000.
DoorDash Payouts
Dashers are paid on a weekly basis. The funds are sent directly to their bank accounts through direct deposit.
If you want to get your earnings faster, you can use Fast Pay. While you'll incur a $1.99 fee, sometimes getting your hands on your funds early is worth it.
Instacart vs. DoorDash: Job Review
Since you'll be spending a lot of time making deliveries, the enjoyability of the work itself matters. Here's a closer look at what drivers have to say about working for these delivery services.
Instacart Jobs
Instacart has earned an above-average rating from shoppers, with over 3,600 reviews on Indeed.
Many shoppers noted their appreciation for work-life balance opportunities. However, when the company was rated on compensation, job security and management, shoppers rated the platform below average.
When you sign up to work with Instacart, you'll schedule your hours through the app. As a full-service contractor, delivery opportunities are available between 9 a.m. and 12 a.m.
When your shift starts, you'll get the choice to accept or reject particular orders.
In addition, your Instacart debit card will be loaded with the cash needed for your shopping trip. This means you won't have to pay for orders out of your own pocket and wait for reimbursement.
DoorDash Jobs
DoorDash earned an above-average score from Dashers, with over 8,400 reviews on Indeed.
Based on the above-average overall rating, Dashers tended to appreciate the opportunity for a flexible work-life balance. However, when rated on compensation, job security and management, Dashers gave the app a below-average rating.
As a Dasher, you can work on the same day. However, you'll also have the option to book a shift up to a week in advance.
Instacart vs. DoorDash: Support
Being able to get support when delivering orders is important. Here's how Instacart and DoorDash help their drivers.
Instacart Shopper Support
Instacart offers a customer support phone number for their shoppers.
The platform also has a support center that Shoppers can access using their phone numbers. Beyond that, a chat feature within the app allows Shoppers to get real-time support.
DoorDash Support
Dashers can access phone or chat support 24/7 to get help with any order issues.
DoorDash also offers a useful help section on their website that covers just about any question a Dasher might have about working for the company, getting paid, ensuring high ratings and more.
Instacart vs. DoorDash: Driver Perks
Driver perks can help steer you towards one platform vs. the other. Here's what both services offer their drivers.
Instacart Shopper Perks
In-store shoppers can accumulate sick pay at a rate of one hour per 30 hours on the clock. If you get sick, you'll get to tap into this sick pay.
Instacart also helps drivers offset gas costs by charging an extra 40 cents to customers, which is passed onto the delivery driver. As a regular driver, every little bit of gas help is a big win.
Furthermore, Instacart Shoppers can utilize the platform's partnership with Perkspot to save money on purchases like flights, car insurance, concert tickets and more.
DoorDash Dasher Perks
As a Dasher, you'll have the option to request no-contact drop-offs for safer deliveries. Plus, the company offered additional support to drivers throughout the pandemic in the form of up to two weeks of financial assistance.
Another way DoorDash supports Dashers is through a temporary gas bonus to offset a portion of your gas costs for delivery runs.
Beyond this, Dashers can take advantage of financial literacy resources and savings from national brands like Everlance, General Assembly and Maaco.
Frequently Asked Questions
If you still have questions about Instacart and DoorDash, these answers might be able to help.
Summary
Instacart and DoorDash offer an opportunity to earn extra money through food deliveries. The main difference between the two services is what you'll be delivering.
Instacart drivers will exclusively deliver groceries, while Dashers will find different delivery opportunities.
Regardless of which one you choose, both platforms are a great way to boost your income.