You probably already know that the world of grocery delivery is seriously growing in popularity. People are falling more and more in love with the idea of being able to take this task off of their plates.
And it makes sense. Busy professionals, parents with jam-packed schedules, and those who just can't get to the store for whatever reason still need groceries.
Even for simple convenience reasons, people are starting to have their groceries delivered to their door. After all, it takes some work to drive to the store, fill the cart and then drive back home again.
Luckily, the grocery delivery business has evolved into a fascinating business where you no longer need to go to a full-time 9-to-5 job for a specific company in order to make money by delivering groceries.
What is a Personal Grocery Shopper?
A personal grocery shopper is someone who goes and buys groceries for other people.
The great thing about this "side hustle" way of doing personal grocery shopping for others is that you can create your own work schedule – a part-time schedule that works around the rest of your life.
As with other car-based side hustles, you can let Instacart and Shipt know when you're available for grocery delivery gigs through their on-demand delivery apps.
This concept has revolutionized the business as people no longer have to work with a manager to create a schedule around other people and the business. You control your own schedule to be a store shopper.
Instead, you can sign out and sign in when you're available. Got a few hours of nothing planned one Saturday? Do some grocery shopping and make some cash.
How Much do Personal Grocery Shoppers Make?
Most grocery delivery businesses state that their drivers/delivery people make up to $25 per hour. A reasonable expectation would be $15 per hour.
The rates charged to customers are calculated a few different ways depending on the business. Most businesses either charge a percentage of the grocery order, a flat rate or a combination of the two.
This surcharge is how delivery people are paid. Also, many customers give tips to the personal shoppers, which means extra money in your pocket.
The actual pay from the grocery delivery service generally occurs on a weekly basis.
Here are the specifics on two popular grocery delivery services, Instacart and Shipt, and how they can help you bring in some extra money without the time commitment of a regular job.
Instacart Shopper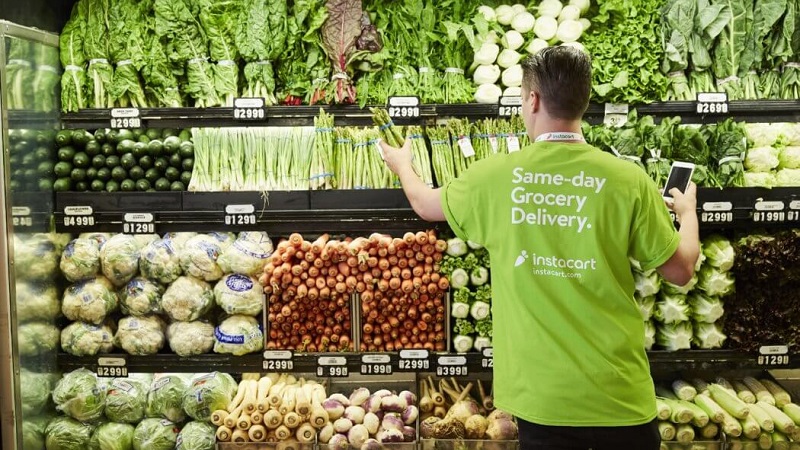 To work for Instacart, you need to be 21 years old (18 in some states) and have a reliable car. You also need to be able to lift 30 pounds with or without an accommodation.
Instacart requires that you be eligible to work in the U.S. and have a recent smartphone (iPhone 5 or Android 5.0 or newer) as that is how much of your communication with Instacart will occur.
With Instacart you can be a full-service shopper meaning you get to be the driver and a shopper.
Or you can simply be a driver, meaning you'd go to the store, pick up the groceries that someone else bought and packaged up, and bring them to the client.
As a driver or driver/shopper for Instacart, you can work unlimited hours at your convenience.
Related Post: Instacart Shopper Review
Shipt Shopper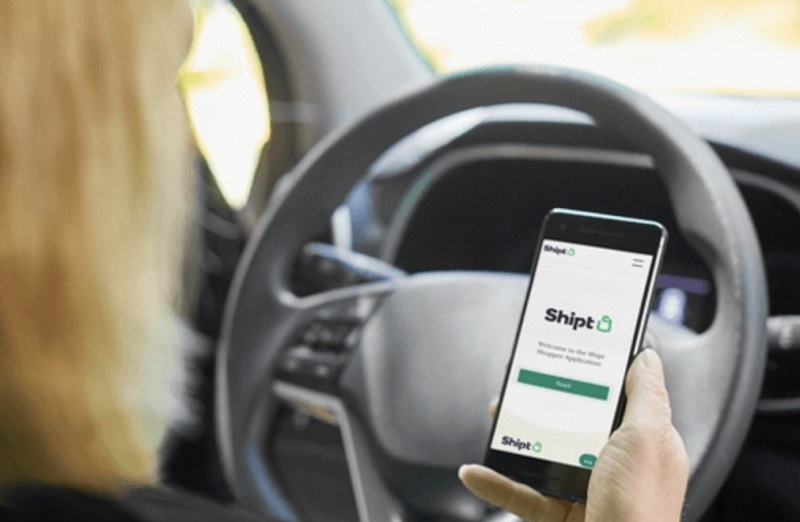 Shipt works similarly to Instacart with a few different parameters. As a Shipt shopper, you have to be 18 years or older. You also have to be able to lift at least 25 pounds and need a newer smartphone.
Also, with Shipt you will both shop for and deliver the groceries to each client.
The company also requires you to have a working knowledge of the produce section at grocery stores. Efficiency is valuable in the grocery delivery business. Shoppers need to find items quickly.
Read our full Shipt Review to learn more.
What is Required To Be a Personal Grocery Shopper?
There are a few things you need before starting a personal grocery shopping side hustle. First, most companies require you to have up-to-date auto insurance, a reliable car, a valid driver's license, and a decent driving record.
Second, most grocery delivery businesses perform a background check on applicants. This is to ensure the safety of their customers.
And third, it's important to know that as a personal shopper you will probably work as an independent contractor.
You are responsible for keeping track of your income, your expenses, and filing your taxes each year so that Uncle Sam knows you are paying taxes on what you make as an independent contractor.
Most independent contractors intentionally set aside a percentage of each paycheck they get from the businesses they work for. That way, they can be sure to have the money they need to pay at tax time.
In other words, keeping thorough records and being disciplined with saving at least some of your side hustle money is important to running a smart side hustle business.
More Tips to Make The Most MOney
There are a few things you can do that might help you make more money as a personal grocery shopper.
Shop with care and pick out quality produce that is in good shape
Be diligent to deliver your orders on time
Deliver with a smile and treat your clients well
Be available during peak times (like weekends), early and late hours
Familiarize yourself with your local grocery stores
Summary
If you like the idea of grocery shopping for others – or even just delivering groceries to those in need – this could be a great way for you to make money part-time or as a side hustle.
Create your own hours, get a reliable vehicle, sign up with Instacart or Shipt, and start grocery delivery service today.