If you are looking for a way to earn extra money, tackling chores that others don't want to do is a great option. For example, grocery shopping is one task that many people are willing to pay someone else to do.
Shipt Shopper lets you take advantage of this opportunity by helping you make money shopping for and delivering groceries.
Our Shipt Shopper review takes a closer look at this side hustle to help you determine if it is a good fit for you.
Summary
As a Shipt Shopper, you can take advantage of a flexible schedule while you earn the income you need. Although you'll need your own car, delivering groceries can pay the bills. Plus, Shipt provides a suite of perks for their active shoppers to enjoy.
Pros
Flexible schedule
Free Shipt membership
Opportunity for tips with each order
Cons
Wear and tear on your vehicle
No guaranteed minimum hourly wage
What is a Shipt Shopper?
Shipt Shopper connects contractors who are looking to earn extra income with people who need help crossing grocery shopping off their to-do lists.
As a shopper, you will handle the shopping and deliver items to the customer's home.
You can be a shopper in over 5,000 cities throughout the United States. Shipt's website says there are more than 300K shoppers currently registered on the platform.
Shipt works with over 120 retailers, including:
Costco Wholesale
CVS Pharmacy
Office Depot
Petco
Target
And more. Shoppers can accept orders whenever it is convenient for them and work part-time or full-time.
The allure of becoming a Shipt Shopper is having access to a flexible schedule that provides the ability to earn extra cash when you need it.
Who is Shipt For?
Shipt Shopper is an excellent opportunity for people who want to earn extra money by shopping.
To become a shopper, you'll need to meet the following requirements:
Have a valid United States driver's license and auto insurance
Be at least 18 years old
Have regular access to a reliable car, which must be a 1997 or newer
Be able to lift 40 pounds
Own an iPhone or Android that can support the Shipt app
Know about produce selection
If you meet these qualifications, you can apply to be a Shipt Shopper.
Shipt is ideal for people who need flexibility and want to take charge of their earning potential. The platform can help you pay off debt, build an emergency fund or work towards any financial goals you have.
However, the job isn't for everyone. You'll have to provide top-notch customer service, juggle orders and potentially lift heavy items. If this doesn't sound appealing, another side gig might be better for you.
Shipt Shopper Perks
If you decide to work with Shipt, the company provides multiple perks to its contractors. Here's what you'll enjoy as a Shipt Shopper.
Tax Prep Discounts
It is no secret that side hustling comes with additional tax obligations. As a result, it can make sense to consult a professional when it is time to file your taxes.
Fortunately, Shipt offers a 50% discount for shoppers who file their taxes through TaxSlayer. There is a free tax filing option through the service as well, making it a great option for Shipt contractors.
Free Shipt Delivery
You can take advantage of the Shipt delivery service for free. In turn, this will give you more time to shop for others and earn more money.
To get a free membership, sign up via the Shipt app using the same email address you use for your shopper account.
Auto Perks
You'll need a reliable car to be a Shipt Shopper. Consequently, Shipt wants to make sure that your vehicle stays in tip-top shape without breaking the bank.
As a driver for Shipt, you'll enjoy several opportunities to tap into savings on auto insurance, maintenance, gas and more.
For example, you can save up to 25 cents per gallon through GasBuddy. You can also enjoy 10% off tires and discounted oil changes through Tire Kingdom.
Other auto discounts are available through companies, including:
Avis
Budget
HealthCAR
Jiffy Lube
NTB
Liberty Mutual Auto
Lifestyle and Entertainment
Shipt wants to make sure you are able to enjoy your time off, so they provide shoppers with various lifestyle and entertainment discounts.
Companies that offer discounts to Shipt Shoppers include:
AT&T
Benefithub Discount Marketplace
DIRECTV
Hurdlr
Nift
Shoprunner
Toggle
Healthcare, Fitness and Well-Being
As an independent contractor, it can be a struggle to find appropriate healthcare benefits. Shipt recognizes this challenge and offers help through its partnership with HealthSherpa and ScriptSave.
Additionally, you can get access to a free gym membership through Gympass.
Security
Shipt provides its shoppers with security-enhancing benefits to offer peace of mind. Shoppers can enjoy identity theft protection through Allstate.
Furthermore, shoppers can access affordable pet insurance through Pet Benefit Solutions and LIberty Mutual Pet in addition to legal support from RocketLawyer.
COVID-19 Financial Assistance
COVID-19 is an ongoing concern worldwide. Shipt is taking this threat seriously by giving its shoppers a helping hand.
If you are an active shopper, you can receive up to two weeks of financial support from Shipt for COVID-related reasons.
As an active shopper, you'll be eligible for this assistance if you test positive for COVID-19 via a test by a medical professional, public health authority or lab.
You'll also be eligible for support if a public health authority imposes a mandatory individual quarantine or a member of your household tests positive for COVID-19.
How to Sign Up To Be a Shipt Shopper
Ready to work as a Shipt Shopper? Here's what you'll need to do to get started.
Apply and Interview
First, you'll have to apply. You'll start by providing some personal information.
Then, Shipt will ask you to answer a few questions designed to help the company understand your communication style, problem-solving preferences and decision-making skills.
If Shipt likes your answers, you'll be asked to submit video responses to interview-style questions. This will let you show off what you know through videos.
Finally, you'll need to sign the Shipt Shopper agreement. The agreement highlights everything you need to know about becoming a successful shopper.
Get Approved
Typically, the Recruiting Team will respond to your application within a few days. However, depending on the needs of your area, it could take several weeks to get a response.
If you are approved, you'll be able to move forward as a shopper.
Download the App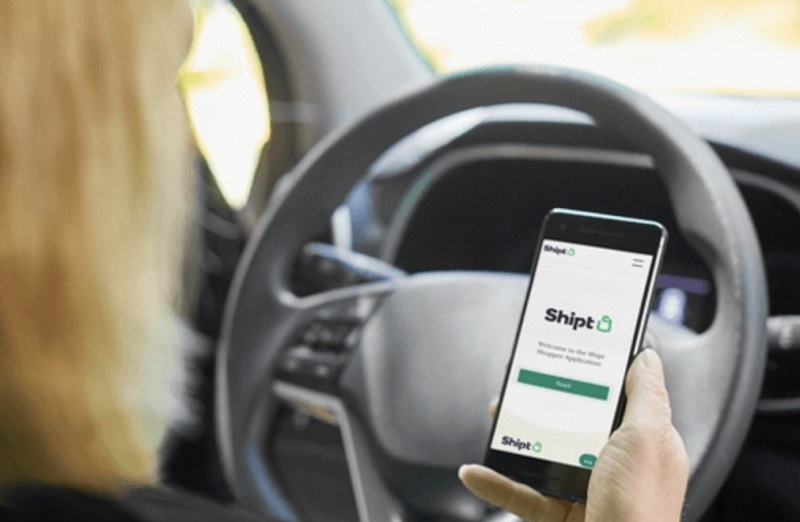 Once you are approved, you'll be ready to download the app and start accepting orders. The app is available for both iOS and Android devices.
Keep in mind that the key to success with Shipt is to provide outstanding customer service. Shipt makes it very clear that it rewards its shoppers that provide exceptional customer service.
This means you can gain access to preferred shopping times and additional work if you provide top-quality service.
FAQs
If you are on the fence about becoming a Shipt Shopper, here are some frequently asked questions that might help you make a decision.
Is Shipt Shopper legit?
Yes. Shipt is a legitimate business that provides opportunities for you to get paid to shop.

The company has high ratings on multiple review sites. It also has many testimonials from shoppers about the benefits of working for the platform on its website
How much can Shipt Shoppers earn?
According to Shipt, you can make up to $22 per hour or more. However, the actual amount you are able to earn will vary based on your area, the orders you accept and the tips you receive from customers.

Based on internet reviewers, shoppers report earning anywhere from $5 to $20 per hour. It seems that shoppers with high customer ratings are offered the most lucrative gigs.
When do Shipt Shoppers get paid?
Shoppers are paid every Friday via direct deposit.
What customer service options does Shipt Shopper offer?
You can contact Shipt via the live chat on their website, email the company at support@shipt.com or call 205-502-2500. Support is available 24/7.
Is Shipt Shopper safe?
Shipt works to provide a safe experience for its shoppers. A few of the ways the company promotes shopper safety is through contactless delivery options, 24/7 shopper support and phone number protection.

Additionally, you can request help from the Trust and Safety Team if an unsafe incident occurs.
Shipt Reviews
You might be thinking that Shipt sounds like a great opportunity to earn extra cash. But what are current shoppers saying about their experiences?
Here are some highlights from popular review websites.
With over 7.5K reviews on Trustpilot, Shipt earned 4.1 out of 5 stars. 80% of reviewers report an excellent or good experience. On the flip side, 15% of reviewers reported a bad experience.
Most shoppers with positive experiences reported satisfaction with customer service and wages. However, shoppers who left negative reviews shared problems with receiving payment and low wages.
There are also numerous reviews on both the Apple App Store and Google Play from shoppers sharing their experiences with the Shipt Shopper.
The app earned 4.8 out of 5 stars in the Apple App Store and had over 108.8K ratings. On Google Play, Shipt Shopper had more than 14.1K reviews and received a rating of 3.8 out of 5 stars.
In terms of feedback, those who were happy using Shipt Shopper cited income and ease of use as noteworthy perks. Shoppers who were unhappy with the service reported issues with customer service and job availability.
Is Shipt Worth It?
As a Shipt Shopper, you can tap into a new income stream. The service has many users who are happy with it, proving that it is a legitimate way to make money.
Whether you want to use it as a part-time income or give it a go full-time, you will appreciate the perks that come along with being a Shipt Shopper.