Transportation costs is a huge budget area that you can reduce.
By combining trips you need to take with your car (i.e. stopping at the grocery store on the way home from work instead of making a separate trip), obeying speed limit laws, and keeping your car well maintained, you can save money on gas costs by using less.
And if you put in a bit of time, you can even find ways to get free gas.
How to Get Free Gas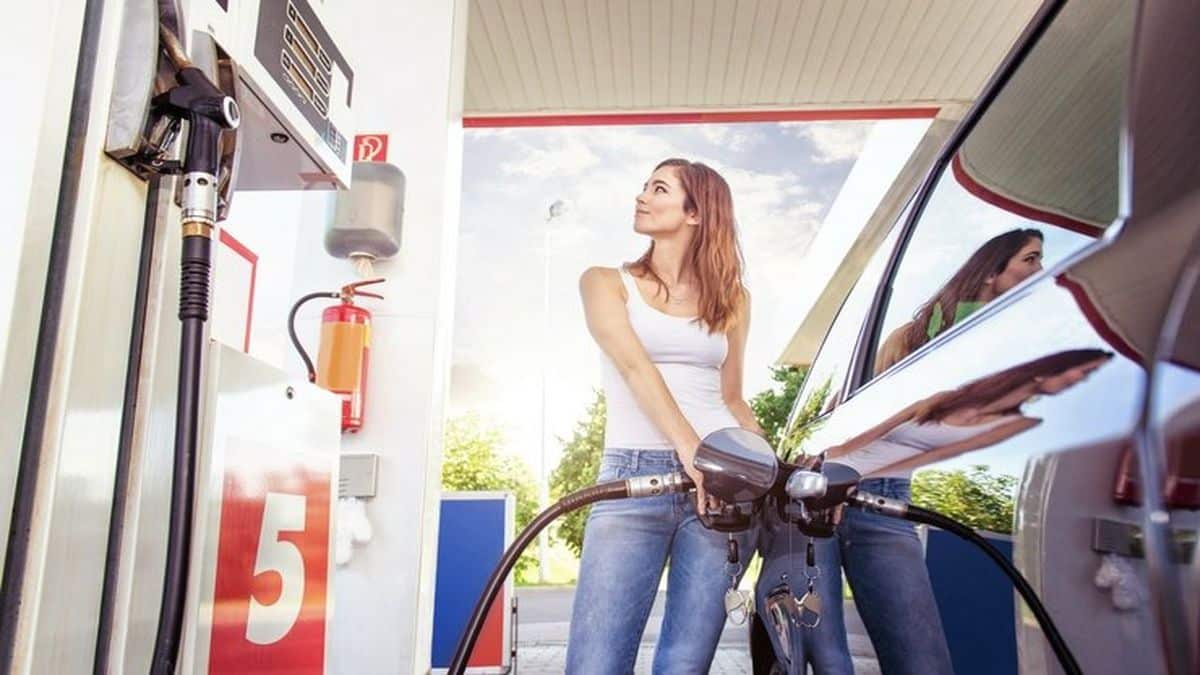 Buying gas for your car is probably one of the expenses you thought you couldn't do much about.
Although there are some obvious ways to reduce gasoline costs, such as carpooling, sharing gas costs, and using those four cent off coupons you get at the grocery store, can you really find ways to get gas for free?
The truth is that there are ways you can get gas for free. Not all methods will work for all people, but if you can use even one of these ways to get gas for free you can cut down on transportation costs.
You can then use that savings to fast-track your debt payoff or other financial goals.
1. Get Gas Cards
Did you know that you can earn gas cards by watching videos, browsing the Internet, completing surveys, and shopping online?
For each activity you complete via Swagbucks, you earn points that can be used to purchase free gift cards – including gas cards.
You can then use the cards you earn to get free gas at participating gas stations instead of having to pay for it out of your own budget.
2. Consider Advertising on Your Car
At Free Gas Help, you can earn free gas cards in exchange for placing advertisements on your car. They offer a variety of advertisement venues, from door magnets to complete vehicle wraps.
You get to choose which types of ads you have on your car so that you don't have to drive around with ads you're uncomfortable with.
As you drive around with the ads on your car, you're earning free monthly gas cards for local gas stations.
For a full car wrap they'll pay as much as $200 per month in gas cards.
There are some requirements to use their service. For instance, you have to drive at least 1,000 miles each month in order to be eligible for their services. You also have to have a car that's in good condition.
They require that drivers in their program have good driving records and carry valid auto insurance as well.
If you meet these driving qualifications, contact Free Gas Help and find out if they might be a way you can get free gas money every month.
There are also other companies that will pay you to advertise on your car. Not all are legit, though, so be careful about choosing which companies you sign up with by being aware of potential scams.
For instance, a valid car advertising company will not ask you to pay money to sign up. Carvertise is one of the other valid companies that will pay you to carry ads around on your car.
3. Take Surveys
There are many companies out there such as Survey Junkie that will allow you to take surveys in order to earn points that can be redeemed for gift cards to a variety of retailers, including gas stations.
The great thing about earning free gas money by filling out surveys is that you can do it online from anywhere you choose when you've got free time.
Sitting at the dentist office waiting for your appointment? Use your smartphone to fill out a few surveys. Got a twenty minute break at work? Use it to answer surveys and earn some extra cash.
Make taking surveys a habit and soon enough you'll have earned enough points for a free gift card from a gasoline retailer near you.
Not all survey companies are legit, though, so check out this post on the best survey sites before you sign up to take surveys in order to get free gas.
4. Use Credit Card Rewards to Get Free Gas
There are many credit cards out there that give reward points that you can redeem for cash, for credit to your card, or for gift cards. Keep track of the money you earn via rewards from using your credit cards.
Then, use the free rewards points to put gas in your car – i.e. FREE gas. You can do this by using your points to purchase gas station gift cards, or by simply transferring your rewards points to your credit card and then filling up your gas tank for the same dollar amount.
The key to success in using credit card rewards to get free gas is to make sure you never pay interest on your credit card purchases.
In other words, make sure you are using the rewards card only for items you would buy anyway, and then pay the card off in full every single month.
If you're not paying the card off in full each month, the rewards you earn are offset by interest you'll have to pay for carrying a balance on the credit card.
Related article: Upside App Review: Earn Gas Rewards
5. Contact Charities in Your Area
Many times, local charitable organizations will help people in need by providing gas cards so that they have access to free gas for necessary driving, such as getting to job interviews, getting to work, going to appointments, or going for groceries.
In the Midwest, the Salvation Army provides transportation funds for those in need.
In other states, there are non-profit organizations or churches that provide free cards for people who need to fill up their tanks but don't have the cash.
If you're in need of free gas, contact churches and other local charities in your area to find out if they supply free gas cards to those in need.
You might also try contacting your local Health and Human Services Department as well, as they sometimes will give out gas cards to those in need.
6. Keep an Eye Out for Gas Card Offers at Retailers
Sometimes local and nationally known retailers have offers for products that come with a free gas card.
For instance, CVS, the nationally known drug store retailers, will occasionally offer a free gas card with qualifying purchases.
Their ExtraCare Rewards card has been known to offer freebies such as $10 gas cards and other benefits that they give away when you purchase specific items.
Check CVS weekly ads and the ads of other local retailers in your area for deals on free cards with purchases.
Additionally, many grocery stores will offer fuel points. National grocery stores will allow you to cash in those fuel points across states as well. This is a great way to save money on gas.
7. Use Travel Rebates
If you travel regularly, you may be able to earn free gas cards by staying at the right hotel chains when you travel.
For example, Best Western let customers earn rewards points every time they stay at a qualifying Best Western hotel.
After you've accumulated a certain number of points by staying at their hotels, you can redeem those points for gift cards at Shell or Exxon gas stations.
The cool thing about rewards points through Best Western hotels? They never expire.
So even if you're not a frequent traveler, you can earn your points and save them up over time, and then redeem them for a free gas card.
Saving up your travel rewards by staying at Best Western hotels or other hotels that reward customers with gift cards to gas stations could be a cool way to pay for gas for an upcoming vacation as well, enabling you to cut down on vacation costs if you plan in advance.
8. Apply for a Gas Station Credit Card
A general credit card option might help you tap into free gas through rewards. But a credit card specifically branded by the gas station of your choice can help you rack up the rewards, and the free gasoline.
Many gas station credit cards offer generous rewards to help you fuel up for less. For example, Exxon Mobil offers a Smart Card+, which automatically helps you save up to 12 cents per gallon at Exxon pumps.
But many gas stations offers their own twist on a gas rewards credit card. As a driver looking to limit your pain at the pump, it's worth looking into adding another credit card to your wallet.
Before you jump in, make sure you can handle a credit card responsibly. You'll only want to spend what you can afford to pay off each month. Otherwise, the interest rate tied to the credit card could wipe out any real savings.
9. Join Gas Station Loyalty Programs
Opening a credit card isn't the right choice for everyone. Whether you have poor credit or simply don't want to take a chance on overspending, gas station loyalty programs are another opportunity to save without any interest charges attached.
Many gas stations offer loyalty programs to help their customers save at the pump. A few gas stations offering these programs include BP, QuikTrip, Exxon Mobil, and Shell. If you don't see your favorite gas station on this short list, take a look around next time you are pumping gas. Most stations with a loyalty program advertise it on the pumps.
The savings per gallon might not be spectacular. But every penny saved can add up over time. Although you'll likely get the most rewards by sticking to a single program, there is no harm in signing up for multiple loyalty programs to capture savings wherever you happen to fuel up.
10. Enter A Gas Sweepstakes
Winning a gas sweepstakes might be a long shot. However, it only takes a few minutes to throw your hat in the ring. Why not spend a second on the chance for thousands in free fuel?
For example, Speedway offers a sweepstakes program for it's rewards program members. Some of the prizes include a $500 gift card for Speedway, which you can redeem for fuel.
Like the lottery, you can't win if you don't play. But unlike the lottery, sweepstakes are usually free to enter.
11. Buy Gift Cards at a Discount
Shopping the weekly sales at chains like CVS and Publix might help you tap into discounted gift cards. But if you don't have the time to monitor the sales, there's an easier way. You can buy gift cards for gas stations on websites like GiftCardGranny.com.
Instead of waiting for a sale, you can head onto one of these websites to browse the selection available. Hopefully, you'll find a discounted gift card option for the gas station of your choice.
Although this is a relatively roundabout way to lock in cheaper gas, it's an opportunity to stretch your budget further. As a driver on a budget, every little bit helps!
12. Use Gas Apps to Lock in Savings
Many gas apps are designed to help users find savings at the pump. While some gas app simply help you track down the best price per gallon, others are designed to help you stack up cash back opportunities.
For example, Upside connects users to cash back opportunties at the pump. Depending on the deal, you might score cash back of up to 25 cents per gallon. It's easy to see how that cash back would grow quickly.
When you find a deal through Upside, you'll take a picture of the receipt after fueling up with a credit card or debit card. You can redeem the cash back via PayPal, check, or gift card.
13. Find Cheaper Gas Through a Wholesale Membership Club
If you've driven by your local Costco or Sam's Club on the weekend, you've likely seen a long string of cars waiting to fuel up at the club's pumps. Members can tap into significant savings at the pump through their membership.
For drivers who already have a club membership, fueling up at the wholesale membership club is often an easy way to save on fuel costs.
But if you haven't already committed to a particular club, make sure to run the numbers of the membership costs against your potential savings to ensure the membership is worthwhile.
14. Start a Carpool
If you are looking to save on gas during a regular commute, consider setting up a carpool with others in your area. Either for going to work or for students driving to school
Carpooling and having co-workers and friends help pay for gas can be beneficial for you.
While you won't necessarily get free gas, you can have the other passengers chip in to cover some or all of your fuel costs.
Starting a carpool might be as easy as asking around the office. But if you have a limited number of coworkers, consider putting up a flyer near your office building.
Others who work in the same area might reach out for more information.
For many carpool drivers, an additional perk comes in the form of express lane access. Many major cities offer free access to the express lane for vehicles with at least two passengers. With that, you might save on gas and cut some time off of your commute.
15. Reach Out for Help
Some organizations, like the Salvation Army and United Way, offer gas vouchers to qualifying individuals. Typically, you'll need to be in the midst of a financial rough patch. The goal of the program is to help you get back on your feet.
If you think you might qualify, it never hurts to reach out for help.
You can find out more information by contacting your local Salvation Army center. Or you can call 211 to connect with United Way and learn more about the programs they might offer in your area.
Other Ways to Spend Less on Gas
Along with using the ways above to get free gas, there are other things you can do to cut down on gasoline costs in your budget.
1. Drive Slow and Drive Steady
By staying in the right lane when on the highway and avoiding constant accelerations and braking, you'll go through less gas.
Keeping distance between you and the car ahead of you will also help you to drive steady and avoid constant braking and acceleration.
Treat your car gently and drive steady and you'll find you are filling up the tank less.
2. Keep Your Car Well Maintained
Your car will also go through less gas if it's maintained well. Keep the tires inflated properly, change the oil and filters when necessary, and avoid having extra weight in your car (i.e. "stuff") that doesn't need to be there.
Also, when looking for gas stations, make sure to get good gas. For example, if the gas tanks are being filled, the gas in the tanks will be moving around. Anything that settled to the bottom may be stirred up. If possible avoid that gas station for the time being and find another. Good gas can make a big difference on your car.
By doing these things your car will run more efficiently and use less gas.
3. Know Where the Cheapest Gas Is
Find out where the lowest gas stations gas prices are on your regular routes to and from where you go. In our area, Sam's Club is consistently the cheapest – by a good seven to ten cents per gallon. Because of that we always plan to fill up the tank when we make a Sam's Club run.
If you know which companies consistently charge the lowest gas prices or consistently give out discount coupons, you can plan your fill-ups for when you're near those stations.
4. Take Other Forms of Transportation
When possible consider other forms of transportation for car trips when it's more efficient. If you live in close proximity to work or to the grocery store, consider using an electric bike or walking there if it's safe.
Or if it's cheaper to take public transportation or to carpool with a co-worker instead of taking your own car to work, go that route. By minimizing the amount of time you use your car, you'll spend less on gas.
5. Be Willing to Be a Little Bit Uncomfortable
Air conditioning units in cars function by using the gas from your tank. Open windows and sunroofs increase wind resistance, making your car less fuel efficient.
If you don't live in an excessively warm state and can safely avoid using the air conditioning in your car and avoid keeping the windows open, you'll use less gas.
6. Get a More Fuel Efficient Vehicle
If it makes economic sense you can sell your car for a different one that has better gas mileage. I only recommend doing so, however, if you don't take on new car payments or more debt.
Instead of increasing your debt for the sake of better gas mileage, look for a quality used car that costs the same or less than the car you're driving currently.
Summary
Spending less money on gas – and driving in a way that helps you use less gas – is good not just for your wallet, but for the environment as well. From finding the right gas station, earning gas cards and more.
Take advantage of the tips listed here so you can increase your car's efficiency and your bank account's efficiency.