Gas and food are necessities that most people must include in their budgets. It's almost impossible to completely remove them from your monthly spending plan like cable TV or other niceties.
Thankfully, you can trim your spending by using Upside. This mobile app offers cash savings at nearby gas stations, restaurants and grocery stores.
Our Upside app review shows how this shopping app can help you save cash on some of life's necessities.

Summary
With Upside, it's possible to save up to 15 cents per gallon at gas stations nationwide. You can redeem your rewards for cash or gift cards with a $10 balance. The app is free to join, and you can also save money at restaurants and grocery stores.
Pros
Over 30,000 gas stations and stores
Cash and gift card rewards
Free to join
Can use other discounts
Cons
Not available in all cities
Few non-gas offers
$10 redemption minimum
Potential $1 redemption fee
What is Upside?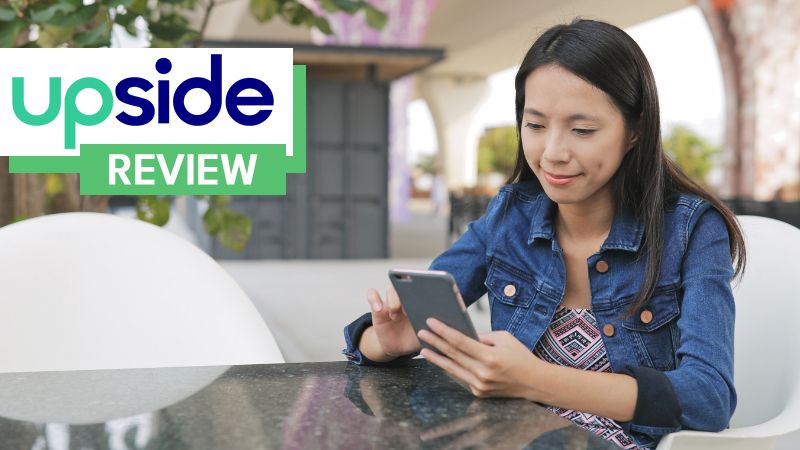 Upside (formerly GetUpside) lets you earn cash back at over 30,000 local businesses for gas and food-related purchases. It's a free mobile app that works with Android and iOS devices.
Promo Code: Use AFF25 for a sign up bonus of 25 cents per gallon!
Your savings can include:
Gasoline: Up to 15 cents per gallon
Restaurants: Up to 35% back
Groceries: Up to 30% back

Usually, you can expect to save between five and 15 cents on gas and anywhere from 7% to 15% on food purchases. This is legit cash back in your wallet.
You can find savings by downloading the Android or iOS mobile app. After claiming an offer, simply pay with a linked payment card. Upside will then determine your rebate.
This is a relatively new app that's growing and regularly provides more offers throughout the United States. You can find multiple savings opportunities in many small, mid-size or big cities.
For example, there are three partner gas stations in my city of approximately 20,000 residents.
There are also participating gas stations along several interstate exits where we normally stop during long-distance road trips.
How Does Upside Work?
It's easy to earn cash back with Upside by following these steps.
1. Download and Open the App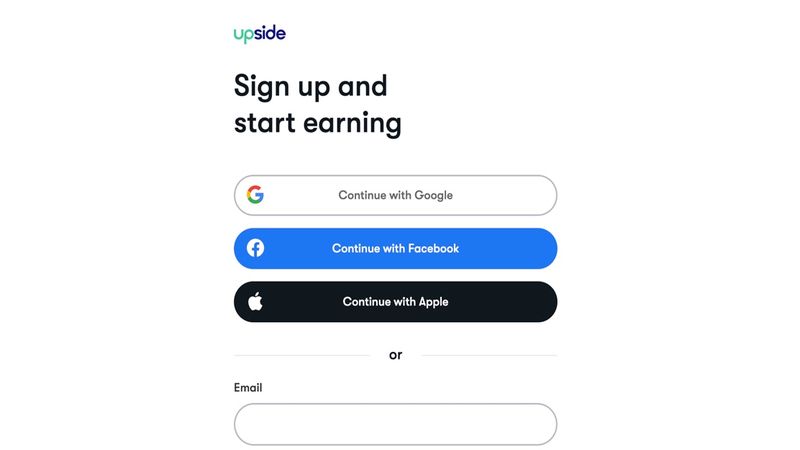 The first step is going to Upside.com and entering your phone number. Next, you will receive an invitation to download the app to your device. You can download the app from the Google Play Store of the Apple App Store.
Android and Apple phones with location services are eligible.
You can create a free account and activate your phone's location services to search for nearby offers.
Before searching for offers, you may decide to set up your account by linking a payment card.
However, you can complete these tasks as you make money from your first shopping offer.
2. Claim Offers
It's possible to browse cash back offers online or via the app. You can search nearby or several miles down the road if you're traveling so you know if there's a participating gas station, restaurant or grocery store on your route.
Then, you can claim an offer within the app right before paying.
You have four hours to redeem the offer after claiming it before it expires. This relatively short claim window lets other customers claim an offer as well.
Keep in mind that there might be a select number of cash back discounts available each day. By the time you get to the store to redeem the offer, it may no longer be available.
It's also possible to scan your store loyalty card for additional upfront discounts, allowing you to essentially double-dip on rewards.
However, this strategy may reduce your Upside earnings since the discounts from loyalty programs might reduce your total spending.
3. Swipe
To get cash back, you can pay for your grocery, restaurant or gas purchase with your preferred debit card or credit card.
Upside is able to track most purchases electronically, so you generally won't have to upload a copy of your receipt.
If you do need to scan your receipt, the offer will let you know when you claim it.
However, it's important to check in before paying so the app can easily track your purchase.
4. Check In or Snap
When paying, go to the claimed offer and tap the "Check In" button. After checking in, you tell the app which card you're using to pay for the purchase.
Upside will then start watching for the purchase to verify your cash back amount. You have 20 minutes from the time you check in to pay for your purchase.
If the app doesn't track purchases digitally from that merchant, you will need to upload a copy of your receipt within 24 hours.
Once again, the app will prompt you at check-in if a picture of your receipt is necessary to earn your cash back.
5. Earn
It takes up to four days for most offers to track and receive rewards credit. During this waiting period, the app looks for the eligible purchase amount and qualifying items.
However, some purchases may require up to 10 days before receiving credit.
Unfortunately, there isn't a way to upload a receipt as a backup for earning rewards if the store has digital check-in.
After a transaction is verified, the cash back amount is available within your rewards balance.
6. Cash Out
Depending on your redemption preferences, you can cash out your shopping rewards at various thresholds.
Upside cash out options include:
Bank deposit
PayPal
Gift cards
Bank redemptions require a minimum threshold of $10, while PayPal's minimum is $15. If you don't reach these thresholds but still want to cash out, you'll pay a fee.
Fortunately, your rewards don't expire. This means that there's no rush to cash out, and you can wait until you reach the redemption minimum to avoid fees.
How Much Does Upside Cost?
It's free to download and use Upside to get cash back. The only possible fee you might incur is a $1 redemption fee.
This fee might occur for:
Bank account redemptions smaller than $10
PayPal redemptions smaller than $15
There are no other hidden fees. The app makes money when retailers pay them a small commission once you make a purchase.
Additionally, if you refer someone to the app and they are actively using it, you won't incur these fees.
Key Features
There are some key features that set Upside apart from other rewards apps. These are just a few of the best perks you can get while using the platform.
Gas Offers
With gas prices at an all-time high, Upside will help you save money on gas each time you visit a gas station. Many towns and popular interstate off-ramps have at least one or two participating gas stations that let you get cash back on your gas purchases.
Common participating brands include:
76
BP
Casey's
Chevron
Circle K
Exxon
Marathon
Mobil
Shell
TA
Valero
Unfortunately, not every gas station for national brands like BP or Marathon participates. Each offer is store-specific.
The app lets you save cash on the various unleaded grades and diesel. Discount amounts will vary by gas station and fuel grade.
You can choose your preferred fuel grade to see the current gas prices on the in-app map. It's worth comparing offers when there are multiple gas stations along your route so that you get the best price and rewards.
The discounts between each gas station can vary as some only save one or two cents while others may save 10-15 cents per gallon.
All gas station offers let you receive a rebate on up to 50 gallons per transaction.
You might only be able to claim one offer per gas station per day. However, this does mean that it's possible to claim multiple offers each day if you visit different stores.
That said, this can be helpful if you're traveling and want to get cash back.
Some gas stations also offer discounts beyond what you pay at the gas pump. These can include a discount on in-store convenience items like snacks or drinks. The in-store rebate doesn't apply to alcohol, tobacco or other controversial items.
The ability to get cash back at any participating gas station is a huge perk that can help alleviate the pain of expensive gas purchases.
Restaurant Offers
Major cities like Los Angeles, Nashville and others have restaurant partners on Upside that help you save on your meal. The cash back rewards don't apply to the tax or tip.
You can anticipate getting up to 7% cash back on your outing. Restaurant purchases usually earn up to $10 back on meal purchases.
These discounts can be an enjoyable way to support your preferred dining places or discover new places to grab a bite to eat.
Many of the participating restaurants are locally owned and represent a variety of food types. As a result, you can help small businesses while eating some of your favorite cuisines.
National chains also offer cash back, but the availability might not be as prevalent as you expect.
Orders made through food delivery apps like DoorDash won't qualify for cash back.
Grocery Offers
Select cities have grocery store shopping offers. This discount option is one of the app's newest features to get cash back and has the least availability.
It's possible to claim up to two grocery offers per week. This is real cash back on everyday purchases.
To claim an offer, you will need to surpass the minimum pre-tax spending requirement (usually $20). There can also be a cashback maximum, but the discount can apply to most of your order if you have a large family.
After paying, you upload your receipt to verify the purchase.
Even though you're photographing your receipt, you must still pay with a credit or debit card. Items purchased with EBT or food stamps are ineligible.
Since you can quickly earn rebates, this app is an easy way to get cash back and save money on groceries.
Referral Bonuses
The app advertises that you can get free gas by referring friends to join Upside.
Your friend receives a $0.15 per gallon bonus plus the standard offer on their first fillup. You receive a $7 bonus cash plus $0.01 per gallon of gas on their initial visit.
Multiple Redemption Options
You have several ways to redeem your rewards for cash or gift cards when your balance reaches a certain threshold. The cash payment options are to a linked bank account or your PayPal account.
Gift cards are also available to many national stores and restaurants.
Unfortunately, there is a $1 fee for PayPal cashouts that are smaller than $15 and bank deposits below $10. This means that you'll want to wait until you meet the minimum redemption threshold for cashing out to maximize your earnings.
Gift cards don't have redemption fees, but some brands have a higher redemption minimum than the $10 standard requirement for cash redemptions.
Upside Reviews
As with any app, knowing what other users think of the overall experience can help you determine if it could be a good option for you.
Here's how Upside ranks on the various rating websites:
Here are some reviews from Upside users:
"Adds up faster than you might think! I love that you can cash out to a bank account OR to your choice of many different gift cards. In about 8 months I've gotten back around $110. It's well worth it." – Christy Lewis
"If I could give no stars, I would. I have used this app twice to claim rewards and each time it has been a hassle." – John & Mia Lorenz
"This is a great app. I enjoy the Google maps feature it offers upon selecting a gas station. The rewards are real, and definitely add up incrementally over time." – Ashley Gibson
"They charge you a whole dollar to cash out to PayPal unless you are cashing out $15 or more or getting a gift card. Then when you do cash out they give to a notification that states it will take 24-48 hours to transfer your money to PayPal. " – ben9109
Alternatives to Upside
If you aren't sure Upside is the right option for you, these shopping rebate apps can help you save money on daily purchases and get cash back. They may also be better for buying groceries or dining out.
Dosh
Dosh helps you earn cash back at restaurants, retail stores and hotels. Similar to Upside, you activate an offer and pay with a linked card.
Participating brands include:
Costco
Dunkin
Home Depot
PetSmart
Walmart
To get your cash back, your redemption options include your checking account, Paypal or Venmo. Unfortunately, the withdrawal minimum is $25.
Ibotta
The Ibotta app excels at helping you get cash back and save on groceries as well as merchandise.
You can activate digital coupons for participating brands as you shop the store aisles. Then, you scan your receipt to receive cash back.
Online grocery orders with store pickup or home delivery are also eligible for discounts.
These grocery discounts are in addition to the savings from scanning your store loyalty cards. It's even possible to save money at many online stores.
The redemption minimum is $20 for cash and gift cards.
Read our Ibotta review to learn more.
GasBuddy
GasBuddy offers a GasBack rewards card to save up to 25 cents per gallon at participating stations. The GasBuddy Gas Card is free and doesn't require a credit check.
Additionally, this card is accepted at approximately 95% of stores (according to GasBuddy).
Keep in mind that the gas station discounts might be for different stations than the Upside app partners with.
A GasBuddy premium membership costs $9.99 per month and lets you save up to 40 cents per gallon. Additionally, you can receive complimentary roadside assistance.
FAQ
We've answered some of the most frequently asked questions about the Upside app to help you determine if it's the best option for you.
Is Upside legit?
Yes, Upside is an easy and free way to earn bonus cash or gift cards on gas, restaurant and purchases from grocery stores. Most gas stations are paperless, and the app automatically tracks your purchases.

There are also no hidden fees minus the $1 redemption fee for smaller bank and PayPal withdrawals.

Even though the savings are not instant, you can combine paper coupons and loyalty discounts for additional rewards.
How much cash can I earn with Upside?
You can anticipate earning anywhere from one to 15 cents back per gallon of gas. Most restaurant and grocery store rebates are for 10% to 15% back.

How much you earn depends on your spending habits. As a quick example, you can earn $2 cash back when you buy 20 gallons of gas with a ten-cent offer.
Is Upside safe?
Yes. Upside won't sell your personal information or payment card details. To prevent fraud, they also require redemption verification for bank and PayPal withdrawals.

This cash back app doesn't store your bank account details or credit or debit card numbers. It uses a third-party service called Plaid that securely links to your accounts.
What are Upside's customer service options?
Upside has an in-app chatbot that can answer your questions or notify the support team to investigate a purchase.

An online FAQ library is also available for basic questions.
Summary
Upside is an easy way to save money when buying gas, shopping for groceries or visiting local restaurants and cafes. The $10 redemption minimum is easy to achieve if you use this app several times per month.
However, other receipt rewards apps can be better for saving on groceries and merchandise since more offers are available.
That said, Upside is expanding every day and could eventually rival more established apps. As a result, it's worth checking out this cash back app.