Ibotta is a shopping app that can help you save or even earn money.
If you haven't already heard of Ibotta and its powerful money-saving app, read on to see if it is right for you.
Summary
If you like saving money while you shop and are willing to put in a little bit of effort to do so, the Ibotta app could put a nice little amount of change in your pocket.
Availability of Offers

4.5
Pros
Easy to use app
Cash out to Paypal
What is Ibotta?
The Ibotta new app works with you to find coupons and other discounts on the things you buy.
To be honest, when I first started looking for info related to Ibotta I was a little wary and I even thought – is Ibotta legit?. I've tried out programs like these before and found in some cases that the savings weren't really savings at all.
Ibotta is different, however. It is not a scam at all. Because you don't necessarily have to shop through the Ibotta portal, but instead add your coupons after you shop at the store, you can be sure you'll be saving real money.
Here's how Ibotta works to help you save cash when you buy.
How Does Ibotta Work?
When I started researching for this article I realized I had very little idea about what Ibotta was. I attempted to get the scoop by just perusing the website, but in order to give you a real feel for how it works, I figured it was best to just sign up and try Ibotta for myself.
The idea behind Ibotta is simple. When you create an account with them, Ibotta gives you cashback on qualified everyday purchases you make at your favorite stores. The process for signing up with Ibotta is straight-forward as well.
Just download the app onto your smartphone (available on Android and iOS), give them basic information such as your name, email address and birthdate, and create a password. It took me less than two minutes.
After you're signed up, you'll be asked to pick your favorite stores that you shop at both in person and online. The list of stores they have to choose from is pretty substantial.
It includes grocery stores (both big box and specialty stores like Sprouts Farmers Market stores), drug stores, craft stores, clothing stores and more on their list of approved retailers.
Once you've picked the stores you want to see offers from, you can start browsing the offers and adding them to your account.
You can find offers via the type of item you want to buy (i.e. health and beauty, grocery, etc.) or by store, which is my favorite way to search.
Your Ibotta app will share coupons for dozens of different products at each store. Since you get to choose which store offers you receive, you don't have to waste time looking at offers from one store when you only want to shop at another on any given day.
In other words, if you're going to Walmart to shop you have the option to see offers from Walmart only. Most of the time when you pick an offer the coupon goes right into your Ibotta "wallet", so to speak.
Other times an offer will require you to watch a short video; short as in less than ten seconds in my experience.
Also, some offers require that you answer a short and simple question, such as "How much schooling have you completed?"
The videos and survey questions that were attached to some of the money saving offers were nearly unnoticeable. They are not at all a deterrent to using the app.
Different Ways To Earn With Ibotta
Ibotta offers a couple of different ways for you to earn money. The first one listed here is the simplest.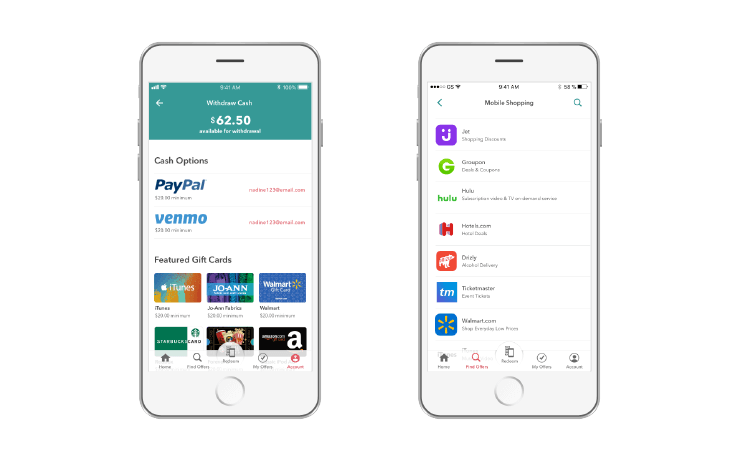 Earn by Shopping
Shopping is by far the easiest way to earn with Ibotta, at least in my opinion. As I stated earlier, Ibotta has you choose the stores you shop most at when you open your account. This helps them find all available offers at your favorite stores.
One thing I really liked about this free app was how well it organized and cross-references offers that were available at multiple stores.
For instance, on my store list I have both Target and Walmart. If I'm browsing Walmart offers on the app and find a coupon for something that will be valid at Target as well, Ibotta automatically puts the offer into my Target offer list as well as into my Walmart offer list.
This makes it really easy to save even more money, especially if one store has something on sale. After I went through all of the Walmart offers on Tuesday, and added relevant ones to my list, I waited for shopping day.
Wednesday came and I went to the store. I had written all of the Ibotta coupon offers for Walmart onto my grocery shopping list so I didn't have to be going in and out of the app while I shopped, however the offers are also easily accessible directly from your app.
I put everything into my cart, checked out and went home. At home I scanned my receipt barcode and the Ibotta app went to work checking to see which items I'd purchased.
In some cases, the item manufacturer will require you to scan the barcode to prove you purchased this item. This was super easy. I just did it when the items were still sitting on the counter from our grocery store trip.
After I got done scanning the items, the Ibotta app showed me that I had earned $8.50!! Here is the breakdown of my savings for this trip:
You Just Earned $8.50 with Walmart
NESTLÉ® Coffee-mate® Creamer $0.50
Bread – Any Brand $0.25
Bananas – Any Brand $0.25
One Dozen Eggs – Any Brand $0.25
Colgate® Toothpaste $1.00
Lindsay® Naturals California Green Olives $0.50
Ben & Jerry's® Pints $2.50
Contadina™ Tomatoes $0.25
Lay's® Kettle Chips $1.00
Reese® Artichoke Hearts $0.50
Lay's® Potato Chips $1.00
Any item Coupon $0.50
Add this $8.50 to my welcome bonus of $10 and I'm already at a savings of $18.50! For a frugal money-saving nerd like me this is a BIG deal. Imagine how much I could save over the course of a year!
Earn by Referring Others
Ibotta will also pay you money if you refer a friend who signs up and uses the app. When you get friends to sign up with Ibotta using your referral code, and they redeem a qualifying offer, you get $10 for each referral.
There's no limit to how much you can earn for referring others!
There's no requirement to make extra money by referring others to the program, but who wouldn't want to help friends save money?
Sign Up Bonuses
Many times (likely not always) Ibotta will run promos where they give you a bonus for signing up. When I signed up they were offering a $10 signup for those who redeemed at least $10 in offers. Free money: woohoo!
The app made it so easy to save money. I probably put in less than 15 minutes of time to find the offers, scan my receipt and scan the barcodes of items that had manufacturer-required verification. $8.50 in cash for 15 minutes of work isn't bad money.
Positives and Negatives
Here's a list of things I did and didn't like about Ibotta. The goal here is to help you decide whether Ibotta might be right for you.
Pros
Ibotta really makes it easy to save money and the number of coupons and offers they share is pretty expansive. Here are some specific things I like about Ibotta.
Offers for Whole Food Items and Other Necessities
Some coupon companies and apps only have coupons for stuff you don't need or wouldn't normally buy.
In our case, we really don't buy a lot of non-necessity items. We don't buy clothes unless we really need them, and we keep processed and junk food purchases to a minimum. We try to stay on task with our budget in order to reach our financial goals.
Ibotta had plenty of coupons for stuff you need, not just extras you wouldn't normally buy. If you look over the list above that shares what I saved on when we went on our short shopping trip that Wednesday, you'll notice I had an Ibotta coupon for bananas, bread, eggs and other stuff we would normally buy.
This helped me to know that Ibotta would help us save money even though we don't buy a lot of extras or processed foods.
Cash Back Coupons for "Any Brand"
Ibotta offered me a couple of cash back offers for "any brand" items, meaning Ibotta will give me money back on the generic items I love to buy, enabling me to save even more.
As an example, our $0.87 per loaf generic bread only cost me $0.62 cents on the first day I went shopping, thanks to an "any brand" coupon.
Bonus Random Coupons
I also got offered a coupon for fifty cents cash back on any item on my receipt on that first day I went shopping with Ibotta – woohoo!
So even if I didn't take advantage of any other Ibotta offers, I still would have saved 50 cents. That might not seem like a lot of money, but it will add up over time. This made couponing nice and easy.
Great Communication from the Ibotta Team
So, after I did my first shopping trip with Ibotta on Wednesday, I woke up Thursday morning to an email from them.
It outlined my money savings from the prior day's shopping trip and notified me that the money had been deposited into my Ibotta account.
Not only was my $8.50 deposited into my account, Ibotta had given me a random $2.00 bonus deposit, meaning I had $10.50 into my account!
Here's a copy of the email I received from them. It outlined each item I had saved on and how much I'd saved. Notice that there are a few extras in there (like potato chips) as we did some New Year's Eve food shopping.
You Just Earned $10.50 with Walmart
NESTLÉ® Coffee-mate® Creamer $0.50
Bread – Any Brand $0.25
Bananas – Any Brand $0.25
Any Item $0.50
One Dozen Eggs – Any Brand $0.25
Colgate® Toothpaste $1.00
Lindsay® Naturals California… $0.50
Ben & Jerry's® Pints $2.50
Contadina™ Tomatoes $0.25
Lay's® Kettle Chips $1.00
Reese® Artichoke Hearts $0.50
Lay's® Potato Chips $1.00
$2 Boost Bonus $2.00
Getting that confirmation email from Ibotta was definitely a bright moment in my daily morning email checks.
Ease of Use
Not only is signing up easy, and collecting offers easy, but getting your Ibotta cash is easy too. Ibotta works to have your cash savings deposited into your Ibotta account within 24-48 hours of earning it.
In my experience, it has never yet taken more than 24 hours for my money to be credited to Ibotta account.
Mercy for the Unorganized
This is another feature about Ibotta that I just love.
I had to make an Impromptu run to the grocery store on Thursday (the day after my first experience with Ibotta) to get some stuff for a gathering we'd spontaneously planned with friends.
It wasn't until I'd gotten home that I remembered I should've checked Ibotta before I left. The next day (Friday) I searched for offers and found that there was a "$0.25 off any item" coupon I could've used the day before.
I added the coupon to my account on Friday, scanned Thursday's receipt and got my 25 cents. I love that Ibotta gives me cash back even if I don't add the offers before I shop.
Fast Money and Many Options for Cashing Out
After you've earned your money savings from Ibotta, you can go to your account and have your cash deposited into your PayPal account where you can spend as you please. Ibotta also allows cash transfers into Venmo accounts.
You can also take your Ibotta savings and get a gift card to one of many stores.
Some of the stores Ibotta offers gift cards to include:
Whole Foods
Sephora
Target
Walmart
Amazon
Best Buy
Costco
and more.
If you would rather have gift cards, either for spending or for giving as gifts, this could be the way to go for you.
Discounts in All Areas
When I was viewing my offers for Walmart, there were discounts in nearly every area you might shop. I found discounts for food, health and beauty items, adult beverages, baby items, household items, automotive items and more.
Since I don't actively search for coupons and discounts on items via the local paper or online, it was really nice to have deals and discounts simply appear in my Walmart store account section on Ibotta. They do a great job of organizing the discounts by store so that you can avoid that hassle.
Not Just for Grocery Stores
Ibotta has cash back offers for all different types of stores. For instance, if you like to craft Ibotta has cash back offers for Joann, etc.
Cons
Ibotta isn't perfect. Like any app or money saving plan there are some inconveniences. Here are a few that I found.
$20 Minimum Threshold for Withdrawal
You can't request a transfer of your money from your Ibotta account to your PayPal or other account until you've reached a minimum threshold of at least $20 accrued.
While this was super easy for me the first time out since I'd earned a $10 sign up bonus, I could see where it might take a few weeks for some people to earn $20.
Depending on how much you shop, how much you spend and what types of items you're buying, it could take a month or more to save enough to meet Ibotta's minimum threshold for withdrawing your money.
Mobile Shopping Must Be Done Through the Ibotta Portal
Ibotta does have mobile online shopping offers as well, however in order to get credit for those you do need to shop via their website portal.
Shopping through an outside portal always makes me nervous due to past experiences with other apps that claim to save you money. But, I admit that is the skeptic coming out in me and it may not apply to Ibotta. When I did some shopping on Amazon through the Ibotta portal, I didn't find any price difference at all compared to when I shopped on my PC without using Ibotta.
The Website Can Be Difficult to Navigate
Although the Ibotta app was super easy to navigate and understand – even for a technologically challenged person like me – the basic site I access on my personal computer seemed a bit cumbersome and could use some work.
All in all, however, I am finding Ibotta a great way to save some serious cash when I shop. Here are the answers to some other facts you may want to know about Ibotta.
More Ibotta Facts
Ibotta currently works with over 300 retailers to get you money savings on the items you buy.
So far, Ibotta has paid out over $275 million to members. Ibotta claims to give cash back from purchases at over 500,000 different store and other retail locations, including restaurants and movies.
Also, the Ibotta app does work alongside store loyalty cards as long as you link your loyalty card to Ibotta. They do recommend that you link your store loyalty card to Ibotta at least 24 hours before you shop in order to ensure the two connect to give you maximum savings.
Not only can you linke your loyalty cards but you can also pay with Ibotta. This feature supports debit cards issued in the US from Mastercard and Visa.
As of June 10th, pay with Ibotta no longer supports credit cards, American Express debit card, Discover debit card, Google Pay and Apply Pay accounts.
Your Ibotta user account can be put on "inactive" status if you don't redeem any offers for 12 consecutive months. Inactive accounts will get a $3.99 deduction from their accrued money savings each month they stay inactive and don't reactivate their accounts.
The deduction fee doesn't apply to zero balance accounts.
Is Ibotta Worth it?
If you like saving money while you shop and are willing to put in a little bit of effort to do so, the Ibotta app could put a nice little amount of change in your pocket.
I think the key to success with Ibotta is the same as it is with any money-saving app: make sure you're using it to buy only the things you'd normally buy.
Here's the scoop. Seeing those money savings add up into any kind of rebate account can be addicting, so it's important to be disciplined as you search through the offers Ibotta sends.
For instance, I thought I'd search through Ibotta offers on Amazon just to see what type of a rebate I'd be looking at coupled with Amazon's already-low prices.
Since we had decided recently to get a e-collar for our dog, I checked out the pet supply discounts Ibotta offered for Amazon shoppers.
It just so happened that Ibotta was offering a 3% rebate on a highly-rated e-collar for dog. Since we had already decided to purchase one – and to purchase it through Amazon – why not save extra cash by doing so through Ibotta?
The result? And extra $1.08 in my Ibotta account. This worked out well because we were planning to buy a collar for our girl anyway, but I could see how spending could get out of hand if you're not disciplined and organized and are choosing to focus only on the money you'll get back.
Summary
It is smart shopping to look to maximize money savings on items you were planning on buying anyway. And it never hurts to occasionally try a new brand or item you may not have otherwise tried if it weren't for the money savings offered.
You may find that this is worth it for you. Hoping this Ibotta app review was helpful in your quest to make money while couponing in the modern world.