Care.com is a site that provides a variety of services, including babysitting, senior care, pet care, and more.
You can use Care.com for both finding and offering services. But is it the right platform for you?
In this Care.com review, we'll share how the site works, its fees, features and what current users have to say about their experience with the service.
Summary
Care.com is a company that provides a variety of care services such as child care, senior care, pet care, tutoring and housekeeping. The company works to match families with experienced and background checked local caregivers.
Pros
Extensive bios and background checks on caregivers
User-friendly website
Upgraded membership available
Active dates listed to show active caregivers
Cons
Poor customer service ratings
No refunds on Premium memberships
Limited customer service options
What is Care.com?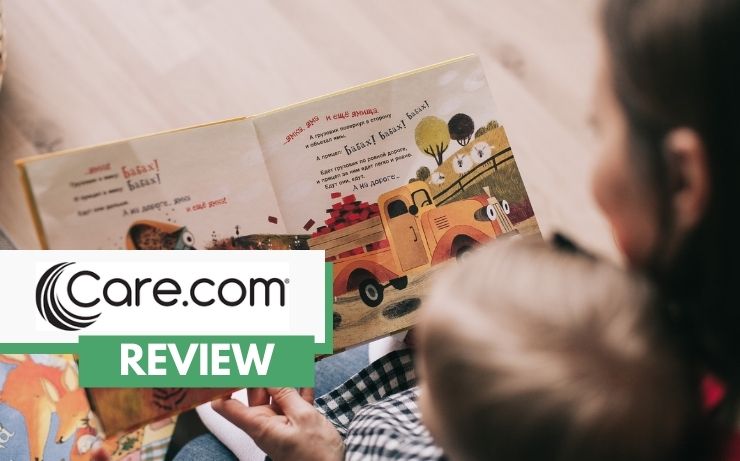 Care.com is a company that connects caregivers of all kinds with people needing care. The company serves millions of customers in over 17 countries around the world.
You can find different types of caregiver help on the site, including:
Babysitters
Senior care
Pet care
Housekeeping
Daycare
Tutoring
Caregivers can create a profile on Care.com that outlines their skills, experience and the price that they charge for their services.
Then, people who need to hire a caregiver can search these profiles to find a provider.
The website coordinates connections between families and caregivers while working to ensure safety for all members.
How Does Care.com Work?
Care.com connects caregivers who provide various services with people who need care. The site works differently for customers and contractors.
Families
If you want to hire someone to help you with caring for a child, adult, pet or you need another type of service, you start by filling the prompts explaining what you need.
You will need to enter your email address to get access to a list of caregivers.
Caregiver profiles share information about the caregiver such as:
Name, age and city
Whether they have transportation
Smoker/non-smoker
What first aid or CPR training they have
You can also learn if they're comfortable with pets and read their bio to find out more information about them.
Note that Care.com has both Basic and Premium accounts for families.
If you choose a Basic account, you can:
Post jobs
Search and view profiles
See who applied for your jobs
Send automated "No thank you" messages to those you don't want to hire
If you register for a Premium account, you can:
Contact caregivers directly
Request results for all background checks
View and custom reply to applications
Once you hire a caregiver, tutor or housekeeper, you're immediately charged for the booking. If the caregiver doesn't show up or has to cancel, you'll receive a refund.
In the event you have to cancel the booking, you won't be charged if you cancel at least 24 hours before the booking time and date.
However, if you charge within 24 hours of the booking time and date, you will have to pay a cancellation fee.
Caregivers
If you want to be a caregiver on Care.com, you simply need to set up an account and create a profile.
As with families, caregivers can choose a Basic account or a Premium account.
With Basic accounts, you can perform tasks such as:
Creating a profile
Responding to Premium members' messages
Searching for and applying to jobs
Getting paid securely
Customizing your profile
If you opt for a Premium account as a caregiver, you also get the following features:
Rank higher in search results
Get a Premium badge on your bio page
Priority job alerts
Waived CareCheck fee
See who's viewed your profile
And other features. While it doesn't appear many caregivers opt for the Premium membership, it could be a good way to market yourself and get more jobs.
How Much Does Care.com Cost?
As mentioned above, Care.com has Basic and Premium memberships for both families and for caregivers.
Family Memberships
Family memberships have a Basic membership and a Premium membership.
The memberships offered include:
Basic membership: No charge
Premium membership: $39 per month, $78 for three months or $156 for 12 months
You'll save substantially if you buy in bulk. As a Premium family member, you'll get the ability to privately message caregivers.
You'll also get access to all background checks. There are other benefits to becoming a Premium family member as well. See the Care.com website for details.
Caregiver Memberships
Caregivers and others who want to build a profile on Care.com in order to find a way to make money while helping others have two options.
The membership choices include:
Basic membership: No charge
Premium membership: $20 per month
A Premium membership will get you ranked higher in the listings when people are searching for caregivers.
You'll also get priority job alerts and be able to see who is viewing your profile.
Key Features
Care.com does its best to incorporate many important features into its website. Here are some of the key features of the company.
Wide Variety of Services
Care.com was created solely to focus on helping parents find caregivers for their children. They quickly added elder care to their list of services after they launched.
Today, Care.com offers those services and more, including housekeeping, pet care, tutoring and more.
See the Care.com website for more information on all of the services they offer.
Comprehensive Bios
Each caregiver biography shares important information about the caregiver you're considering hiring.
You'll be able to see a short bio, their certifications (such as CPR), hours available, where they live, their experience and more.
If you're a Premium family member, you'll be able to get background check information and other tidbits.
Safety Features
Care.com puts several important safety features in place, both for caregivers and for families.
First, all caregivers are subject to a CareCheck. This is Care.com's basic security check.
The CareCheck includes:
Social Security number trace
National Sex Offender public website search
Multi-jurisdictional criminal database search
Federal and county criminal records search
As a family member, you can also purchase additional security checks like a motor vehicle records check and an Investigative Criminal Plus check.
The site doesn't have quite the same safety stopgaps for keeping caregivers safe, but it does share comprehensive information on how you can stay safe as a caregiver.
Educational Blog
Care.com also has a blog that shares a host of informative articles for both family members and caregivers.
The blog contains articles on topics such as:
Parenting
Balancing work and parenthood
How to run a business as a caregiver
Family-friendly companies
Employee benefits
And more. Free educational tools are always a plus when you're working with a company.
Rate Calculators
Care.com features a rate calculator. It can help you decide what you should pay your sitter based on what others in your area are paying.
You simply enter facts into the calculator, including your zip code and the number of years of experience you'd like your caregiver to have.
You'll also include the number of children the sitter will be watching, as well as how many hours per week they'll work.
Using the calculator can give you a better idea of what you should pay as a family needing a caregiver.
It can also help you determine your rates if you sign up to be a caregiver on the site.
Is Care.com Legit?
Yes, Carre.com is a legit site where you can find a service provider or become a service provider.
However, before you sign up for Care.com, it could be helpful to hear what other users have to say about the platform.
The Better Business Bureau (BBB) rates Care.com a "B," and users gave the company a 1.03 out of 5 star rating. Care.com is not accredited with the BBB.
There have been over 700 closed complaints in the last three years. The majority of the complaints pertained to poor customer service issues.
Here are a couple of reviews about Care.com:
"​​Found a great nanny for my 4 year old and 1 year old during this COVID-19 madness. She's been a god-sent to our family. Online experience interviewing several other candidates was simple and easy as well." – Melissa Walsh Hohenberger
"The website is VERY hard to navigate. No personal help. Contacted via email twice and never got back to me. No phone number leads you to a person. No explanation to how to post your services." – Barbara Jackson Darnell
Alternatives To Care.com
If the bad reviews are leading you away from Care.com, you might want to consider one of these alternatives.
UrbanSitter
UrbanSitter works similarly to Care.com. You can find babysitters, elder care sitters, tutors, household help and more on UrbanSitter.
Prices and features for UrbanSitter are very similar to Care.com, although UrbanSitter is slightly cheaper.
The one difference you may find between the two is that UrbanSitter has higher reviews. While still not great, they're rated 1.8 out of 5 stars with Trustpilot.
The company does have an "F" rating with the Better Business Bureau. However, there are only 11 complaints on the site.
GreatAuPair
GreatAuPair is another site that works similarly to Care.com. They offer services for elder care, babysitting, tutoring, pet care and more.
Their prices are slightly higher than Care.com, but they do offer discounts when you buy in bulk.
The company is listed on Trustpilot and has a rating of 2.8 out of 5. They have an A+ rating with the Better Business Bureau.
Sitter City
Like UrbanSitter and GreatAuPair, Sittercity offers similar services to Care.com. They provide babysitting, senior care, pet care, tutoring and more.
Pricing for Sittercity is cheaper than the other options mentioned here. Sittercity is listed on Trustpilot but doesn't have any reviews as of this writing.
The company is rated "A+" on the Better Business Bureau website and has just under 50 closed complaints in the last three years.
Frequently Asked Questions
If you are still on the fence about Care.com, these frequently asked questions might be able to help.
Does Care.com have a customer service center?
The only option for customer service on Care.com is a contact box that lets you email them or chat with them. There are no phone numbers shown on the site.
What is Care.com's refund policy?
Care.com does not offer refunds on its Premium memberships. Instead, your membership will remain active for however many months you paid for.
How does Care.com work to keep caregivers safe?
The company's number one recommendation for keeping caregivers safe is to encourage them to schedule a video conference call with the family before working for them.

This helps caregivers to get a feel for the family and see if the family dynamics are right for them.
How does Care.com work to keep families safe?
Care.com does background checks on all caregivers, including a National Sex Offender Registry check.

As with caregivers, Care.com encourages families to do video conference interviews with caregivers before they meet in person.
Summary
Care.com can be a great way to find services for your family, like babysitters, senior care, tutoring, housekeeping and more.
The comprehensive profiles are helpful, and each profile tells when a caregiver was last active on the site so that families can choose caregivers who are currently searching for work.
Care.com can also offer a great way for you to make extra money on the side if you're interested in working as a caregiver.
Just remember that, as with any website, you should make sure you know what you're signing up for and follow the safety recommendations.