Do you have DVDs, electronic and other items lying around the house? If you have items you no longer use, Decluttr might just buy them from you.
Decluttr buys used items such as textbooks, DVDs and tech items such as smartphones.
In this post, we'll take Decluttr for a test drive and review it. Decluttr makes it really easy to get cash for your unwanted items. But it is really worth the effort?
I'll talk about the process, and the pros and the cons so you can see for yourself.

Summary
Decluttr's selling process is convenient and fast. You can ship a box of items and get paid quickly with little hassle. The biggest negative is that you will likely get less money than if you sold the items individually on your own.
Pros
Easy to use
Free shipping
Great for selling bulk items
Cons
Lower payout for some items
Read on if you're ready to learn whether you can make money with Decluttr.
What is Decluttr?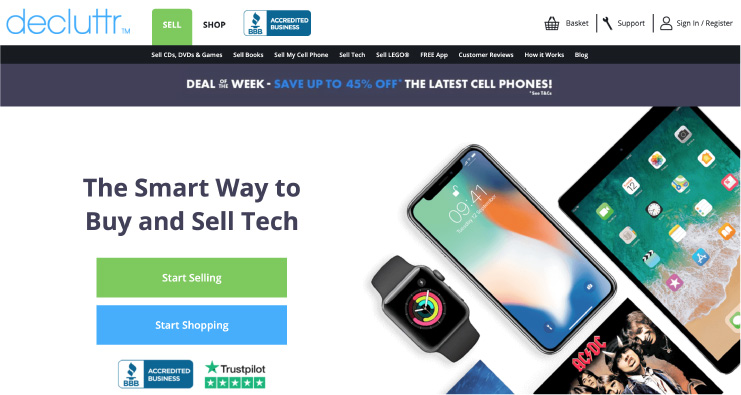 Decluttr has a website and an app that can help you get on-the-spot prices for your used stuff. But you're probably wondering just how easy it is to use. And if it's really worth the effort.
I'll go over the process step-by-step so you can decide for yourself.
How Does Decluttr Work?
At the outset, the Decluttr selling process seems pretty simple and easy. But is it really? I tried it personally in order to find out. Here are the details on each step and information about how I made out in the end.

Here is the process for using Decluttr:
1. Enter the Barcode/Name of Your Item

Decluttr makes it easy to find out how much you can get for the items you want to sell. If you're selling a CD or DVD, book or game, just enter the barcode on the back of the item. Decluttr will then give you a basic price.
Selling Legos works differently. For those, you simply enter the weight of the Legos.
The process is also different if you're selling an electronic item, such as an iPhone. In that case, you enter the product description and check what condition it's in.
Your choices are:
You would choose "Faulty" if the product is not in working order.
The price quotes you receive for your items will vary. For games, books, CDs and DVDs, your offer price will depend on the current demand for the item.
On some items, you'll either get an immediate price quote. On others, you'll get a message telling you they won't accept the item. It will say something like "We can't accept that item right now. Please enter another barcode."
The same process occurs with gadgets. You'll either get an immediate quote or a message that they're not accepting the item.
All Legos are accepted because they're sold by the pound. Decluttr was paying approximately $1 per pound of Legos as of this writing.
However, you may be quoted a different price when you check. This is because prices can vary each day.
Now, onto Step 2.
2. Accept and Complete Your Order
Now you've finished entering information for all of the items you wish to sell. What's next? You'll hit the button that confirms you wish to complete your order. Only hit "complete" if you're sure you want to sell.
At this point Decluttr will ask you how you want to be paid. You've got three choices for payment:
PayPal
Direct deposit
Mailed check
PayPal and direct deposit will ensure you receive your money faster. If you choose to have a check mailed, you'll have to wait for processing and mail time.
If you choose direct deposit, you'll have to enter your bank's routing number and account number. After you complete payment instructions, you'll move on to the next step: receiving your Welcome Pack.
3. Get Your Welcome Pack

Decluttr will ask you how you want to receive your Welcome Pack. You can choose to receive it via snail mail or email.
Your welcome pack will show you exactly how to ship your items to Decluttr. The Welcome Pack is a simple four or five page email. The more items you have to ship, the more pages your Welcome Pack will contain.
When I sold my items, I chose to receive my Welcome Pack via email as I was in a hurry. I was happy when my emailed Welcome Pack arrived in my inbox within two minutes.
The Welcome Pack I was sent consisted of four pages:
Page 1 contains basic instructions
The second page told me where to drop my box off. You can drop it off at a UPS shipping location, or have UPS come get the package at your work or home.
Page 3 contains your free shipping label. You need to attach this to the box you're shipping your items in.
The fourth page will be a list of the items you should include in your order.
The easy-to-understand Welcome Pack will tell you everything you need to know about using Decluttr.
After you get your Welcome Pack, it'll be time to ship your sold items.
4. Ship Your Sold Items to Decluttr
So, you've received and read your Welcome Pack instructions. Next, you need to find an appropriately sized box to fit the items you're shipping.
The items should fit securely and comfortably in the box you choose. Use packaging material if needed in order to avoid having the items slide around in the box.
Don't forget to include all cases and original items with your shipment. Decluttr won't accept them otherwise.
Before you tape your new shipping label to the box, remove all other labels from your box. This will help ensure there's no confusion during the shipping process. Then tape the box closed with packaging tape.
When your items are properly boxed and labeled, you'll have to bring them to a UPS shipping location.
Your options are:
Any UPS branch store.
UPS authorized retail outlets.
UPS customer centers.
Any UPS drop box (25 items per box max).
Give your box to a UPS driver.
Okay, the hard work is done. Now it's time to wait.
5. Wait for Your Items to Arrive at the Decluttr Warehouse
Once you send your items to Decluttr via UPS, there will be a short waiting period. Generally, it takes seven to 10 days for your package to reach Decluttr. When I shipped my package it reached Decluttr in seven days.
6. Assessment of Your Items
After your package arrives at the Decluttr warehouse, each item you shipped will be assessed. It's important to know that Decluttr really wants quality items that can be resold.
This means that if you're sending CDs or DVDs, the cases and jackets need to be present. They also need to be in decent shape. Don't send cases that are cracked or broken.
If you're sending books, make sure the books aren't marked up. The inside and outside of the books need to be free of markings and in decent shape.
If you are selling tech items such as smartphones or gaming systems, there are qualifications, too. The items need to match the description you gave, including the condition you stated they were in. If there is any doubt about the type of item or the condition it's in, you could lose your expected payment.
What Happens if Decluttr Doesn't Agree with My Descriptions?
There are a couple of things that can happen if the items you sent in don't match their descriptions.
If Decluttr deems the item unsellable, they'll simply recycle the item and not pay you. They won't return the item to you. This is a risk you'll take if you sell on Decluttr. So, if you're unsure about the condition of the item, you may want to keep it.
If you're okay with it being recycled and not getting paid, go ahead and send it in.
In some cases people send in items that aren't in as good of shape as described. For instance, you say your smartphone is in good shape but it's really in poor shape.
It may not be in "recycle" shape, but it may not be sellable for as much as Decluttr expected. In cases like this, Decluttr will contact you with a revised offer price.
If you still want to sell the item at the revised offer price, Decluttr will pay you. However, if you choose to reject the revised offer price, Decluttr will send the item back to you.
They won't charge you to ship the item back if you reject their offer. Instead, they'll send it to you for free as a courtesy.
The bottom line is that you'll be happier with the Decluttr process if you're selling items that are in good shape.
7. Getting Paid
Now comes the fun part: getting paid. Once all of your items are assessed and deemed acceptable, Decluttr pays you.
If you've chosen PayPal as your payment method, you'll generally get paid on the next business day. However, the other payment methods are typically slower.
If you've chosen direct deposit, it can take up to three business days to receive your payment. Did you choose to receive payment by check? Expect to wait seven to 10 business days to receive your money.
When I got my notification that my items were accepted, I received my PayPal payment the very next day.
So, those are the basic steps for selling and making money with Decluttr. Here is some other information you might want to know about Decluttr before selling your stuff there.
How Much Money Will You Make Selling Items on Decluttr?
I'll be honest here and tell you that you won't get top dollar when selling your items on Decluttr. After all, Decluttr's goal is to resell your items for a profit.
That means they have to buy your stuff at a price that allows them to recover cost and make a profit.
Here is a sample of the prices that I got for my items:
Fireproof movie DVD: 36 cents.
18 Kids and Counting: Season 2 DVD: 89 cents.
The History Channel: Computers DVD: 36 cents.
Various elementary math teacher manuals: between 40 cents and $1.11 each.
The pay is minimal, as you can see. You'll find the same thing with tech items. I did some random item entries to get some examples of what you'd get paid for good condition items.
Examples of quotes I got for items in good condition:
An iPhone 8 with 64GB of storage — offer price of $393
An Amazon Kindle Fire 7-inch 5th gen 8GB — offer price of $4
A Microsoft Xbox One (1TB) — offer price of $95
Avengers Infinity War DVD — offer price of $2.52.
Hamilton CD Soundtrack — offer price of $2.56
The Fellowship of the Ring — offer price of 48 cents
The prices on most of the items I tested out were pretty low, as you can see. But you might find it worth it depending on how you view the potential pros and cons of Decluttr.

Read on to find out some of the positives and negatives of using the site to sell your unwanted items.
Is it Worth it to Sell on Decluttr?
So, it is worth it to sell on Decluttr? The answer to that question depends largely on you. Here are some of the pros and cons of selling on Decluttr. Maybe this list will help you determine your answer.
Cons
There are two cons of selling on Decluttr that I think are worth mentioning. Feel free to add to the list in the comments section if you can think of others.
Low Sales Price
The biggest negative about selling on Decluttr is the price you'll get for your items. You can see by the lists above that they don't pay anywhere near top dollar.
Instead, you'll get paid a minimal amount for each item. You could clearly sell on Craigslist, eBay or Craigslist alternatives and get more money. If, that is, you can sell your items.
Not everything listed on Craigslist or its alternatives is guaranteed to sell. However, not everything you sell on Decluttr will get you money either. Which leads me to con #2.
You Might Not Get Anything
The second con I see in selling on Decluttr is that if the powers-that-be at Decluttr deem it so, you might not get anything for your item.
They might just decide that your item is junk and not pay you at all. If you're selling a non-tech item, that means your item goes straight in the recycle pile.
If you're selling a tech item, at least you'll get it back and can try again via another sales route.
Depending on your view, you might find that a risk worth taking. Some would say that if an item won't sell on Decluttr it probably won't sell on Craigslist or similar sites.
I don't think that's necessarily true. You just have to find the right audience for what you want to sell.
So, what are the pros of selling on Decluttr? Here are two.
Pros
There are a few pros of selling on Decluttr.
Trusted by over 12,000 people
Decluttr has a Trustpilot rating of 4.5/5. This is phenomenal since they have thousands of reviews.
Selling on Decluttr is Convenient

The best thing about selling on Decluttr is that it's super convenient. No dealing with strangers. No haggling with people back and forth on price. And no having to deal with meeting up to exchange money for products.
And, Decluttr makes selling convenient because it pays for shipping. On the other hand, when you sell on your own you have to either pay for shipping or charge buyers for shipping.
To be sure, the prices you get for items you sell on Decluttr will be significantly less than you might be able to get elsewhere. However, Decluttr does make it really convenient for you to get paid to rid your house of stuff.
You won't have to write up detailed descriptions of your items like you do with other sites. Just enter in the item barcode or a short description and get your offer.
Once you accept your offers, simply ship your item and wait for your cash. You likely won't find an easier, more convenient way to get rid of unwanted items.
Fast, Almost Guaranteed Cash
A second, powerful pro of using Decluttr is that they pay you fast via PayPal if you want. And your cash is nearly guaranteed. The only time you won't get what you were quoted is if your items weren't in the specified condition.
This means you'll get money and get it quickly, all while purging your home of unwanted items. If you're looking for a fast way to declutter your house and make money in the process, this is it.
No doubt, there are slower payment options, but you do have a choice to accept faster ones such as PayPal. And you might just find that the fast and convenient process of using Decluttr is worth the monetary sacrifice.
My Personal Decluttr Experience
I've mentioned a few tidbits about my Decluttr experience, but I thought I'd summarize for you:
I entered 15 items to be sold for a total of $11.03.
My items reached Decluttr in seven days.
One item was rejected — a CD with a cracked case. I lost 60 cents.
I received my PayPal payment of $10.43 the next day.
If I had items that I think would be cumbersome to sell, I'd definitely use Decluttr again. However, if I had tech items that were in high demand, I'd likely sell them myself in other places instead.
Summary
Only you can decide whether the ease and convenience of the Decluttr selling process is worth getting a lower price than you might get elsewhere.
Depending on your situation, you might decide that you'd rather sell your items outright. There are plenty of people on Facebook, Craigslist or eBay willing to buy used items.
If you're okay with spending the time to price, sell and ship/deliver your stuff, Decluttr may not be for you. You might want to sell it elsewhere and get more money instead.
After my personal experience, I think I've got a solid plan going forward. When it comes to smaller items such as DVDs, CDs and books, I'll probably sell on Decluttr.
However, with larger tech items such as phones and gaming systems, I'll likely sell them myself. There's just too much money to be lost on the larger items.