Maybe you have an old cell phone lying around. Or perhaps the recent Apple event has you looking to upgrade.
Either way, there's money to be had for selling your old devices.
I decided to sell my iPhone 11 (64GB, unlocked). I had it for almost two years before upgrading to a new phone, the iPhone13.
After buying my new smartphone, my old one just sat around in a cracked case collecting dust.
It was time to look into selling it. But where? Thanks to the internet, there are more options now than ever to sell cell phones.
Where to Sell Cell Phones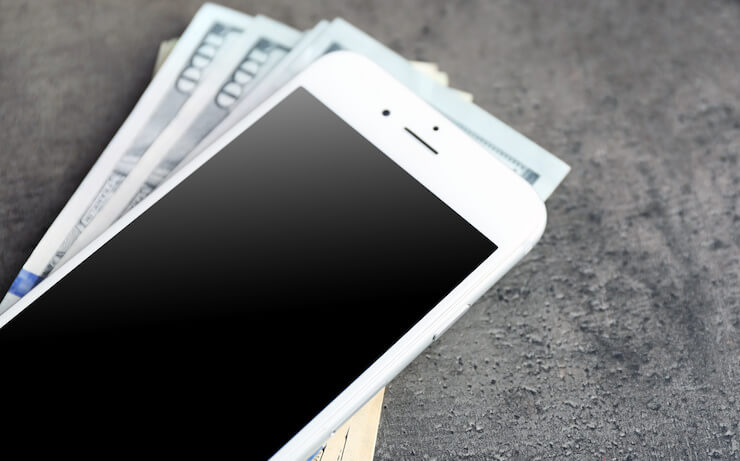 Whether you're living paycheck to paycheck or just looking to unload your old phone for some extra cash, check out these top options.
1. SellCell
Want to see which company will give you the best price for your phone?
SellCell will compare the price for your old iPhone across 20 leading buyback companies.
This means you are guaranteed to find the highest price for your old iPhone!
First, check to see if your device is listed on their site. Next, find the best deal among buyers. Then ship your phone to the company you choose for free.
Make sure to read each buyer profile to make sure you understand how and when they payout. Some buyers even accept in bulk.
SellCell's payment options include PayPal, check or Amazon e-gift card.
SellCell claims they will get you the most cash for your phone, guaranteed.
SellCell has over 30 offers with the top value at $431.
It's one of the best places to sell your phone.
Pros
Compares quotes across multiple platforms
Many payment options
Cons
Working with a third party can lead to confusion
2. OCBuyBack
If you want to sell your phone, OCBuyBack is a California-based company that purchases cell phones, tablets, smartwatches, and more through their trade-in program.
To sell your item, simply select your device to receive an offer. If you accept the offer, you can choose to print a prepaid shipping label or drop off the item (Brea, California area).
Once the company inspects the trade-ins, they will pay you within two business days.
I got OCBuyBack's best price for my Apple iPhone 11 (64 GB in good condition) from OCBuyBack for $387.
When selling your phone on this site, payment options include PayPal as well as check.
(Image credit: OCBuyBack)
Pros
No seller fee
Free shipping
Multiple payment options
3. Buyback Boss
Buyback Boss currently accepts iPhones and iPads, as well as other old phones and electronic devices through their trade-in program.
The service does offer the highest price guarantee if you want to sell your phone:
If you provide a current offer from any buyback site for the same condition device, Buyback Boss will match it.
Choose your phone, network (like At&T, Verizon, etc.), storage capacity and condition — brand new, mint, used, damaged or broken. Then you'll receive an offer.
Shipping is free (Buyback Boss gives you a prepaid label) and you can ship your item in a box or padded envelope.
You'll get paid via Paypal or by check and receive payment after your item arrives. Talk about hassle-free selling.
As an example, my Apple iPhone 11 (64GB in good condition) received an offer of $385
(Image credit: BuybackBoss.com)
Pros
Accepts a wide range of electronics
No cost to list an item
Cons
No payment until the company receives your phone
4. Swopsmart
When you are looking to sell your phone, Swopsmart is a New York-based company that purchases old phones (even Blackberries) and tablets.
Select your used phone type, network, storage capacity and condition, including broken phones, good, flawless or new. Then you'll receive an offer.
This makes the site one of the best options if you want to make money by selling a broken phone.
You can choose to print a prepaid shipping label or receive a free shipping kit.
Once the company inspects and OKs your phone, you'll be paid within 24 hours. You can choose to get paid via check or PayPal.
My Apple iPhone 11 (64GB in good condition) received an offer of $264.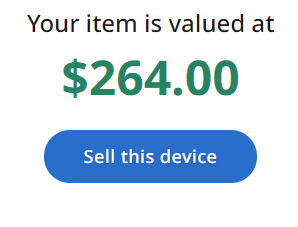 (Image credit: Swopsmart.com)
Pros
30-day price guarantee
No seller fee
5. Decluttr
Decluttr buys CDs, DVDs, miscellaneous tech items and even books. It also has a free app for iPhone and Android users. It's a great option if you want to sell your phone.
Search for your item — in this case, your cell phone — and enter its model, storage capacity, network and condition into the evaluation engine.
For condition, the choices are: good, poor or faulty.
After entering your information, you'll receive an offer. Should you choose to accept it, you'll get paid the day after Decluttr receives your phone.
Regarding shipping, you can mail the used phone in any box you have lying around the house. Then attach the prepaid shipping label to the package.
Payment options include check or deposit to your bank, and there are no auction or seller fees.
My Apple iPhone 11 (64GB in good condition) received an offer of $381.

(Image credit: Decluttr.com)
Pros
Accepts many kinds of electronics
User friendly
6. Swappa
Swappa lets you sell your old phone, and they won't charge you seller fees to do so.
You can sell iPhones and Android phones on Swappa as well as other electronic items.
Selling on Swappa is easy, but you do have to create an account to get a quoted offer for your phone.
And because your buyer comes from the Swappa community, you may or may not get your quoted price.
Instead, you list your suggested price, and the buyer accepts it or makes a counteroffer.
Swappa said they'd suggest I list my phone for $505.
That seemed a bit high for me. Obviously, more criteria had to be added before I sold it.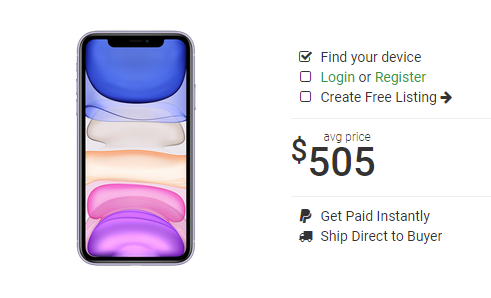 (image credit: Swappa)
Pros
No seller fee
Instant payments
Cons
Listing is only live for 10 days
7. BuyBackWorld
BuyBackWorld has been buying and selling used smartphones since 2009. It's an easy site to use.
Just enter your phone information, including model, memory and condition. Then you are ready to sell your phone.
You'll get an immediate quote on the price through their trade-in program. If you like the quote, just accept it and they'll send you a free shipping label.
Once you've shipped your phone, you get paid within two days.
You can choose to get paid via PayPal, Direct Deposit, with a BuyBackWorld credit or prepaid gift card.
The quote I got for my Apple iPhone 11 (64GB) in average condition was $260.
(image credit: BuyBackWorld)
Pros
Buys many kinds of electronics
Multiple payment options
No seller fee
8. ecoATM
EcoATM helps you sell your cell phone at ATM-like kiosks around the country. You can go to the ecoATM website to get a quote, or just bring your old phone to the kiosk.
If you use the website to get a quote, you'll have to enter your zip code for accuracy.
Once you enter your phone type in at the kiosk and accept the offer, you'll deposit your phone in the kiosk.
ecoATM kiosks have the capability to examine your phone once you insert it into the machine.
The kiosk will give you money on the spot. Note that you have to have a state-issued ID to use ecoATM. This rule is in place to help avoid fraudulent sales.
The ecoATM website offered me this price for my Apple iPhone 11: $180.
Note that compared to other prices offered, you will pay for the ease and convenience of using ecoATM.
The site did say it may be able to get me a better price depending on my location.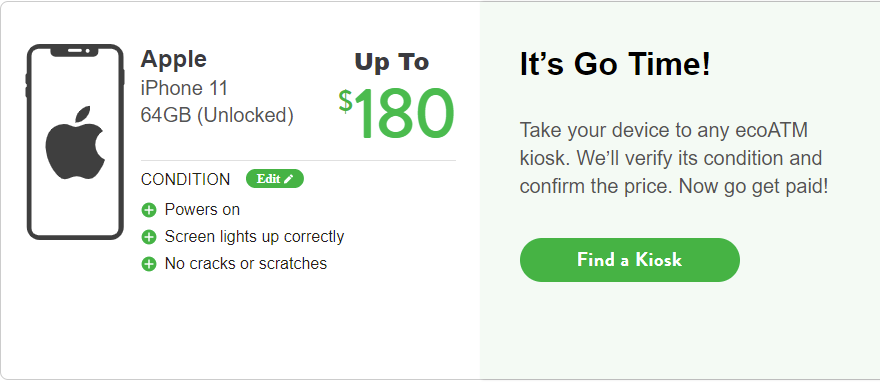 (image credit ecoATM)
Pros
Fast transaction
In-person transaction
Cons
Quotes might be different in-person versus online
Must drive to a physical location
9. Gazelle
Gazelle opened its doors in 2007 and touts itself as the nation's leading reCommerce company. With Gazelle, it takes less than a minute to get a quote for your phone.
The site will ask you a few quick questions about your phone and then make an offer. Once you accept their offer, you send in your phone with Gazelle's free shipping label.
Gazelle experts inspect the old phone and then pay out via Amazon gift card, PayPal or check.
Here's what Gazelle offered me for my iPhone 11 in good condition: $200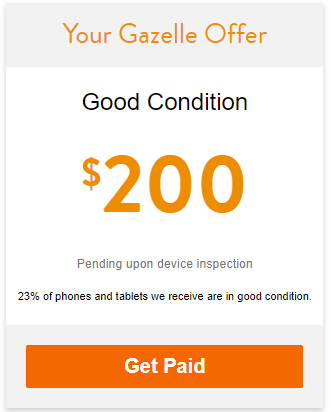 (image credit: Gazelle)
Pros
Standardized process
No shipping fee
PayPal, check or gift card payouts
10. eBay
When it comes to selling your phone, a top place to sell it is on one of the world's largest online marketplaces. Don't forget eBay when looking to make some extra money.
With eBay, you need to list your information and choose to sell for a fixed price instead of an auction.
I selected my phone in used condition. eBay said similar listings (Apple iPhone 11 64 GB in good condition) are selling for $409 and up.
With this platform, you also have to take into consideration shipping and seller fees.
Shipping will vary depending on the type of package and shipping you choose. Fees also vary.
And while you will likely get more for your phone using eBay, you'll also have to wait for it to sell and do the work of ensuring it gets shipped correctly and so on.
Only you can decide whether you'd rather sell immediately and take a lower price or hold out for more money.
If you decide to hold out for more cash, you could list the old phone on Craigslist and sites like it as well.
Pros
Large marketplace
Broken phones are okay if you disclose the flaws
Cons
eBay takes a cut
Must pay for shipping
Summary
There are several great places that will let you sell your old cell phone for money. Don't just throw it away or stash it in a drawer.
Instead, make some money off it and sell it to one of the cell phone buyback sites mentioned here.
Plus, what's better than making money at home?