Looking for the best places to sell furniture? Look no further.
Furniture is a household item we regularly replace. In most cases, it's because our family's needs or our décor styles change.
Many times, the furniture you are replacing is still in good shape. And selling it can be an easy way to earn a small sum of cash.
Where to Sell Furniture (Near You)
You don't have to haul your old furniture off to the dump. Instead, selling it can be less effort. And you can make money to defray the cost of new furniture. Whether you sell your furniture locally or online you will be sure to find one of the resources below helpful.
If restoring used furniture is a hobby, you can make money selling it too. As you will see, there are many places to sell furniture online. Here are some of the best ways to sell used furniture.
1. Craigslist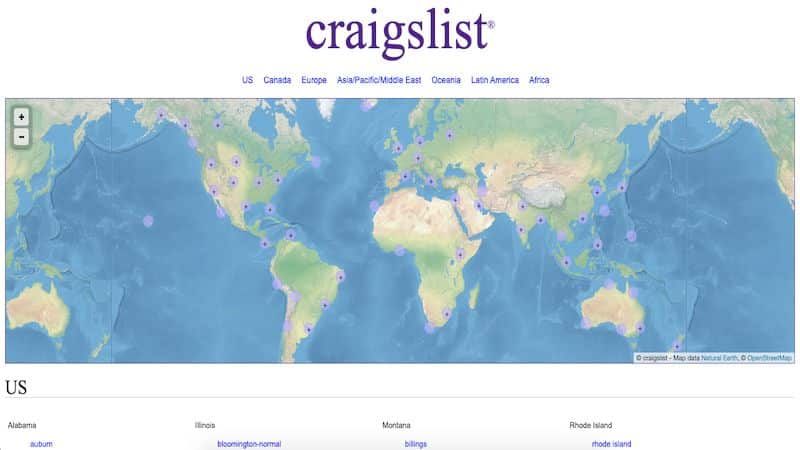 Craigslist is one of the best places to start selling furniture online. This is simply because it's one of the most visited online classified sites. Listings are free and only take a few minutes to complete.
To increase interest in your piece(s), be sure to include photos. And don't forget a detailed description. Buyers love details, especially when making a large purchase.
You can sell used furniture from your own house. Or maybe you're buying a rental property in need of a furniture remodel. In either case, you can sell on Craigslist.
Besides Craigslist, you should consider these Craigslist alternatives too.
2. OfferUp
OfferUp bills itself as the "easiest way to buy and sell locally." It is a free online classified app. In minutes, you can upload pictures and a description from your phone.
Buyers have the option to offer a counter price. Hence the name Offer Up. You communicate with the buyer with in-app chat. And you meet the buyer to complete the sale.
Buyers will see the most proximate results, and they can search keywords too. With lots of options OfferUp can be a great place to buy and sell used furniture.
3. Facebook
Facebook Marketplace is one of the best apps to sell stuff locally. And the best part is that it's free. You only have to list on your local buy and sell group page.
When selling furniture as part of a yard sale, Facebook also has neighborhood and yard sale groups.
In these groups, you can enter a description of the products you're selling. As a tip, try to highlight the feature pieces to attract more shoppers.
Maybe, you want to start a furniture restoration business. If so, you can use paid Facebook ads to sponsor listings.
Facebook ads can be an effective way to attract local buyers too.
The ads will display on the Facebook wall in between all the status updates. And you can also tailor the ads to a specific geographic region.
Or you can also reach a certain age group and gender to sell used furniture to.
4. Antique Stores
Valuable antiques are another commonly sold item. The easiest selling option can be visiting an antique store.
You might not get retail value for the piece.
Remember, the store needs to make a profit too. But it can be less hassle than selling to just any buyer.
Check your local Yellow Pages to find antique stores near you. Or reference the Antiques.com database. Here, you can find more than 34,000 dealers!
5. Consignment Stores
Another local option to sell items is at a consignment store. This is another place to sell used furniture as a side hustle.
With these stores, you get paid when the item sells. Then, the store keeps part of the sale. This pays for renting their floor space and transaction fees.
If you rent space for multiple months, you might have to pay a monthly rental fee.
6. Used Furniture Stores
You might also consider selling your old coffee table or end table to a used furniture store. The store might have an appraiser visit your property to provide a quote.
If they agree to buy the item, they might pick it up themselves. Or the store might pay more if you deliver it yourself.
Some furniture stores offer store credit. With store credit, you must buy more furniture. But it can be worth more than cash. If you're buying a new piece from the store, this is a perfect option.
7. Have a Garage Sale
Garage sales can also be an effortless way to sell used furniture. In this case, the buyer comes to your house. And you can sell other items at the same time.
Maybe, you can sell clothing, used DVDs, and video games. Also, be ready to haggle.
Garage sale regulars look for the lowest price possible. And they aren't afraid to find your bottom dollar. So set a firm price before you sell used furniture.
There are many ways to increase the exposure of your garage sale listing. For example, you can advertise on sites like Craigslist.
And you can use the local newspaper or Facebook Yard Sale Groups too.
8. Have an Estate Sale
Estate sales are a common way to sell the items of the deceased. To start, hire an appraiser to price each item. Then, the items sell at auction or fixed price.
Depending on the collection size, estate sales can be a large undertaking. But it can be more time-effective than selling each item in your spare time.
You can advertise your estate sale online or in the paper. Plus, you can hang signs around town.
A third option is using EstateSale.com. This site lists sales from over 6,700 companies. And you can also find an appraiser on this site if you still need one.
Most estate sale companies work on commission. In most areas, they keep 10% to 15% of the sale proceeds. So you can keep most of the profit.
9. eBay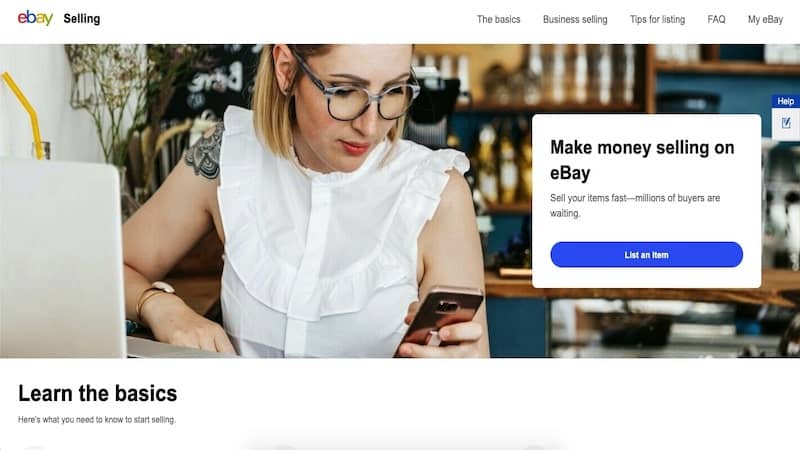 With eBay, you have two options to sell used furniture online. First, you can sell items at auction. Second, you can set the sale price at a fixed price.
You can choose local pickup for bulky items too expensive to ship. For smaller items, you can afford to ship and still profit.
And eBay makes it easy for buyers to furniture shop. Buyers can click on visual examples to find relevant results.
So you don't have to worry about buyers having to match the exact keyword. You can sell new or used furniture on eBay.
When you make a sale, expect eBay to keep 13% of the selling price.
10. Etsy
When you hear Etsy, you probably think arts and crafts. But you can also list furniture and home decor pieces.
You can sell antique and vintage pieces. Plus, you can sell handmade furniture and accessories like pull handles. Also, you can offer to ship to the buyer.
This isn't the place potential buyers are looking for an Ikea collection. But furniture sells from a few hundred dollars to over $5,000.
You can get top dollar for antique pieces in pristine condition.
Compared to other online markets, Etsy's seller fees are slightly lower. Expect to pay 6.5% in selling fees.
11. Shopify
If you want to create your own business and website, do it with Shopify. With their pre-made templates, you can create an online storefront in minutes.
Shopify also provides online shopping carts. And they handle payment processing too.
If you plan on selling in-person, Shopify offers mobile card readers too. When you sell at craft fairs, now you can accept plastic and cash payment.
They also have 24/7 customer support to help you with any problem. And Shopify provides free stock photos to enhance your website.
Plus, you can use their analytics tools. These tools record details about your marketing campaigns. And what types of customers visit your online store.
12. Chairish
For upscale clients, Chairish is a growing site for selling vintage furniture. In fact, Chairish is a leading iPhone app for decorating.
In addition to furniture, you can also sell art and outdoor furniture. Each day, hundreds of new items post from across the country.
Chairish keeps 30% of the sales price. But if you're selling 10 or more items you can reduce their take to 20%. In most cases, the buyer picks up the item from you.
If the furniture needs shipping, Chairish will coordinate with the buyer. You can communicate with buyers using the Chairish dashboard, e-mail or phone.
13. AptDeco
Residents of New York City, New Jersey, and Connecticut. can sell furniture, lighting and rugs on AptDeco.
Items are free to list, and the selling fee is 38% for items that sell for $1,999 or less. The free drops to 33% for sales above $2,000. Once an item sells, buyers enjoy free shipping.
So far, AptDeco has helped sell over 25,000 items. Any brand or product can sell on AptDeco. The furniture only needs to be in good condition.
And it doesn't matter how old the piece is. So you can sell that Ashley Furniture piece from last year.
Some figures from AptDeco might persuade you to sell on their website. First, 85% of sales happen without home visits. Second, ten days is the average time to sell.
Finally, all orders have AptDeco's purchase protection insurance. So selling on AptDeco can be less hassle than Craigslist.
14. 1stdibs
1stdibs allows you to sell antique, vintage and modern furniture designs. This marketplace is also for global buyers and sellers.
Notably, a team of high-class designers in Paris run 1stdibs. They are now one of the best online antique marketplaces.
You might consider this site if you are a designer living in New York City. In the Big Apple, they have a showroom showcasing 54 designers.
To begin selling on 1stdibs, you have to submit a dealer application. After approval, you sell on the global market. And 1stdibs schedules and ensures the shipping of your items.
Plus, your account manager helps coach you to be a successful 1stdibs merchant.
15. Apartment Therapy Bazaar
Apartment Therapy Baazar lets you sell modern and mid-century pieces. The largest markets are New York City, Washington D.C. and Los Angeles. But you can sell from almost anywhere.
Listing is free, but you can boost your listing for a small fee of $1 per listing. And you can even import your Etsy listings to Apartment Therapy.
Your selling fees are very low in comparison to other online furniture marketplaces. There's a 3% transaction fee plus a payment processing fee of 2.9% plus $0.30.
Apartment Therapy Bazaar has a personal feel to it. You create a seller profile that includes your image. List items online or with the iPhone app.
Once you list a product, you can share it on Facebook and Twitter.
You can require in-person pickup. And local delivery or ship-to-destination work too. Plus, you can ship to foreign buyers!
16. Route 66 Furniture
Get your kicks on Route 66 at Route 66 Furniture. This is an online buy and sell consignment shop for used furniture.
To start, you take pictures of the items you want to sell. Then, you email the details to Route 66.
In one business day, Route 66 will follow-up with you. They may coordinate a pickup time with you.
Then, the items go to Route 66's warehouse. When the item sells, you earn 50% of the proceeds.
If your items don't sell within 30 days, Route 66 can drop the price. To make a sale, they may drop the price in half.
After 60 days, any unsold items delist. Then, you have the option to pick the items up. Or you can pay to have them shipped back to you. You can also request to relist the items.
17. Oodle
Oodle is another online classified site. You can list for free. And you get to schedule to meet the buyer to finalize the purchase.
Buyers see the listings nearest their current location. To be clear, this is a smaller website where you can find furniture online.
If you don't live in a featured city, you may have trouble making a sale. But it might not hurt to try.
18. Wertz Brothers
Los Angeles residents can sell their used furniture to Wertz Brothers. No items sell on consignment. So you receive instant check payment or store credit.
You can start by sending pictures and details to Wertz Brothers. It is even possible to sell a complete house of furniture. They offer pickup service on weekdays.
19. Local Newspaper
Local newspaper circulation might not exactly be growing these days. However, there is a steady audience of readers that shop local.
If you don't know, many newspapers offer print and online ads for free. But you may have to sell items below a certain price. For example, you might have to sell it for $50 or less to get a free listing.
You can also pay to place a print ad for high-value items. But paid classified ads are expensive.
For three lines of text, you might pay $7.50. However, this could be a good way to sell antiques or like-new furniture.
20. Recycler
At its heart, Recycler is an L.A.-based classified newspaper service. Since 2010, they are a national online classified marketplace selling furniture.
Listing is free, and you can submit up to 25 listings each day. You can also share your furniture listings on social media too.
21. Bonanza
Bonanza is a leading alternative to Amazon and eBay. They specialize in selling unique items from many niches.
You can sell any type of furniture on Bonanza.
Like Shopify, Bonanza lets you create an online storefront. So a personal website isn't required.
There are more than 40,000 Bonanza stores. But not all of them sell furniture. Your Bonanza listings can also appear on eBay and Etsy.
When you join Bonanza, you get $100 in Google AdWords credit.
22. Pinterest
Don't forget about social media outlet Pinterest. You can list the furniture you make. And you can sell from your own website. This a good way to use social media to publicize your brand for free.
For high-value items, paying to boost a pin can be worth the cost.
Finally, don't forget you can pin your listings on other marketplaces. Take selling on Trove Market, for example.
23. eBid
eBid is an eBay alternative created in 1999. It has very low commission fees of only 3%. And there are more than 14,000 product listings.
Like eBay, you can list furniture at auction or a fixed price. Plus, you can require local pickup.
You can also import items that you sell on Amazon and eBay. Being able to import items is how these small sites thrive. And it's easy to sell on multiple markets with one original listing.
eBid also lets you purchase a lifetime membership for $99.98. Going lifetime reduces your long-term selling fees. And you even get a free t-shirt.
24. Bookoo
A family-friendly online classified site is Bookoo. It's also a mini-social media platform. Most boards are set up for U.S. military bases. So this site can be a good option if you live near one.
The social media platform makes the selling process more secure. Unlike Craigslist, where you can't see the buyer's photo until the meetup.
Also, buyers and sellers can leave feedback on Bookoo. So you can easily avoid bad buyers.
Listing with Bookoo is free. And buyers can see the other items you are selling in your profile.
You can also "friend" other Bookoo users in the social media part. This is a good idea since it can help you reach more buyers.
25. Ruby Lane
To sell vintage and antique furniture online, try Ruby Lane.
Everything sold on Ruby Lane is high-end and fetches top dollar. There is a $100 setup fee to begin selling on Ruby Lane. This fee opens your online store.
Plus, you pay a monthly $54 fee if you list 50 items or less. Finally, each product has a 19-cent listing fee and a 3.75% service fee based on Purchase Order total.
Ruby Lane might be more expensive than some other sites. So it might be a good option if you're a vendor. Also, consider it if you refinish antique or vintage furniture as a side hustle.
26. AZ Office Liquidators & Designs
You can sell used office furniture to Arizona Office Liquidators & Designs. They even accept trade-ins to upgrade your office.
Arizona Office picks up used office furniture in the Phoenix metro area. Or you can live anywhere in the United States if you can fill a truck.
You can sell used files, desks, chairs, tables, cubicles, lobby furniture. Also, sell artwork and other fixtures.
They will pay top dollar for Herman Miller Aeron chairs. To start selling, submit an online quote. Or you can always give them a call.
27. Furniture Finders
With ten or more matching units, you can use Furniture Finders. But it must be office furniture. Then, Furniture Finders works with local dealers to provide a quote.
Next, you can proceed with the sale or keep searching for another buyer. Be sure to include pictures in the submission. Or they will decline your quote instantly.
28. Remoov
Residents of the San Francisco Bay Area or Phoenix can hire Remoov to pick up and sell your home goods. You keep 50% of the proceeds for items that sell.
Remoov donates as many unsold items as possible so you can claim a potential tax deduction.
Items that cannot find a new home go to a disposal center. It's possible to make a little extra cash and Remoov tries to protect our landfills in the process.
FAQs
How can I sell my furniture fast?
The quickest way to sell your furniture can be using a local marketplace app like Facebook or OfferUp. You can negotiate the price and the buyer can come to the pickup location.

Online consignment stores can be a better option if you have valuable furniture. However, you may need to schedule an appointment and pickup session to transport the item to their store.

Next, the consignment store may not pay you until the item sells.
Are there fees to sell pieces of furniture online?
It's possible to sell your furniture without fees by listing your items on a marketplace like Facebook, OfferUp and Craigslist.

If you decide to sell your furniture using an online consignment store, the fees can be between 30% and 50% of the sales price. Each platform has a different fee policy.
Where can I sell furniture near me?
The easiest and cheapest way to sell your furniture to local buyers is by uploading pictures and a description to free online marketplaces like Facebook, OfferUp and Craigslist.

You won't pay any selling fees and the buyer comes and picks up the items. Large cities may also have furniture stores that buy used furniture in good condition.

You might consider this option if you want to avoid scams or don't have the time to sell your furniture by yourself.

Selling to a local store can be convenient but you may not make as much money as the selling fees can be higher.
How do I sell my expensive furniture?
You can try to sell your high-end furniture using sites like Facebook, OfferUp and Craigslist to avoid selling fees.

Otherwise, your best option can be using a specialty marketplace like Chairish, 1stdibs or Ruby Lane that have personal concierge service and have a loyal customer base of luxury buyers.
Do pawn shops buy furniture?
Pawn shops are usually very selective about buying furniture. In general, the piece may need to be an antique or from a high-end brand and be in good condition without stains or smells.
Summary
No matter the reason you're selling, you can sell your furniture locally and online. If you want to, you can even do both at once. It's possible to sell it yourself.
Or you can always try consignment when you don't have the time. Any of these options makes more money than throwing it out on the curb.