Do you have a small business with an eCommerce store? Or if you regularly send packages, do you wonder about the cheapest way to ship a package?
The most popular ways to ship usually consist of UPS, FedEx, and USPS (United States Postal Service). I've used all three at various times.
Which company I choose depends on a variety of factors.
In this article, we'll go over the various pros and cons of each shipping giant. We'll share information on pricing, services, and why one might be better for you than another.
The information you find here will give you food for thought as to which shipping option is best for you and your needs.
What is The Cheapest Way To Ship a Package?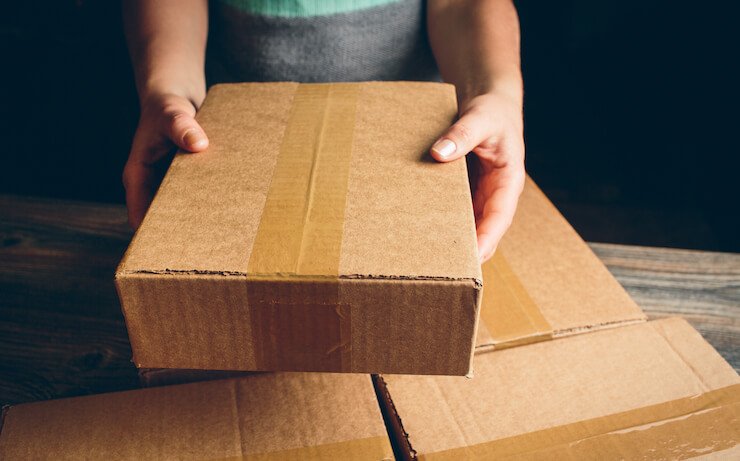 USPS is the cheapest way to ship a package in most cases. USPS is definitely the cheapest option for anything 2 pounds and under. Especially if you are looking to ship clothing.
For packages over 2 pounds, UPS and FedEx can have competitive pricing with USPS.
Below we show an example package and how USPS is the clear winner.
Cheapest Shipping Services
You'll find that prices will vary depending on which shipping company you use.
Here's a rundown of some of the basic costs of shipping with each of the four biggest shipping companies.
For each scenario, I calculated the shipping of a 2-pound box from Minneapolis to Phoenix. I used those two cities in order to get a cross-country price scenario.
I'll share important information you may find necessary as well.
FedEx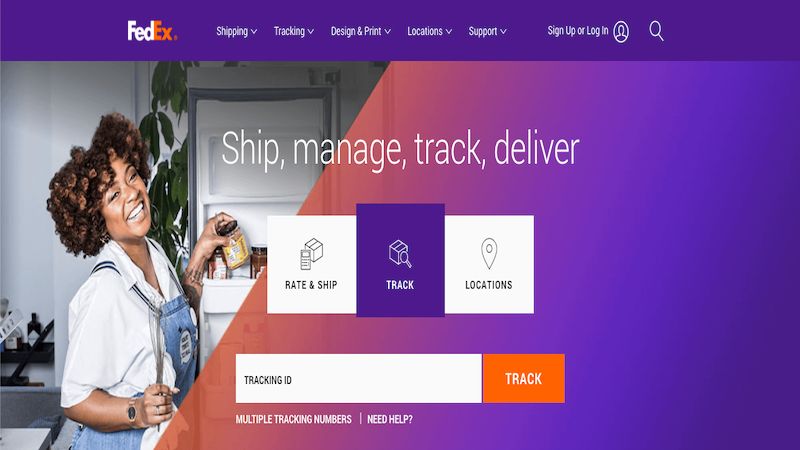 According to FedEx, several factors come into play when determining the cost of shipping.
Dimensional weight, package weight, and delivery time are the "big three." This is the case with most shipping companies.
FedEx has a shipping estimator on their website that can help you determine potential shipping costs.
It's important to note that this is an "estimator" only. Actual shipping costs may vary.
Bonus: FedEx provides free shipping boxes. FedEx has three options for overnight delivery:
First overnight
Priority overnight
Standard overnight
First overnight arrives in the early morning hours. Priority overnight packages typically arrive by noon.
Standard overnight packages arrive by the end of the day, which could be as late as 8 p.m.
Here is the estimated cost of shipping for each one, as well as for the two-day options and three-day option.
| | | | | | |
| --- | --- | --- | --- | --- | --- |
| First Overnight | Priority ON | Standard ON | Two-day AM | Two-day | Three Day |
| $126.84 | $93.20 | $91.52 | $52.73 | $47.20 | $37.49 |
These prices applied whether I used a small box, medium box, large box, extra large box or envelope to ship.
However, look at what happens when I use a tube to send my two-pound package from Minneapolis to Phoenix. Shipping prices go up dramatically.
| | | | | | |
| --- | --- | --- | --- | --- | --- |
| First Overnight | Priority ON | Standard ON | Two-day AM | Two-day | Three Day |
| $176.15 | $142.51 | $139.80 | $103.08 | $89.02 | $59.46 |
Ouch!
Note to self: Avoid using tube packaging when shipping if at all possible; at least with FedEx.
Prices are much, much higher as you can see. Now let's move on to another popular shipping company.
UPS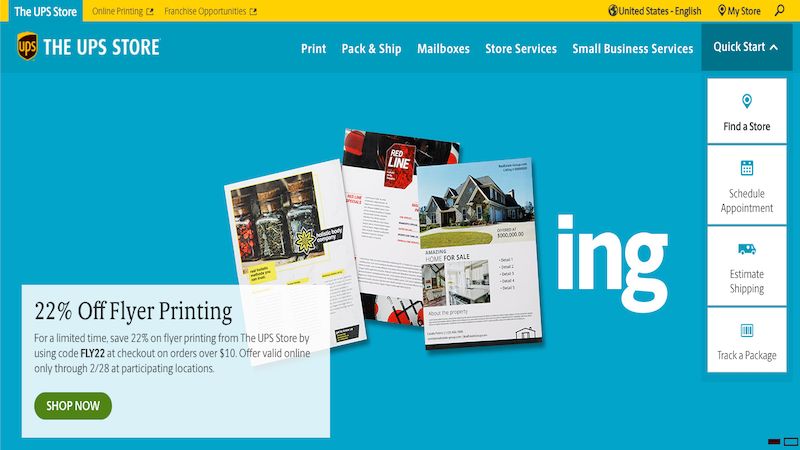 The UPS (United Parcel Service) website also has a shipping estimator available for potential customers to use.
Here are the results of its estimate for my same 2-pound package going from Minneapolis to Phoenix.
| | | | | | |
| --- | --- | --- | --- | --- | --- |
| Next Day AM | Next Day | Next Day Saver | Second Day | Three Day | Ground |
| $136.78 | $104.23 | $98.79 | $50.88 | $36.87 | $16.33 |
When we first published this article, UPS had a three-day rate and a UPS Ground-ship rate as well. When we re-checked prices for 2020, both of those options were gone.
Well, the good news is that they're back!
FedEx didn't have ground shipping rates either for this size of package and destination.
However, you could check at store locations for FedEx to see if they could accommodate ground shipping.
Ground shipping is typically much cheaper than the one, two and three-day shipping rates, regardless of which company you use.
So, as you can see, so far FedEx is coming out as a leader in cheap shipping when I use the shipping estimator for the sites.
But what happens when we mix the United States Postal Service into the mix?
If you are looking for shipping software, check out Stamps.com.
United States Postal Service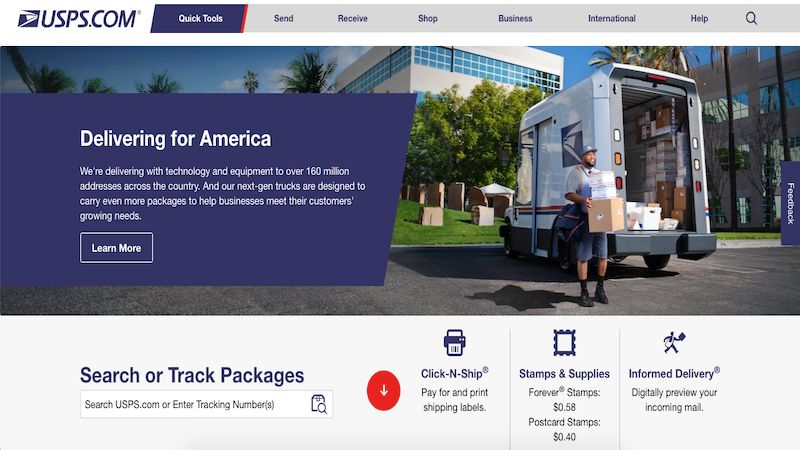 Ahh, the good old post office. Famous for their first class shipping options and their "Neither snow nor rain…" slogan.
As expected, USPS shipping rates were far less expensive than UPS or FedEx. Here's the scoop on the USPS shipping rates.
Note: the box size definitely made a difference in price, unlike with FedEx and UPS. Bigger boxes had higher shipping rates than what's listed below.
USPS Priority Mail Flat Rate Prices
These prices are determined based on the size of the flat rate USPS box you use for your 2-pound package.
Small Flat Rate Box
| | | | | | |
| --- | --- | --- | --- | --- | --- |
| Priority Mail 1-Day | Priority 1-Day AM | Priority 2-Day large box | Priority 2-day medium box | Priority 2-day small box | Ground shipping |
| $48.20 | n/a | $21.90 | $15.50 | $8.45 | $11.75 |
I found it interesting that the shipping calculator said that ground shipping was cheaper than two-day priority.
Media Mail
By far, the cheapest option when shipping via the post office is the media mail option. Media mail consists of anything containing media, such as:
Books
Printed paper such as a manuscript
CDs
The USPS shipping calculator stated that my 2-pound box would only cost $3.45 to ship ground if it were a media mail item.
This option is the way to go if you have to ship media items regularly. For instance, if you resold items such as books, the media mail option would be a great money-saver.
Price Conclusion
So, it's clear from our research that the U.S. post office is the clear winner in terms of across-the-board pricing.
If your only consideration is money, you're probably better off shipping through the post office.
However, there may be other ways for you to save money on shipping and other factors to take into consideration.
Customer Service Tips
Price is not the only determining factor. Here are some other things you should consider as you find the cheapest option to ship a package:
Ask Questions
I've found it can be beneficial to ask the rep at the shipping company what the cheapest shipping option is.
These folks typically don't work on commission, so they're happy to help you ship items for cheaper.
They may have money-saving ideas that aren't clearly advertised on a shipping company's website.
Therefore, check all options before mailing your package. The post office, for instance, has a computer system that will show you all shipping options before you choose.
The customer service rep can show you the options on the screen and help determine the cheapest route.
But the price may not be your only shipping consideration. What about other factors? Shipping? Insurance?
Are all shipping companies the same when it comes to these factors?
Tracking
Whenever you deliver with UPS or FedEx, you'll automatically get a tracking number. You can use this number to check your package's location on the shipping company's website.
This is a nice feature that might make you lean toward using these carriers, even if they're costlier.
However, USPS has stepped up its game in recent years and now offers tracking on many packages.
As with FedEx and UPS, you can check your tracking number on the USPS website. They'll tell you where your package is and potentially what its arrival date is.
The post office doesn't offer tracking on every package, however. You have to ask your post office service rep for more details on package tracking.
And I have to say though that in my experience, the UPSP tracking system isn't terribly detailed. I've found that tracking through UPS or FedEx is much more thorough.
For example, when I sell a high dollar item on eBay, I prefer to use UPS or FedEx because of the tracking capabilities.
Tracking through the post office often leaves me in a wonderland after the package gets checked in.
Then I'm left to wait for the parcel to arrive, not knowing when that might be.
This uncertainty could be inconvenient if I wanted to or needed to be home when the package was arriving.
So, if you are shipping a package you want detailed tracking on, UPS and FedEx are best in my experience.
Insurance
All three shipping companies offer insurance for the packages you're sending. Whether or not you choose to get insurance is up to you.
Insurance rates are generally based on the value of the item you're sending.
Most of the insurance rates with all three companies are fairly reasonable.
When deciding whether or not you want to spring for shipping insurance, ask yourself a few questions.
Do I want to pay to replace the item if it doesn't arrive or arrives damaged?
Does the item have sentimental value that is worth the price of the insurance?
Would I be ticked at myself if the package got lost or damaged and I hadn't purchased insurance?
The answer to whether or not you'll want to get the insurance is a personal one. If you trust your carrier, you might be okay without insuring your package.
However, things do happen, as much as the shipping world tries to prevent mishaps.
If you're shipping an item that is important to you, you may want to consider paying for insurance.
Care and Customer Service
In this day and age, it can seem that bad customer service is everywhere.
Maybe I'm living in my glory days, but I remember when I was young that good customer service was a must.
At every job I had, my employers told me that the customer was the number one concern.
I was expected to work hard and work well. I was also expected to treat customers like royalty.
That expectation seems to be gone today, but you can still find good customer service if you look.
I make a note of businesses that have excellent customer service and tend to frequent them over companies that don't.
You probably won't find one shipping company as a whole that has better customer care than another.
However, you will probably find individual branches that have better employees than others.
In your city, the FedEx employees might be horrible, while the UPS employees are great. In my city, I might have top-notch FedEx employees and rotten USPS service workers.
My advice is to keep your eyes open and take note of the companies with the best workers in your area.
Personally, my local post office continually has terrific service. Never once have I walked up to the desk and gotten lousy service.
For that reason (among others), I use them frequently when shipping packages. But unfortunately, the employees you see aren't the only employees who handle your packages.
Back Room Package Etiquette
Once your package leaves the front desk it goes into a back room or is sent off to a shipping hub.
Who knows what happens with your packages once they're behind closed doors?
It's anyone's guess whether your package will be handled carefully by a good employee or horribly by a bad one.
You don't have any control over that, but you do have ways to keep tabs on backroom package etiquette.
The first way to get an idea of how your local shipping company handles packages in the back room is to note how they arrive.
Check with recipients and ask them how the package looked when it arrived. Was it in decent shape or full of dents?
If you get too many complaints about damaged packages, it might be time to switch shipping companies.
Other Ways to Save Money on Shipping
Besides choosing the cheapest way to ship your package, there are other ways you can save money on shipping. Here are some ideas.
Save Money by Reusing Shipping Boxes
Another way to make shipping cheaper is the avoid buying shipping boxes if you can.
One of the ways I save money on shipping is to keep boxes I get from Amazon and other deliveries.
I put them in our storage area so I also have several quality boxes on hand to use for shipping things.
Saving boxes of all different sizes ensures I've got something on hand for nearly all of my shipping needs.
As a result, I rarely have to pay for shipping boxes, which can be expensive. They're often costlier when you're buying at the shipping store.
Walmart and similar stores have them priced cheaper, but free, reusable boxes are the best money-savers.
Note that when you're reusing shipping boxes, it's important to remove all of the old labels on the boxes. Similarly, you can cover them up with tan shipping tape too.
The goal is to remove all evidence of a prior shipping address and instructions. Doing so will help avoid confusion as you re-use the box to ship somewhere else.
Choose the Right Packaging
I mentioned earlier about choosing the right box for shipping your packages, but do you really need a box? In some cases, padded or bubble envelopes might suffice.
These envelopes are generally less expensive than boxes. And you can save even more money if you buy your packaging somewhere other than at the shipping store or post office.
Think about your package and what type of shipping package it requires to be safe. Don't overdo it by using more expensive boxes when they're not necessary.
Choose a Slower Shipping Time
Another way to save money on shipping is to choose a slower shipping time. In other words, don't send a package overnight when it can easily wait a week before it has to be there.
Think about the item and who you're shipping to. If it's a client for your business, set arrival expectations ahead of time: Under-promise and over-deliver.
In other words, don't promise the package in three business days and sign yourself up for higher shipping costs.
Instead, promise the package in two weeks and choose ground shipping.
Your client will be happily surprised when the package arrives in a week instead of two. Feel free to put faster shipping options on your website, but have the client pay for them.
Doing so will help ensure clients aren't choosing fast shipping options unless they need to do so.
You'll save money on shipping and still be able to meet or exceed customer expectations.
Remove Unnecessary Packaging
Another way to save money on shipping is to remove unnecessary packaging. For instance, let's say you're shipping a toy to a child for his or her birthday.
If a protective plastic box surrounds the toy, you may be able to save money on shipping by removing the plastic.
This can make the overall diameters of the toy smaller, enabling you to ship in a smaller box.
Then you may have a lower shipping rate due to being able to use a smaller box. So remove unnecessary packaging when it helps you ship in a smaller container.
Flat Rate Shipping Can Be Cost Effective
We talked before about how the post office has flat rate shipping options. Flat rate shipping doesn't always result in the lowest price, but it does on many occasions.
Check with shipping carriers about flat rate shipping to see if it's the best rate for your package.
Discounts & Coupon Codes
You may also be able to take advantage of discounts on certain shipping products.
For instance, your local shipping store might have a coupon for a discount on packaging materials.
You might be able to get a discount on boxes, packaging tape or bubble wrap.
Similarly, some shipping companies offer member discounts. As an example, UPS provides discounts for AARP and AAA members in some instances.
Also, ask at your local shipping store about membership discounts or coupon codes and save additional money on shipping.
Note: You'll likely have better luck getting discounts at FedEx and at UPS than you will at the post office.
However, most shipping carriers do offer discounts on shipping volume – including the post office.
This means that you can get discounted prices on shipping if you mail a lot of stuff on a regular basis.
As an example, if you do a bulk mailing for media mail (300 pieces or more) you get a discount. And, if you do a bulk first class mail (500 pieces or more), you get a discount.
Check with your post office or other shipper for details on these types of discounts.
Summary
In conclusion, shipping your packages can cost you a variety of rates depending on your personal preferences. So many factors come into play.
Whether it's the cubic size of the packages you're mailing, the weight of the packages, the destination (especially international shipping) or another factor, details matter.
One company isn't necessarily better than another when it comes to safety in handling or timeliness. It's up to you to determine which company you have the best luck with.
I recommend trying all three of the companies mentioned above to see which ones you have better luck with. Personally, I use the United States Postal Service more times than not for my shipping needs.
However, I don't have to ship packages very often and I have a terrific local post office.
Conversely, if you run a small business where timeliness and tracking matter, you might be happier with UPS or FedEx. Also, there are many other carriers to consider like DHL.
Give all three a trial run and see which one best accommodates your shipping needs.
The answer might surprise you. If you ship packages a lot, having a reputable shipping source is vital.
You don't want to damage your business's reputation by using the cheapest shipping source if they're not shipping safely.
Similarly, you won't want to spend more money than you need to on shipping and waste valuable company resources.
Do your due diligence and find the best shipping options, prices and services for your needs.
Then stick with what works while always keeping an eye out for ways to save/improve on your shipping needs.