You might think that the only way to save money at the store is to clip coupons from the Sunday paper or sign-up for a retailer's e-mail list.
That's far from the case. There are plenty of coupon apps that can save you money on just about any purchase.
Top Coupon Apps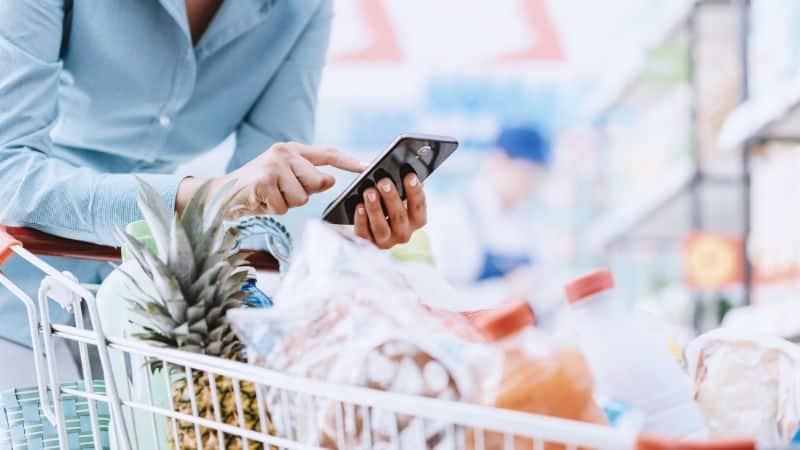 Join today to earn a $20 sign-up bonus.
Get $40 in rewards with your first purchase.
Earn $5 with your first receipt.
To help you save the most money when shopping, here are the details of the most popular coupon apps.
1. Tada
Tada is a cash back shopping app that pays you when you upload receipts. This app is owned by Prodege.
Prodege owns popular cash back and cash earning companies including Swagbucks and InboxDollars.
Tada helps you earn money when you shop online by accessing stores through their portal and receiving cash back on purchases.
You can also use the app's coupon feature and print coupons through a partnership with Coupons.com.
You can cash out one your Tada balance reaches $10. Your balance is redeemable for a variety of gift cards, including PayPal, Amazon, and more.
Look for bonus offers for new members; as of this writing the bonus offer was $20. However, that may change.
2. Rakuten
Rakuten is more than just a coupon app. It allows you to get a small percentage back for your entire purchases ranging from 1% to 40% depending on the retailer.
The average cash back rate is usually between 3% and 10%.
Over 2,000 online retailers participate ranging from Wal-Mart, Target, Lowe's, JC Penney, Macy's, and many clothing brands.
Basically, if you can buy it online, you can get cash back.
They also have a discount code section on the Rakuten website with codes you can enter at checkout to lower your total sales amount.
Rewards are paid by check on a quarterly basis once you earn $5 cash back.
It's free to join & you also have the opportunity to earn a $10 bonus credit after
Learn more: Rakuten Review
3. Honey
If you shop on Amazon, you know there are very few ways to get discounts. Honey makes it a little easier to find more ways to save.
This coupon app automatically enters every known discount code on the checkout screen to save you money. It can even show you the lowest prices while shopping on Amazon.
Along with saving money at Amazon, Honey will also enter the best discount codes at most major discount retailers, department stores, and restaurants (including online pizza orders)!
Learn More: Honey Review
4. Ibotta
Another popular app is Ibotta. Many people consider Ibotta the best coupon app for saving money on groceries and in-person shopping.
This is more like your traditional approach to couponing.
Before going to a store, search the Ibotta app on your smartphone to see what deals there are and activate the digital coupons.
For example, you might be able to get $1 back by buying a particular brand of potato chips or bottled water.
You activate the coupon, purchase the product, and receive a cash back credit in your Ibotta account.
Coupons are also available for all groceries regardless of brand. You might have the opportunity to save 50 cents on a gallon of milk or a loaf of bread.
There are even coupons for non-grocery items such as clothing stores, restaurants, and even gas stations after scanning the copy of your receipt with a smartphone.
After earning $20 in rewards you can be paid with PayPal or store gift cards.
Learn more: Ibotta Review
5. Drop
Drop is a cash back rewards app that rewards you with money when you link your debit or credit card to the app.
It works automatically in the background, so once you download the app and add your cards you can forget about the app and let it do its work.
With Drop the rewards amounts will differ based on which stores you're shopping at, but plan on earning 1% to 2% cash back or so.
Note that with Drop there are a limited number of stores you can choose to add to your list for earning points.
For that reason, you'll want to choose stores you shop at often in order to earn the most points.
You can redeem your points for gift cards once you earn 5,000 ($5.00), and you can choose from a number of retailers to get your gift cards from.
Bonus: Drop has other avenues for earning as well, including taking surveys and playing games.
6. Dosh
Dosh works similarly to Drop in that you simply link it to your credit and/or debit cards and it works effortlessly in the background.
These types of effortless coupons are nice because there's no cutting, printing, and handing in coupon codes as you shop.
Dosh rewards you with cash back for purchases and will give you bonus rewards on some purchases as well.
Like all of the apps mentioned here, Dosh is free to download and use.
However, if your Dosh account is inactive for 12 months or longer you will get charged a fee of $4.99 per month
7. Checkout51
Checkout51 works similarly to Ibotta. Once you download the app you can start searching it for offers.
You'll find offers on gas, groceries and more. Check the offers you want to take advantage of, and then tap "redeem" in the app once you've made the purchases.
Upload photos of your receipts and Checkout51 will credit your account. You can cash out once you've reached a balance of $20.
Once you've chosen to cash out, you get your payment via a mailed check. Offers are updated weekly, which means there are new offers to take advantage of regularly.
8. Shopkick
Shopkick is an app available for iOS and Android devices that isn't your typical coupon app.
In fact, it's different from most of the apps listed in this article because you can earn points just for visiting a store.
You will need to use your smartphone with this app and enable your Bluetooth location services.
Shopkick awards your reward points called "kicks" that you can earn by visiting a store, scanning item barcodes, and making purchases. That's three different ways to earn kicks.
You can earn points by visiting grocery stores and retail stores. For example, you can earn 100 kicks just by walking through the front door of your favorite electronics store.
When it comes to redeeming your kick points, they are exchanged for store gift cards.
Learn More: Is Shopkick Legit?
9. Groupon
To save money on experiences and visiting restaurants, you should check Groupon for local deals. Groupon says you can save up to 70% on select deals.
First-time users can get an additional discount for their first purchase.
You can save some additional money at Groupon by visiting the site through Rakuten coupon app (also recommended on this list) that also offers a cash back discount.
In addition to finding local deals, Groupon can help you save money on vacation activities across the globe. T
hey also have a "Coupons" section to save money at multiple retailers with coupon codes.
10. Amazon Coupons
Sometimes you want to browse the specials before you shop. Amazon Coupons lets you look at all the current offers from every shopping category.
As with certain products on the Amazon website, they are only available to Amazon Prime members. That holds true with select coupons too.
Trustpilot: 2.9 out of 5
11. Capital One Shopping
Capital One Shopping is a free coupon app that helps everyone save money, not just Capital One cardholders.
The app is free to download and use. Just search for the products you're shopping for in the app, and Capital One shows you the prices at the most popular retailers. You can also access promo codes sourced by the Capital One community and earn Shopping Rewards each time you shop.
If Capital One already has a coupon for the store you choose, they'll automatically apply the coupon to your order.
You can redeem your Shopping Rewards for gift cards to further your savings on the Capital One Shopping platform.
Capital One works with thousands of retailers and provides a list of the prices at each. You then decide who has the best deal.
Learn More: Capital One Shopping Review
12. Coupons.com
Coupons.com is a free app for Android and Apple users to help you save on your most purchased products from your phone.
With the app, you can email yourself coupons to print from your computer, link coupons to your store loyalty card, or find coupons for local businesses.
Coupons.com offers coupons to the most popular stores, including Target, Whole Foods, Walmart, and Costco. In addition, they offer hundreds of cashback offers on your favorite products, making it easy to save money while shopping.
If you don't link your store loyalty card, you can upload your receipt to the app to get credit for your purchases. In addition, you can redeem your cash back offers via PayPal, giving you money for your purchases.
The best part is you can cash out anytime; there's no minimum threshold.
13. Fetch Rewards
Fetch Rewards turns any purchase into free gift cards or cash back. Download the free app and upload receipts from anywhere you shop to earn points you can redeem for free gift cards.
You don't have to worry about making a specific purchase or shopping at a particular store. Fetch Rewards pays users to upload receipts to any store. They also run promos for specific brands or retailers that may pay bonus points, but every receipt earns something.
At a minimum, each receipt earns you 25 points, but some purchases will make you even more. It takes only a few seconds to upload your receipt, and you're on your way to earning free gift cards.
Occasionally, Fetch Rewards also offers special offers that reward you with even more points, enabling you to cash out with a gift card even faster.
Fetch offers gift cards to your favorite stores like Amazon, eBay, PSN, Uber, and Starbucks. You can also redeem your points for iTunes or Apple gift cards.
Learn More: Fetch Rewards Review: Is It a Safe Way to Earn Cash Back?
14. ShopSavvy
ShopSavvy turns your mobile phone into a price comparison and money-saving machine. Download the ShopSavvy app and have price comparisons, price drop alerts, and deal alerts at your fingertips.
It's easy to search for your desired product in the app and get a list of the top retailers selling it at the best price. You can even scan a product's barcode while in a store to see if someone else has it for a better price.
If you're on the hunt for an item at a lower price, set up a price drop alert to receive an instant alert when the price drops. You can also set up back-in-stock alerts to get your hands on favorite items.
ShopSavvy makes it easy to shop smarter, not harder. With a few keywords or barcodes, you can learn everything there is to know about a product, its pricing, and availability across all major retailers.
15. RetailMeNot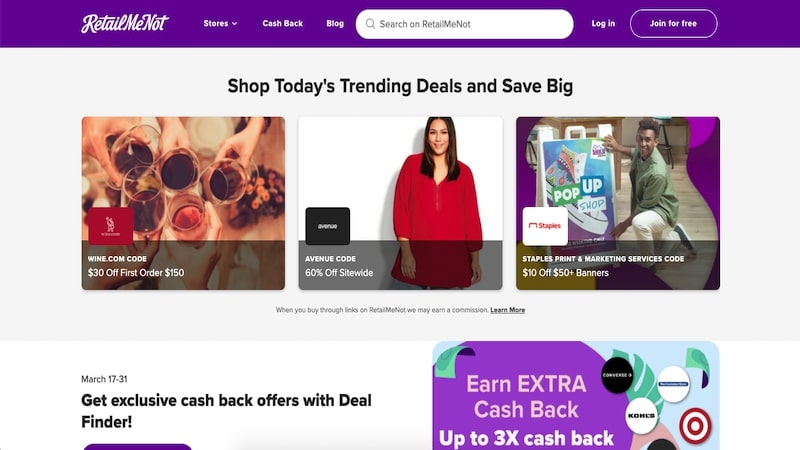 RetailMeNot is an app for saving money and earning cash back. It was named the 2022 BestApp.com Award Winner and has over 500,000 reviews.
RetailMeNot partners with over 15,000 brands and has over 200,000 offers on the app at any given time.
Users can save by using special promo codes offered by RetailMeNot, or cashback offers by shopping through the RetailMeNot portal. You'll also find the occasional in-person deal allowing you to shop at a local store and save.
RetailMeNot staff members also monitor your shopping habits, hand-picking deals to personalize your shopping and help you save the most money. On average, they claim members earn $10 per order placed using the RetailMeNot app.
How Do These Coupon Apps Compare?
| | |
| --- | --- |
| Company | Trustpilot |
| Tada | 4.3 |
| Rakuten | 4.2 |
| Honey | 4.2 |
| Ibotta | 4.3 |
| Drop | 3.3 |
| Dosh | 3.9 |
| Checkout51 | 3.9 |
| Shopkick | 3.3 |
| Groupon | 2.3 |
| Amazon Coupons | 2.7 |
| Capital One Shopping | 2.0 |
| Coupons.com | 3.5 |
| Fetch Rewards | 4.5 |
| ShopSavvy | Not Yet Rated |
| RetailMeNot | 2 |
Summary
You can still save money by clipping coupons from the newspaper and the mail. However, using coupon apps makes saving money a lot easier and quicker. Plus, all these apps are free to use.
All you need is a smartphone to get started and you can start saving the next time you visit your favorite grocery store or department store.