Are you looking for an effortless way to save money on online purchases? Capital One Shopping is a free tool that can help you find low prices and earn shopping rewards.
Previously, Capital One Shopping was known as Wikibuy. The parent company was and is Capital One. So it makes sense it eventually changed the name to Capital One Shopping.
Many of the same key features are still available including comparing prices and applying discount codes. This Capital One Shopping review will help you decide if this is the best online shopping tool for you.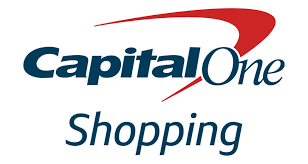 Summary
Capital One Shopping is a free price comparison tool for Amazon and most online stores. The Capital One Shopping browser extension automatically redeems discount codes for instant discounts. You can also earn gift cards for online purchases and at participating local merchants. Other shopping apps are better if you want to earn rewards for online shopping.
Pros
Comparison tool
Automatic redeemer
Earn rewards for gift cards
Free to join
Cons
No cash rewards
Comparison tool bias
Prioritizes Amazon and eBay
No signup bonus
What is Capital One Shopping?
Capital One Shopping is a free online shopping app to compare prices, redeem coupon codes and earn shopping rewards. You can redeem your Capital One Shopping rewards credits for gift cards.
It's also possible to use Capital One Shopping as a browser extension or using their online website.
This shopping site is free to use and doesn't require a Capital One bank account to use.
How Does Capital One Shopping Work?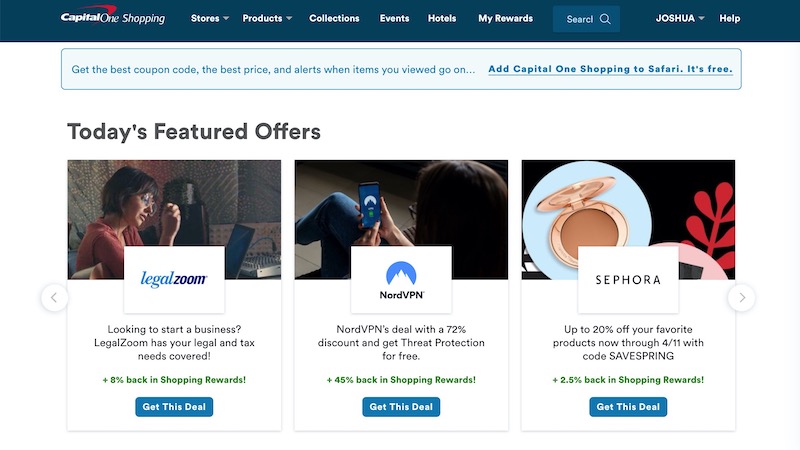 Using Capital One Shopping is easy for most people. The user experience is similar to most shopping portals, and the price comparison tools make it easy to find competitive product prices.
Downloading the mobile app or browser extension helps you get the most value from this service. These tools make it easy to compare product prices and save money.
Joining Capital One Shopping
Capital One Shopping is free and only takes a few minutes to join. You must live in the United States and be at least 18 years old.
You can quickly join by linking your email, Facebook or Capital One banking account.
The service also asks whether or not you have Amazon Prime and your zip code to calculate tax and shipping costs.
Unlike most shopping apps, Capital One Shopping doesn't offer a one-time signup bonus. Most apps offer a $5 to $10 bonus after your first qualifying purchase.
Save Money Shopping Online
This app provides several ways to help you save money on online purchases:
Compares prices between online stores
Applies discount codes at discount
Earn rewards to redeem for gift cards
These tools help you pay a lower price upfront. In addition, the rewards can be redeemed for gift cards for future savings.
For instance, you might consider using Capital One Shopping if you have Amazon Prime. Capital One Shopping compares the product price and shipping costs of various sellers.
The shopping site lets you browse for deals by store and product category. Its search tools are highly in-depth with customizable filters.
Earning Capital One Shopping Credits
The main draw for using Capital One Shopping is to find competitive online prices. But you can also earn shopping rewards at many online stores.
Most participating stores give between 1% and 8% of the purchase amount back. It's also possible to earn Capital One Shopping credits on select local purchases.
Many well-known stores offer Capital One Shopping shopping credits. However, Capital One Shopping has fewer participating merchants than othe apps such as Rakuten.
You can earn rewards for online purchases at Walmart, Nike, Michael's and many more.
Capital One Shopping requires you to activate a bonus shopping session to earn the shopping rewards. You activate the session from the Capital One Shopping website, mobile app or the online store using the browser extension.
It takes up to seven days to receive credit for your qualifying purchases.
Redeeming Capital One Shopping Rewards

You can start redeeming your shopping credits with a minimum $5 balance for gift cards to retailers and restaurants. However, some brands have a $10 or $25 minimum balance.
Some of the most popular brands include:
Walmart
Petco
Lowe's
eBay
Hulu
Unfortunately, the rewards catalog currently doesn't offer Target or Amazon gift cards.
How Much To Use
There are no fees to use Capital One Shopping and you can join for free.
However, the $5 to $25 redemption minimum to exchange Capital One Shopping Credits for gifts cards can be a "hidden fee" as some services don't have a minimum.
Key Features
Here are several of the benefits that can help you save money with Capital One Shopping.
Shopping Offers
Several places feature the best offers to help you find competitive deals when you have open-ended shopping plans. These deals may or may not be relevant to you depending on your needs.
You will see the current Capital One Shopping rewards rate (i.e., 8% back) and any discount codes or coupons.
The featured offers help you save money on these products:
Clothing
Furniture
Kitchen appliances
Eyeglasses
Vitamins
You can also browse stores in their "Trending Deals" section to find jaw dropping prices.
If you already know what you're shopping for, these Capital One Shopping features may not have much value.
Price Comparisons
One of the most exciting features is being able to compare prices on items you're thinking about buying.
You can either tap on featured products to find competitor prices or type a product name into the search bar.
Your price quotes can contain the following details:
Total cost after tax, shipping and discounts
Redeem amount
Discount or online coupons
Price Alerts
When you're not ready to buy something today, you can add the product to your watchlist. This tool lets you compare the item's orginal price to its current price.
The service can also send price alerts when products on your watchlist drop.
Coupons
Capital One Shopping enters coupon codes at checkout for instant discounts. Other, but not all, online shopping apps offer these coupons too.
Only using verified codes can help you avoid wasting time entering expired discounts. This app helps you save time by typing all these codes in for you.
Downloading the browser extension lets Capital One Shopping automatically enter all known codes when you pay.
Local Offers
Some restaurants and stores award Capital One Shopping credits when you pay with a linked payment card. The shopping states it's possible find incredible deals at jaw-dropping prices
First, you can link a credit card or debit card. Next, activate the shopping offer online or in the Capital One Shopping app before you pay and automatically receive credit.
Both national and local brands partner with Capital One Shopping. You will see offers based on your current location or by zip code.
Capital One Shopping Browser Extension
The Capital One Shopping extension helps you never forget to activate a shopping session. When you visit a participating store, the extension notifies you of potential rewards.
You can also search for products in the extension bar and compare prices between retailers. Simply type the product you need into the search bar. A new tab opens, showing the prices from several retailers.
The extension also compares prices in real-time when viewing Amazon listings.
The Capital One Shopping extension works with these browsers:
Google Chrome
Safari
Mozilla Firefox
Microsoft Edge
Check competitive Amazon prices next to the non-Amazon online prices, where Amazon displays the price and shipping options. Plus, you can also add an item to your watchlist from Amazon.
Mobile App
The Capital One Shopping mobile app works with most Android and iOS devices. Notably, the Capital One Shopping mobile app vs. desktop price comparison features are similar.
Of course, this money-saving app optimizes shopping from a smartphone and includes a few extra features that desktop users don't have:
Barcode scanner: Scan product barcodes with your phone camera, and the Capital One Shopping app compares prices for similar items. Most searches show the Amazon price plus the total price on other online stores.
eBay visual search: Snap a picture of an item and the app looks for similar images on eBay. This tool can make it easy to find items when you don't know the exact item name.
Amazon image search: Compare prices between Amazon sellers for a specific item.
Capital One Shopping Reviews
These customer reviews can help you determine if Capital One Shopping works for your buying habits.
Trustpilot
The service has a 4.7 out of 5 Trustpilot score with 2,043 ratings.
"This app has consistently found discount codes and coupons that I would never spend the time looking for on my own." — DP
"I love it. It doesn't always work, but when it does… Ka-Ching!!!!" — Madam M.
"Great app. Unobtrusive and reliable. It's very useful to know that it's either finding a coupon code or assuring me of the best price." — Bob T.
Google Play Store
This app rates 4.4 out of 5 with 3,495 reviews on Google Play.
"The app saved me $15 on my first shopping attempt. The sign-in process is too cumbersome though, too many steps and marketing "noise" before you can just get to what you want to do, which is look for discounts on what you want to put purchase." — P.D.
"Saved $10.80 on Amazon with applied coupons. I was ordering the same products normally order monthly and have never saved money with coupons." — Jason M.
Apple App Store
This app has a 4.8 out of 5 Apple App Store score with 5.3 million ratings.
Alternatives to Capital One Shopping
Maybe you're unsure if Capital One Shopping is the best way to save money shopping. Here are several alternatives that can give you more ways to earn rewards. You can also earn cash rewards instead of gift cards.
MyPoints
You may prefer MyPoints as you can get up to 40% back at more than 2,000 stores. MyPoints lets you redeem your rewards points for gift cards, PayPal cash and United Airlines miles.
You can start receiving gift cards with a $3 balance–including Amazon gift cards. PayPal cash rewards start at $25.
New members get a $10 Amazon gift card after their first $20 online purchase.
MyPoints also provides coupon codes to save money before you pay. Unlike Capital One Shopping, this app doesn't compare prices between online stores.
You can also earn points by completing these activities:
Online surveys
Reading sponsored emails
Watching videos
Playing games
Buying gift cards
It's free to join MyPoints and is a good option if you want to earn points on your daily tasks.
Trustpilot score: 4.4 out of 5 stars
Read our MyPoints review to learn more.
InboxDollars
InboxDollars is a get-paid-to site that pays you cash for shopping online and other activities. You earn between 1.5% and 15% back when shopping online. Your rewards options are PayPal, paper checks and gift cards.
You make money for doing these short tasks online:
Online shopping
Printing coupons
Answering surveys
Watching videos
Reading email
Playing games
New members get a $5 cash bonus by activating your account. You can start redeeming your rewards with a $30 rewards balance.
Being able to print coupons and redeem for in-store discounts makes InboxDollars different from Capital One Shopping.
Trustpilot score: 4.1 out of 5
Our InboxDollars Review takes an in-depth look at this side hustle app.
Rakuten
Rakuten can be your best option if you want a shopping rewards app that focuses on earning cashback. You can earn up to 20% back at thousands of online retailers plus enjoy in-store rewards.
The browser extension can apply discount codes for instant savings. You can redeem your rewards for PayPal cash or select gift cards with a $5.01 balance.
New members can receive a $10 signup bonus after making their first qualifying purchase of $25 or more.
Trustpilot score: 4.1 out of 5
Read our Rakuten review for more to compare these shopping apps.
FAQ's About Capital One Shopping
These in-depth questions can help you learn more about Capital One Shopping.
Does Capital One Shopping save money?
The app is one of the best apps to pay a lower price as you can compare prices between online stores and the app automatically applies digital coupons and discount codes.

In addition, the shopping credits program helps you redeem for gift cards to your favorite stores.
Does Capital One own Capital One Shopping?
Yes, Capital One is the proud owner of Wikibuy (and Paribus) since 2018. Wikibuy launched in 2014 with headquarters in Austin, TX, before the acquisition. Recently they transitioned the name to simply Capital One Shopping.
What are the Capital One Shopping customer service options?
You can contact Capital One Shopping customer service by email or by submitting an online form.
Is Capital One Shopping safe?
Capital One Shopping uses current best practices to protect your personal data from identity theft. You won't receive emails asking for personal information. If you do, the email is likely a scam.
Summary
Capital One Shopping is one of the easiest ways to compare online prices and find discount codes to prevent overpaying.
Earning shopping rewards for gift cards helps you save money for future purchases. However, you might avoid Capital One Shopping if you want to earn rewards for online shopping.
Disclosure: Capital One Shopping compensates us when you get the browser extension using the links provided.