Have you heard of MyPoints? This MyPoints review will show you relevant facts about the MyPoints rewards program.
We'll give you a thorough summary of how the program works, the pros and cons, and other relevant information.
By the time you're done reading, you should have a clear idea about whether MyPoints is a program you'd like to try.

Summary
MyPoints will help you earn money in various ways, including when you shop online. Some points earning options with MyPoints are pure profit. Others require you to spend money via online purchases.
Pros
Selection of retailers
Easy to use
Reputable company
Cons
Eligibility on surveys
Customer service
Product pricing
What is MyPoints
MyPoints is a rewards program that gives you up to 40 percent cash back when you make online purchases at nearly 2,000 top retailers.
Some of the retailers that partner with MyPoints include Walmart, Target, Home Depot and Kohl's.
Founded in 1996, MyPoints is one of the longest-running shopping cashback rewards sites.
MyPoints is currently owned by the rewards site giant Prodege. Prodege, which launched Swagbucks in 2008, purchased MyPoints in 2013.
How Does MyPoints Work?
MyPoints helps you earn cash back via online shopping and some other avenues as well. When you earn points, called MyPoints, you can trade those points in for rewards.
Some of the rewards MyPoints has available include travel miles, PayPal cash and gift cards. If you like to shop online and spend time online in general, you can make some serious cash with MyPoints.
It is free to sign up for a MyPoints account. MyPoints makes money when you shop through the MyPoints portal. They get a commission from the retailer and split it with you. That's how the site funds your earnings.
How to Make Money With MyPoints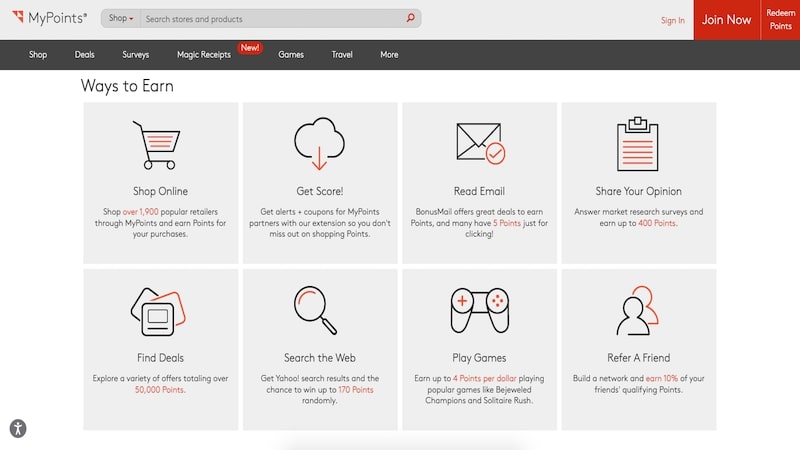 So here's how you can start making money with MyPoints by earning points. Although you'll receive the most points by shopping online, you can get them in other ways as well.
Here's a brief rundown of each of the ways you can earn points with MyPoints.
Online Shopping
The way to earn MyPoints when you shop online is by accessing stores through the MyPoints portal.
Then you need to be logged into your account and access stores you want to shop at through your MyPoints portal.
In other words, if you don't buy via this route, you won't earn your cash back dollars.
Note that not every online store partners with MyPoints. However, with over 1,900 stores to choose from, you'll likely find at least some stores you like to shop at in the MyPoints venue.
Some of the more popular stores MyPoints partners with include:
Target and Walmart
Groupon and eBay
Lowe's Home Improvement Stores and Home Depot
L.L. Bean and American Eagle Outfitters
Bed, Bath and Beyond
Bath and Body Works
Overstock
You can also earn cash back when shopping on travel sites like Travelocity and Expedia. And when staying at participating hotels. See the MyPoints website for a complete list of participating stores.
Sharing Your Opinion
Also, you can get MyPoints by taking market research surveys. The surveys allow you to give your feedback about products and services so companies can improve the products and services they sell.
Watching Videos
On the MyPoints homepage, you will find another section that shares videos you can watch. And you'll earn points for each video you watch.
The videos cover a variety of subjects, such as:
Parenting
Politics
Sports
Entertainment
And there are other topics too. Each video summary shows you how long the video segments are and many points you can earn by watching them. You'll know this information before you start watching.
Note that you're not going to earn huge amounts of points for watching videos, but if watching videos is something you do anyway, you may as well get paid for it.
Take Advantage of Deals
You can take advantage of a variety of "deals" from MyPoints. For example, a deal might be a discount on a product, service or program. Or it might be a travel package.
When you purchase a deal, you earn the points specified on the MyPoints deal page. As with other points, you can then use them to get PayPal cash or gift cards.
However, most deals come with the need to spend money on something.
Local Deals
You can also earn points on what MyPoints calls "local deals." This means MyPoints will give you points when you make purchases through your local Groupon or LivingSocial sites.
Playing Games
MyPoints will give you points for downloading and playing the games they've got on their site. If you like to spend time playing online games, this could be a good way for you to earn points.
However, it's important to know that you need to spend money playing most of the games on the site.
The points you earn won't offset what you pay to play the games, so this might not be the best feature to use if you're looking to use MyPoints as a way to earn money.
Printing and Redeeming Coupons
MyPoints has a coupon section where you can print coupons for in-store shopping. When you print and redeem the coupons, you can earn points.
The nice thing about this MyPoints feature is that it will help you save cash at the grocery store on top of earning you points.
Referring Friends
Another way you can earn points on MyPoints is by getting friends and family members to sign up for the program. What's cool about this feature is that it's the gift that keeps on giving.
Here's how it works. You get a small number of points just for getting each person to sign up. At this writing, MyPoints was paying 25 points for each qualified referral sign up.
However, you also get additional points when your referred people use MyPoints. Every time your referrals earn at least ten points, you get awarded ten percent of their earned points.
In other words, if your referral earns 1,000 points, you earn 100 points. If you find you really like the program, and know others who would be interested in using it, this could be a great way to increase your earnings.
Search The Internet
MyPoints will also give you points when you install and use the MyPoints toolbar to do internet searches. However, earning points this way is a "luck of the draw" thing. Some searches will earn you points while others won't.
Reading Your Emails
MyPoints sends you emails called "BonusMail" that include more great offers. Many of the BonusMail offers will give you points just for reading them.
How to Redeem Points From MyPoints
When you're ready to redeem the points you've earned on MyPoints, here's what you need to know.
First, there is a minimum number of points you need to earn before you can redeem or cash out.
The minimum number of points you need to redeem for a gift card is 480 (as of this writing). The minimum number of points needed to redeem for cash is higher.
When you're ready to redeem your points, just look at the upper right-hand corner of your screen after you log in. You'll see your name, your total accumulated points and a little rewards icon.
When you click on the rewards button, you'll get a drop-down menu. That menu will show you your retailer gift card options.
Rewards are listed by denomination. Just choose the denomination amount and retailer you want to purchase with your MyPoints.
Then you need to check out with your rewards. Most retailer gift cards arrive within three to ten business days in your email inbox.
If you choose to get a PayPal reward with your points, you must have an active PayPal account. PayPal rewards typically get credited to your PayPal account within five business days.
As an added option, know that you can choose a Visa gift card as another way to get cash for your MyPoints points as well.
MyPoints Customer Service and Security
Customer service on the MyPoints website is limited. There is no customer service phone number or live chat option.
However, the site does have an extensive "help" section where you can get frequently asked questions answered. And they do have a "submit" form where you can submit questions you don't find answers to in the help section.
You also might be wondering about site security. Since you have to do your online shopping through the MyPoints portal, you'll be sharing your credit or debit card information on their site.
MyPoints says client privacy and security is very important to them. They safely store credit card data in a secured, encrypted environment.
The secured, encrypted environment MyPoints uses has been certified as compliant by the Payment Card Industry Security Standards Council.
Still, even with encryption and security, it's a good idea to use a credit card instead of a debit card for online purchases.
Other Things to Know About MyPoints
Here are some other things you might want to know about MyPoints.
Making Money Often Means Spending Money
It is free to sign up for a MyPoints account; yet, you will find that you often have to spend money to earn points. And the money you spend often outweighs what you earn.
It's not a truly free way to earn money unless you focus solely on the non-spending ways to earn, such as taking surveys. Therefore, it's important to keep an eye on what you're spending to participate in the program.
For instance, if you're spending money you wouldn't normally spend just to earn points, this might not be the best site for you to use.
However, if you're getting great deals on the stuff you'd buy anyway–and earning points–MyPoints could be a great way to earn some extra cash.
You May Not Qualify for All Surveys
Some people have noted on review sites that they have a hard time qualifying for surveys with MyPoints.
When companies use market research firms to improve products and services, they typically want feedback from the people group they're marketing to.
If you don't fit the target market of the companies looking for market research data, you won't qualify for surveys.
The information you provide could limit the number of surveys you're eligible to participate in.
Rules for Earning Cash Back
It's important when working to earn cash back for online shopping through MyPoints that you adhere to the MyPoints rules. For instance, you need to access the stores you shop at through your MyPoints portal.
Besides, be sure you're only using the coupon codes provided to you by MyPoints. Using other coupon codes may disrupt the MyPoints tracking system and void your points earning.
In addition, you'll want to be sure to finish your purchase promptly. Closing the browser window you use while shopping, or waiting too long to complete a purchase, may interrupt the MyPoints tracking system.
Following the MyPoints shopping rules is vital. If you don't, and fail to earn your points or cash back, MyPoints typically cannot reimburse you for the points or cash back you would have received.
Also, note transactions that are canceled or returned items will result in a reversal of points awarded by MyPoints.
If you need to do an exchange on an item you purchased, you'll want to do that through your MyPoints portal to keep the points you've earned.
Using Points for Travel Miles
MyPoints partners with United Airlines so that you can use your points for traveling.
When you've reached the minimum number of points required, you can redeem your points for MileagePlus award miles under the United Saver Awards program.
The minimum number of points you need to redeem them for the United Airlines awards program is 25,000. Note that it can take up to six to eight weeks for your redeemed points to post to your United awards account.
Using the Referral Program
We mentioned the referral program above, but there are other things you should know about it. First, you will earn points (ten percent) on any points your referral earns, except for BonusMail points and survey non-qualification points.
Also, there are no limits to the number of people you can get points for, as you make referrals. However, your referrals have to use the link you give them (your personalized link from your MyPoints account) to open their MyPoints account.
If the person you refer has already signed up for a MyPoints account, you won't get your points. The referral has to be a new member and has to complete their registration and verify their account.
And your referred member can start their referral program as well. As a qualifying referrer, you will only earn points on referral member activities that earn at least ten points.
Any activity they complete that earns them less than ten points will earn you zero points.
Pros and Cons
In our review posts, we list a summary of the pros and cons of the program or product we're reviewing.
Here are some of the main pros and cons of using the MyPoints rewards program.
Pros
Cashback on online purchases for nearly 2,000 retailers
A large selection of retailer gift cards as rewards, including cash back
Easy user interface
Trustworthy company with a long-running history in the rewards business
Cons
Most points earning avenues require you to spend money
No live chat or phone customers service access
Eligibility for surveys is hit or miss
The other "con" you may want to keep an eye out for is in the shopping online portion of MyPoints.
In browsing the online shopping portal for some stores, at times I do find that some of the prices are higher on MyPoints than they would be if you bought from the stores directly or searched for other deals.
Therefore, you may want to keep an eye on prices and do some price checking when you are shopping through the MyPoints online portal.
Apps such as the Honey extension app can be a good way to help you find the best deals when you're shopping online.
Alternatives to MyPoints
There are a couple of sites that have a lot of similarities to MyPoints.
Swagbucks
Swagbucks is another site where you can get paid for various different tasks.
It is also owned by the same company as MyPoints, so you may see some similarities in how they function.
InboxDollars
InboxDollars is a similar GPT site where you can make money by taking surveys, reading emails or even searching the web.
It has been around since 2000 and has paid out over $80 million so far.
Summary
MyPoints has a Trustpilot score of 4.4 out of 5 and an A+ rating with the Better Business Bureau.
I like that there are so many ways to earn rewards points. But most of the points earning options result in minimal rewards. So, if you're looking to earn some serious cash, you'll want to look at some other side hustle options.
Also, regarding the shopping points, you might be able to find better prices for what you buy if you shop on your own.
My advice is to compare the prices you see on the MyPoints portal to prices you find without using MyPoints to ensure you're getting the best deal.