There are coupon websites where you can print out coupons and others where you can scan right at the register from your smartphone.
Here are some of the best coupon websites that are user-friendly and can help save you money on everything. From clothing to personal goods and more, they have deals for you.
The Top Coupon Websites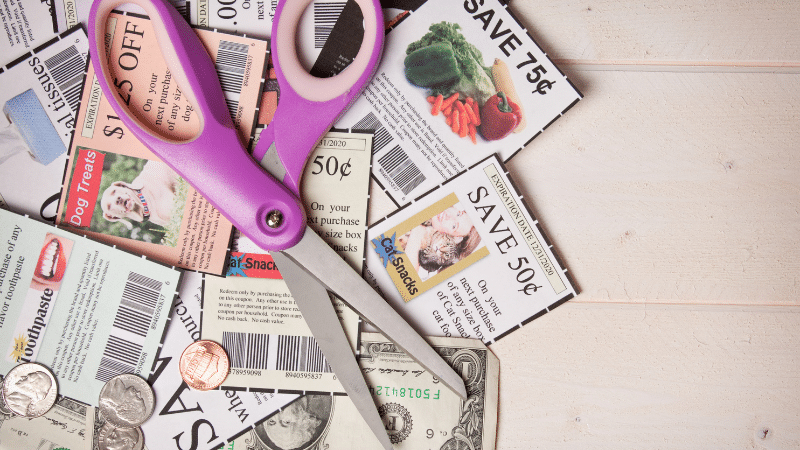 CapitalOne Shopping
Automatically applies coupon codes plus brand loyalty rewards.
Tada
You can save money by getting up to 20% off your grocery purchases.
Swagbucks
Get coupons and make money with surveys & watching videos.
There are many places for you to get coupons to help save money on purchases.
Here are the best coupon websites listed in alphabetical order.
1. Amazon Coupons
As the name implies, Amazon Coupons are usable only for purchases made at Amazon.com.
They have coupons available for all Amazon users. However, there is a disclaimer on the site that reads "Some coupons may be only available to Prime members."
The Prime Members coupons are identifiable by the "Prime Pantry" logo on the coupon. Using Amazon Coupons is a great way to get an extra discount on Amazon's already low prices.
2. Brad's Deals
This coupon site features discounts on goods at over 3,800 stores. Brad's Deals works with retailers to get you deep discounts on everyday items.
For instance, you'll find deals on clothing, household goods and jewelry.
When I was searching the site for this article, I found a diamond tennis bracelet with a final price of $26.39 – woohoo! In order to get their deals, however, you need to click through to the store website via the Brad's Deals website.
If you don't, the advertised deal won't show up. The site also features a blog that shares a variety of money-saving tips. In addition, it shares the best credit card offers and current freebie deals.
3. Capital One Shopping
Capital One Shopping is a great tool for earning and saving money as you shop. The Capital One Shopping browser extension automatically redeems coupon codes for instant discounts.
The browser extension is free to use. You don't have to have a Capital One bank account or credit card to use. However, with the Capital One 360 online bank account, you may use Capital One Shopping to show brand loyalty.
Disclosure: Capital One Shopping compensates us when you get the browser extension using the links provided.
4. Coupons.com
Coupons.com is one of the best coupon websites. You can use the site to get coupon codes. However, if you'd rather print coupons for in-store use, their "click, print, and save" method is a breeze.
When you go to their site, you'll see scores of printable coupons offering money savings. They have deals on nearly every product you could imagine.
Other things the site shares include cashback offers and their "the good stuff" section. This section has info on special items such as holiday-specific deals. It also contains their "deals of the day".
5. Coupon Cause
If you like the idea of making a difference when you shop, you might want to check out Coupon Cause. Coupon Cause gets paid a commission when you take advantage of coupons and other shopping discounts.
The company donates a portion of the commission they earn to a charity of their choice. Some of the charities this company supports include the World Wildlife Fund and Unicef.
Coupon Cause has discount coupons for a variety of stores, restaurants and travel sites.
6. CouponFollow
CouponFollow is yet another great coupon site to help you save money on groceries and more. Their mission is to help you find savings on every purchase.
We found they have over 23,000 followers on Facebook. This may be due to the tools they provide to help you save.
One tool we like is Cently. This Chrome extension automatically looks for coupon codes and applies automatically. This way you don't have to search the web and can avoid advertisement scams.
Other tools they use include Smilematic which ties to your Amazon Smile account, Millennial consumer trends, Military discounts, and more.
7. Deal News
The staff at Deal News personally reviews deals every day. This helps you find the best deals around on items you want to buy.
They limit their offerings to the "best 300 deals we can find". This makes it easier for customers to avoid pseudo-savings and go straight for the money-saving gold.
Deal News shares the best deals on clothing, travel, electronics and more.
They also have a commitment to giving back. They support many charitable organizations such as the Red Cross and the ALS Association.
So when you use Deal News, you can feel good about your purchases. You're saving money and helping them give to those in need.
8. DontPayFull
DontPayFull's mission is to help you pay less and save more. They've been working since 2012 to bring you money-saving offers.
Their site is very easy to use. Simply type in the name of the store, offer or brand you're looking for.
The DontPayFull site will show you all the available offers. In addition, it'll give you direct links to the site they're on.
With this coupon site, you'll find offers from over 100,000 stores. You can find discounts at stores like Walmart, Target, and Amazon.
Or on lesser-known retailers around the world. The site is easy to navigate and can show you where thousands of discounts are.
One thing I really like about the site is its automatic customization feature. When I click on the Walmart link, it'll bring me right to deals for my hometown Walmart store.
If you want to make it even easier to find deals, you can create an account. Accounts are free, and then the deals will come right to your email inbox.
9. Entertainment Coupon Book
The Entertainment Coupon Book company has been in business since 1962. They started out as a coupon book company to help raise money for schools.
They have officially gone fully digital. For those of us that love our coupons, you will still have the option to print at home. Simply download the app or go online and start using your digital coupons.
The digital membership is just $2.99 a month or $24.99 annually. And you'll get 2-for-deals and 50% off coupons to dozens of stores and restaurants near you.
Learn More: Entertainment Book Review: Will It Save You Money?
10. Free Shipping
Free Shipping works a bit differently than the other sites we've talked about so far.
When you shop through Free Shipping, it allows you to compare prices from various stores. This way you can get the best price on the items you want.
On top of that, they give a minimum of ten percent cash back on purchases.
As an added bonus, free shipping will give you a rebate on any shipping charges you have to pay when you make a purchase through their site.
One caveat: it costs $12.97 a month to be a member of their site. However, they do offer a trial period so you can try the site. This way you can see if the money savings for your shopping habits will outweigh the membership cost.
11. Frugaa
Frugaa works to bring customers the "latest working coupon codes that will help you save money on your purchase." Total active coupons when I visited their site? Over 45,000.
Their home page features the hottest current deals. However, you can also search the site for a specific store or category.
They've got a pretty expansive deal list.
I didn't see "Automotive" on their sidebar category list. However, when I typed the word "automotive" into their search bar, it returned 858 results.
They had deals for a variety of different discounts such as tire purchases and auto store website purchases.
12. Groupon
You've likely heard of Groupon. They offer great deals on restaurants from fine dining to local cafes. They also have travel deals (the Bahamas, anyone?) and on goods and services.
Their Getaway deals range from packages for local sporting events to faraway excursions to exotic places.
You'll find offerings for deals on just about everything. They've got spa packages, jewelry deals, electronics deals, and more.
As an added bonus, they offer coupons for over 11,000 stores. There's definitely no shortage of great deals on Groupon. We like to use the site to save money on our monthly entertainment budget.
13. Hip2Save
Hip2Save offers big money savings on specific brands and items and at specific stores as well. They also feature videos and a rewards program.
In addition, they share tips on everything from saving money to their favorite recipes.
They've got a "freebie" section too. That section shares birthday freebies and other special freebies for site users.
14. Honey App
The Honey app is a free app that does your coupon hunting for you. When you shop using the Honey browser extension, Honey will scour the net for you and find any available coupons for items you're shopping for.
Then just click on the deal it shows you if you want to take advantage of it. Your savings will automatically be applied. Best of all, the Honey app is free!
Bonus: Honey has a Gold membership that allows you to earn additional cash back for purchases.
15. The Krazy Coupon Lady
One of my favorite things about The Krazy Coupon Lady site is that they'll show you how to combine coupons from different sources. This feature allows you to get THE best deal on the things you buy.
Example: Walmart sells Cake Mate candles for $1. The Krazy Coupon Lady has a coupon for $1 off one Cake Mate decorating item. Final price? FREE.
This coupon site shows you ways to get the most off of what you buy. It offers crazy big money savings!
16. Price Blink
Price Blink is a free plug-in for your Chrome, Firefox or Safari browser. It's a pretty cool deal, actually. Let's say you've installed the plug-in on your browser and you're shopping for a camera.
The Price Blink add-on will compare the current site's prices with other sites which offer the same product. This will help you get the best current deal on the camera.
It will also search the web for any coupons that might apply to the product you're shopping for.
Added bonus: Price Blink shows you reviews listed around the web that you can search through. You can research before you buy so you can make sure to buy a product you'll be happy with.
17. PrintableCouponsandDeals.com
Like many of the sites listed here, all you need to do to get money saving coupons is to click on your coupon and hit the print button.
PrintableCouponsandDeals.com has coupons in several categories, including:
Baby items
Baked goods
Cleaning items
Frozen foods
And others. They even have a section for equine coupons and for medications. They also have a section for coupons for gluten-free items, which is a nice bonus.
18. Rakuten
Rakuten is a coupon site that gives you cash back for your shopping purchases. You can get up to 40% back depending on the store. Currently, they feature over 2500 stores to choose from.
Bonus: Their new smartphone app allows you to get cash back on in-store purchases as well.
Another fun thing about Rakuten is that you can get your cash back several ways. They allow you to get cash back via a check or a Paypal payment.
Or, they have a third option that allows you to donate your cash back. They'll send your cash back right to your favorite charitable organization.
19. RetailMeNot
RetailMeNot's website has over 500,000 coupons for over 50,000 stores. You can search for coupons with them by going online from your computer. RetailMeNot can save you money in a variety of ways.
They offer:
Gift cards at discounted prices (delivered online almost immediately)
Coupon codes
Printable coupons
Stores currently offering free shipping
Cash back offers
Travel discounts
They've also designed their site so that it's super easy to use.
20. Savings.com
Savings.com offers coupons from a variety of stores including The Gap, Kohls and Macy's. You can sort discount offerings by category for easier shopping, too.
They also feature a section with local offerings for restaurants and stores in your area. I even found coupons for stores and restaurants in our small town of just 4,000 people!
In addition, they have a blog and occasion-specific deals as well.
21. Slickdeals
Slickdeals is another popular coupon site that opens up with its Featured Deals and their Frontpage Slickdeals. These are defined as "some of the best deals on the Web in the last 24 hours according to our editors and our community".
Slickdeals has a huge emphasis on community. It allows members to share deals they've found on the Web. That way the site can expand their money-saving offerings to website visitors.
Part of their "community" section includes forums. Forums are where members can share and ask about deals they've found or are looking for.
22. Southern Savers
Southern Savers isn't just for Southerners. It's a coupon website for anyone who wants to save money. This blog site has over 1.5 million members that take advantage of site owner Jenny's knack for finding valuable coupons.
The site shares coupons for grocery stores, clothing stores, big box stores, and more.
One cool thing about this site is that it says right next to the coupon whether it's printable coupons, a text coupon or whether you need to sign up for their email list to get your coupon.
23. Swagbucks
You might know Swagbucks for its ability to help you earn money by searching the net, taking surveys, and playing games. However, Swagbucks members also get access to money-saving coupons.
It's free to sign up, and in some cases, you get cash back for online shopping in addition to your coupons.
24. Tada
Tada, formerly Shop At Home, is another one of the best coupon sites that focuses on giving you money back for online shopping. You create a free account, then browse their thousands of deals.
When you buy, the store pays Tada for referring you. In turn, Tada passes those savings on to you.
You can choose to get your cashback in the form of an Amazon gift card. Or you can get it in your Paypal account or via a check in the mail.
Know that you have to be logged in to the Tada site in order to earn cash back on your purchases.
Summary
In today's world of online shopping coupon websites, there's almost no reason to pay full price for anything.
Why spend more than you should when you shop? Take advantage of the best coupon sites that will help you save even more money.