Do you want to make extra money online? Swagbucks is one of my favorite side hustles you can make money with a variety of tasks.
In this Swagbucks review, we will help you decide if the platform is worth your time. You will also learn how to find the highest-paying activities quickly.

Summary
If you are looking for a way to make money by doing almost anything online, Swagbucks is a great option. You won't get rich from it, but it's a good side income idea that almost anybody can make money from.
Pros
Multiple ways to earn
Most tasks take minutes
Gift card rewards start $1
13 or older to play
Cons
Spend to earn
Low payouts for certain tasks
Qualifying for some surveys
What is Swagbucks?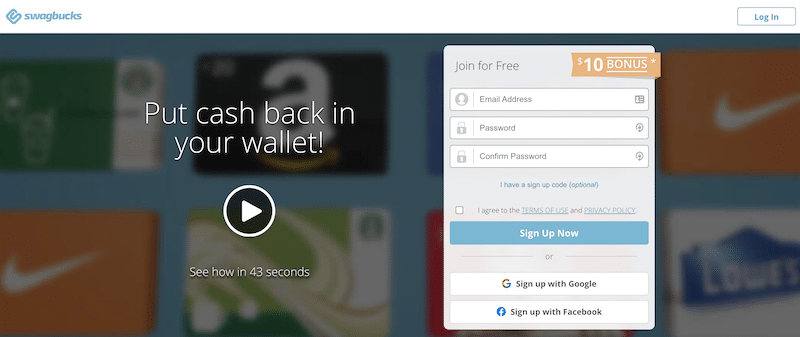 Swagbucks is a website where you can get free gift cards, and make money for various tasks all while being 100% free to join and use.
Some activities require you to make a purchase to earn cash, but Swagbucks never requires you to spend money to remain a member.
Most tasks take 10 minutes or less to complete and don't require a special skill. You can also redeem your rewards for gift cards as small as $1 for frequent payment.
You only need a valid email address or Facebook account to register. If you plan on getting paid in cash, you also need a PayPal account.
But, you can create a PayPal account later on. Note that there are other payout options besides Paypal cash.
Is Swagbucks Legit?
Yes. Swagbucks is a legit site owned by a company called Prodege. They have a rating of 4.3 out of 5 rating with over 27,000 reviews on Trustpilot.
They also have a A- rating with the BBB. Most of their complaints are people having issues accessing their accounts.
However, Swagbucks appears to very responsive on their BBB page in getting issues resolved.
How Does Swagbucks Work?
Swagbucks is easy to sign up with and easy to use.
You can join for free by filling out your email and creating a password using the box in the upper right-hand corner of the Swagbucks website.
Depending on when you join, there may be a sign up bonus available. After you've completed the initial sign up process to create a Swagbucks account, you'll get a verification email.
Once you've verified your email, you can begin completing activities that will earn you SB points such as taking surveys.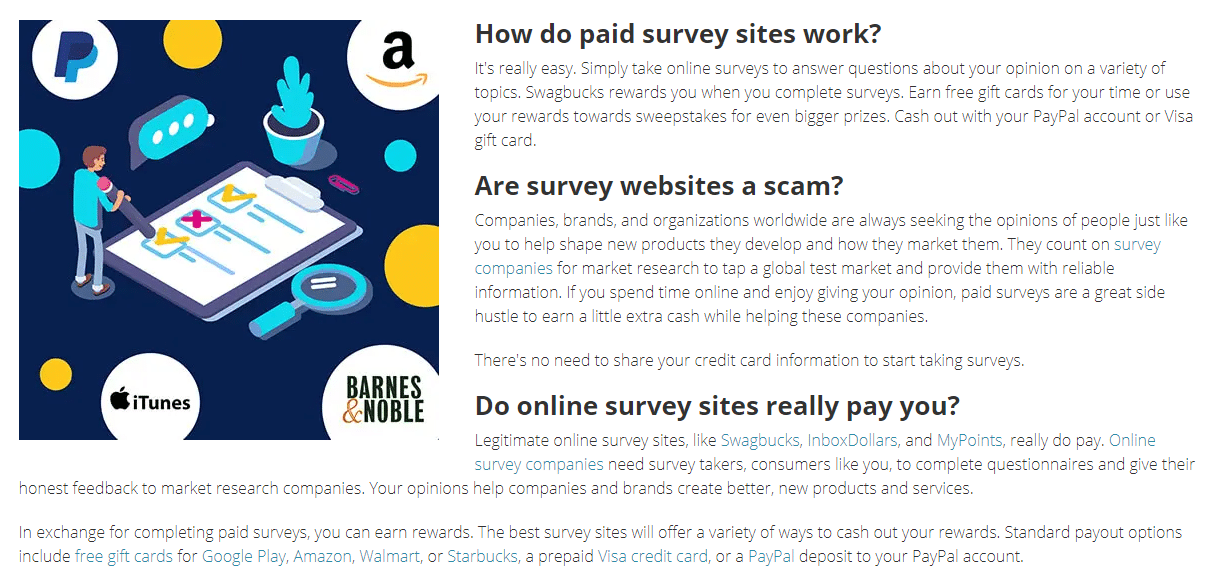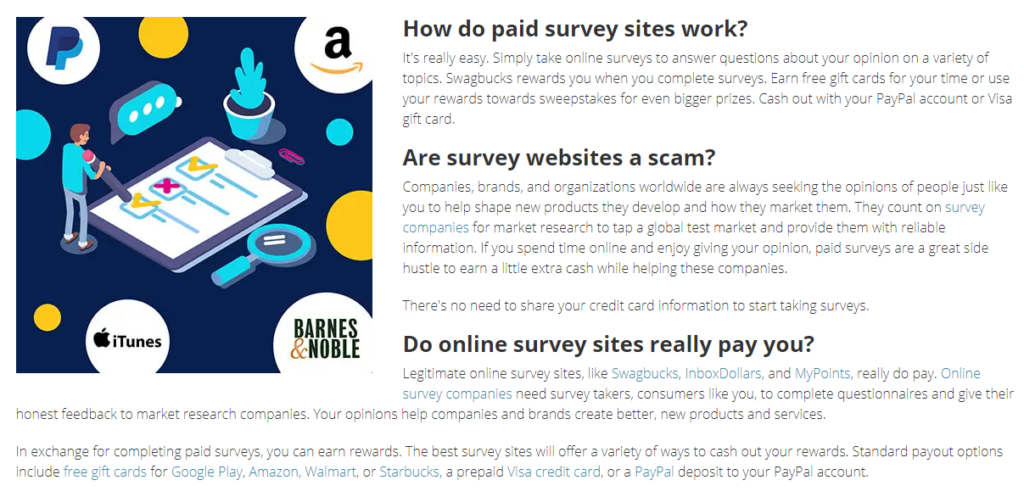 Note that providing Swagbucks with complete profile information will help you to be eligible for as many points-earning tasks as possible, especially when it comes to surveys.
For that reason, you won't want to skip that important step of completing your profile thoroughly.
Who is Swagbucks For?
You have to be at least 13 years old to join Swagbucks. Membership is open to most countries.
Even if you live outside North America or western Europe, you can try making a Swagbucks account.
Swagbucks can be a great option for teens to make money online as many side hustles are for adults only.
As an additional bonus, new members can earn bonus Swagbucks that can be turned into free gift cards and PayPal cash when joining!
How Can I Earn With Swagbucks?
You can finally monetize a hobby or stop wasting your free time by using Swagbucks. The secret to making Swagbucks worth it is finding the activities that you excel at.
There are seven ways to make money using Swagbucks:
Answer paid surveys
Watch videos
Shop online
Search the Internet
Play games
Test new products
Complete tasks online
For each task, you earn Swagbucks rewards points called SBs. The minimum payout for each action is 1 SB.
Some activities can pay up to 4000 Swagbucks points which are worth $40.
These points can be redeemed for gift cards or extra money via PayPal.
Each earning option has different payouts. You need to choose the ones that have a higher payout for the shortest time commitment so you can "work smarter, not harder.
Answer Surveys
If you enjoy getting paid for surveys, Swagbucks has plenty of online surveys to choose from.
I like being a Swagbucks member because I can attempt several surveys each day.
Each survey varies in payout and length. Most surveys take between three and fifteen minutes, but some are as long as thirty minutes.
If you have the extra time, you should consider pursuing the longer online surveys as you can make more money and even get gift cards.
When looking for a survey, pay attention to these two tidbits:
Time to Complete
SB Amount
Like most survey sites, you will need to answer a few screener questions to qualify for the full survey. If you don't qualify, you earn 1 SB for your effort and can try again.
Bonus Tip: Each day, complete the Daily Poll to earn 1 SB in a matter of seconds. All you have to do is answer a single multiple choice question, and you get paid.
Note that each survey looks for different demographical parties. So if you find that you don't qualify for a survey, it's likely because you don't fit the inquiring company's target audience.
For example, a 70-year-old man probably won't qualify for a survey that asks parents about the diaper habits of their under-two-year-old.
Try not to get discouraged if you don't qualify for a few surveys. Simply keep trying.
And, as mentioned earlier, be sure you fill out your Swagbucks profile completely so you can avoid getting surveys that you won't qualify for.
Watch Videos
Swagbucks members earn money by watching videos that cover many different topics. Some of the topics include current news, sports and fashion and.
Most videos earn one SB and are one minute or less. On average, you can earn over 30 points per day on videos that you can redeem for extra cash.
When possible, look for nCrave and sponsored videos where you can watch a 30-second commercial.
These videos award more Swagbucks points than standard viewing options.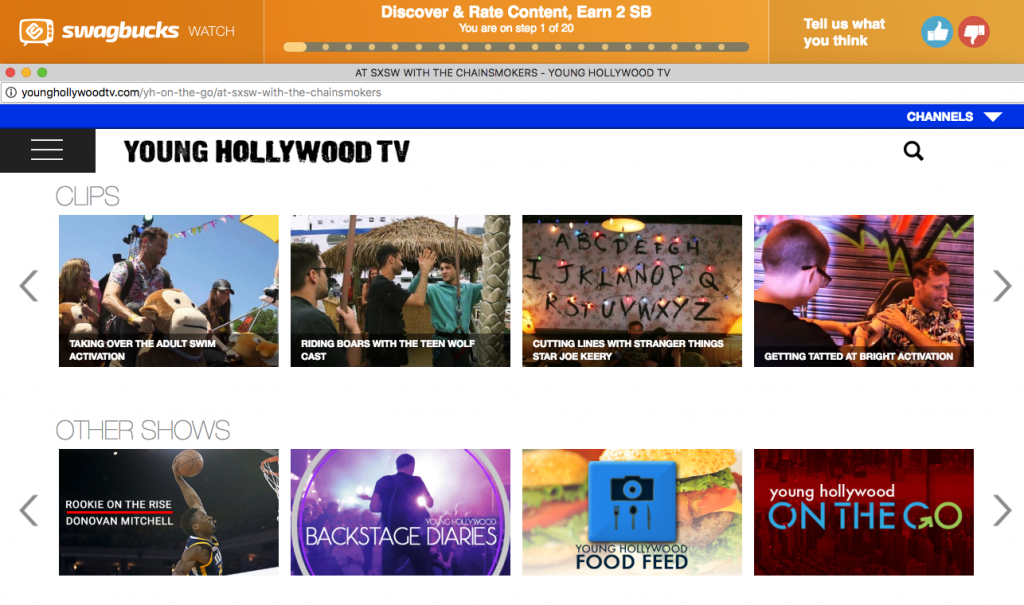 Besides the nCrave and sponsored videos, there are other better-paying ways to watch videos online.
Play Games
Swagbucks pays you to play free Swagbucks-themed games and paid games on networks like GSN.
For paid games, you need to buy coins to earn four SB points per dollar you spend.
Some of the games include Bejeweled, Wheel of Fortune, and Solitaire.
You can also earn points by downloading free games for your phone. It's possible to earn between 300 and 5,500 points by playing these mobile games.
These points can then be used to redeem gift cards or even be converted into PayPal cash.
Swagbucks members must reach a certain level playing games to earn rewards.
Depending on what type of games you like to play, this may or may not be a good use of time.
If you like to get paid to play games online, Swagbucks is a good option, but other avenues are more lucrative.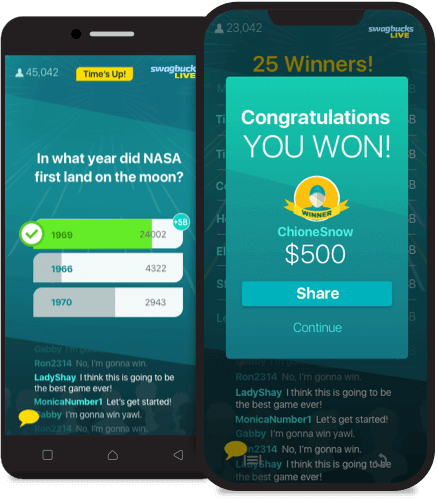 Get Paid to Shop
If you currently use a cashback portal like Rakuten, the Swagbucks shopping experience is very similar.
You earn rewards points by making purchases while shopping online.
It's possible to earn up to 40% cash back at almost any online store, making this a very lucrative option. However, most online stores award between 1% and 10% back.
You can also earn Swagbucks for in-store purchases and scanning your receipts.
Like grocery rewards apps, you activate offers for specific products. After buying the item at a participating store, you scan your receipt with the Swagbucks app.
Since you already shop at these stores, make the extra click to get paid to shop.
Note that getting cash back rebates when you shop at Swagbucks is going to be one of the lucrative earning options available.
The key is in not making purchases simply to earn cash back. Instead, stick to buying what you would buy anyway–just do so through the Swagbucks website so you can earn your cash back.
Print Grocery Coupons
You can also save money and earn money by printing grocery coupons from Coupons.com.
Each coupon you print earns 2 points and 25 points when you redeem it. This is kind of a double-dip way of earning because you'll get cash off at the grocery store when you redeem the coupon as well.
Try New Products
In the Swagbucks "Discover" section, you get paid to test new products. You can expect offers to download mobile apps or to try new subscription services.
Most offers are free. But there are plenty of offers that require a purchase before you earn points. These paid offers have higher payouts to reimburse your purchase.
The best offers can let you earn as many as 10,000 SB points ($100) for doing activities like opening a new bank account.
Swagbucks is constantly updating the offers so check the offer walls regularly.
Search the Web
There are two ways to make money surfing the web through Swagbucks search engine.
These include:
Using the Swagbucks.com search bar
Making the Swagbucks search engine your default search option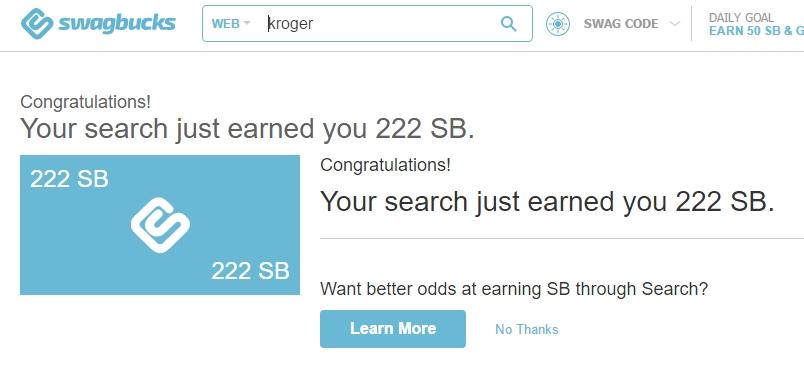 Some frequent Swagbucks users earn between 15 and 20 SBs each day because they perform several web searches a day.
Note that if you work online and do a lot of web research, you can earn SBs while you work.
You won't earn points for every web search, but it's an effortless way to earn points. The easiest way is to add the Swagbucks extension to your web browser.
SwagButton credits your web searches and online shopping purchases.
Whenever you type a search term into your internet address bar, the Swagbucks search engine results populate, and you earn SBs.
Complete Online Micro Tasks
The final way to earn money is to complete various online tasks. Each task only takes a few minutes to complete yet more complex than taking a survey.
Some of the different tasks you can get paid to complete include:
Transcribing audio
Verifying food ingredients and food item names
Most of these tasks require a computer instead of a smartphone to complete. You might have to transcribe audio or perform web research that is too hard to complete on a tablet or phone.
These microtasks are similar to what you find on Amazon's MTurk.
As with cash back shopping, you might find that microtasks pay out more than surveys and some of Swagbucks' other earning options.
Bonus: With Swagbucks, you can redeem you microtask points for Amazon gift cards too!
How Much Can I Earn with Swagbucks?
You're not going to replace your regular job's income with Swagbucks' tasks, nor will you find it a viable side hustle.
At best, you'll earn a few dollars a day. Swagbucks is designed more so to be something you can do to earn a bit of cash in your spare time.
Some people use their Swagbucks points to save up for gift cards in which they can buy holiday gifts with.
Or to get gift cards to their favorite restaurants. Another idea is to earn a few extra dollars a month to help you save money on groceries by getting free gift cards to Walmart and other stores.
But don't expect to earn life-changing money with the Swagbucks app. It simply provides a fun way to earn some extra cash when you're watching TV or waiting for appointments.
Swagbucks Reviews
| | | |
| --- | --- | --- |
| Website | Rating | Number of Reviews |
| Apple App Store | 4.4 out of 5 | 72K |
| Google Play | 4.2 out of 5 | 96K |
| Better Business Bureau | 3.85 | 1987 |
| Trustpilot | 4.3 out of 5 | 27k |
"Fun site with many opportunities to earn "Swagbucks." There is something for everyone here." -Karen A.
"It is almost impossible to qualify for any surveys, on the rare occasion I do qualify it will freeze up or inform me 30 minutes in that I do not qualify. " – Dawn R.
Most of the reviews we found for Swagbucks were quite positive. Swagbucks is one of the most highly rated get-paid-to sites and has been for several years.
Many of the negative complaints revolved around members having trouble getting credit for points from completed activities or around not qualifying for surveys.
There were some complaints about Swagbucks' customer service center as well.
Positives and Negatives
As with any app to make money, there are some pros and cons to joining.
Pros
Swagbucks can be a perfect side hustle when you:
Have 15 minutes or less to complete an activity
Only want one side hustle app
Don't need the extra income that comes with a time-intensive part-time job
Want to shop online
As one of the largest get-paid-to sites, Swagbucks can be a great option for teens and adults. You can name your hours and don't have the responsibility of a part-time job.
Plus, beyond answering surveys, you can use the Swagbucks referral program that pays cash when you refer people to the survey site.
Instead of wasting away your free time watching tv or surfing the internet, you now get paid and can redeem gift cards!
While it depends on how you want to earn Swagbucks worth rewards, the most lucrative options to earn cash include:
Shopping online
Testing products
Taking surveys
Surfing the web
Almost anyone can benefit from Swagbucks because this site pays you to do anything you already do online. Swagbucks makes it convenient to make money online.
Cons
Swagbucks isn't always the best way to make money online. If you only want to get paid for one activity, other online sites to earn extra spending money can be more productive.
For example, dedicated online survey sites like Survey Junkie might pay you more per survey.
This is because you can participate in focus groups and mystery shopping excursions that Swagbucks doesn't offer.
While you get paid for these activities, I try to avoid the following income streams:
Watching videos
Playing games
Entering contests
In my opinion, the effort required for these tasks doesn't always justify the payment amount. I usually focus on taking surveys, watching videos, offers, and online shopping.
These three activities are worth your time and are a great way to earn money online.
If you're looking to make passive income or replace your day job, you will need to pursue other avenues.
Swagbucks is a good side hustle idea, but it won't replace a part-time job.
I earn Swagbucks rewards in my free time, but I still pursue other side hustles with better pay opportunities first.
And that's one of the keys to successfully working on multiple streams of income: Choose the streams of income that bring in the most money for you.
Obviously, income isn't the only factor to consider when you work to earn money. However, it's smart to choose earning avenues that make the best use of your time.
Summary
If you're looking for a way to make extra money by doing almost anything online, then consider going with Swagbucks. Swagbucks is legit.
You won't get rich from it, but making extra cash online can be a productive use of your free time if you're not doing anything else at that moment.
If you're going to be browsing the net, watching videos and playing games anyway, you may as well earn some money while you're doing so.
Even if you only use Swagbucks for online shopping, as a search engine or for answering surveys, you will still have fun while making money.
Have you ever used Swagbucks? If so, what did you think about it? Did you find it an easy way to earn a few extra dollars in your spare time?