Since time can be so limited as a teenager, finding an online job may be the only option that fits with your schedule.
Not only is working online flexible, but you may also be uniquely skilled for online jobs since you're likely comfortable with technology. You can find anything from traditional customer service jobs to selling products online.
There are a lot of online jobs for teens to earn cash, and the minimum age requirement can vary. Here are some of the top options.
Top Online Jobs for Teens
These days, there are a lot more opportunities to make extra cash as a teen. You can look outside of the typical part-time work at McDonald's or mowing lawns.
Thanks to the web and an endless variety of apps, many online jobs for teens are available. Here are some of the most popular picks.
1. Be A Customer Service Representative
Being a customer service representative offers a traditional job in an online setting. Well-known companies regularly hire customer service representatives. The reps work at helping clients who call their customer service center.
However, you won't work from a brick-and-mortar building. Instead, you can be a customer service representative right from the comfort of your own home. All you'll need is a computer, Internet service and a headset.
Some companies do recognize that there are many responsible high-school-age teens out there. For that reason, their minimum age requirement can be as young as sixteen.
Age Requirement: 16 years old
2. Fill Out Online Surveys
Survey Junkie is a survey site that pays teens for sharing their opinion. As a teen, you can sign up for free.
You start by completing a profile that tells all about you. Like other survey sites, this one will ask you to share your interests, your shopping habits, etc.
Survey Junkie uses your profile to match you with companies. They help companies looking to survey people with interests similar to yours.
When you complete online surveys, you can get paid through:
Complete surveys anytime, anywhere on most devices.
Age Requirement: 16 years old
3. Test Products
Are you interested in testing products and getting paid for it? Well, now you can. Companies love to get feedback on their products and are willing to pay.
One company that does this is Product Report Card. In addition to paying you to test products, they offer surveys to get your opinion about different products. You must be 16 years old to qualify.
Product Report Card is a decent way to make extra money as a teenager and it has a 4.4 out of 5 Trustpilot score.
Here are other options to make money if you are 15 years old.
Age Requirement: 16 years old
4. Sell Handmade Products
Etsy is a great site that allows you to make money by selling things you make.
Do you draw great pictures of different breeds of dogs? Can you knit? Are you a good woodworker? Do you have a knack for making trendy or unique jewelry? Are you good at creating invitations for weddings?
Whatever your talent, you can make your item and sell it on Etsy. People view your item, buy it, and pay you via PayPal. You ship the item safely to the address they provide for you.
Age Requirement: 13 years old
5. Get Paid to Search The Internet
Swagbucks pays teens to do many of the things they do anyway and will give you $10 as a sign-up bonus!
Unlike other online jobs for teens, you can earn online income by doing several activities.
Here are some of the ways to earn:
Search the Internet
Watch videos
Play games
Get paid to search the internet. With Swagbucks, you earn points by doing these simple online tasks. You have to be at least 13 years old to get started.
Once you earn a certain number of points, you can cash them in. Then cash in to get gift cards to your favorite stores.
Every 100 points you earn with Swagbucks is worth one dollar. Once you get up to 500 points, you can cash out your points for a $5 gift card or cash. Or keep playing and keep earning.
Age Requirement: 13 years old
6. Sell Textbooks
BookScouter helps people sell textbooks and other used books. They work to get you the most money for your books.
How? By comparing buyback offers from over thirty-five book buyback vendors. And you can do this with just one search.
As a teen, you might have a few textbooks laying around from school. If not, you can find some by hitting local garage sales.
If you live near a college campus, you could find a lot for sale. You can check out local thrift stores too.
Buy the books and re-sell those books for the highest price. Use BookScouter to help you find the highest paying vendor.
7. Design T-Shirts
My teen daughter has been making extra money by selling designs through the site CafePress.
She's been selling her designs for over two years now. Also, she has a few items for sale that contain popular phrases instead of pictures.
This is one of those online jobs for teens where the process is super easy. First, you create an account which is free. Next, draw a design you think will sell. Then upload it to your CafePress account.
CafePress and similar sites offer those designs for sale on various items.
Here are some of the items they sell with custom-made designs:
Sweatshirts
Laptop covers
Coffee mugs
Tote bags
Pillows
When a customer buys an item with your design on it, you earn money. The company pays you a commission based on the sale amount. They'll send you the money via a PayPal deposit.
Age Requirement: 13 years old
8. Offer Services For $5
The Fiverr website is a popular site where you can find online jobs for teens paying $5. And many of the jobs will pay you more than that.
You'll start by creating your Fiverr profile. Use it to share your list of services and talents. People needing help in your area of expertise can view your profile.
As a teen, you can offer your art, writing, and gaming skills. Or you can offer any other service for sale on your Fiverr profile. Also, don't forget to share the price you charge for each service.
There are ways to decide what you'll charge for your services. Some members base their price on how long the task will take to complete.
For instance, let's say your talent is to create a poem. If you can do that in twenty minutes or less, $5 is a great price to charge.
Age Requirement: 13 years old
9. Become a Freelancer
UpWork is a site that provides businesses with connections. They connect people who offer freelancing services with clients. This can be the most exciting online job due to the fact that it has endless possibilities.
"Freelancing" means that you don't work for a company when providing your skill. Instead, you work for yourself and manage your business on your own.
People and businesses searching for freelancing help from Upwork members could want services in several areas.
They might want help coding a website. Or they need someone to create a logo. Perhaps they need freelance video editors. You could even be hired to proofread a company manual.
Or you could work at writing articles for their website. Some companies want help with social media marketing for their business. If you have a skill in any of the many areas they offer help in, check out the site.
Their website shows areas of work they provide. Sign up to be an available freelancer and start earning cash. Plus if you are looking for part time work, this is a great way to get started.
Age Requirement: 18 years old
10. Sell Products Online
By working with eBay, you can make extra money in a number of ways. eBay focuses on selling things to others.
What do you have that you could sell? Do you create original artwork? You could post pictures of the artwork and sell that on eBay.
Do you have a knack for finding great deals at garage sales? Look for items that you can buy and resell on eBay at a higher price. Kids' clothes and toys tend to be good sellers on eBay. So do up-to-date used textbooks.
With eBay, there are two ways you can sell things. You can pick a specific price that you want to get for the item.
Or you can put it up for sale as an auction item. With the "auction" option, you choose how long you want the auction to last. And you choose what the starting bid price is.
Age Requirement: 13 years old (with guardian permission)
11. Become A Tutor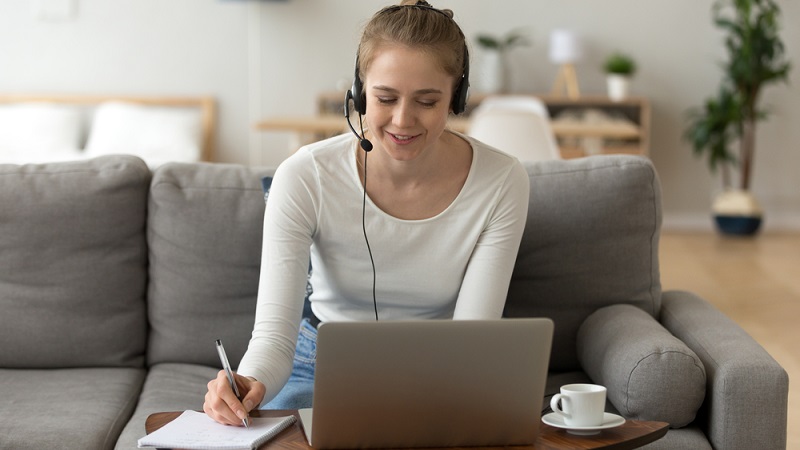 Are you good at specific school subjects? Do you enjoy helping others learn? If so, there are companies that will hire online tutors. Online tutoring jobs are for teens as young as fifteen or sixteen years old.
SameSpeak hires teens to teach English. You need to have English as a first language to work there. The reason is that you'll help others learn to speak natural English.
Tutors with SameSpeak earn $10 for every half hour of work. They'll provide English conversation for people who are trying to learn to speak English.
Some students are starting the language from scratch. Others want to learn to speak English more clearly and naturally.
The company also provides you with coaching materials and conversations. And they'll share clear instructions on how to give lessons. This will help you know what to say and how to help your student.
Age Requirement: 16 years old
12. Become A Voiceover Artist
Have you ever dreamed of being the invisible voice behind a commercial or cartoon? If so, there is legitimate work available for teens in the voiceover industry.
Voice-over professionals "hire out" their voices. They read the text you hear in TV commercials, animated movies and radio ads. Or other places where likable or unique voices need to be heard.
Do you think you would like to earn money by working in the voiceover industry? Then check out Get Traction in Voiceover by Carrie Olsen who shares practical advice on how to start a career as a voiceover artist.
As a voice-over artist, you may need your parents' approval and signatures for some jobs since they may require a legal contract to be signed. Who knew you could get paid for simply using your voice?
Age Requirement: Any age
Related: 15 Best Summer Jobs For Teens
13. Make YouTube Videos
Did you know that some of the people on the YouTube videos you watch make money? YouTube pays them every time people watch their videos. People make YouTube videos on many different subjects.
Some people share videos of silly things their kids or pets do. Other people make videos that show people how to make or repair something. And other videos show people how to play video games.
If you make a video that abides by YouTube guidelines, you can get paid real money when people view your video.
Teens can make money on YouTube by allowing ads to be placed on the videos they create. Or by endorsing products that they or other people sell within their video.
Check out the YouTube website for specific instructions. They'll show you how to make money with the YouTube videos you create.
Age Requirement: 13 years old (with parents permission)
14. Review Phone Calls
Have you ever called a company and got a recorded message? One like "This call may be recorded for quality purposes."
Those calls are reviewed for the companies. One of the businesses that does the reviewing is called Humanatic.
Humanatic hires teens to give feedback on the calls you listen to. The company can then use your feedback to improve their services.
If you are signed on with the company and complete a review, Humanatic pays you. They'll put money into your PayPal account for each review. Redeeming to your bank account is not available.
With Humanatic, you get to choose the hours you work. You can sign in and out whenever you want to.
Age Requirement: 17 years old
15. Review Music
Slice the Pie is a well-known website that pays teens for their opinions. You can share your thoughts on music and other things.
For instance, let's say you're reviewing music. You'll listen to a short clip of the music. Then you'll leave your opinion of the song on the Slice the Pie website.
Each review will earn you just a few cents. Some people say they earn from five cents to twenty cents for a review.
That might not seem like much. However, listening to the clips and leaving the review only takes a minute or two.
Once you've earned at least $10 in income, Slice the Pie pays you. You'll get a deposit into your PayPal account. The site doesn't offer bank account payments.
Do you want to get paid for listening to music? If so, this could be a good way for you to earn money online legally.
Age Requirement: 13 years old
16. Start a Blog
Do you have something to say? Would you like to share your knowledge with people on the Internet?
Why not start a blog? You can use your blog to make money via advertising and affiliate links.
You can have a blog up and running in ten minutes or less with your parent's permission. Then work to build up your readership and start making money online via affiliate links or ads within your blog.
Note that making money with a blog doesn't happen quickly. It will take time for you to gain readers and create a community for your blog. And this online job is a competitive field.
There are great resources on YouTube and more to get started.
Age Requirement: 13 years old
17. Work as a Virtual Assistant
Virtual assistants work to help bloggers and business owners stay organized. They also complete tasks for bloggers and business owners.
For instance, you might help a business owner manage their schedule. Or you might answer emails on their behalf.
People who work as a virtual assistant need to be organized and hard working. They need to be dependable too.
Learn more about becoming a virtual assistant by taking an online course. Then if you decide you want to, advertise your services on sites like Fiverr.
Becoming a virtual assistant is a great job for people looking for part time work or full time.
Age Requirement: 16 years old
18. Work as a Social Media Manager
Social media managers function similarly to virtual assistants. The difference is that the focus is solely on managing the social media accounts of bloggers and business owners.
As a social media manager, you would be responsible for posting information about a business or blog to the company's social media sites.
Having a good knowledge of how all types of social media work is needed in order to succeed at this job. If you don't, you could consider taking online courses to learn the basics.
The minimum age requirement can vary depending on the site you use. You can find work on Fiverr (13 and up) or Upwork (18 and up) in this field.
Age Requirement: 13 years old
19. Sell Your Stuff
If you're like most teens, you've got closets and drawers full of stuff you no longer need or want. Why not make some money by selling it?
You can post your items for sale on a social media site like Facebook Marketplace. Or you can use an online marketplace like Craigslist. Then get paid.
Remember to follow safety guidelines and never go alone to meet someone to sell your stuff. Meet in a public place, bring a parent or other adult with you, and let someone know where you're going.
Age Requirement: Any age
20. Become a Flipper
Another way to make money selling stuff is to flip items you find at garage sales or online. You can browse the "free" section on Craigslist, or find really good deals to buy stuff you know you can sell for more.
Now, it takes some knowledge of what things will sell for to be a successful flipper.
Of course, getting free items you can resell is the best, but even if you buy something for dirt cheap and resell it at a good profit, you can make some serious cash.
Remember to have your parents help you when you're dealing with buyers.
Age Requirement: 13 years old
21. Sign up with a Direct Sales Company
If you really like sales and you're passionate about a particular line or brand, you might be able to sign up with a direct sales company.
Working in sales means you'll have to spend a lot of time promoting your products. It's not easy work, but if you're successful you can make a lot of money. Here is one direct sales company that hires teens:
Origami Owl Jewelry: minimum age requirement of 11 and up through Origami Owelettes
Check with other companies to see if they'll let you become a direct sales representative. Note that most direct sales companies require you make at least a small investment in their product in order to become a sales rep.
In other words, read the fine print with the help of an adult before signing up.
Age Requirement: 11 years old
22. Play Games for Money
Do you like playing games online? Did you know there are sites that will pay you to play games? Certain websites will pay you to play games online.
Some of the most popular game playing sites that will pay you to play games are Swagbucks and Mistplay.
With most of these sites, you earn points that can be traded in for PayPal cash or for free gift cards.
Age Requirement: 13 years old
Related article: 23 Best Game Apps That Pay Real Money
23. Data Entry
Data entry is simply the process of putting information into a computer. If you have fast and accurate typing skills, this might be the online job for you.
Pay and the minimum age requirement depend on the company or person hiring. Most companies have a minimum age requirement of 16 or 18 to work doing data entry.
However, if you post your skills on a site like Fiverr, you might be able to find work with a minimum age requirement of at least 13.
Age Requirement: 13 years old
24. Proofreading
As with data entry jobs, proofreading jobs are often available for teens too.
You can advertise your proofreading skills on sites like Fiverr. Or you can check online job sites for proofreading jobs for teens as young as 16 to ensure you meet the minimum age requirement.
Note that you have to be very detailed and be able to spot errors in order to succeed as a proofreader. You can take an online course to learn more before you pursue this opportunity.
Age Requirement: 13 years old
25. Become an Instagram Influencer
Do you love trying out new products and sharing your opinions on the products? If so, you might be able to find work as an influencer on Instagram or other sites.
Now, this type of online business doesn't come easy. You'll have to do lots of reviews on products and get a large following on your Instagram or other account.
As your following grows, brands will pay you in the form of free products. If your following gets large enough, they could start paying you in cash. The larger your following, the more money you can make.
This is one of many of the best online jobs as an online influencer.
Age Requirement: 13 years old
Quick Comparison of Online Jobs For Teens
Company
Earning Potential
(1 to 5)*
Minimum Age
Uhaul Phone Rep
3
18 years old
Survey Junkie
2
18 years old
Swagbucks
2
13 years old
Product Report Card

2
16 years old
Bookscouter

2
18 years old
Redbubble
2
13 years old
Fiverr

3
13 years old
Etsy

3
13 years old
eBay
3
18 years old
SkimaTalk
2
18 years old
Voiceover

3
Any
YouTube
3
13 years old
Humanatic
2
17 years old
Slice The Pie
2
13 years old
Rover
3
18 years old
Blogger

3
13 years old
Virtual Assistant
4
16 years old
Social Media Manager
4
13 years old
OfferUp
2
13 years old
Flipper
3
13 years old
Origami Owl Jewelry

2
11 years old
MyPoints
2
13 years old
Mistplay
2
13 years old
Data Entry
4
16 years old
Proofreader
4
13 years old
Instagram Influencer
4
13 years old
* 1 is low paying job and 5 is high paying job. Note: May require guardian consent with some jobs. Check companies for minimum age requirements.
Frequently Asked Questions
Here are some common questions when it comes to getting an online job as a teen.
How do you get paid with an online job?
Some online jobs pay via PayPal, a bank account or gift cards. If you do not have an account, a parent or guardian can set up a guardian account for you.
How old do you need to be to open a PayPal account?
In order to open a PayPal account you must be at least 18 years old.
What is the youngest age a teen can start working online?
Sites like Fiverr allow teens as young as 13 years old, making the site one of the best in terms of a minimum age requirement.

You will have to provide identification of some sort like a school ID. This is to show that you are a person and not a bot.
How can a teenager earn money online without a job?
Today's freelancing market makes it easy to find jobs for teens to make money online without a set traditional job.

Completing tasks like writing an article, designing graphics, completing online surveys, and playing games online can be simple ways to earn.
Summary
There are a couple of things you should remember if you are looking for the best online job as a teen. As someone under 18 making money, it is time to keep track of your income.
Second, you'll need to set aside some of the money that you earn. You could be required to pay income taxes. So save money to pay income taxes you have due at the end of the year.
Your parents should be able to help you with setting up a system to keep track of your earnings from cash to gift cards. They can help you open a savings account for saving some of that money as well.