Listening to music is one of the most popular multi-tasking activities. However, it might surprise you to learn that you can get paid to listen to music.
While some sites will pay you to listen to songs, the most lucrative opportunities for music lovers combine the activity with another gig, like bartending, being a delivery driver or working from home.
Here are the best ways to make money listening to music.
Sites That Pay You to Listen to Music
There are a handful of sites you can use to make money listening to music. Yes, you read that right. Music fans can get paid simply by listening to a new playlist and taking the time to review music.
If you are looking for a way to shake up your own playlists and earn extra cash, check out the sites below.
1. Earnably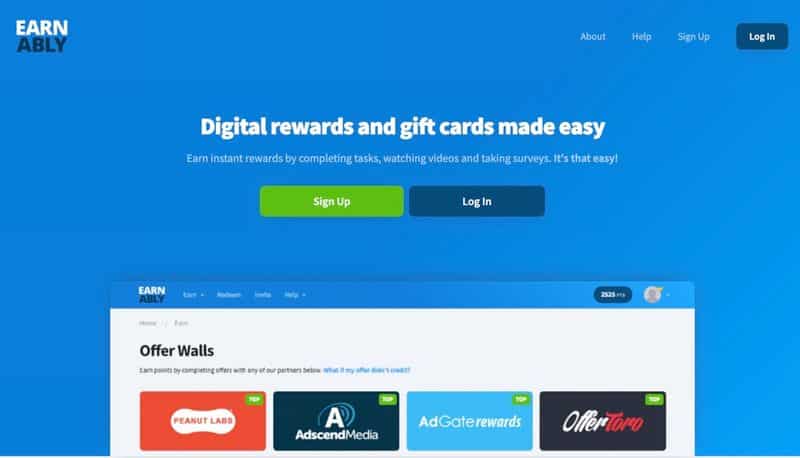 Earnably is a site that allows you to earn money by completing tasks. Some of these tasks include watching music videos and answering survey questions, making it an option to make money listening to music.
As you listen to music or spend time watching music videos, you'll start to build up points. When you earn enough points, you can cash them out for gift cards, wallet codes and cash via PayPal.
You'll need at least 225 points to redeem your points. This is the equivalent of $2.
One interesting feature of Earnably is that you can invite friends and family to join. If they register through your link, you'll earn 10% of their points for life.
With a top-notch Trustpilot score, many users are happy with their decision to use Earnably to listen to both old and new music.
Earning potential: Undisclosed, likely up to a few dollars per month
2. Current Rewards
Current Rewards is another app with a relatively high Trustpilot score that music lovers will enjoy. It offers a chance to earn money listening to music.
The app has curated radio stations designed for particular music styles. You'll find everything from classical to reggae tunes through this app. You get paid to listen to music online by accumulating points.
When you have enough points, you can cash out for a free gift card or PayPal cash. If you use the app enough, you can earn up to $600 per year.
However, infrequent listeners will earn less than this top-end figure. Nevertheless, you'll get to listen to new music, and you might just find your new favorite artist.
Earning potential: Up to $600 per year
3. Playlist Push
Playlist Push is an opportunity for talented curators to get their playlists in front of more ears. If you love making the perfect playlist, this might be the right fit for you.
While your playlist can't focus on a particular decade of music, it can have a particular vibe.
In order to work with Playlist Push, you'll need to have a public playlist on Spotify. Plus, the platform has active listener requirements curators must meet. Each playlist must have a minimum of 1,000 followers.
The difficult part is qualifying for Playlist Push. After that, you'll get paid to review music. The music industry is tough, so sites will pay you for each song review to help artists be more successful as they launch new music.
When reviewing music, you could earn up to $15 per song, depending on the song. The funds are transferred directly to your bank account.
A high Trustpilot score indicates that most users have a good experience reviewing music with this platform.
Earning potential: Up to $15 per song
4. Slicethepie
Slicethepie is a site that will pay you for your opinion on music.
When you use the site, you'll receive songs to review. Each time you write a review, you'll earn cash.
Typically, you'll earn around 10 cents per review. However, if your review is high quality, you might make more.
When you've earned at least $10, you can request to cash out via PayPal.
In addition to taking the time to review music you can review clothing and other items through Slicethepie. According to the site, users have earned over $7 million by providing music reviews.
With a high Trustpilot score, you shouldn't expect any issues collecting your funds.
Earning potential: Around 10 cents per review
5. Cash4Minutes
Cash4Minutes pays you for making phone calls. During the phone calls, you'll listen to online radio stations and you may even find new music. In this roundabout way, you'll get to listen to music online.
As you listen with your unused phone minutes, you'll earn rewards. When you are ready to cash out, you can withdraw your funds via PayPal, bank transfer, Bitcoin or charity donation.
Although this is a more complicated approach, Cash4Minutes does offer a way to earn cash by listening to music via an online radio station. The above-average Trustpilot score makes this an opportunity worth looking into.
Earning potential: Undisclosed, likely up to a few dollars per month
Other Ways to Earn Money Listening to Music
You can make money while exclusively listening to music. However, it's more lucrative to combine listening to music with another money-making opportunity.
Let's explore some of the gigs that allow you to listen to your favorite tunes on the job.
6. Bartend
As a bartender, you can mix drinks while your favorite songs drift through the speakers.
Of course, you'll need to find a bar with an ambiance that aligns with your taste in music. However, that's definitely an option in most cities.
Although you'll likely get paid by the hour, the potential for tips makes bartending more enticing. If you have great skills behind the bar and a friendly attitude, you might be surprised by your earning potential on a busy night.
Earning potential: $8 to $30+ per hour
7. Delivery Driver
If you work as a delivery driver, you basically operate as a lone wolf. You'll be driving around town from place to place, but you'll be in complete control of the tunes.
Turning delivery runs into a mini-concert with your favorite music might make the entire night more enjoyable. Plus, the pizza in your back seat doesn't care if you belt out the words to your favorite song.
Why not take advantage of the solitude involved in this job by listening to your favorite playlist?
Earning potential: $8 to $27 per hour
8. DJ
If you love creating the perfect mood with carefully curated songs, then becoming a DJ might be a good fit. The basic requirements include a good ear, a reasonable sound system and a large collection of music.
You can start advertising your service by telling friends and family. Eventually, if you do an excellent job, word will get around that you are a good DJ available for any event.
Be prepared to tackle this gig on the weekends when most events are in full swing.
Of course, you'll have to consider the client's needs. But it won't hurt to throw in a few of your personal favorites.
Earning potential: $29 per hour
9. Drive for Uber or Lyft
Rideshare drivers spend a lot of time behind the wheel of their cars. While you could ride in silence, you have the option to crank up your favorite music.
If you are on the road for hours at a time, listening to your favorite playlist might help you get through the day.
Once in a while, you might even pick up a passenger who loves the same type of music, which turns a regular Uber ride into a jam session.
Better yet, you can choose your own hours with this job, making it a great opportunity if you need flexibility.
Earning potential: $15 to $25 per hour
Related: How He Makes Money Driving for Uber on the Side
10. Launch a Music Podcast
Do you love to talk about music and share your favorite songs? Launching a music podcast combines the best of both worlds. Plus, it could be a great opportunity for you to get your foot in the door of the music industry.
You can format a music podcast in any style. However, one option is to provide music reviews for your latest song and artist finds.
Of course, building a podcast audience is no small feat. That said, it can be a lucrative opportunity if you hit the right notes for the music community.
Earning potential: $0 to $100,000 per year
11. Online Surveys
A large number of survey websites will pay you for your opinion. The process of signing up for these sites is fairly straightforward. Plus, in many cases, the surveys take just a few minutes to complete.
No one is stopping you from listening to your favorite playlist or local radio stations while you complete surveys. In fact, jamming out might help you breeze through several opportunities in no time.
Even though you might not earn a lot from online surveys, a few extra dollars in your budget could make a splurge possible.
Earning potential: Varies
12. Work at a Record Store
Are you a music lover who prefers to listen on vinyl? A record store might provide a certain level of peace for your soul.
As you help customers, you might have the opportunity to play music for store patrons to enjoy.
Most record stores include second-hand vinyl. If you are building out a collection, this could be a way to snag rare finds.
If you are lucky enough to have a record store in town, consider applying for a job.
Earning potential: $8 to $50 per hour
13. Work From Home
Work-from-home jobs are plentiful. You'll find a range of opportunities that span different industries and skill sets. Whether you want to work for yourself or a major company, there's a remote work opportunity out there for you.
If you are interested in working from home, one of the perks is that you are in charge of your office space. With that, you can play music while you work.
You'll no longer have to tolerate your co-worker's horrible choice in radio stations. Instead, you can call the musical shots in your own home.
Earning potential: $0 to $100,000+ per year
Methodology
When evaluating ways to get paid to listen to music, we analyzed key criteria to determine the best options. In-depth research was performed to identify the top ways to earn money by listening to music.
For online options, we focused on the following factors:
Trustpilot rating of 3.0 or higher
Multiple ratings on Trustpilot
Reputation among industry leaders
Ease of use
Potential for decent payouts
For alternative options, we focused on the following factors:
Potential for anyone to get started
Decent potential earnings
Variety of options that appeal to various people
We chose this methodology in order to ensure we're doing our due diligence as we determine the best ways for you to earn money listening to music.
FAQs About Getting Paid to Listen to Music
Do you still have questions about how to get paid to listen to music? These answers might be able to help.
Summary
You likely already spend some time listening to music. If you want to listen to new songs from top music composers or jam out to your favorite radio stations, then you might as well get paid for your musical explorations.
With several different ways to get paid to listen to music, you may find an opportunity that matches your music tastes.
If you want to turn your downtime into extra cash, this can be a fun way to add some money to your bank account.