Working from home is a dream for many, but legitimate data entry jobs can be hard to find. A lot of people fall prey to work-at-home scams, so check out each job carefully.
Never pay upfront for software or other tools deemed necessary by the company that is offering to give you work.
Legitimate work-from-home-jobs and home data entry jobs exist. So we put together this list of places and companies that will help you find openings that fit your needs and skill level.
Legit Data Entry Jobs You Can Do From Home
To get you started in your job search, we've combed through data-entry jobs all over the web to bring you legit options.
Some tasks on the list below are for partially office-based data entry while others are remote.
Besides data entry, some of these companies offer other options such as call center representative positions or transcription.
If a company on the list hires you for a data entry position, most of them will offer you independent contractor work without benefits.
If benefits are important to you, you will want to look at full-time data entry jobs that offer the flexibility to work from home some or part of the time. As an independent contractor, you decide how much work to take on.
You can sign up with more than one data entry company, so you have a more consistent flow of work. Also, consider diversifying with other work-from-home options.
Here's a list of legit work-from-home jobs. However, not all the companies on the list are hiring at this time.
Still, bookmark the ones you like and check their website regularly. That way, you can apply when a position opens up.
1. Axion Data Entry Services
Axion Data Entry Services offers legit data-entry jobs but rarely has any openings. While this may be true, you can register in the company's database, so they alert you when positions come available.
According to Axion's website, they charge a fee to weed out people who don't have proven data entry experience. So to enter your name into their database, you do have to pay a small fee.
The one-time charge is minimal (between $5 and $10), depending on how long you want to have your profile active in their database.
All data-entry positions are remote, and you will operate as an independent contractor. For them to consider you when a spot opens up, you will need two to three years of data entry experience.
It also requires a keystroke rate of 15,000 keystrokes per hour (equal to 50 words per minute), error-free.
Besides, you need a Windows or Mac computer and a high-speed broadband internet connection. They will pay you a flat rate per document or entry, which varies from project to project.
They will judge you on your accuracy, attention to detail and how productive you are. The faster you are, the more you will earn.
Keep in mind that Axion runs a criminal background check on all applicants. To clarify, you must pay the fee for the background check, and Axion will receive a copy of the report.
2. Capital Typing
Capital Typing provides a wide range of services from data entry to transcription, market research, translation, bookkeeping, office administration and a lot more.
Many of their positions are remote, and they hire work-at-home freelancers.
As a contractor, you can expect to be paid on a per-piece or per-audio-minute basis, depending on the position. There is no set hourly rate, which means you're not guaranteed to make minimum wage.
Data entry positions include data extraction, research, direct mail and marketing and database development and management. You can view current posts on the company's available jobs page.
Current openings include transcription and content writing. While there are no present data entry positions listed, for them to consider you for future jobs, you can enter your information.
Jobs offer flexible scheduling, and you can take on as much or as little work as you want.
3. clickworker
clickworker is a worldwide company that hires independent contractors to complete tasks such as data entry, translating, research, writing and more. They pay on a per-piece basis, and work is done in small jobs.
When you register as a clickworker, you use the platform to find work and complete tasks. You decide how much or how little work to take on. All you need is a personal computer with an Internet connection.
Once you register for the clickworker platform, you will be able to choose from a pool of projects. Not all tasks are available to all clickworkers.
They base the tasks you will be eligible to complete on your qualification assessments, previous work assessments, education, language abilities and interests.
The tasks you can do through the clickworker platform are small, and the company refers to them as microjobs.
Depending on your skills and speed, you can earn upwards of $10 per hour. The average Clickworker makes $9 according to the company.
4. DionData Solutions
DionData Solutions is a data management provider that uses independent contractors to perform work-from-home data entry tasks.
They are dedicated to helping parents stay at home with their children and supplement the family's income by offering flexible job options.
They have work available 24-hours a day, seven days a week, offering data processing for clients in any time zone.
Contractors can be asked to do data entry from many formats, including hard copies, handwritten originals, typed copy, online sources and scanned images.
You will receive payment on a per-piece basis, which is typical for remote work companies. Data can come from a variety of sources such as medical claims, catalogs, surveys and inventories.
Other places include warranty cards, product registration cards, subscription fulfillment, mailing lists and so on.
DionData Solutions requires you to have basic computer skills. You must also be familiar with uploading and downloading files and sending mail attachments. Plus, you need to type 60 words per minute accurately.
There are no job openings at the moment, but keep checking back the company website.
5. Flexjobs
Flexjobs is not a data entry company, but an online job board for remote and flexible work. It is a well-established and reputable site that vets each company and ensures the job listing is legitimate.
A real person does the vetting process, so you don't have to worry about applying for a scam or a low-paying job.
Data entry job openings are popular on the platform, so you should be able to find several options that fit your needs.
You can browse the job openings and search for free, but you will need to pay before you can access any of the listings and apply.
If you want to try it out, the cost is $14.95 per month. If you like what you see, you can sign up for a longer-term plan, which will lower your monthly expenses.
6. Microworkers
Microworkers is another platform that offers microjobs to freelancers from all over the world. Tasks are simple and quick, and you can complete them in a few minutes.
According to the company's website, tasks include data mining, data categorization, data tagging, data labeling and data matching. In addition, there is sentiment analysis, event sequencing, transcription and much more.
You can join the Microworkers platform for free and complete tasks as soon as you're approved. To get paid, you will need to finish each task. You can work as much or as little as you like from the comfort of your own home.
The potential for earning has no cap since you can accept and complete as many jobs as you can within a certain amount of time.
As a Worker, you will need to maintain your success rate to give employers the confidence they will get quality results from the campaign they are running. Poorly performed tasks will bring down your success rate.
Available jobs depend on the time zone where the employers run their campaigns. You will only be able to view campaigns permitted based on your current location and time zone.
7. SigTrack
SigTrack is a database application that links grassroots campaigns with crowdsourced data entry freelancers.
Available work is seasonal, so keep an eye for opportunities. As of this article, the company is hiring, and they pay per piece.
The work available involves searching petition signatures against voter databases to see if they match. Then you tag the signature with the results.
You will need dual monitors to perform the work, and Windows 7 Pro, 8.1+, or Mac OS 10.11+. Also, you should have 20 MB internet connection or faster.
You will not be required to make phone calls or fill out time cards. As an independent contractor, you are free to work whenever and wherever you want. Plus, you can select what jobs you want to complete.
Pay varies by job and is based on work unit completed. Wages are weighted based on accuracy. If you want to stay on a contract, you will need 98 percent accuracy.
It will also qualify you as a peer reviewer of other's work, which has the best earnings potential. Plus, it offers you access to off-season jobs.
According to SigTrack, there is a learning curve at the outset, so don't expect to make much money in the first few days.
But, if you are working most days, expect to increase your speed and supercharge your earning potential. Serious users can make between $2,000 – $4,000 monthly per the company's website.
8. Telus International
Telus International hires workers as independent contractors and can control their workload and schedule.
While jobs are available worldwide, you must select the region and country of your residence. That way, you'll be presented with current jobs openings for contractors in your area.
However, this means if you move out of the country, you may no longer be eligible for your position.
Jobs can be paid either on a task basis or per-hour basis, depending on the available work. The company sets rates for each country, and they pay directly to your bank account via direct deposit.
You need to provide the equipment to do the job, including a computer, high-speed internet connection and so on.
Based on what position you apply for, the screening process varies. And it includes an online assessment you must pass to get the role.
There are no interviews as they base roles on competency and suitability depending on the results of your online assessment.
9. Working Solutions
Working Solutions offers the freedom and flexibility to work from home as an independent contractor. Also, you have full control of your schedule.
To be considered, you will need to fill out an application and take an online assessment.
If you're accepted, you can view current jobs and apply for the ones that best suit your skill set. Once selected, they will brief you in the client's business and customers before starting work.
This process can take anywhere from two days to several weeks, depending on the client. You will be compensated for your training time if you meet all program requirements.
To apply, you will need to be based in the U.S. (except for four states: California, New York, Pennsylvania and Washington).
You will schedule your work hours and will be responsible for them once you set them. As an agent, you will be eligible to work on two programs at once.
However, Working Solutions cannot guarantee consistent work availability, so keep that in mind when applying.
How much you earn depends on what program you end up getting accepted to and your skills. According to Working Solutions' website, agents make anywhere from $9 an hour to $30 an hour.
You can get paid via direct deposit or mailed checks. Checks are issued twice a month for completed work.
10. Xerox
You may be familiar with Xerox from their office technology. They recognize the benefits of working from home – both for the worker and the company. They have more than 8,000 home-based employees according to their website.
Remote jobs include data entry and verification, customer care, tech support, image tagging and quality control.
In addition, other jobs consist of systems development, software programming and administrative and business support.
If you're interested in working for Xerox, check their careers page regularly for new openings.
11. Fiverr
Fiverr is an online marketplace for freelancers. Small to mid-size companies look for freelancers on Fiverr to do tasks like data entry.
The nice thing about Fiverr is you choose what you'll do, how much you'll charge, and the turnaround time. All communication and payment go through Fiverr, too, so you're protected from buyers who accept work but don't pay.
To sell more gigs and stay ahead of your competition, consider creating a portfolio and gathering as many good reviews as possible when you start. Then, with more orders and positive reviews, you can work your way up the 'Fiverr ranks' and have your gigs listed at the top of the listings when buyers search for data entry.
12. Upwork
Upwork is another online marketplace for freelancers. Unlike Fiverr, though, you 'apply' for jobs businesses post. To do this, you'll need to create a profile and portfolio to showcase your skills and get an edge on the competition.
Business owners then interview freelancers to decide who's right for the job. The downside of Upwork is because you compete against so many others, the pay might not be as high, as some business owners will choose the lowest bid.
13. DataPlus+
DataPlus+ hires data entry providers to work from home. They contract work with a variety of companies and need help with data entry on things like:
Law enforcement reports
Judgments
Mailing lists
Membership lists
VIN validation
And more
You work from home for DataPlus+, and to qualify, you must prove you have a computer with internet access and pass a background check.
14. TDEC
The Data Entry Company is the world's largest data entry company. Therefore, they always have a high need for data entry specialists.
The downside is they don't advertise when they need new data entry operators. Instead, they rely on word-of-mouth and the popularity of their company to constantly have a pool of available data entry operators.
To apply, simply send them an email with your resume attached. Follow up if you don't hear from them after a few weeks, but don't give up hope because the need for data entry operators ebbs and flows depending on their business level.
15. MTurk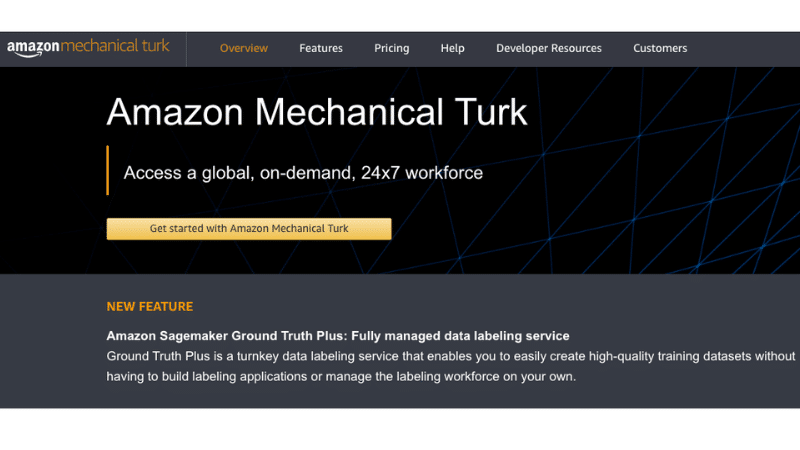 Mechanical Turk is a crowdsourced marketplace run by Amazon. The micro-tasks required on the site often include data entry.
Be careful, though, as the jobs often pay low, and sometimes the pay is in Amazon gift cards. Before accepting a data entry job on MTurk, be sure you understand the task fully and can deliver what they need.
If the client isn't satisfied with the work, they can turn it down, leaving you without pay.
16. The Smart Crowd
The Smart Crowd is a spinoff of Lionbridge, one of the largest work-from-home companies. They've been around for decades, and are reliable, so you don't have to worry about any scams working with them.
The Smart Crowd is much like MTurk with microtasks; however, most of the tasks are related to data entry. To qualify for work, you must register on the site and take short assessments to prove your abilities. Then you'll be able to accept work.
17. AccuTran Global
AccuTran Global is a transcriptionist company, but they often have tasks for data entry operators. To qualify for a data entry position, you'll need good typing skills, usually 50 to 70 words per minute, with 100% accuracy.
You might work your way up the ladder, too. After taking on small data entry jobs, you may find that transcription is something you want to try and can make even more money doing it.
18. Appen
Appen is a crowdsourcing website that offers a variety of microtasks, including data entry. For their micro-tasks, you can apply and start working immediately. All other tasks require you to apply and see if you're accepted. The duration of Appen's jobs are anywhere from an hour or two to multiple months.
Either way, they offer many ways to make money using data entry, and if you want to fill your time even further, you can answer surveys for them to supplement your income.
19. Gorge Warehouse
You probably wouldn't think of Gorge Warehouse as a place to look for data entry jobs, but they offer many. The requirements to work there are simple, such as typing 30 wpm, but sometimes you need experience in specific software programs.
They pay per hour, so the faster you type, the more money you'll make for your time. The opportunities there also change often, so always check back if you don't see available data entry positions.
20. Scribie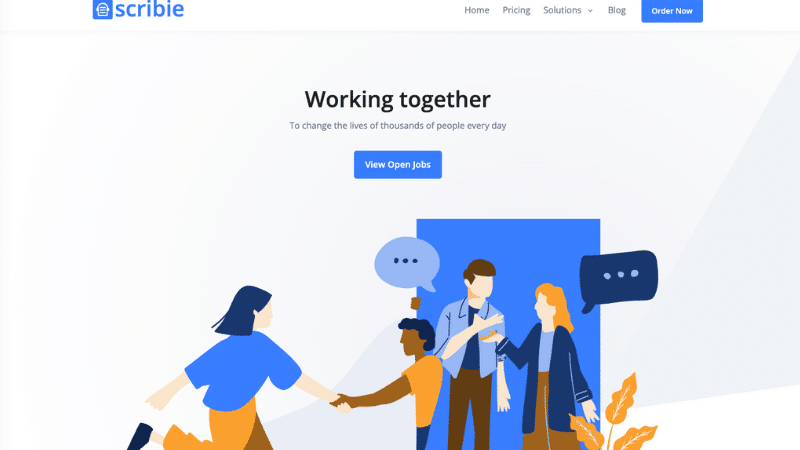 Scribie is a transcription company but often has data entry positions too. Unfortunately, they usually have a long waiting list, so get on it early and be patient when waiting to hear back.
When they get to your application, you must take a test, but don't worry, you can retake it up to ten times if you don't pass. When you pass, you'll start working immediately and can work your way into other positions after proving your skills.
21. PeoplePerHour
PeoplePerHour is a crowdsourced marketplace where freelancers can find jobs from home. To list your services, PeoplePerHour must approve you. After you complete the application and are approved, you can create a profile stating your rate, what you'll do, and why businesses should hire you.
To get jobs, you send business owners a proposal for the job they've listed. Then, they'll compare the bids they receive and choose the most qualified applicants.
Like any crowdsourced site, though, there's a good chance that others will bid lower, so don't expect top pay.
22. FreeUp
FreeUp pre-vets its freelancers to connect business owners with top-notch freelancers. However, you must apply for each job individually to get jobs on the site. Jobs are posted every day and freelancers can expect anywhere from $8 to $15 per hour. Freelancers also benefit from FreeUp's 24/7 support.
To qualify for data entry, you must have extensive experience in data entry, prove you have excellent grammar skills, and pass the Freelancers Course.
23. MegaTypers
MegaTypers is a company that provides data entry services to companies around the country, including government agencies. The requirements are minimal, such as typing ten words per minute and the ability to work flexible hours.
The pay is low, but the experience can help you get jobs with higher paying companies, and in the meantime, you'll have supplemental income. The quicker you type, though, the more Typer Credits you will earn. Typer credits are then exchanced for payment.
24. Indeed
Indeed is a site where you can find any job, including data entry. The nice thing about finding jobs on Indeed is you typically get hired directly by the company. Of course, some companies may still hire you as a freelancer or independent contractor, but you might get lucky enough to find a job where you get hired as an employee.
The sky's the limit with the jobs offered on Indeed. Search for data entry positions in the industries you know the most about to increase your chances of getting hired.
25. Truelancer
Truelancer works like Upwork, allowing freelancers to bid on open jobs to win the work. Like any crowdsourced site, it's best to have a completed profile and portfolio to prove why you're best for the job, especially if you have higher prices than competitors.
All communication and payment go through Truelancer, so you don't have to worry about getting stiffed, and their mobile app makes it easy to manage your business on the go.
Skills Required for Data Entry Jobs
Getting a data entry position requires several skills. Most jobs require more than just the ability to enter numbers and data into a spreadsheet.
Here are some main things you will need to be successful as a data entry worker:
Computer skills
This skill may seem obvious, but you will need to be comfortable doing a variety of tasks on a computer. It includes working with attachments, scanning documents, data entry in spreadsheets, using programs such as Excel and so on.
You will also need equipment such as a computer and a reliable internet connection. There's no need for crazy computer skills, but you need to do the basics comfortably and accurately.
Don't have a computer? Check out this article on how to get a free laptop.
Typing skills
One of the essential skills for data entry is typing. To consider someone for a job opening, many companies require a minimum typing speed. Before a company hires you, you'll take an online assessment designed to test your typing skills.
The faster you can type, the quicker you can get the job done. Many companies offer task-based data entry.
As a result, fast typists can complete more work in an hour and get paid better. The average requirement for typing speed is between 40 and 60 words per minute.
Spreadsheets skills
Knowing how to use a spreadsheet is a critical skill for data entry roles. Many companies will require you to work using one of two spreadsheet programs: Microsoft Excel or Google Sheets.
Get familiar with both programs and learn their ins and outs. You may find free online training that goes over each of these, so you can learn how to use them.
Plus, if you learn one program, you should be able to use the knowledge to learn the other one.
Accuracy
While typing speed is important, being accurate is just as critical. Typing quickly and turning in sloppy and inaccurate work will not get you any repeat jobs.
Many companies require 98 to 99 percent accuracy to continue giving you more work.
Besides working to increase your typing speed, check your work thoroughly each time before submitting it.
Do a side-by-side evaluation to make sure everything you entered is correct, and you left nothing out. As you do more data entry work, you will get faster and more accurate with time.
Communication skills
Being able to communicate well is a crucial part of any job – but especially data entry. Review your tasks and ask questions before beginning the work.
If you run into any problems, tell your manager or your client in a timely fashion.
Software skills
Broad knowledge of all Microsoft programs such as Word, Excel and PowerPoint, will help you with getting data entry jobs and completing the work on time.
Some clients also use Google Documents and Google Sheets, so get familiar with those programs too.
The more comfortable you are with technology and learning new programs and skills, the better you will do with data entry tasks.
Summary
Many legit companies are hiring for work-from-home data entry jobs. However, keep in mind that there are several scammers out there asking for money to get you access to jobs.
Do your research before applying for online jobs and make sure the company is legitimate. Most companies that offer work-from-home data entry will not contact you via social media to offer you a job.
You won't be making big bucks doing data entry tasks, but it can be a great way to earn money on the side.
Most online jobs allow you to make your own schedule and take on as much or as little work as you want.