If you're a teen interested in earning some extra money, you're not alone.
To make it easy, we have reviewed hundreds of options to bring some of the best ways to make money as a teen.
Benefits of Making Money as a Teen
When you are a teen, there are several benefits to making your own money:
1. Buy Things Your Parents Won't Pay For
You might want things to buy like clothes, entertainment, and electronics. Perhaps your parents will buy some of these items but there also is often a limit of what they can or will do.
This can also apply to things like saving up for stuff like cars, college and other big purchases.
2. Learn An Important Life Skill
One of the most helpful skills you can ever learn is the ability to earn money outside of a traditional job.
This is important because there will be several instance in life where your job wont provide enough to pay for what you want or need. Knowing how to make extra money will come in handy, I am sure of that.
3. Prepare You For The Real World
When I moved out of my parents house, it was shocking to me how much money it costs to actually live when my parents were not supporting me anymore.
This will be a good entry into what it like to manage your own money. You might actually be surprised how you handle the money you earn different then the money that your parents just give you.
Ways For Teens to Make Money
There are a ton of ways that you can make money as a teenager. See if you can use one (or more) of the ways below to get what you need.
1. Search the Web
Swagbucks is a legit site where people get paid to complete tasks online. Every time you finish a task, you get points. They even have a $10 sign up bonus!
When you earn points, they are put into a "bank" and can be redeemed for gift cards to Amazon or local and online stores such as Walmart, Target and Old Navy. You can also get paid through PayPal.
To earn points, you complete small tasks like:
Filling out surveys
Searching the Web
Shopping online
Using your Swagbucks account in your spare time will allow you to earn rewards to pay for the things you need or want. Best of all, it's free and easy to join. Just enter your email address and a password to get started.
Swagbucks has a Trustpilot ranking of 4.3 out of 5.
2. Sharing Your Opinion
Do you like to give your opinion about things? Why not get paid for doing so?
Companies such as Survey Junkie will pay you to share your thoughts about businesses and products. Brands want to get your feedback and they are willing to pay for it.
Survey Junkie has over 10 million members and only requires you be at least 16 years old to join the site.
Simply enter your email address, zip code, birthday, gender, and create a password to get started.
3. Sell Drinks and Food
A cold cup of refreshing lemonade will sell quick in the summer. One idea is to set up a table and sell lemonade the next time your parents hold a garage sale.
Better yet, set up a table with your friends and get the word out you have cold lemonade for sale.
It's easy to whip up a pitcher of lemonade. For those on a budget, all you need is water, ice and a tub of lemonade powder.
The key to success with this type of business boils down to cost. Be sure to charge enough to cover the cost of the items you're selling. Also, add in a little extra to make yourself a profit for your hours of work.
4. Sell Your Products
Are you gifted at making crafts, jewelry, artwork, woodworking or other items? You can easily start selling them to friends, family and even on your neighborhood Facebook page.
As you grow, think about branching out to sites like Etsy. You can sign up as long as you are at least 13 years old and you have parental consent.
You can also sell your products on sites such as Craigslist, Facebook Marketplace or at local fairs and events.
Be sure to charge prices that cover the cost of your materials as well as your time.
5. Run a Farmer's Market Stand
Many local farmer's markets charge money when adults set up a stand. Fortunately, some will allow kids to do so for free.
Farmer's markets sell a wide variety of items ranging from fruits and vegetables to baked goods and crafts. Think about all the different things you could sell.
There was a group of teens at our local farmer's market that used to make brick oven pizzas and bread at the local farmer's market. They made a decent amount of money doing this.
It's important to check your state's laws about farmer's market foods before selling baked goods or specialty foods.
6. Turn Your Hobbies into Cash
Do you have a hobby that you can make money with? Are you good at drawing people or animals? Do you know how to create logos for businesses? Or are you great at writing stories or poems?
Make a list of your talents and offer to hire out for them. You can advertise through local ads or on websites such as Fiverr. Anyone 13 years of age or older can use Fiverr to list job offerings (or search out jobs needed) for pay from $5 and up.
The key to success with sites like Fiverr is to charge an attractive price to potential clients while making sure you are getting paid at a fair rate.
You might start out making less than you'd like to with Fiverr.
The good news is that you'll be able to raise your rates if people like your work and your services become more in demand.
7. Sell Your Stuff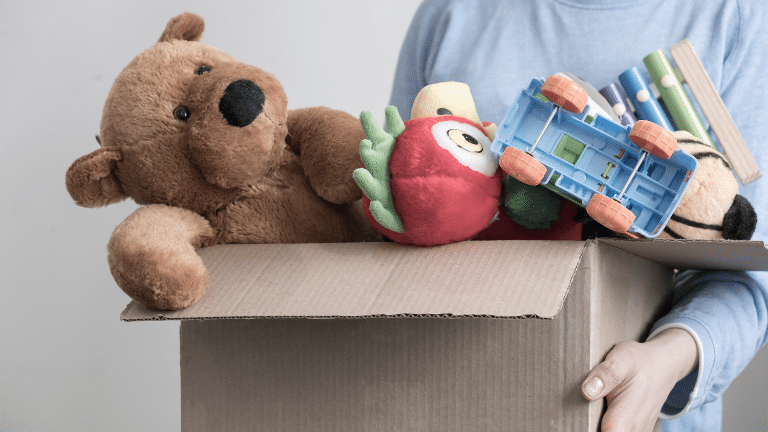 Is your closet loaded with items you no longer need? Do you have games or Legos collecting dust? Or do your parents have items they want to get rid of? Consider selling them to make money.
For instance, are there video games, DVDs or CDs lying around your room that you never use? See what you can get for them on a site like Decluttr, or do a porch pick up through your neighborhood Facebook group.
If you don't want the hassle of selling items one at a time, then Decluttr can be a great option.
Their app allows you to scan items you want to sell then sends you a box to ship everything to them.
The general rule for selling used stuff is to charge 10 percent of the retail cost. As an example, if your Lego Friends set cost $60.00, try selling it for $6.00.
However, if you want to sell items faster, price them at a lower rate than your competition.
8. Collect and Resell Golf Balls
Another way to earn money is by collecting and selling golf balls. Look for abandoned golf balls near local golf courses. You might even be able to get permission to search the course grounds after hours from local club managers.
After you collect enough golf balls, you can clean them up and sell them outside of the local golf club entrance as long as you're on public property.
Another option would be to ask people you know who play golf if they want to buy the balls you find at a discounted price.
One piece of advice to remember is that you'll have an easier time selling golf balls if they are in good condition.
Balls that look like they've been used for years and are dinged up will be harder to sell.
9. Rent Your Video Games
If you have a lot of video games or books that you don't necessarily want to sell, you can rent them to friends for a small fee. Charge them a set amount to rent the item for a week or two.
Also, make sure to tell them there will be a late fee if the item isn't returned to you on time.
Keep a notebook listing who has what items and when they're due back so that you don't lose track of your stuff.
10. Sell Your Designs
One way to make money that costs very little out-of-pocket is creating designs for t-shirts and other items.
You make the design and then upload it to sites such as Redbubble or Cafepress to print on items such as t-shirts, tote bags and iPad covers.
These sites even take care of shipping and returns. When someone orders an item with your design or saying on it, you get paid commission from the sale.
Cafepress will let you use their site if you are at least 13 years of age as long as you have your parent's permission. Redbubble requires you be at least 16.
11. Collect Aluminum Cans
If your neighbors consume a lot of canned drinks such as sodas, consider asking them if you can pick up their discarded soda and other beverage cans once a week.
Then bring the cans to a local recycling center where they'll pay you cash for your aluminum cans. While this is a more out of the box sales opportunity, you can still earn money.
12. Clean People's Houses
Most people are eager to keep their homes clean. However, traditional cleaning services can be costly. As a result, people may consider hiring teens who will clean their homes for a reasonable price.
If you like cleaning and know how to do a thorough job, a house cleaning business might be right for you.
To get your business started, make a list of what types of cleaning you'll do. Then you can start looking for clients by advertising your services with family, friends, and neighbors.
Make sure you have a competitive rate. Professional maid cleaning services typically charge between $25 and $35 an hour.
Doing your work quickly, thoroughly and only charging $15 an hour, gives potential clients a reason to hire you over a traditional maid service.
13. Wash Cars
Busy adults often don't have time to wash their cars. This means that you can make some serious cash doing it for them, especially if you can wash their car at a location of their choosing.
You'll need equipment such as a bucket, soap, rags or a soft sponge to wash with and towels for drying.
If you're cleaning the interior of the cars, you'll want to get some window cleaner and paper towels. A portable hand-held vacuum can be a great accessory as well.
Most people will let you use their hose and water to wash the exterior of their car. Some may lend you their vacuum for cleaning the interior.
Be sure to check to find out what supplies they will let you use before you take the job.
When it comes to pricing your car washing services, determine how long it will take you to do the cleaning job, then offer an attractive rate that still gives you a good hourly wage.
You can also learn to work quickly and efficiently to improve your hourly rate.
14. Organize Homes or Garages
Many people want organized spaces but just aren't sure where to start. If you're good at organization, you can start a business organizing people's homes or garages.
When offering your services, take a thorough look at the job that needs to be done and determine how many hours it will take you.
Then you can multiply the number of hours by your desired hourly rate and make that your offered price for the job.
You can advertise your services on Facebook, with flyers or with emails. Contacting friends, neighbors and family members to let them know about your organizing services is an option to get the word out as well.
15. Boat and Camper Cleaning
You may have family members, friends or neighbors who own boats, campers or other recreational vehicles. Check with them to see if they'd like to hire you to clean them after outings.
Ask to use their hose and water for rinsing and their shop vac for vacuuming. Bring all other cleaning supplies from your home to make it easier for clients.
Be thorough but quick and charge a rate that is fair for you as well as the customer.
16. Weed Gardens
Do your neighbors have flower and vegetable gardens? You might be able to earn some money by offering to pull weeds from the garden for them.
Weeding usually needs to be done every week and is hard work for older people, so they might appreciate a teen taking this task off of their hands.
Supplies needed: Paper/plastic bag, a towel to kneel on, and gloves.
17. Paint Fences
Wooden and metal fences need to be painted or stained every few years to protect them from deteriorating. If you like to paint and have neighbors who has fences that need to be re-coated, ask if they'll hire you to do the job.
You'll likely need to do some research on how to properly prepare the surfaces for painting. Also, you'll need to know what types of paints are best to use on outdoor wood and metal surfaces before you start.
Check out Google and YouTube for some pointers.
18. Join a Property Management Team
Working for a property management team is one job I had as a teen. My mom knew a guy who owned a half-dozen rental properties.
When tenants vacated, my mom and I would head over to the house. We'd have to paint the interior walls and/or clean the property to get it ready for the next tenant.
The pay was good and we were paid immediately after each job was finished.
Contact property owners in your area to see if they need help if you like the idea of doing this type of work. You could also advertise your services online (with parental permission).
Keep in mind that you might have more luck talking to owners of smaller complexes or individual rental units.
Managers of larger complexes will probably have partnerships with cleaning and repair companies.
19. Babysit
Are there young kids in your neighborhood or extended family members who need child care? If so, you can offer babysitting services to earn some cash.
You can provide your babysitting services on nights and weekends during the school year. In the summer, you could offer to nanny while parents are at work and kids are out of school.
It's not uncommon for babysitters to make $15 an hour or more. Babysitting is a great job for teens (even 14 and 15-year-olds) who are responsible, mature and enjoy being with kids.
To look outside of your current circle of family, friends and neighbors for babysitting clients, check out Care.com. This is a database listing available babysitters in specific areas.
You'll have to have a parent or guardian's permission to be listed on the site if you are under 18 years of age.
20. Tutor Kids
Many parents are looking for reasonably priced tutors for their kids. If you're a teen who excels in a subject such as math, reading or a foreign language, you can offer your tutor services to local parents.
Ask neighborhood parents if they need a tutor. Or check local online sites such as Craigslist for parents looking for tutors.
Stay safe by making sure to involve your parents when meeting up with a new potential customer.
Related Article: How to Start a Tutoring Business
21. Be a Parent's Helper
A mother's (or father's) helper is different from a babysitter or nanny. It's different because the parent is typically home most of the time you're there working.
As a parent's helper, you'll likely be asked to do a variety of different jobs to help the household run efficiently.
You might be asked to do the dishes, make lunch or fold laundry. You might help a child with homework, change a diaper or help while at the local pool.
Being a parent's helper allows you to earn money by helping a family while still having an adult nearby.
Check with local families and advertise with flyers to find work. Decide what your hourly wage will be based on the type of work you'll be required to do.
22. Run Errands
Many busy people and families would love to pay a teen to run errands for them. For example, they might send you to pick up some groceries or stop at the drug store.
Or they may have you drop off/pick up dry cleaning or run to the post office to mail a package.
One tip will help you make the most of your errand-running income.
Choose to work in neighborhoods where stores and other destinations are close to a lot of homes and apartments. This will help you save time.
23. Hold a Class for Kids at Your Home
If you have a talent such as drawing, painting or dancing, you could hold classes for neighborhood kids in your yard or home. The lessons can be one-time deals or can be held for several days in a row.
For instance, you could hold a day camp where kids come to participate in scavenger hunts or other activities.
You'll need to create an itinerary if you're going to teach a class to neighborhood kids. The itinerary should include lessons and keeping them busy for the entire class time.
Be sure to charge a class fee that makes it worth your time and is affordable for parents.
24. Ask Parents for Tasks
Your parents (or grandparents) probably have a lot of stuff they would like to have done around the house. They just might not have the time to do it.
Ask your parents if they have a list of jobs they would be willing to pay you to do. Perhaps they'll hire you to deep clean the basement or garage.
Or maybe they need help removing clutter in their home office.
They might want you to do a spring cleaning project such as washing windows or dusting.
Have them make a list of tasks they need to be done around the house and what they'll pay for each completed job.
Decide which jobs are the ones you want to do and finalize the details with your parents.
25. Help a Senior
Many seniors are looking to hire young people for various jobs. Sometimes they might just want to have someone spend time playing cards or talking with them.
Check with local retirement communities to find work. See if they have a job posting board where you can offer your services.
26. House Sit
If you have a neighbor, friend or family member who is going on vacation, they may want to hire a house sitter to make sure their home isn't vacant while they're away.
Depending on what they need, house-sitting clients may ask you to be there for an hour or two a day. Others might just want to check in on the house every day.
Some homeowners want a house sitter to live in the house for the entire time they're gone.
Get clear instructions about what type of house sitting they'll want before agreeing to take the job. Negotiate the pay you'll receive with potential clients and get a signed contract.
Not sure how to put together a contract? You can run a Google search to find contract templates you can edit to fit your needs.
27. Pet Sit
A great job for teens who love animals is pet sitting. Some people might want pet care while they're away at work if they don't want their pets to be alone.
Others might need pet care while they're on vacation. The amount of time it takes to pet sit depends on the type of pet.
Dogs will likely require constant care, either at your own home (get your parents' permission first) or at the pet owner's home. Other pets such as cats or fish may just need you to check in on them twice a day.
Decide ahead of time which types of pets you'll watch. Set your prices according to how much time you'll spend each day caring for the pet.
To find clients, you can let friends and family know about your services. You can also sign up for Care.com as a pet sitter.
28. Dog Walking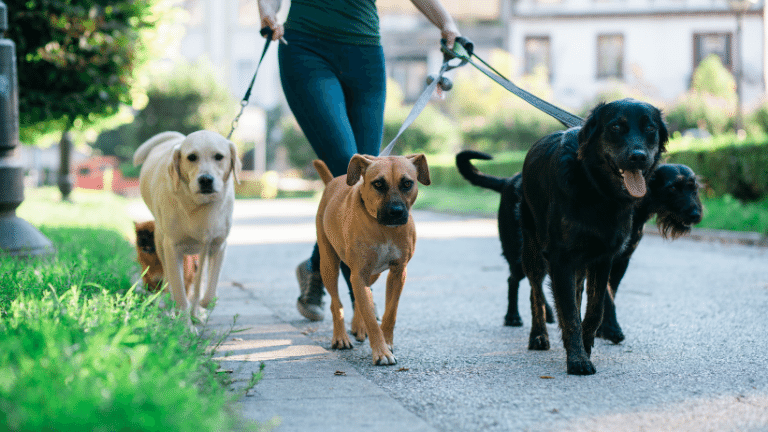 If you're looking to earn money by helping animals but want a less time-intensive job, you could offer dog walking services.
Many want their dogs to get exercise while they are at work. These people will pay a decent hourly rate to have someone else walk their dog a few times a week.
Advertise your services with flyers, on Facebook, or at local pet stores to find clients. Make sure to organize your schedule so you can keep track of your dog walking job commitments.
You can walk several dogs at once and increase your income if you're walking dogs that get along with other dogs. Be sure you don't walk too many at the same time though. Safety always comes first.
29. Doggie Doo-Doo Scooper
Homeowners with dogs have to take the time to clean up dog poop from their yards. Some of your neighbors might be open to paying you to do this job for them.
Schedule regular yard cleaning times for each client to bring in a steady amount of money for your business. Bring your own scooper and a small garbage bag.
Discard the droppings in the outside trash bin or wherever your client tells you to dispose of them.
30. Grass and Plant Watering
Sometimes people need help watering their grass, flowers and plants. Offer to come to their home and water these items for them.
This is a job you'll likely perform once or twice a week to keep their grass and flowers healthy.
As with some of the other options, you can advertise with flyers or on your neighborhood Facebook page.
31. Do Lawn Work
One of the jobs my kids used to do was to help their great aunt with lawn work. They would mow the lawn in the spring, summer and fall. In late fall, they would also rake leaves and bag them up for her.
She paid them well for this work because it made life easier for her.
Chances are that at least some people in your neighborhood could use help maintaining their lawns.
Ask your parents if you can use their lawnmower (offer to use your earnings to pay for the gas it uses). You can also use each client's mower if they have one they are willing to let you use.
If you're not interested in mowing lawns, you could offer to rake and bag leaves in the fall or shovel snow in the winter.
32. Lifeguard
If you're a good swimmer and like hanging out at the beach, being a lifeguard might be right for you. Most neighborhood community pools are looking for teens to be the lifeguards.
Most lifeguard jobs require workers to have or get lifeguard certification through a qualified organization such as the Red Cross. Talk with local beach managers to find out more about the necessary qualifications.
Then you can look into local lifeguard certification classes if you're interested in pursuing a job as a lifeguard.
33. Umpire or Referee
Local sports organizations sometimes seek out teens to work umpire and referee jobs for kids' sports teams.
If you love sports and know the rules of baseball, basketball, softball or football, you could apply to work as an umpire or referee.
These types of jobs usually pay well. In my area, umpires get paid up to $30 an hour. Check with local sports organizations for more details about referee jobs.
34. Be a Golf Caddy
Public and private golf clubs regularly look to hire teens as golf caddies for members and guests. If you know about the game of golf or are willing to learn about it, you could land a job as a golf caddy.
In addition to a base rate of pay, golf caddies often get nice tips from the people for whom they caddy. The more you can help the golfer you are caddying for with club selection and shot advice, the more you can make.
35. Work at a Restaurant
Two of my favorite jobs as a teen were working as a cashier at a fast-food place and as a waitress at a local sit-down restaurant.
The fast-food job was great because I made a guaranteed hourly wage in a fun environment with fries as a side benefit. The waitress job was terrific because I made awesome tips along with my paycheck.
Both were job experiences that allowed me to make serious money as a teen.
If you like the idea of helping serve people food, inquire about jobs at restaurants near you. You could also work as a cook, a busboy/girl or a cashier at local restaurants.
36. Be a Call Center Representative
Many companies hire call center representatives to work from home. Call center reps perform duties like scheduling appointments, handling customer service requests and answering product information questions.
Many companies that need customer service reps require applicants to be 18 years of age or older. Other companies, such as U-Haul, allow teens as young as 16 to work as customer service reps.
Companies in need of customer service reps provide all training for employees. Online customer service reps usually train via an online service manual. The company will send you the manual so you can learn about their services and products.
If you are polite and like working with people, this job could be a great way for you to earn money.
37. Get a Paper Route
When my brother was 12, he got his first paper route. Within six months, he had earned enough money to buy a new stereo system and expensive Christmas gifts for each member of our family.
Contact local papers to see if they have paper delivery routes available in your area. Or check your local newspaper's employment section for ads seeking paper delivery workers.
Keep in mind that working as a paper delivery person can require you to work odd hours. For example, some newspapers need to be delivered very early in the morning.
However, if you're up early anyway, you could get your deliveries done before school.
Find out which days and hours you need to work before you sign on for this job. As with mail deliverers, newspaper deliverers are required to deliver in all types of weather.
38. Movie Theater Worker
Do you love people and movies? You might enjoy a job as a movie theater worker. Movie theaters offer several different job opportunities such as ticket sellers, ticket takers, concession stand workers and janitors.
Check with your local theater management to see about submitting a job application. Note that you may have late shifts if you work at a theater.
39. Grocery Store Employee
Grocery stores have many different jobs available for teens. You could be a cashier, a grocery bagger, a cart handler or a stock person.
Some positions at grocery stores require customer interaction while others don't.
Therefore, grocery store work could be a good choice for you whether you love working with customers or would rather work behind the scenes.
40. Retail Store Worker
Many clothing and retail store managers need teens to work cash registers and keep shelves stocked. Retail work can be done seasonally, such as during the holidays, or year-round.
A professional appearance, a good attitude and a willingness to be on time count where local retail stores are concerned.
If you have these qualities, you might want to consider a job in retail. Check for work with clothing, home improvement and big box stores near you.
What to Do With The Money You Make as a Teen
It is important that you have a plan for the money that you earn.
Make sure you put money in three different areas:
Give
2. Save
3. Spend
A good rule of thumb is put 10% toward give, 20% toward save and 70% towards spend. This way you build money habits that will be beneficial for the rest of your life.
Summary
If you are a teen that wants to put money in your pocket, there are many ways you can succeed. Think about what you enjoy doing, the skills you have, and how much time you have to commit to making extra money.
With a little creativity and some hard work, you can start earning serious cash in no time.