Teen banking accounts allow teens to have their own spending cards and receive deposits from friends or employers. They also make it easy for parents to transfer funds to their children.
The Step Card offers essential banking services to parents and teens without charging fees. It even helps teens improve their credit score by using a secured debit card.
This Step Card review can help you learn more about how the platform works to determine if it's the right option for you and your teen.
Summary
The Step Card helps teens build a credit history while offering a free bank account. There is no minimum account balance. This service also offers overdraft protection and basic money management tools.
Pros
No monthly fee
Can build a credit history
Free ATM withdrawals
Cons
No online bill pay
No debit card rewards
Doesn't earn interest
What is the Step Card?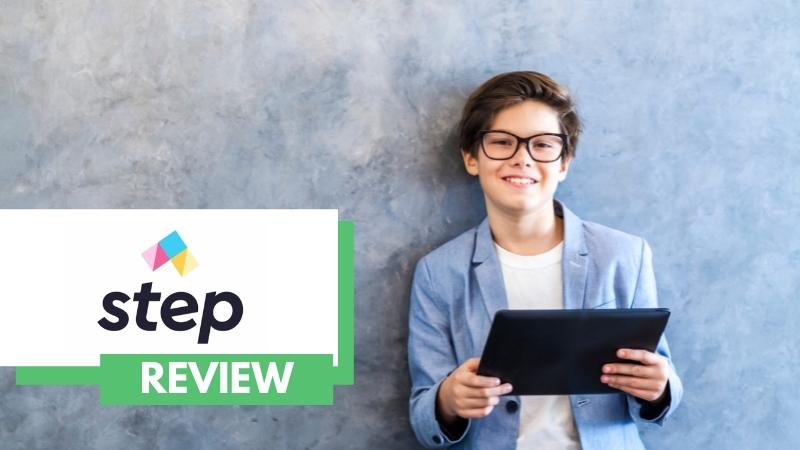 Step is an online banking app for teens under the age of 18 who are too young for a traditional checking account.
There are no monthly fees, overdraft fees or minimum balance requirements. You can also make free ATM withdrawals.
Each adult and teen receives their own debit card and banking account. Parents can monitor the teen accounts and easily transfer funds using the bank's mobile app.
What's unique about this platform is that the Step Card isn't like a traditional debit card. The card actually lets you build credit.
But, like a debit card, the Step Card withdraws the purchase amount from your balance each day. Additionally, you cannot overdraft your account.
That said, this card lacks several money management tools that similar services offer. For example, you won't get online bill pay or robust budgeting tools.
This service is open to U.S. residents, and the primary account holder must be at least 18 years old.
How Does Step Card Work?
Parents must first install the Step mobile app on their Android or iOS phone. Then, they will connect their phone number and create a parent (sponsor) account.
Once they create an account, parents can invite their teens to join. Each teen must have their own phone number as this is how Step protects each account.
For Parents
Parents are the primary account holders and must provide permission for teens to open an account. This process is required because the minimum legal age to open an account is 18.
After the parent or legal guardian opens an account, they can add another adult to be a co-sponsor. It's even possible for parents to sponsor multiple children.
Parental Controls
Parents or guardians can monitor the spending and savings activity of the teen accounts they sponsor. They can also freeze the teen's account to prevent spending.
However, these controls don't offer the ability to restrict specific store categories like some teen debit cards do.
Sending Funds
You can schedule one-time and recurring money transfers to your teens. Children can also request cash from sponsors and non-Step users.
For Teens
When it comes to how the card works for teens, there are a few key functionalities to keep in mind.
Direct Deposit
If you're making money as a teen, you can receive your paycheck via direct deposit. These funds get deposited directly into the teen account instead of the parent account.
You can find the routing number and account number in the banking app.
The service also offers a direct deposit form that includes a canceled check. Some employers require this additional data to process your payments.
This feature is free, and you might be able to receive your deposits up to two days earlier than other platforms.
Requesting Funds
If you want to request money from another Step user or someone who uses a different bank, the process is simple.
You can request funds in the Step app using:
A name from your phone contacts
Someone's phone number
A Step username
The sender can use Step or another bank. Step-to-Step transfers are instant, but outside transactions may require up to three business days to complete.
It's also possible to send funds to other Step members. This feature is useful when you're splitting purchases or repaying an IOU.
Making Purchases
You can make purchases with a virtual card or your physical debit card. The card numbers are different, which helps minimize the negative impact of fraudulent transactions.
For example, if your physical card is lost or stolen, you can still use your virtual card for digital purchases. This way, you can continue to make purchases while waiting for your replacement card to arrive.
Adding Funds
There are several ways for parents and teens to add funds to an account.
These include:
Direct deposit
Linked debit cards
External bank accounts
Payment apps like Cash App or Venmo
Cash deposits at participating merchants
Debit card transfers execute within several minutes, and direct deposits can arrive up to two days early. However, transfers from outside bank accounts and payment apps can take one to three business days.
Unfortunately, this app currently doesn't support mobile check deposits or ATM deposits.
How Much Does the Step Card Cost?
For the most part, your Step Card is free to use. You don't have to complete monthly activities like receiving direct deposits or maintaining a minimum balance to waive certain fees.
With the Step Card, you won't pay:
Account fees
Service fees
In-network ATM withdrawals
Money transfers
Overdraft fees
However, there are some fees associated with using the card.
The two fees you might encounter include:
Cash deposits: $3.95 per deposit, but your first two are free
Non-network ATM withdrawals: Varies by ATM owner
Transaction Limits
Parents may decide to use this account for more than helping their child manage money. As a result, there are several deposit and withdrawal limitations to know about.
The limits include:
| | |
| --- | --- |
| Limit Type | Amount |
| Maximum account balance | $10,000 |
| P2P send-and-receive transactions between Step users | Up to $3,000 per 30 days |
| Daily purchase limit | $1,000 for debit card transactions, $500 for Apple Pay or Google Pay |
| Withdrawals to a linked bank account | $250 per day |
| ATM withdrawals | $250 per day, up to $1,000 within 30 days and up to 10 withdrawals per 30 days |
The Step Smart Pay feature only lets you spend up to your current account balance.
Furthermore, since you are unable to enroll in online bill pay for preauthorized withdrawals, you cannot overdraft your account.
Key Features
Step offers some unique benefits that help set it apart from other competitors in the space.
Secured Spending Card
The Step Visa Card is a great alternative to prepaid debit cards for teens because it has fewer restrictions.
You receive a physical card and a virtual card that make it easy to facilitate in-store and online purchases. This card has near-universal acceptance as it's a Visa product.
It can be easy to overspend when handling digital money. Fortunately, this card prevents overspending because you can only spend up to your current account balance.
The virtual card is also helpful since you can use it before your physical card arrives. You can use it to make purchases online and through Apple Pay or Google Pay.
Build Credit History
This card is similar to a secured credit card since Step reports your payment activity to the credit bureaus each month. This is a rare benefit for teens as most credit builder programs are only available to adults.
Getting a head start on building a positive credit history can help you qualify for lower interest rates on loans or getting an apartment.
Savings Goals
You can make multiple savings goals to earmark a portion of your account balance for a purpose. The app lets you assign a deposit to a goal and updates you on your progress.
Any money you set aside for these goals won't earn interest and remain in your spending account. Despite these downsides, this tool is an easy way for teens to learn how to manage money.
Allowance Payments
Parents can schedule recurring allowance payments for chores or other reasons. Just securely link your debit card or account to ensure your teen receives the funds.
Instant Money Transfers
Parents and teens can send money instantly to other Step users.
It's also possible to receive funds from a linked debit card when your Step account is running low. That said, it's important to note that the non-Step bank account may charge a transfer fee for these rapid transfers.
Lock/Unlock Card
You can instantly freeze or unfreeze physical and virtual cards from the app. Parents have this ability for the teen cards they sponsor.
This feature helps prevent overspending and fraudulent purchases.
Free ATM Withdrawals
It's possible to make surcharge-free withdrawals at approximately 6,000 ATMs nationwide.
While this app is best for cashless transactions, being able to get physical cash is convenient as well.
Cash Deposits
You can make cash deposits at approximately 70,000 retail stores across the country.
Participating merchants include:
The app shows a map of nearby deposit locations, and you can deposit up to $500 at once. Your first two deposits are free.
Money 101
The Money 101 financial literacy feature has short online articles teaching basic money lessons. Some of the articles may interview people or highlight ways to use your Step account.
Referral Program
It's possible to earn money with Step. For each person who joins the platform using your unique referral code, you'll receive $10.
Step Card Reviews
If you want to know what other users have to say about the Step Card before signing up for it, there is plenty of feedback on some of the major rating sites.
The ratings for Step Card across the various sites are as follows:
Here is a sampling of reviews for the Step Card:
"They have customer support that always answers my questions within a couple of hours. I had a dispute and they handled it professionally." — Arlison T.
"You can request and send money with your mom, dad, or friends. This app is really cool if you want to keep all of your money in one little card instead of having to carry loads of cash." — Cosyenough_4
"Overall this is 10/10. This is the only bank that I've found that takes people my age, they now have a savings feature, you can reload your card now and more. I hope to see a feature where you can deposit checks as well." — Maze
"I switched companies because I can't deposit money into my card or my kids cards even though I sent in proof of my ID and debit card they asked for. Told me there was nothing they can further do other to shut my account down." – Shannon Mitchum
Alternatives to Step Card
You might prefer another teen banking option that can provide different benefits or hands-on support for parents. Here are some of the top alternatives to the Step Card.
Greenlight
The Greenlight debit card lets your children earn up to 2% back on debit purchases and make a budget with saving, spending and giving categories.
Parents may also appreciate the in-depth parental controls, including category and store-level limits. You can even assign chores using this debit card app.
Three plans are available with different benefit tiers. The monthly fee ranges from $4.99 up to $9.98.
BusyKid
BusyKid lets you assign chores and an allowance based on the age of your children. Your teen can also make a basic save, spend and give budget.
Parents even have in-depth parental controls and can transfer funds to their children.
You can pay $3.99 per month (or $38.99 upfront each year for a 20% discount) and receive up to five teen debit cards.
FamZoo
You may appreciate FamZoo when you want specific debit cards for different spending categories. Some of the best app features include chore management, customizable budgets and family loans.
Monthly pricing starts at $5.99 per family, but you can receive discounts by enrolling in a yearly plan. You can also use the budgeting tools for free if you don't want debit cards.
Copper Banking
Copper Banking offers free teen banking accounts that parents and teens alike may appreciate.
The platform provides these benefits:
50,000+ fee-free ATMs
Automated allowance payments
Financial literacy lessons
Savings goals
Unlike Step, your debit card purchases won't help your teen build a credit history.
FAQ's
Here are some additional details you should know about the Step Card to help you decide if it's right for you and your teen.
Is the Step Card safe?
Step provides up to $250,000 in FDIC insurance through Evolve Bank & Trust.
The banking app also uses two-factor authentication (2FA) to protect your account.

Plus, your Step Visa Card has $0 fraud liability. As a result, you're not responsible for paying fraudulent purchases.
Can you earn interest or rewards with a Step Card?
No. The Step Card doesn't have a rewards program, nor does it offer any interest on your balance.

However, the bank does offer a referral program that lets you earn a $10 reward for each new user you refer.
Does the Step Card build credit?
It's possible to use the Step Card to improve your credit score and establish a positive payment history. The card is technically a credit card but functions as a debit card.

Step reports your payment history each month to the credit bureaus. Similar to a debit card, you won't overdraft, and a transaction only clears when your account has sufficient funds.
What are the Step Card customer service options?
You can send a message in the Step mobile app or visit the online FAQ library to receive assistance. It's also possible to email the company.
How does the Step Card make money?
Step makes money by collecting interchange fees from the merchant when you make debit card purchases. These fees allow the platform to offer free banking services.
Summary
The Step Card is a great option for parents wanting a fee-free teen banking account. Plus, the service makes it easy for parents and teens to add funds and spend money.
Being able to build a credit history and avoid overdraft fees can also be valuable.
However, this service isn't a long-term banking solution as there are no online bill pay options. Additionally, you may prefer a solution that earns interest or debit card rewards.