Even though it's just a three-digit number, your credit score can impact your life in big ways. The best credit building apps can help you improve your score.
Lenders will look at your credit score when deciding whether or not to give you a loan. Plus, your credit score will influence the loan terms they are willing to offer you.
If you are looking to boost your credit score, you are in the right place. Here are the top rated credit building apps to help you improve your credit score.
Editor Top Picks:
SeedFi
Get Credit Builder Prime for free and start building your credit.
Sable
Build credit fast and earn rewards through a secured credit card.
Credit Strong
Find a loan product that suits your credit building needs and goals. 
Top Credit Building Apps
A credit building app can fast-track your journey to a good credit score. But with seemingly unlimited options, it can be difficult to find the best app for your situation.
In order of their Trustpilot scores, here are the best credit building apps that can help you achieve your credit goals.
1. SeedFi
SeedFi offers Credit Builder Prime, which is a free opportunity to build your credit. And of the excellent customer reviews are any indication, you'll love the Credit Builder Prime opportunity.
The app allows you to open a SeedFi saving account without a credit check. From there, you can choose what amount of money SeedFi will add to the savings account each pay period. You'll need to commit to saving at least $10 every pay period.
The next time you get paid, you'll pay SeedFi back. The regular payments are reported to all three credit bureaus, which can help your credit score grow. Plus, you'll build savings over time. SeedFi will unlock your savings in $500 increments.
What's truly unexpected about SeedFi's Credit Builder Prime is that it's completely free to use. That's right! There are no interest rates or fees attached.
According to SeedFi, this program is an investment in your customer relationship. The company actually makes money through their other credit builder loan, the Borrow & Grow plan.
Ultimately, multiple options, increased flexibility, and an entirely free version make SeedFi a great choice if you want to improve your credit.
Read our full SeedFi Review for more details.
Trustpilot score: 4.8 out of 5
Pros
Highly rated by customers
Free version
Cons
Savings in $500 increments
High rates on some products
2. MoneyLion
MoneyLion is another well-rated credit building app. According to MoneyLion, their Credit Builder Plus product has been proven to build credit.
Over half of MoneyLion members report an increase of 42+ points within 60 days. That's a big jump.
With the Credit Builder Plus loan, you can apply without a hard credit check. If you are approved, you'll receive a portion of the funds upfront. The rest will be stored in a Credit Reserve Account for you to unlock later.
MoneyLion's biggest downside is the $19.99 monthly membership fee. While building credit is a valuable money move, you might not have the money in your budget for this extra expense.
Trustpilot score: 4.7 out of 5
Pros
No hard credit inquiry
Receive a portion of the loan upfront
Cons
$19.99 monthly fee
Receive partial loan upfront
3. Sable
Sable offers you the opportunity to build credit through a secured credit card. Depending on your usage of the card, you may be able to graduate to an unsecured credit card in as little as four months.
You'll have to put money down upfront to open the secured credit card. But, if you keep up with your payments, you'll receive your security deposit back within a few months.
When you use the card, you'll be able to manage the entire experience directly from your phone. Unlike a credit builder loan, this secured card comes with quite a few perks.
For example, you can earn unlimited 2% cash back at certain retailers such as Amazon, Spotify, Netflix, Uber and more. Plus, you'll get 1% cash back on all other purchases.
If you have the funds available to make a deposit and keep up with your payments, this could be the right app for you. Since it doesn't charge any monthly fees, you'll be able to start building credit without a toll on your budget.
Read our full Sable Review for more details.
Trustpilot score: 3.3 out of 5
Pros
No annual fee
Earn rewards
4. Credit Sesame
Sesame Cash, offered by Credit Sesame, provides a virtual secured credit card. After allocating a particular amount of cash to the card, you can start making purchases.
The app will report some of your monthly debit purchases to the credit bureaus to provide a history of on-time payments.
You'll need to have the funds to make an upfront deposit, which you can get back. Other than that, Sesame Cash is free.
As an added twist, the company will actually pay you as your credit score increases. You'll earn $100 if you increase your credit score by at least 100 points in 30 days.
Sesame Cash offers a unique way to build your credit score, and the incentive of earning money for improving your score might be just the motivation you need.
Trustpilot score: 3.3 out of 5 stars
5. Grow Credit
Grow Credit offers a credit-building opportunity based on your monthly subscriptions. As a Grow Credit customer, you'll receive a Mastercard that you can use to pay for your subscription services.
There are over 100 available subscriptions to add. A few popular ones include Netflix, Hulu, Disney+, Amazon Prime, and more.
Once it's set up, Grow Credit will report the payments you make on your subscription services to the credit bureaus.
You can take advantage of this service for free. Plus, you'll run into a monthly spending limit of $17.
If you decide to upgrade your account, you can choose a monthly spending limit of $50 or $150. That said, you'll have to pay between $1.99 to $7.99 per month.
If you already pay for subscription services, then working with Grow Credit could help you get credit for those regular payments. However, you'll have to decide if paying another monthly fee is worth it.
Read our full Grow Credit Review for more details.
Trustpilot score: 3.3 out of 5
Pros
Free option available
Easy to set up
6. Credit Strong
Credit Strong offers credit builder loans with a wide variety of monthly payments. You can choose a credit builder loan with monthly payments that range from $15 to $110.
The suite of options means that you'll likely find a loan product that suits your credit building goals.
Although there is no option to receive any of your loan funds upfront, you will unlock the entirety of your savings at the end of the loan term.
If you are trying to build credit, the range of options available through Credit Strong can be enticing.
The only downside to Credit Strong is the cost. Of course, you'll pay interest on the loan, but you'll also have to pay a non-refundable administration fee. Combined, these costs can add up quickly.
Read our Credit Strong review for more details.
Trustpilot score: 2.8 out of 5
Pros
No hard credit check
No fee to terminate loan early
Cons
No funds upfront
Not available in WI or VT
7. Self
With Self, you can take out a credit builder loan that has the potential to boost your credit score.
As you make payments, Self will store your funds in a CD account for you. Along the way, Self will report your payments to the credit bureaus.
Customers who work with Self may have to pay an interest rate around 15% or higher. Plus, there is a $9 administrative fee required to start the loan.
At the end of the loan, you'll walk away with the savings you've built. However, the savings won't be the sum of your monthly payment. You'll have to factor in the interest payments that Self hangs onto.
For some people, Self is a useful option. That said, you'll need to consider the overall costs of the loan before jumping in.
Read our Self review to learn more.
Trustpilot score: 2.8 out of 5
Pros
No hard credit inquiry
Cancel anytime
8. Kikoff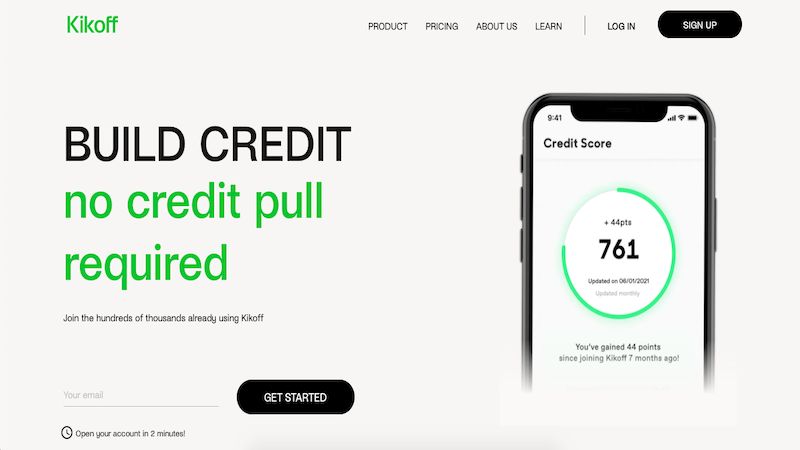 Kikoff offers a unique spin for credit builders. You can instantly sign up for a Kikoff credit account. Once approved, you'll have a $500 line of credit.
The catch is that you can only use the line of credit in the Kikoff store. After using the line of credit, you'll need to make on-time payments to build your credit score.
Although you can only use the line of credit through the Kikoff store, the saving grace is the lack of fees. You won't run into any administrative fees, annual fees, late fees, or interest charges.
The revolving line of credit can potentially boost your score. Unfortunately, Kikoff will only report your payments to Equifax and Experian.
With that, you'll miss out on positive activity reports to the third credit bureau, TransUnion.
Trustpilot score: 2.6 out of 5
Pros
Credit check not required
No interest charges or late fees
Cons
Only reports to two bureaus
Monthly membership fee
Only available in Kikoff store
9. Extra
The Extra debit card allows you to build credit by spending the funds in your bank account. After signing up, Extra will give you a spending limit determined by your bank balance.
As you make purchases, Extra will provide the funds and automatically withdraw payment from your bank account the next business day.
At the end of each month, Extra will report your transactions to Equifax and Experian. Unfortunately, Extra doesn't report to TransUnion.
Luckily, it's very convenient to use Extra because you won't have to move bank accounts. Instead, you can connect one of the 10,000+ supported banks.
Read our Extra Debit Card Review for more details.
Trustpilot score: N/A
Pros
No credit check
Earn 1% rewards on spending
Cons
Only reports to two bureaus
Monthly fee
10. Sequin Card
Last but not least is the Sequin Card. This debit card is specifically designed to help women build credit using debit card purchases.
Like the Extra debit card, the Sequin Card connects to your bank account. As you make purchases, Sequin will spot you the funds for your transactions and withdraw the exact amount from your bank account that day.
At the end of each month, Sequin will report the sum of your transactions to Experian. Since Sequin doesn't report to Equifax or TransUnion, that could be a dealbreaker for some.
Nevertheless, thanks to its ability to build credit using your debit card purchases and no monthly fee, the Sequin Card has a lot to offer.
Trustpilot score: N/A
Pros
No monthly fee
No interest
Cons
Only available in 36 states
Upfront deposit required
Only reports to Experian
FAQs
Before signing up for a credit building app, it can be a good idea to understand exactly what they are and why their ability to help you with your credit can be beneficial
What is a credit history?
Your credit history is a long-term record of your credit management. You'll find information about all of your current credit accounts plus many from your past.
 
A good credit history will show a solid record of consistent on-time payments of your debts. A credit history with missed payments won't look as promising to a lender. 

Ultimately, the information in your credit history will be used to determine your credit score. 
Why is building good credit important?
With a good credit score, lenders are willing to offer better interest rates. This could lead to thousands of dollars in savings when you are financing large purchases. 

In a nutshell, good credit can unlock a brighter financial future with access to more affordable financing. 
When are credit builder apps a good idea?
A credit builder app can be a useful financial tool for those with bad credit or no credit. If you want to build your credit in a steady and controlled way, credit builder apps can be a great idea for you. 

With plenty of options out there, you can find a credit builder app that works for your budget and your credit building goals. 
Credit Building App Comparison Table
| | |
| --- | --- |
| Company | Trustpilot |
| SeedFi | 4.8 |
| MoneyLion | 4.7 |
| Sable | 3.3 |
| Credit Sesame | 3.3 |
| Grow Credit | 3.3 |
| Credit Strong | 2.8 |
| Self | 2.8 |
| Kikoff | 2.6 |
| Extra | N/A |
| Sequin Card | N/A |
Summary
The right credit building app for you will vary based on your unique situation.
You might have the funds to make a deposit on a secured card. Or, you might decide that a small monthly payment fits into your financial picture better. Alternately, you may want a way to get credit for purchases you are already making.
After exploring your credit needs, the right app for you should jump out more easily. Regardless of which option you choose, you'll be on the road to improving your credit in no time.