Credit scores have a major impact on your financial health. A good credit score could save you thousands when financing a major purchase, such as a home or vehicle.
However, building credit is easier said than done. Lenders want to see a good credit history before you open an account, but you'll need credit accounts to establish a credit history.
Kikoff is a service that helps you improve your credit score. In this Kikoff review, we'll explore the opportunity to see if it's a good fit for your needs.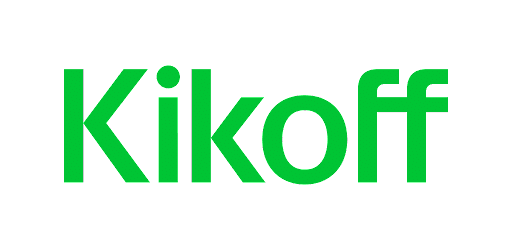 Summary
Kikoff offers a line of credit to those looking to improve their score in most states. You'll make minimum monthly payments of $5 to build credit at Experian and Equifax.
Pros
Build your credit
$750 line of credit
No interest payments
No fees
Cons
Confusing add-on service offering
Must make purchases from Kikoff store
What is Kikoff?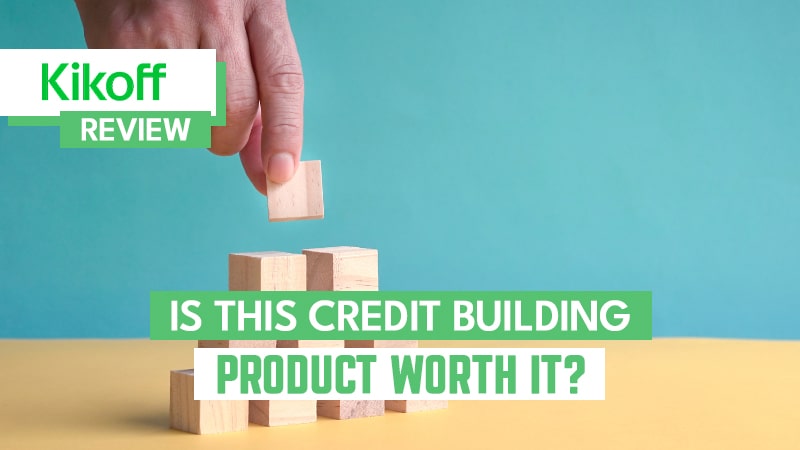 Kikoff is an online platform that is based in San Francisco and offers products designed to help users build their credit scores.
The company aims to provide effective, fair and simple ways for consumers to achieve their financial goals by helping them improve their credit without using a credit card.
It claims that it creates an equal opportunity for everyone, regardless of where they are in their financial journey.
Kikoff addresses three key factors that make up 80% of your credit score.
These include:
Payment history
Credit utilization
Average account age
With no interest charges and no credit pull, the company provides a unique way to help consumers build their credit.
The site boasts that it has hundreds of thousands of users who are maximizing their credit using the service.
How Does Kikoff Work?
Kikoff offers a chance to build credit. Here's how that opportunity plays out in real life.
How to Sign Up for a Kikoff Account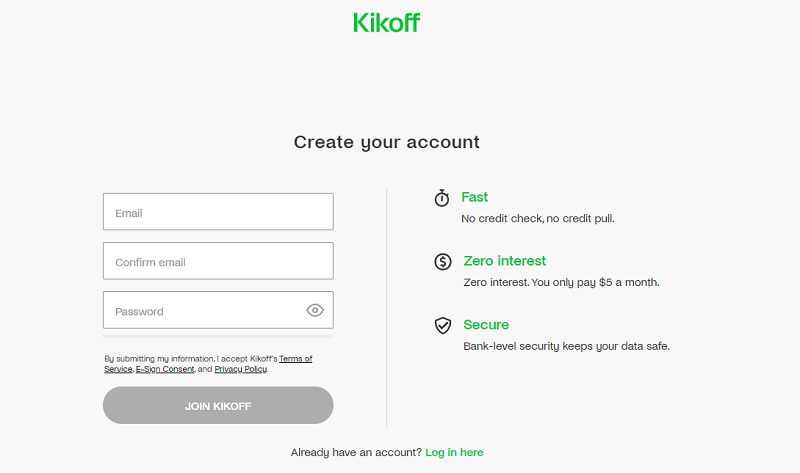 The process starts with signing up with Kikoff.
You'll need to be at least 18 years old and have a Social Security number. As of this writing, the service is available in every state except Delaware and Indiana.
Additionally, you'll need to create an account with your email and selected password.
You can choose from two different products:
Kikoff Credit Account: Basic account to improve credit scores
Credit Builder Loan: Optional add-on to further build credit
While the Kikoff site has quite a bit of information about their Kikoff Credit Account, information about their Kikoff Credit Builder Loan is more sparse.
Since it is an add-on, you may need to sign up for the Credit Account first to get more details about the Credit Builder Loan.
How to Use the Account and Kikoff Store
According to Kikoff, you'll be instantly approved without a credit check. At this point, you'll have a $750 line of credit to use at the Kikoff store.
Although you'll have to use the revolving line of credit to make purchases in the store, you don't have to spend your entire line of credit.
Within the store, you can expect to find digital products about financial literacy and entrepreneurship. Generally, you'll find many options starting at the $10 price point, so your $750 revolving line of credit is more than enough.
After you've made a purchase in the Kikoff store, you'll be required to start making a minimum monthly payment of $5. When you make those payments, the platform will report your payment history to the major credit bureaus.
If you are worried about missing a payment, consider setting up AutoPay. This feature allows you to put your credit building on autopilot.
Kikoff Credit Bureau Reporting
Once you start making payments, you might see a boost in your credit score. This is because Kikoff reports your payments to Equifax, Experian and Transunion. However, the credit bureaus it reports to depends on which product you use.
The Kikoff Credit Account reports to Equifax and Experian, while the Credit Builder Loan reports to Transunion and Experian.
Of course, the results of this credit-building tool will vary based on your unique situation. But, according to the company, customers with credit scores under 600 points saw a 58-point increase.
It might take some time to see results. In fact, it can take up to six weeks to see Kikoff on your credit report.
That said, similar to using a traditional or secured credit card, building a record of on-time payments can only help your credit score.
How Much Does Kikoff Cost?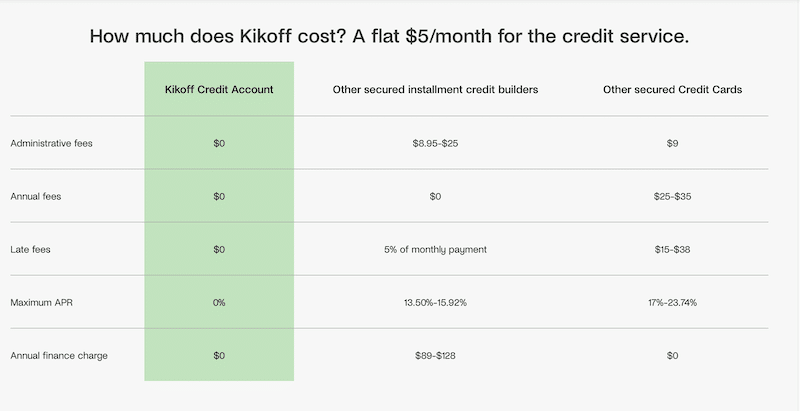 If you want to start building credit with the service, you'll only need to pay $5 per month for the Kikoff Credit Account. In addition, the Credit Builder Loan product costs $10 per month.
You won't encounter any interest, annual fees, administrative fees or late fees.
Is Kikoff Worth It?
Kikoff is a great tool for anyone who is looking to build credit using a revolving line of credit. At just $5 per month, it's a worthwhile option if you want to take your credit to the next level.
However, some users will find more value in the service than others. In general, you'll get the most out of Kikoff if you are starting with a low credit score or no score at all.
How Kikoff Impacts Your Credit
Kikoff offers a useful credit-building opportunity since it reports to the major credit bureaus. But how exactly does it help improve your credit?
Payment History
When it comes to your credit score, payment history is the most important factor to the credit bureaus. In fact, this factor accounts for 35% of your FICO score.
The importance of your payment history makes sense. After all, lenders want to make sure that you'll pay your bills on time before lending you money. With Kikoff, you have the opportunity to build a long history of on-time payments.
Kikoff even offers an automatic payment option to help you avoid accidentally missing a payment. With each payment you make on time, the platform reports this positive information to the different credit bureaus.
Credit Utilization
Credit utilization is the second most important factor in your FICO score. It accounts for 30% of your score.
Essentially, this is a measurement of how much credit you are using against how much credit you have. For example, if you have a balance of $100 and a credit line of $1,000, your credit utilization ratio is 10%.
A lower credit utilization ratio is good for your score. The platform gives you an opportunity to keep this ratio low.
With store items starting at $10 and a Kikoff line of credit of $750, you can easily maintain a low credit utilization ratio that the credit bureaus will appreciate.
Account Age
Account age plays a role in your credit health. An older average account age will have a positive impact on your credit score.
Kikoff doesn't allow your Credit Account to expire automatically. Instead, your line of credit and account it will continue to sit on your credit report, which leads to an increase in your average account age.
Although you can cancel your Kikoff Credit Account, your score might benefit from leaving it open.
Unique Features of Kikoff
When it comes to differentiating itself from the competition, Kikoff stands out in a couple of unique ways.
Open-Ended Time Commitment
When you sign up with Kikoff, there's no minimum or maximum time commitment. You can start building credit today without the worry of this relatively small bill impacting your budget for the long term.
If you want to stop making the $5 monthly payment, it's easy to close your Kikoff account. That means you can adjust if your financial situation changes.
Kikoff Store
The Kikoff store is filled with digital products, and you can use your line of credit to purchase items. According to the reviews, you'll find plenty of e-books and other informative content in the store.
If you are looking for educational resources about personal finance, you can improve your credit while building knowledge.
Kikoff Reviews
There are many credit-building platforms available. Reading user reviews can give you an idea of what may or may not work for your unique situation.
Here's how Kikoff stacks up on various rating websites:
Here's a look at some Kikoff reviews from customers:
"This app has honestly helped me get my credit score in top condition…Once I fully grasped the kikoff concept, I took advantage and haven't regretted it at all. hoping to keep up the good work from these guys. so far so good." – Ari Universe
"I applied and my application was denied because their verification system was having issues. I was told I have to now wait 6 months. What a waste of time. And after reading the reviews and majority is bad. I'm glad I didn't." – Markell
"This is not a $500 dollar credit limit to go spend on whatever. This is strictly to build your credit and it works great for that." – Nathan
"They are the biggest scammers. A true BAIT AND SWITCH !! They took my personal data like SS# Ect.. just to say they are not authorized in my STATE !!!" – Carlos
Alternatives To Kikoff
Kikoff presents one opportunity to build credit using a credit line, but it's not the only option on the market. Here are some other sites like Kikoff.
MoneyLion
MoneyLion offers a credit builder loan. With this loan, you'll start making payments without receiving any funds upfront. Instead, MoneyLion will tuck away the principal portion of your payment into a designated savings account.
At the end of the loan term, you'll get access to these savings. But, be prepared for APRs between 5.99% and 29.99% and a $19.99 monthly membership fee.
SeedFi
SeedFi has two credit-building opportunities, including a credit builder loan and its Credit Builder Prime program. The latter charges a $1 monthly fee, and you'll commit at least $10 in savings to a locked account every month.
If you are looking for upfront funds to spend while building credit, SeedFi is an interesting opportunity.
Sesame Cash
Credit Sesame, which is a popular way to monitor your credit score, offers Sesame Cash. This is a prepaid debit card paired with a bank account that offers an opportunity to build your credit score.
The best part is that it's free to use this credit-building tool.
FAQs
If you are still on the fence about using Kikoff, these answers to frequently asked questions might be able to help.
Is Kikoff legit?
Yes, Kikoff offers a legitimate opportunity to build credit using a $750 credit line. Users can tap into two different types of credit building options that could take their credit to the next level.
What customer service options does Kikoff offer?
Kikoff offers a detailed customer support portal filled with the answers to the most common questions you might have about the service.
Additionally, you can reach out to the customer support team at support@kikoff.com.
Is Kikoff safe?
Yes. Kikoff uses multi-factor authentication and encryption to safeguard your data.
With these security features, it's reasonable to be comfortable providing sensitive information to the platform.
How much can Kikoff help my credit score?
According to Kikoff, customers with credit scores under 600 points saw a 58-point increase when using the service. However, the results will vary based on how you manage your credit accounts.
Can Kikoff hurt my credit score?
Yes, it's possible for Kikoff to hurt your credit score. If you make one payment through the platform and then close your account, it can adversely impact your average account age.
Before signing up for Kikoff, make sure you want to stick with the service for a while so that it doesn't hurt your credit score.
Does Kikoff do a hard credit inquiry?
No. Kikoff doesn't check your credit during the application process, which means there is no credit inquiry required to sign up.
Is Kikoff a secured credit card?
No. It is not a secured credit card. Kikoff is a credit-building plan that helps you improve your credit using a $750 credit line. It allows you to build your payment history without building more debt.
It's generally safer to use than a traditional credit card. Plus, you won't incur interest rates like you would with a credit card.
How do I cancel Kikoff?
If you decide you want to cancel your Kikoff account, you need to email customer service at support@kikoff.com. There is no phone number to call if you want to cancel.
Summary
Kikoff lets you build credit by purchasing affordable digital products and making on-time payments. However, your purchase abilities are limited, and credit bureau reporting can vary between the service's offerings.
Nevertheless, Kikoff is an affordable and safe way to start building credit.