Your credit score and credit report are two critical parts of your financial health. They come into play when you borrow money, buy insurance and even when you rent an apartment.
But how does someone with poor credit improve their score without access to the tools normally used to do so?
That's where the Extra Debit Card comes in. This card is designed to help consumers build their credit without the help of a traditional credit card.
Keep reading to learn what the Extra Debit Card is, who it's best for and how it works.

Summary
Extra is a debit card that allows users to build their credit score just for spending the money in their bank account. Extra is neither a secured credit card nor a checking account, but it shares characteristics of each.
Pros
Doesn't require a hard inquiry upon sign-up

Allows users to earn 1% rewards on their spending

Reports to two major credit bureaus to build your credit score

Doesn't require a deposit like a secured credit card

No credit check required
Cons
Doesn't report payments to TransUnion

Customer service for customers only, not prospective customers

Rewards can only be spent in the Extra rewards store

A fee ranging from $7 to $12 per month
*Editor picks for review features
What is the Extra Debit Card?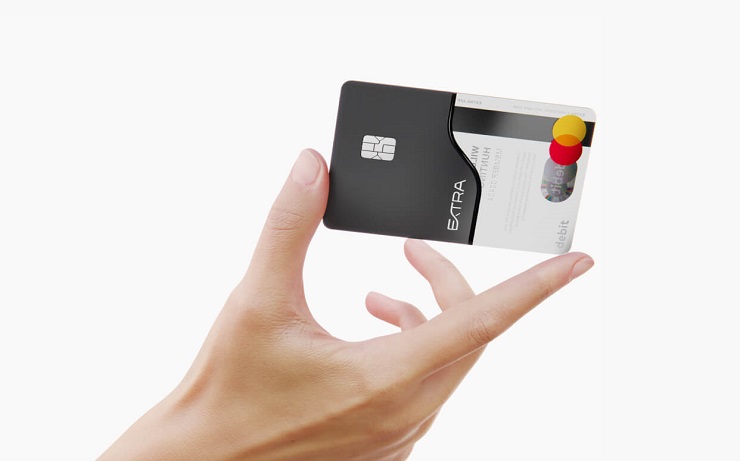 The Extra Debit Card is a debit card that allows you to build your credit by spending the money in your bank account. Then, the platform reports your payments to the major credit bureaus.
Extra isn't a separate checking account. Instead, it connects to your existing bank account. You spend money, and Extra covers the cost. Then, you pay Extra back the next day.
This card is designed for those who can't (or don't want to) get a traditional credit card to help them build credit.
As a company, Extra is relatively new to the financial scene. It was founded in New York but serves roughly 80,000 customers across the United States.
Who is the Extra Debit Card For?
The Extra Debit Card was specifically created for people who don't qualify for a traditional credit card but still want to build their credit.
Since Extra only allows you to spend money you actually have in your bank account, there's less risk for the company. As a result, they can offer cards to borrowers with poor credit.
In addition to being a good fit for those who may not qualify for a traditional credit card, Extra can also be a great tool for those who don't want a credit card.
Unfortunately, credit cards are a pathway to debt for many Americans. A study from Experian shows the average credit card balance is $5,313.
While the credit card itself may not be the problem, some consumers may know themselves well enough to want to avoid the temptation. Consequently, they may not want to use credit cards.
Opting out of credit cards often means a hit to your credit score. This is because your payment history and credit utilization are such important factors in determining your credit score.
In turn, this can make it more difficult to buy a home, finance a car or access any other type of debt.
Luckily, because the Extra Debit Card only allows you to spend what you have while still reporting to credit bureaus, consumers can avoid credit card debt while still building their credit score.
How Does the Extra Debit Card Work?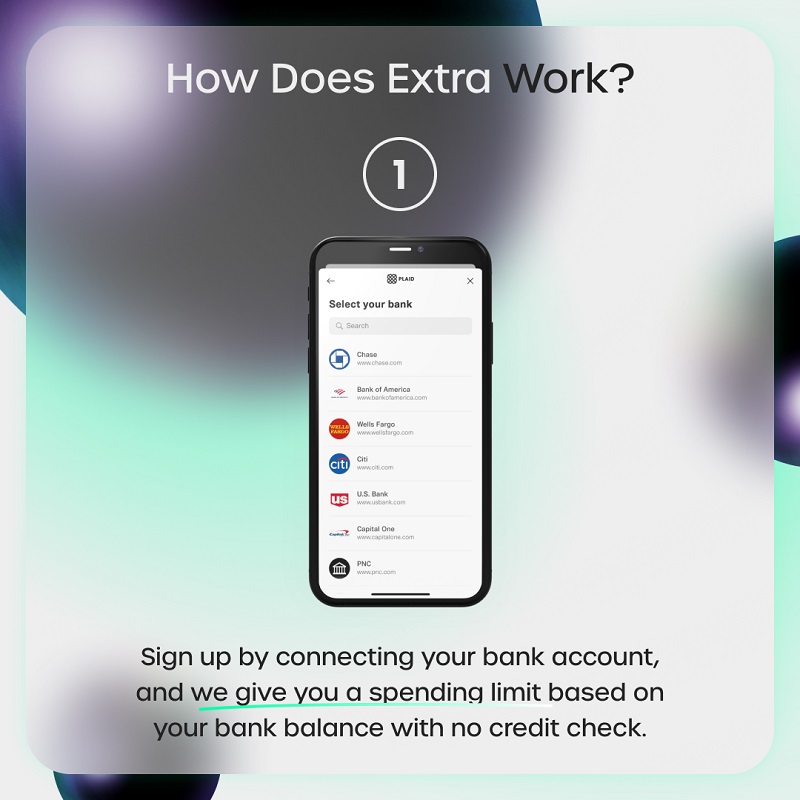 Are you considering signing up for the Extra Debit Card? Here is how the card works.
Register and Connect Your Bank Account
When you apply for an Extra Debit Card, you'll have to provide personal information just as you would when signing up for any other financial product.
During the registration process, you can choose between these plans:
Rewards + Credit Building
Credit Building
You can also select between a monthly and an annual plan. This will affect how much you'll pay in fees.
After selecting your plan, you'll need to connect your bank account. Extra only allows you to spend money you actually have, so your bank account balance is how Extra determines your real-time spending limit.
Swipe Your Card
Once you've been approved for your Extra Debit Card and have received your card, you can start using it for your spending.
At the time of the purchase, Extra covers the cost of the purchase. They then withdraw enough money from your bank account the following day to pay themselves back.
Payments Get Reported to the Credit Bureaus
At the end of each month, Extra adds up all of your transactions and reports them to credit bureaus as creditworthy payments.
Extra currently reports payments to both Experian and Equifax. It doesn't report to TransUnion.
Earn Rewards Points
If you choose the Rewards + Credit Building plan, you'll earn rewards on all of your purchases. You can earn up to 1% in points on everyday purchases, and you can spend your points in the Extra rewards store.
Unfortunately, you can't redeem your rewards for simple cash back. They can only be redeemed in the rewards store.
Relevant Article: 7 Best Debit Cards With Rewards
Extra Debit Card Pricing
Extra offers two different plans, both of which require a fee. The fee you'll be charged depends on whether you choose a monthly or an annual plan. The annual plan offers a 25% discount.
The Rewards + Credit Building plan allows you to build your credit score while earning rewards points on each purchase, which you can then use in the Extra rewards store.
The Credit Building plan only allows users to build their credit with their spending. Both plans also allow users to monitor their credit scores.
Here's the price for each plan
| | | |
| --- | --- | --- |
| Plan | Monthly Cost | Annual Cost |
| Rewards + Credit Building | $12/month | $9/month (billed $108/year) |
| Credit Building | $8/month | $7/month (billed $84/year) |
As you're choosing between the two plans, consider how much value your rewards points will be to you. Yes, you'll earn 1% points on your spending. However, make sure it's worth the extra cost.
$1,000 in monthly spending will result in $10 of rewards points, but they can only be used at the Extra rewards store. Meanwhile, many other credit cards offer a higher percentage reward without a fee.
Extra Debit Card vs. Secured Credit Cards
You might be wondering how the Extra Debit Card differs from a secured credit card. They have some similarities, but there are also some key differences.
Similarities
Both the Extra Debit Card and secured credit cards are available to users who may not qualify for a traditional credit card either because of limited credit history or a poor credit score.
They also allow users to build their credit scores by using their cards.
Additionally, both are secured. A secured credit card is secured by a deposit, while the Extra Debit Card is secured by your bank account. This means that you can't end up in credit card debt.
Differences
There are some key differences between the Extra Debit Card and secured credit cards. One of the big ones is the application process.
With a secured credit card, you'll undergo a hard inquiry that could harm your credit score. Fortunately, with Extra, you don't experience this downside.
Next, a secured credit card requires a deposit that's equal to your credit limit. The deposit you pay simply sits in an account somewhere. It's not actually used to pay off your credit card bill.
The Extra Debit Card is secured using your bank account balance, and you're still able to use the money. This is an important distinction because the deposit on a secured card can be unaffordable for some people.
Another difference between the two types of cards is how payments and interest are handled. On a secured credit card, you have an interest rate. If you fail to pay off your full balance each month, you'll pay interest on your balance.
Additionally, if you forget to make a payment for some reason, you'll be subject to late fees.
It's not possible to forget to make your Extra card payment. Once you spend the money, Extra automatically withdraws enough from your bank account to cover it. There's no interest, no late payments and no late fees.
FAQs
Before you sign up for the Extra Debit Card, you may have some additional questions to help you determine if it's the right option for you.
Is the Extra Debit Card safe?
Yes, the Extra Debit Card is safe. The company offers fraud protection to ensure other people aren't spending your money. 

First, you'll receive a notification for every purchase you make. If you're notified about a purchase you didn't make, simply let the company know. 

Extra even handles disputes and fraud cases internally, so you'll have an extra layer of security in case something goes wrong.

You may also wonder whether it's safe to connect your bank account to your Extra account. Extra doesn't store your banking information. Instead, the company uses Plaid to connect to your bank account. 

Plaid is the industry standard that many other companies use, so you can feel comfortable that your money is safe.

What customer service options does the Extra Debit Card offer?
Current Extra customers can easily contact the company through their app. When you open the app, you'll see a button on the Card tab that says "Member Concierge."

There isn't currently a way for non-customers to contact the company.
Is there a hard inquiry for signing up for an Extra Debit Card?
No, Extra doesn't perform a hard inquiry when you sign up for the Extra Debit Card. This means that your credit score won't take a hit.
Customer Reviews
Extra has more than 700 ratings on the Apple app store, with an average rating of 4.6 of 5 stars. Here are what a few customers have to say about the service:
"I've kept track of my credit as my first credit report with Extra and it has increased!!!! I've recommended this app to my friends, uncle, sis and dad and I recommend it to all of you too!" – francis01011998
"I had this company for MONTHS, they never reported to any of the credit bureaus. I could no longer find value in the app so I decided to cancel the account." – ATL love it
"Highly recommend for those looking to build credit. I've been very happy with my Extra experience, great looking card, the points add up so quick (basically free money) and your spend power increases quickly if you use it everyday." – jjordanallen
"There is nowhere to cancel a subscription and you're stuck contacting customer support who literally harass you for trying to cancel. I spoke to multiple people to cancel my membership and each spent the entire time trying to get me not to cancel rather than help." – PMillWV
Summary
The Extra Debit Card can be a powerful credit-building tool for those with poor credit who can't qualify for a traditional credit card or for those who simply don't want a traditional credit card.
However, there are some caveats. Extra charges a monthly or annual fee, making the card a less than ideal option for those who can get a fee-free rewards credit card.
It's also worth noting that because Extra doesn't report your payments to TransUnion, one of the three major credit bureaus, it won't have the intended benefit for everyone.
Regardless of its shortcomings, the Extra Debit Card may be a great solution for you if you are trying to build or rebuild your credit.