If you are searching for the best debit card for your kids, there are many choices to consider. Two of the top options include Greenlight and FamZoo.
While they have some similarities, each of these products offers different pricing and features. As you compare Greenlight vs. FamZoo, how can you determine which one is superior?
We've compiled the features and benefits of each card so you can decide which one is best for your family.
How Do Debit Cards for Teens and Kids Work?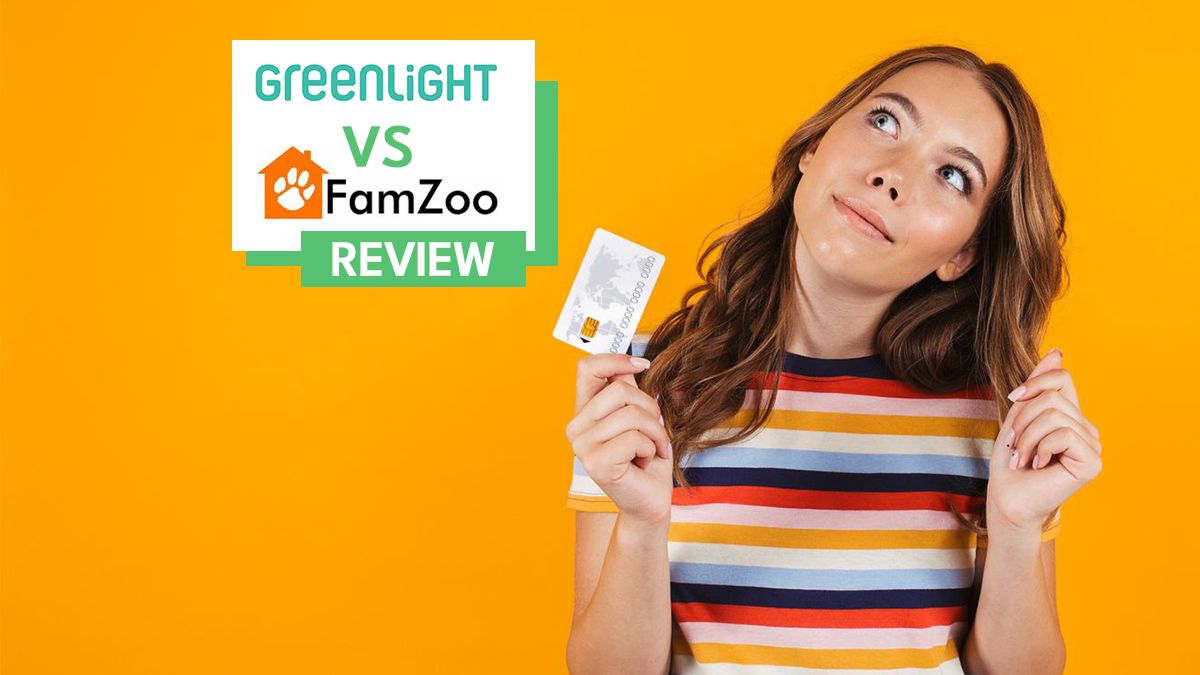 Debit cards for teens and kids give them access to money while under the supervision of their parents.
There are checking accounts for teens that offer debit cards. These take money out of your checking account for a purchase the same way your bank card does.
However, Greenlight and FamZoo specifically offer debit cards for kids. These cards limit a child's spending by either implementing purchase limits or putting a certain amount of money on the card.
Why You Should Get a Debit Card for Your Kids
Getting a debit card for your kids offers many benefits. Although each type of card differs in its features, there are benefits as a whole that apply to having a debit card for your kids.
It is Very Convenient
When you have a debit card for your kid or teen, you make it convenient for them to access money when they need it.
They no longer have to come to you if they need to ask for cash. Simply tell them to use their debit card and coordinate a budget.
Plus, you can transfer money directly into their account for their allowance or after they complete certain chores. This can be a much simpler way of paying your kids than always needing to have cash on hand.
Teaches Kids How To Handle Money
Getting a debit card for your child helps them begin the process of learning how to manage their money.
They learn to find that balance between income vs. spending in a way that teaches them about budgeting. Plus, since there's no way to overdraw an account with a debit card, they can't go into debt.
What's more, helping them learn to responsibly use a card as opposed to cash can enable them to use credit cards more responsibly once they are old enough to apply for one.
They Offer Parental Controls
You can't see or control what your child spends their money on if you hand them a cash allowance each week.
However, having your child use a debit card for their spending means you can always see what they're spending money on.
In addition, some cards offer the ability to choose which stores your child can and cannot spend money at. This adds extra protection to ensure they aren't aimlessly spending or buying items you don't want them to have.
There Is An Added Level of Safety
A debit card for kids adds a safety component to your child's financial life. For instance, if they need gas, they can pay at the pump instead of going into the store.
Better yet, these cards can often be turned off in the event of a lost or stolen card. Once cash is lost or stolen, it's gone forever.
Makes Traveling With Money Easier
Debit cards for kids are nice if your child is traveling without you. Having a debit card on a youth retreat or a vacation with family friends provides an easy, safe way to have money to spend.
Plus, you can add more to the card or increase their spending limits if they need more money.
What Is the Best Debit Card for Teens?
When it comes to the best debit card for your child, this is an individual question that needs to be answered by you alone. However, opting for a debit card specifically designed for kids is a wise choice.
Regular debit cards can incur overdraft fees while giving your child unrestricted access to the funds in your checking account.
A debit card for kids avoids both of these issues because they only allow your child to use the money you've loaded onto the card or specified they can spend.
The transaction will be declined if your child tries to use more than they have on the card or tries to complete a purchase that is beyond their spending limit. This keeps them from overspending, going into debt, or incurring overdraft fees.
FamZoo and Greenlight are among the top options in this space. Both cards offer an abundance of features that can help you teach your child to earn, spend, save and give money away responsibly.
Greenlight vs. FamZoo Debit Cards
Greenlight vs. FamZoo both offer a debit card for kids. While there are similarities between the two cards, there are also differences that should be noted.
Similarities
Both Greenlight and FamZoo debit cards offer many useful features.
Each card has the following:
A chore feature that pays the child when the chore or activity is completed
Real-time alerts that notify parents of spending
Manual or automatic scheduling of paydays or deposits into accounts
Parent-controlled lock/unlock features
Digital envelopes for spending, saving and giving money away
Goal-setting features that allow your child to track their progress
Parent-paid interest as a way to incentivize children
Apple Pay and Google Pay integration
Child-requested transfers (and the parental ability to approve or deny them)
Referral programs for current members
In addition, both cards offer a free trial to help customers determine if the card is the right choice for their family. Check out the individual websites for complete details about the free trials.
Differences
Here's a breakdown of the differences between the two cards:
Details
Greenlight
FamZoo
Age Range
All ages are welcome, but best for teens
All ages are welcome, but best for younger kids
Product
Debit card
Prepaid debit card or IOU account
Monthly Cost
Three plans ranging from $4.99 to $14.98 per month for up to five kids
One plan ranging from $2.50 to $5.99 per month for unlimited kids and four debit cards
Free Trial
30 days
Two months
Functionality
*ATM withdrawals
*Customizable cards
*Non-parent contributions option
*Cash back on purchases available
*Spend, save, give, invest pods
*Crash detection and safety features on the Infinity Plan
*Investing and savings bonuses available on some plans
*ATM withdrawals
*Card-free IOU accounts available
*Transfer money between family members
*Loan-tracking feature
*Spend, save and give pods
*Shared billing with kids
*Split chore money between kids' accounts
Cash Back
1% on debit card purchases
N/A
Reloading Options
*Fund from Parents' Wallet
*Set up direct deposit
*Transfer from others with a customized link
*Push options only (no pull options)
*From a bank account
*Debit card or direct deposit
Parental Controls
*Customizable purchase/no-purchase categories
*Lock/unlock feature
*Real-time activity alerts
*Spending limits
*Real-time activity alerts
*Pre-approved spending option
*Lock/unlock feature
One of the key differences between these cards is that Greenlight connects directly to the parent's account, while FamZoo doesn't. This can be an important distinction for parents who are hesitant to have their teen's card connected to their account.
FamZoo vs. Greenlight Costs
Both Greenlight and Famzoo are affordable. However, their pricing varies based on which plan within the service you choose.
How Much Does FamZoo Cost?
FamZoo is known for its prepaid debit cards and has a base cost of $5.99 per month. That said, you can save a hefty percentage on that cost by paying in advance.
For instance, you can choose to pay:
$25.99 for six months (an average of $4.33 per month)
$39.99 for 12 months (an average of $3.33 per month)
$59.99 for 24 months (an average of $2.50 per month)
Besides the monthly fee for FamZoo, other fees include the following:
A $4.95 cash reload fee if you don't use electronic cash reloads
One-time $3.00 fee for cards after your first free four cards
$3.00 card replacement fee (your first two replacements are free)
Card express delivery fee of $25.00
FamZoo prepaid debit cards are not charged an ATM fee when kids use their cards at a local or international ATM. However, ATM operator fees may apply.
In addition, FamZoo offers FDIC insurance for all funds.
How Much Does Greenlight Cost?
Greenlight has three different plans available at three different price points.
These are Greenlight's plans, which include unlimited kids and cash back:
Greenlight Core: $4.99 per month
Greenlight Max: $9.98 per month
Greenlight Infinity: $14.98 per month
The key differences between these plans are:
The savings rewards (1% vs. 2% vs. 5%)
Cash back offerings (available on Max and Infinity plans)
Investing capabilities (Max and Infinity plans only)
Extra safety features are offered on the Infinity plan
Besides the monthly fee for Greenlight plans, other fees include the following:
$9.99 custom card fee
$3.50 replacement card fee (the first replacement card is free)
$24.99 for expedited shipping on card orders
As with FamZoo, Greenlight does not charge fees for ATM use. However, ATM operators may charge a fee.
Summary
When comparing Greenlight vs. FamZoo, the card you choose will depend on several different factors. Parents of younger kids may prefer FamZoo and its card-free IOU account. Alternatively, parents of older kids may prefer Greenlight's investment option.
The cost of each service might be a factor as well. Even though Greenlight's monthly fees are affordable for most people, FamZoo's prepaid debit card prices offer significant savings for parents.
Assess each service's features thoroughly to decide which one is best for your family.