Have you heard of the Greenlight debit card? The goal of this debit card is to help you as you help your children learn about money.
In this review I will share all you need to know before you sign up. Read the information below to help you decide if it is right for you and your family.
Summary
Greenlight is a debit card for kids that helps you teach your kids how to earn and manage money. It teaches kids about saving, spending, giving, and budgeting.
Pros
Teach kids money
Affordable and easy to use
Investment option
Cons
Monthly fees
No cash deposit option
Our Greenlight review will tell you exactly how the card works before signing up for it. Knowing what it is and how it works is important because the Greenlight debit card isn't for everyone.
What is The Greenlight Debit Card?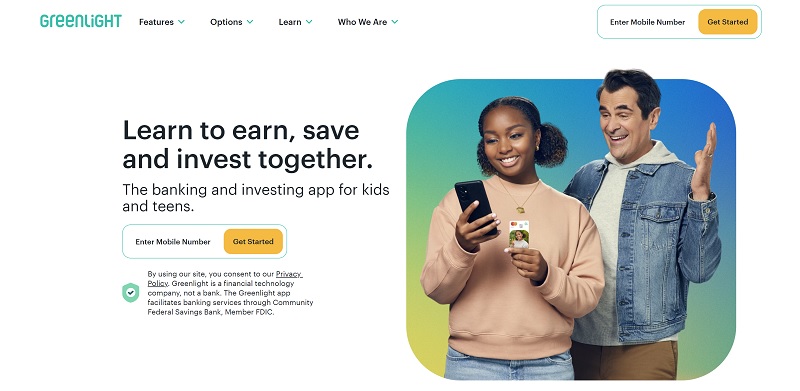 The Greenlight debit card is one of several available debit cards for kids meant to teach children how to manage money. Although your kids will use the card, you, as the parent, will control it.
When you sign up with Greenlight, you can get up to five debit cards for your kids. Each child will have their own Greenlight account, and they can use the debit card to make purchases.
Your child can use the card as they please anywhere Mastercard debit cards are accepted.
There's no minimum age for Greenlight debit card users and no minimum balance that a child has to keep in their account. And there are no transaction fees with the card either.
Plus, the Greenlight app has built-in chore lists that you can tie to earned income for your kids. Once they complete the chore, they get paid.
Is Greenlight Debit Card Secure?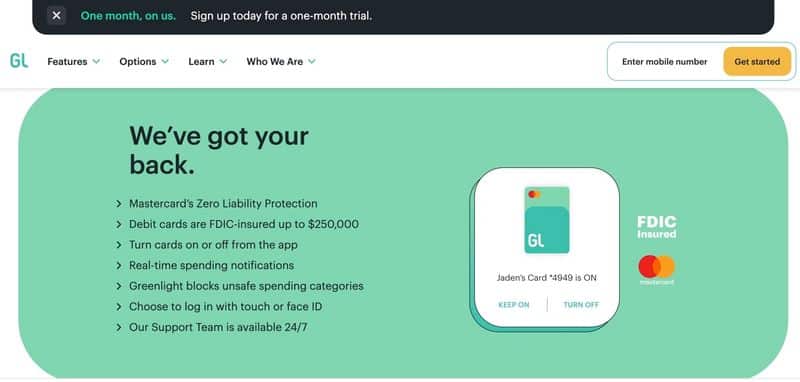 Greenlight's bank partner, Community Federal Savings Bank, manages Greenlight debit cards. Community Federal Savings Bank is an FDIC-insured bank that adheres to the Payment Card Industry Data Security Standard.
Also, the Greenlight website says that all app communications use state-of-the-art encryption.
How Much Does Greenlight Cost?
Greenlight costs $4.99 per month for up to five separate cards for kids. You can try Greenlight for free for 30 days, and you can cancel anytime if you're not happy with how it works.
Other fees include a $9.99 charge for custom Greenlight debit cards and a replacement card fee that can be up to $24.99. However, Greenlight says the first replacement card is free.
| Fees | Greenlight | Greenlight + Invest | Greenlight Max |
| --- | --- | --- | --- |
| Monthly* | $4.99 | $7.98 | $9.98 |
| PIN Transactions | $0 | $0 | $0 |
| Signature Transactions | $0 | $0 | $0 |
| ATM Withdrawal* | $0 | $0 | $0 |
| ATM Balance Inquiry | $0 | $0 | $0 |
| Direct Deposit | $0 | $0 | $0 |
*See Greenlight terms and conditions
Greenlight Features
Aside from the ability to give your kids the chance to spend and manage money, the Greenlight debit card has several other features.
Here's a rundown on some of our favorite features.
Auto Transfer & Instant Transfer
Greenlight lets you set up automatic transfers for each account to help your kids manage their set income. You can tie the automatic transfers to their completed chores or a specific day during the month or week.
And you can initiate instant transfer any time of the day or night as needed.
Customizable Spending Limits
Greenlight allows you to set customizable spending limits for each child too. This feature can be useful for those who have children of a wide range of ages.
For example, you'll probably have different spending parameters for a 16-year-old than you would for a 4-year-old.
Four Different Accounts for Each Child
The banking app also comes with four different accounts for the kids: Earn, Spend, Save and Give. You can work with your child to determine how much money goes into each account or decide on your own.
You can simply transfer a set amount into the "Earn" account, or you can give your child chores to complete and let them have a hand in determining their income.
Having the four different accounts helps you teach your kids the importance of saving, giving, and living within your means when it comes to spending.
Parental Notifications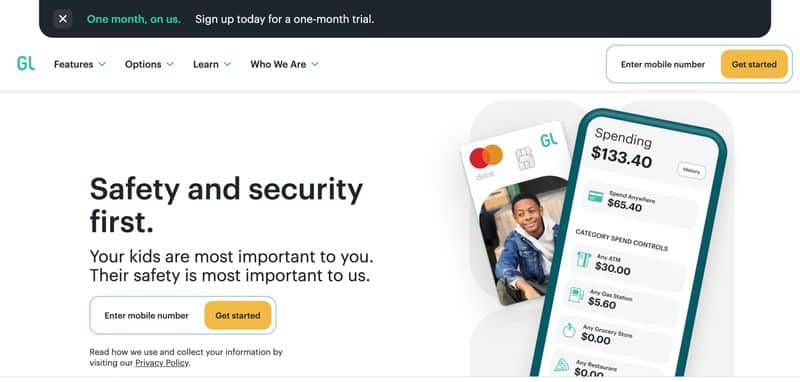 Besides, the Greenlight debit card app has a parental notification feature. This feature lets you know anytime and anywhere the card is used. You'll even get a notification if a purchase is declined due to lack of funds or some other reason.
And if you need to, you can turn off the card from your app at any time. You can set store-level spending controls too.
That means you can choose which stores your child spends money at, which they don't and how much they spend at any given store.
Round-Ups
I love this feature. With the Round-Ups feature, your kids can round up any purchase they make to the next dollar. The round-up amount goes straight into their Save account, making saving money virtually painless.
ATM Parental Controls
With the ATM Parental Controls feature, you can decide whether your child can use their debit card at the ATM. You can also put a limit on how much money they can take out at the ATM.
For example, a parent who is worried about their kid blowing their entire budget at the arcade can benefit from this.
Customizable Debit Cards
One fun element of Greenlight is that they offer customizable debit cards. That means your child can get a debit card featuring a picture of themselves, their favorite pet or another custom photo. Note that there is a $9.99 charge for customizable cards.
Customizable Interest Rates
Another aspect of Greenlight is that it lets you set customizable interest rates for your kids' accounts. You choose the interest rate percentage you want to pay them.
Using this feature can be a great way to teach the power of compound interest when it comes to saving and investing as a teen.
Referral Bonus Program
Greenlight has a referral bonus program too. Every time you refer someone to Greenlight with your referral code, and they open a Greenlight account, you'll get a $10 bonus, and so will your referral.
This program could be an easy way to earn some extra cash to fund your child(ren)'s Greenlight account.
Investing For Kids
Greenlight recently added on an investing-for-all platform. Why not? Kids are already saving, setting up businesses, why not learn investing?
Using the Greenlight Max Plan, you simply set up an investor profile. Kids can then research ETFs and Stocks, then invest, and track their progress with the guidance of their parent or guardian.
Greenlight Debit Card Reviews
Tasha of Santa Rosa, California, has used Greenlight for the past several years. She uses it to help her sister by giving her nieces some extra spending money, and she uses it to help her learning-disabled sister have some financial independence.
Tasha especially likes Greenlight's real-time notification feature as a means of fraud protection.
"Recently, I received a notification that my sister was using her card at a nearby store. I knew she wasn't because she was sitting next to me on the couch at the time. I was able to access the Greenlight app and immediately transfer the money from her Spend account to her Save account and cancel the card. The ease of use helped me eliminate any more potential for fraudulent activity on my sister's account."
Edna of Florida had a similarly good experience using Greenlight with her son.
"My son is able to see how much money he has, and more importantly, track what he's spending. And when I get the spending notifications, we can talk about why he has to use money out of his account and look for ways he can earn more money instead."
In a survey by Greenlight, 89% of their customers shared that the app has helped teach their loved ones financial responsibility.
What We Like About Greenlight
There are a few benefits on the "pro" side.
Teach your kids to live within their means and follow a budget
Show them the correlation between work vs. pay
Spend, save and give accounts if needed
Affordable price
Available for both Android and Apple iOS devices
What We Dont Like About Greenlight
Here are some potential cons that we see.
Interest is paid by the parents, not by the bank
No cash deposit option available (you need to deposit into your bank and transfer the funds)
Transfers can take a few days
Notably, transfers can sometimes take up to three to five days. That means you'll have to plan if you want to make sure your kids get paid on the days you've set up for them.
All in all, getting a child a Greenlight debit card could be a good experience and a helpful way to teach them how to earn, budget and save money.
How to Open a Greenlight Debit Card
Opening an account is easy. You start by going to the Greenlight website. From there, you'll need to enter some personal details.
Your mobile phone number
Your email address
The names of your child(ren)
Your legal first and last name
Your date of birth
Mailing address
Your Social Security number
Your bank account or debit card information (for transfers)
After you provide that information, your account will be open and active. The Greenlight debit cards you order should arrive in 5 to 10 days. However, to have the card shipped quicker, you can pay an additional fee.
Greenlight Alternatives
And last but not least, we thought we'd give some Greenlight alternatives. There are a few companies that operate debit cards for kids. Here's the scoop on each one.
GoHenry
Of all of the cards we'll talk about here, GoHenry works the most like Greenlight. You open up a bank account on GoHenry in your name. That account is the control center for your kids' accounts.
You'll transfer the money to pay the kids from your main bank account to your GoHenry account. Then you can set up random or automatic transfers from your GoHenry account to any number of kids' accounts.
You also can choose where each child will use their card. Also, you can set up controls for ATM usage, online usage, in-store usage or any combination of those three. Plus, you'll get real-time notification of purchases and spending. And you can block or unblock a child from spending at the touch of a button.
GoHenry's Family plans are set at $9.98 per family (for up to 4 children), and the individual child is priced at $4.99. Families with 3 or 4 children can pay one low rate for everyone. There is a free 30-day trial so that you can check it out.
Related: Greenlight Vs GoHenry: Which Debit Card is Better For Your Kids?
FamZoo
FamZoo is a prepaid Mastercard that works similar to Greenlight. One difference between Greenlight and FamZoo is that instead of three, FamZoo has up to four accounts for each child:
As with Greenlight, you can set up your FamZoo accounts so that you pay your kids for work, or you can just give them a set amount of cash. Kids have their own sign-in account while parents maintain control from a separate dashboard.
You'll need to sign up by sharing personal information and bank information, just like with Greenlight.
The cost for FamZoo is $5.99 per month for a parent card and up to three child cards. Additional cards are $2 each. Also, FamZoo will give you discounts on the monthly fee for paying in advance.
Related: Greenlight Vs. Famzoo: Which Is Better For Your Kids?
BusyKid Prepaid Visa Spend Card
The BusyKid prepaid Visa card can be funded with regular deposits or tied to completed chores with the BusyKid app. There are Give, Spend and Invest options your child can choose from with the money they earn from BusyKid.
I really like the BusyKid app as it lets the kids have control of what they do with their money. As they complete chores, they can mark the tasks as "done" on the app.
When the money they've earned is transferred to their account, they can buy slices of stock or click to give money to a favorite charity.
And of course, they can spend the money at any store that accepts Visa. The cost for BusyKid is affordable at $19.99 per year for the first kid and $7.99 per year to add additional cards.
As you can see, there are several options to choose from if you're looking for prepaid cards that can help you teach your kids how to manage money.
Greenlight Review Summary
The Greenlight debit card has many useful features that can go a long way in helping you teach your kids about money.
As this review shows, the features and benefits of the card give a lot of value for the price.