As a parent, I'm always thinking about how to teach my children to manage money. This task can be difficult because we live in a near-cashless society. Thankfully, it's possible for your children to learn before they get their first credit card or loan.
There are several ways to teach your young or even almost-adult children about money. One way is using the FamZoo app.
FamZoo lets you assign chores, pay allowances and help your children make a personal budget. Plus, Prepaid debit cards are available for your teenage children.
Is FamZoo right for your family? This FamZoo review covers the different ways you can teach kids about money. You will also know if FamZoo is worth the cost.
Summary
FamZoo can make it easy to help teach your children how to manage money. The prepaid debit cards are also a convenient way to track spending without worrying about overdraft fees. Although the membership fee is reasonable, some families can teach their kids about money without paying for an app.
Pros
Affordable
Great teaching tool
60-day free trial
Cons
No free plan
No store type restrictions
Website navigation
What is FamZoo?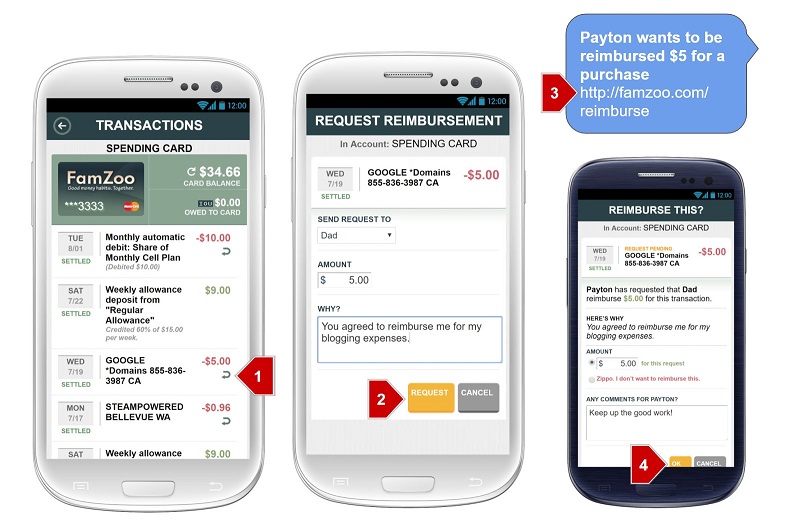 FamZoo dates back to 2006 when founder Bill Dwick was teaching his children good money habits. His idea was to create a "virtual family bank" that was accessible from anywhere with an internet connection.
Today, parents and children can track spending and saving using the FamZoo website and mobile app instead of pen and paper.
As we live in a digital society, FamZoo strives to make it easy for busy parents to help teach their kids about money. Families can use IOU accounts to track spending.
Teenagers can get prepaid debit cards that won't charge overdraft fees or drain their parents' actual checking account by accident. Each child can have their own IOU and debit card accounts.
Who Can Get a Prepaid Debit Card From Famzoo?
Any family can join FamZoo. You only need to open one account per family.
One parent is the primary account holder, and they are responsible for transferring money to their children's debit cards and IOU accounts.
Each child can have their own sub-account regardless of their age. Children and teens who earn an allowance or have a job may benefit the most from FamZoo.
This is because they probably already have a basic concept of saving and spending money.
Some families even use IOU accounts and debit cards for their college-aged children.
How Much Does Famzoo Cost?
While FamZoo offers a lot, you pay a small monthly fee to use it. Your biggest question might be "Is FamZoo worth it?" because there are several free apps you can use instead.
The free trial is two months for IOU accounts and one month for prepaid debit cards. This should be enough time to decide if your family can benefit from FamZoo.
After the free trial, you can either pay $5.99 monthly or prepay up to 24 months in advance and get a plan discount. Famzoo costs the same whether you only use the IOU accounts or also get the FamZoo debit cards.
Below are the four different FamZoo membership plans:
Monthly: $5.99 billed monthly
Six months: $25.99 ($4.33 per month)
12 months: $39.99 ($3.33 per month)
24 months: $59.99 ($2.50 per month) <- BEST DEAL
All plans offer your first four prepaid debit cards for free. One of these cards must belong to a parent as it's the primary finding card.
So then it's possible for three children to get a fee-free debit card. Each additional card has a one-time $2 order fee.
By paying for 24 months upfront, you pay $59.99 every two years. That's an average $2.50 monthly fee. This is the best deal as you can save $83.77 compared to paying $5.99 monthly for the same period.
You can switch between plans at any time by contacting FamZoo.
How Does FamZoo Work?
Let's take a closer look at how the IOU accounts and prepaid debit cards work. Every FamZoo plan includes unlimited IOU accounts and four prepaid debit cards.
IOU Accounts
The old-fashioned way of teaching your children about money is to track spending with pen and paper. IOU accounts are a digital version of how you may already track your child's spending.
It's important to know that you don't physically transfer money between IOU accounts. You and your children will still need to move the funds between your physical bank accounts.
The FamZoo IOU accounts are similar to a checking account ledger to keep your checking account balanced.
Unless you spend with a FamZoo prepaid debit card, you will need to enter each transaction manually.
FamZoo currently doesn't download purchases from your external bank accounts. You can link FamZoo debit cards to a specific IOU account to automate the update process.
Parents and children can create their own accounts for many purposes. For instance, you may assign three different accounts for spending, savings and charity. Or you may create multiple spending accounts to mimic the cash envelope system.
FamZoo makes handling money "personal." You can be flexible with how many IOU accounts you create for each child.
Budget Plans
There are four different age-based budget plans. FamZoo will suggest a plan depending on the child's age. For instance, a toddler will use a more basic plan than a teenager with a job.
Here are the four different IOU budget plans you can follow:
Starter plan- Lets young children track occasional deposits and purchases.
Simple allowance/chore plan– Parents can pay for chores or a regular allowance. It makes it easier to track how your child earns income.
Spend-save-give plan- Emphasizes splitting income between saving, spending and giving accounts.
Teen budget plan– Can divide income between different budget percentages for present and future expenses.
As your child grows older and understands money better, you can upgrade to a more complex plan.
Splitting Expenses
You can use the IOU accounts to split expenses. One example can be cell phone bills or teen car insurance. Parents can deduct money from their child's spending accounts for one-time purchases too.
Allowance
If you pay an allowance, FamZoo lets you set the payment frequency.
You can assign chore checklists and pay when all tasks are complete. Parents can assess a penalty if the child doesn't complete their chores on time.
Another income option is paying a fixed amount on a daily, weekly or monthly basis.
Even if you don't pay an allowance, FamZoo lets you split each deposit into the various spending, savings and charitable accounts. This feature can help your child automatically set aside their cash for specific purposes.
Parent-Paid Interest
One cool incentive to encourage savings is parent-paid interest. Parents can decide how much interest they pay their child each month.
This can be an effective way to teach your child the value of saving money to earn compound interest.
Savings Goals
Children can create personal savings goals. You may also decide to create family goals like saving for vacation or college. This basic tool shows you how much needs to be saved monthly to reach the goal.
Informal Loan Tracking
Every parent knows they will need to lend a small amount of money to their child. FamZoo lets you track payments and interest.
This tool allows your child to learn the costs of borrowing money before having to borrow money as an adult.
Prepaid Cards
The FamZoo IOU accounts can help teach your child how to make a spending plan. The next step is making sure they can practice what they learn. FamZoo has its own prepaid debit cards for kids.
Once again, the first four FamZoo prepaid cards are free. You only pay a $2 one-time fee for each extra card you order starting with the fifth card.
Some members order a debit card for different budget categories.
See this review from one of their customers:
"I really like how easy it is to get dedicated cards/accounts for specific purposes (food, travel, gas, etc.) so we can know right away where each fund's balance is at."

– Curtis S.
How They Work
Prepaid debit cards are different than a regular debit card (check card). These cards don't withdraw cash from a linked checking account whenever you make a purchase.
You can only spend up to the current card balance like a gift card. This means you don't have to worry about overdraft fees as the transaction is declined if the card balance is too low.
Like debit cards, FamZoo cards don't require a credit check to earn approval. Nor does your monthly activity report to the credit bureaus and affect your credit score.
Who Can Get FamZoo Debit Cards?
You must be at least 13 years old to get a FamZoo debit card. However, FamZoo lets parents get "on behalf of" debit cards for children younger than 13 years.
FamZoo states half of all debit cards belong to children under age 13. The one condition is that FamZoo expects the parent to be present when the child makes a purchase.
The first debit card you order is going to be the parent's debit card. This card is the primary funding card. Think of it as the "Bank of Mom" or "Bank of Dad" card. Anytime the parent adds to a child's card balance, FamZoo pulls the cash from the primary card.
Spending
FamZoo's cards work at almost every physical or online store. You won't pay a fee when making credit-type purchases. One can also get cash back when making in-store purchases or at the 32,000 fee-free MoneyPass ATMs.
Although parents can't restrict purchases at certain store types, FamZoo can send real-time spending alerts. These alerts are one benefit of using a card instead of cash.
It makes it easier for parents to be able to track their children's spending. Parents can also freeze and unfreeze debit cards.
Fees
There are no annual fees (besides the FamZoo plan fee) although you may pay incidental fees.
Here are several other fees you should be aware of:
Overdraft fee: $0
Reload fees: $0 for direct deposit, digital wallets and FamZoo card transfers. Up to $6 for bank account transfers and retail stores.
Inactivity fees: $0
In-network MoneyPass ATM withdrawals: $0
Out-of-network ATM withdrawals: Varies (FamZoo doesn't charge an extra fee)
Foreign transaction fee: 3%
The two most likely fees you may pay are the reload fees and out-of-network ATM withdrawals. You won't pay a fee when transferring money between FamZoo cards.
Some banks still charge an external transfer fee. If so, you can avoid the fee by enrolling in direct deposit. Using a money transfer service like PopMoney means you only pay $0.95 per transfer. This fee can cost less than the bank transfer fee.
You will most likely pay a fee if you reload your FamZoo card at retail stores like Walmart or CVS. Each retailer charges a different fee. But you can reload your card at any GreenDot partner.
Is FamZoo Legit?
Without a doubt, FamZoo is legit. They have members in every U.S. state and most U.S. territories. Their mobile app rates 4.4 out of 5 in the Google Play Store.
Users like having access to the prepaid debit cards to track spending and the instant money transfers between accounts.
Parents also like IOU accounts as a way to set allowance reminders and ensure their children are making ends meet. Being able to track family spending in one app can save time as well.
Possibly, the most common complaint is that the app and website can be hard-to-navigate at times. The good news is that you have up to 60 days to try FamZoo for free. You will know if FamZoo is worth using or not during that time frame.
Because we all manage money differently, FamZoo won't be a perfect fit for every family. But it's an affordable tool that has plenty of happy members.
FamZoo Facebook Parenting Group
Another FamZoo feature is the private Facebook group for parents. You can get help and advice using FamZoo from other members. The FamZoo team also posts daily tips that highlight FamZoo's many features.
Below are three reviews from group members when asked about what they like most about FamZoo.
Mary M. enjoys the ability to track spending electronically. Her teenagers use the FamZoo debit cards that she can reimburse.
In regard to teaching her teens about money, she states, "I greatly appreciate having a system that allows them a way to earn money helping out at home.
They do need money for social events that I fully support and probably otherwise would just pay for, but this instills some work ethic and the concept of having to earn it."
David P. says, "Bottom line – teaching my son about money management – our society is rapidly becoming cashless, and he needs to understand money without having the benefit of tactile bills in his wallet."
Finally, Madeleine N, shares the following: "I love being able to automate giving allowances, so we don't forget each week, and we don't have to have a ton of $1 bills all the time!"
Positives and Negatives
Pros
Each family member can have their own IOU accounts
Prepaid debit cards make it easy to track spending
Children of all ages can learn how to manage money
Up to 60-day free trial
Cons
No free plan
Must manually input transactions for non-FamZoo debit card purchases
Can't restrict debit card purchases at certain store types
FamZoo app and website can sometimes be difficult to navigate
Related: Greenlight Vs. Famzoo: Which Debit Card Is Better?
Summary
FamZoo is one of the better ways to teach kids about money in the digital age. You may appreciate the prepaid debit cards most.
However, the IOU accounts alone can be worth the membership if it helps your children handle money better from their smartphone.