Digital wallets are becoming an increasingly popular alternative to cash or using a debit or credit card to make payments. But what are the best digital wallets and which one is right for you?
As you consider which option you should use, it's important to evaluate the features and fees of today's most popular digital wallets so you can choose the solution that best fits your needs.
Top Digital Wallets
More people are abandoning cash and making their purchases digitally since this payment option is convenient and secure.
Digital wallets give you the freedom to make payments at retailers without carrying a physical wallet with you. Some options also allow you to send money to or receive money from loved ones.
Better yet, they can be more secure than carrying cash or using a debit or credit card.
But which digital wallet should you use? Here are ten of the best options currently available.
1. Google Pay
Google Pay (formerly Google Wallet and Android Pay) works in over 40 countries and uses near-field communication (NFC) technology to enable payments.
NFC allows devices to communicate as long as they are within a short distance of each other.
This digital wallet keeps your information secure by using a Device Primary Account Number (DPAN). DPAN's replace your funding account number to protect it from unauthorized use by retailers.
Features
Google Pay lets you deposit funds to your digital wallet or make purchases by adding a debit card, credit card, PayPal account or bank account number.
It's important to note that bank account access isn't available in all countries.
Other payment methods may be available depending on where you live. See the Google Pay website for more details.
You can make purchases at participating in-person or online retailers. Sending money to family and friends using Google Pay is also an option.
Additionally, Google Pay lets you view your spending habits and find areas where you can save money when you sync your accounts. This can make it easier to keep track of your financial health.
Fees
Google Pay doesn't charge any fees for making purchases. It also won't charge you for sending money to or receiving money from family and friends.
If you want to transfer money out of your Google Pay account, you may pay a 31 cent or 1.5% fee, whichever is higher.
2. Venmo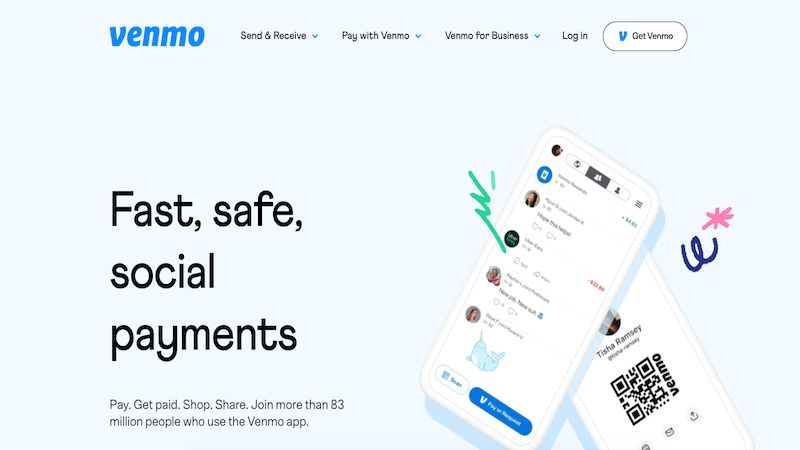 Venmo is one of the most popular digital wallets and is a subsidiary of PayPal. The app uses bank-grade security and encryption to keep your information safe.
You must have a valid email address and a U.S. cell phone to use Venmo.
Features
Venmo allows you to shop online or in person and pay for purchases at participating retailers. It also allows you to request payments for services you provide as well as receive money from or send money to family and friends.
You can pay right from your Venmo account by connecting your bank account, debit card or credit card.
It's also possible to use QR codes to make sure you send money to the right person and allow the app to make calculations for you when splitting bills between multiple people.
Additionally, you can have your paychecks directly deposited to Venmo. Your paycheck may show up in your Venmo account two days faster than it would if you deposited it in your regular bank account.
Fees
Venmo doesn't charge you fees to sign up, maintain your account or pay using your debit card or bank account. You will pay 3% for transactions that use your credit card.
3. Apple Pay
Apple Pay is another excellent digital payment method since it also uses a DPAN to protect your account information.
Some stores that use Apple Pay:
Albertsons
Best Buy
Costco
Disney
GameStop
Nike
Starbucks
Every transaction you make with Apple Pay is secure and private, making it a safe way to complete purchases.
Features
Apple Pay is available on many Apple devices, including the iPhone, Apple Watch and iPad.
You can use this digital wallet to purchase items in stores, pay for many public transit sources, send money to family and friends and more.
Money can be kept right in your Apple Pay account or you can connect your debit or credit card for payments.
College students have the option to add their ID to their account so they can pay for items at school if their school partners with Apple Pay.
You can also apply for the Apple Card. This is a credit card that gives customers up to 2% back on purchases when they use their iPhone or Apple Watch to pay with their Apple Card.
Fees
There's no fee to pay with your Apple Pay balance or with your debit card. It's also free to pay with your Apple Card.
Using a credit card to make payments will result in a 3% fee.
4. Cash App
Cash App uses level-1 PCI-DSS certification to protect your information. This is the strictest standard of security, so you can have added confidence that your data is secure.
Features
Cash App works with debit and all major credit cards. You can send and receive money from other users or donate to your favorite causes.
When it comes to making payments, keep in mind that merchants and charities have to be partnered with Cash App in order for you to use it.
You can receive your paycheck and other direct deposits such as tax returns up to two days early by signing up for direct deposit using your Cash App routing and account number.
If you want to convert your money to Bitcoin, Cash App offers a feature to help with this. The app also has an investing feature that lets you buy pieces of stock for as little as $1.
Fees
A $2 fee from Cash App plus any fees charged by the ATM owner will be applied if you make a withdrawal from an ATM. Instant transfers to or from your bank account may also result in a 1.5% fee.
Additionally, buying or selling Bitcoin through the app may result in fees.
Learn More: Cash App Review
5. PayPal
One of the first digital wallets available was PayPal. It offers services in over 25 currencies throughout the world. 
PayPal keeps your financial information safe by using encryption technology and 24/7 monitoring.
Features
You can use Paypal when shopping online and in person. It's easy to send and receive money via PayPal to and from loved ones.
Sending invoices to others when you sell products or services is also an option.
PayPal accepts all major credit cards as supported payment methods. You can also pay by connecting your bank account.
A tracking feature is available to help you record all of your expenses when you buy items using PayPal. You can also see all the money you've received from others who have sent you money through PayPal.
Fees
Using PayPal to purchase items is free unless a currency conversion is involved. It's also free to send money to and receive money from family and friends if you use a bank account to fund the transaction.
You will pay a fee of at least 2.9% + $.30 if you use a credit card to send money to family and friends in the United States.
If you sell goods or services online and use PayPal, you will pay a 2.9% + $.30 fee as well.
6. Zelle
Zelle is a digital payment solution that can be used to pay friends and family. Payments are sent quickly, so your recipient doesn't have to wait for their money to arrive.
Features
Zelle lets you send money to or receive money from other people who are also signed up for the service. It uses your bank account information to complete transfers.
If your bank isn't a Zelle partner, you can still transfer money using the Zelle app available for Android or iOS devices.
One cool feature is that Zelle transactions are completed in just a few minutes.
It's important to only use Zelle with people you trust. This is because you can't get money back once you send it through Zelle.
For example, it might not be wise to use Zelle when you're buying and selling on Craigslist and similar buying and selling apps.
Depending on the bank, you may run into daily and monthly transfer limits with Zelle.
Fees
Zelle doesn't charge you anything to send or receive money. That said, your bank might charge you fees for using this digital wallet. Before you use it, you should check with your bank for more information.
7. Walmart Pay
For people looking for a digital payment option they can use at Walmart, Walmart Pay may be the solution. It uses verified payment methods and is encrypted using SSL technology to keep your information safe.
Features
The goal of Walmart Pay is to make it faster and easier to buy things at Walmart. When you are ready to pay, you scan your phone over a QR code that shows up on the checkout PIN pad.
Your credit card information (including your CVV code) is stored with Walmart Pay. Walmart uses several layers of security and continually monitors its system to stop hackers and fraudsters.
It's easy to add credit cards and Walmart gift cards to your Walmart Pay account. Unfortunately, you cannot use your bank account with this digital wallet.
Keep in mind that Walmart Pay can only be used at Walmart. It cannot be used at Walmart gas pumps or Sam's Club.
Walmart Pay is available for iOS and Android users.
Fees
It is free to use Walmart Pay. This digital wallet will not charge you any fees.
8. Dwolla
Dwolla is a digital payment solution that lets you send or receive money to or from anyone who also uses the platform.
Features
Dwolla doesn't connect with your debit and credit cards. Instead, it transfers money directly to and from your bank account using the ACH system.
You are identified by your Dwolla ID, your email or your cell phone number. Dwolla will not share your bank information.
One benefit of Dwolla is that it's cheaper than digital wallets like PayPal if you plan on receiving money for selling goods or services. PayPal charges you 2.9% plus 30 cents, but Dwolla only charges you 25 cents for transactions $10 and over.
Fees
Dwolla doesn't charge you if you send or receive dollar amounts under $10. When sending and receiving dollar amounts over $10, you'll be charged a flat rate of 25 cents per transaction.
9. Facebook Pay
Facebook Pay is a digital wallet that gives users the ability to pay people via Facebook, Messenger, Whatsapp and Instagram.
Facebook Pay prioritizes security by ensuring your payment information is not shared with buyers, sellers or merchants.
All payment data is stored separately from your other Facebook account information.
You have to have a Facebook account to use Facebook Pay.
Features
With Facebook Pay, you can do things like send or receive payment for items sold on Marketplace.
You can also use Facebook Pay to send money directly to loved ones or donate to fundraisers on Facebook or Instagram.
Facebook Pay can send payments using your debit card, credit card or PayPal account.
Additionally, a customer service center is available if you have any concerns about your account.
Fees
While sending payments through Messenger to family and friends is free, you may be charged a fee when you make a payment to a third party on Marketplace. Take the time to review Facebook Pay's terms for specifics on fees.
10. Amazon Pay
Amazon Pay allows Amazon account holders to pay for transactions through Amazon and thousands of other sites.
Features
You can use Amazon Pay at any participating retailer that accepts it as a method of payment.
When you use this digital wallet, you can select almost any of the payment options you have listed in your account.
It's important to note that you can't use an Amazon gift card balance when paying with Amazon Pay. This digital payment solution is just a go-between for you and retailers.
Be aware that Amazon Pay might share the last four digits of your credit card or other information with merchants.
When you pay using Amazon Pay, your eligible purchases are covered by Amazon's A to Z Guarantee. However, all other questions regarding your transactions must be directed to the merchant.
Fees
Amazon Pay doesn't have any fees, but foreign merchants may charge you extra if you use this payment method.
Bonus: Best Crypto Wallet
If you are looking for a place to store your crypto, check out Coinbase. It allows you to store many different types of crypto including Bitcoin, Ethereum, Dogecoin and more.
Summary
There are a wide variety of digital wallets available for all of your money sending and receiving needs. The best digital wallet for you depends on your needs.
You can use several of these payment solutions. There's no reason to limit yourself to just one. Try some of these options and see which solutions work best for you.