Debit cards for kids can be useful tools as you teach your children. When my oldest child turned 16, I wanted to make sure she knew how to make wise financial decisions.
I also wanted my daughter to get some real-life experience regarding using checking accounts and credit cards. So I got her her own debit card.
This review of debit cards for kids and teens can help you find a card that will teach your teen as well. Continue reading to learn more about which cards we reviewed.
Our Top Picks
| | |
| --- | --- |
| COMPANY | FEATURES |
| Greenlight | No minimum age or balance. Has chore management feature |
| BusyKid | Low cost option, ability for other people to add money |
| FamZoo | Track activity, free ATM and low minimums |
Top Debit Cards for Kids
Check out the list below and see which of these debit cards will work best for helping you teach minors to manage money.
1. Greenlight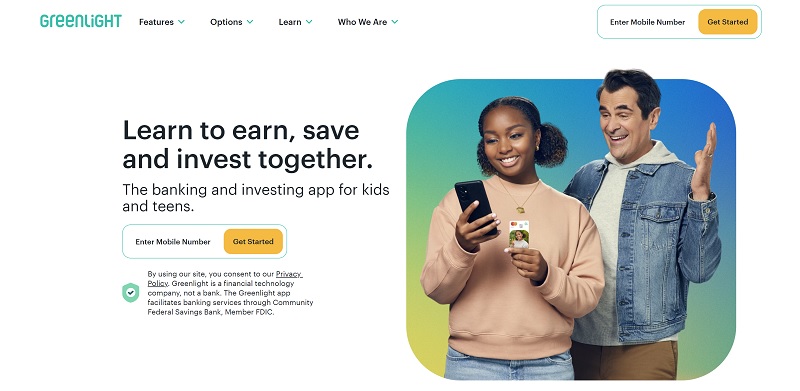 Greenlight is a debit card that is made for kids but managed by parents.
It has several great features:
No minimum age
No minimum balance
Free from overdraft fees
Available debit cards for up to five kids
It also has a chore management feature and an auto transfer of funds feature. Parents can even choose an auto feature that will pay their kids interest if they want.
You can try Greenlight out for a month; after that you'll pay $4.99 per month for up to five kids.
See the Greenlight Max account if you're interested in having your child earn cash back on purchases and more interest on savings ($9.98/mo.).
Check out Greenlight+ Invest if you want to use the card to help your child start investing ($7.98/mo.).
Pros
No minimum age requirement
Chore management feature
Kids can earn interest
No overdraft fees
Cons
$4.99 per month fee
Plans that offer investing cost more
Learn More: Greenlight Debit Card Review
Apple Store Rating: 4.8 out of 5
2. FamZoo Prepaid Mastercard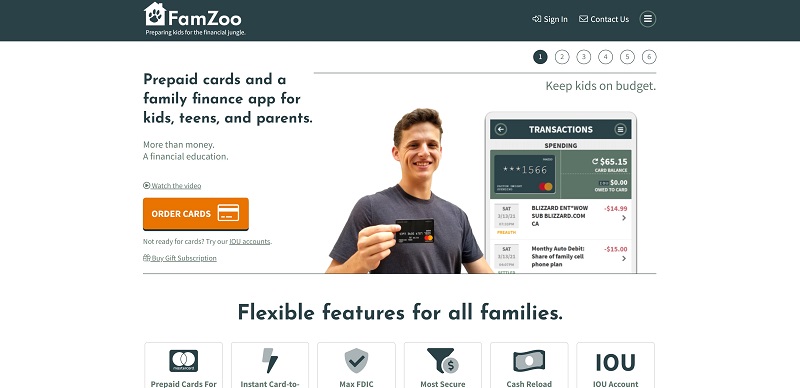 The FamZoo prepaid cards were set up for the sole purpose of helping kids learn good money management skills.
The company's prepaid card offers the following features:
Free card reloads (when you direct deposit money – retailer reloads will cost you)
Free ATM visits
Monthly fees as low as $2.50 per month
No per-purchase fees
The FamZoo card can be opened for any age child – from preschool on up. However, kids under 13 will have "on-behalf" cards where the parent is the legal cardholder.
Kids age 13 and up (and their parents) will need to go through an easy verification process to be approved.
And all FamZoo accounts must have at least one parent as an account cardholder.
All activity on the cards can be tracked digitally, meaning kids can see where they're spending their money.
In addition, parents have access to each cardholder's card activity at any time.
Pros
Set up multiple accounts for saving, spending, giving, etc.
No minimum age requirement
Prepaid card accounts or IOU accounts
Chore charts available
Cons
Fees as high as $5.99 per month
Kids can modify chore lists at will
Apple Store Rating: 4.6 out of 5
Learn More: Famzoo Review
3. GoHenry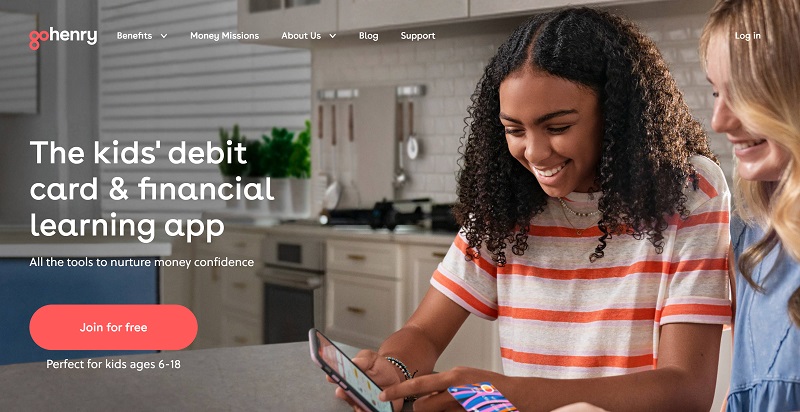 GoHenry is a family banking tool that helps you teach your kids how to handle money. Here's how it works:
You start by opening a bank account in your (the parent's) name. The "parent" account is a control center for up to four "child" accounts.
You put money into the parent account by transferring it from your main bank account.
As the parent, you can transfer money into each child account as you wish. You can set up regular, automated transfers, or you can make random transfers.
This is a nice feature because you can use it to teach your kids the concept of "work equals pay". For instance, you can transfer $5 into a child's account when they complete a pay-worthy chore.
Each child gets a debit card to spend the money you've transferred into their account.
Related: Greenlight vs. GoHenry: Which Debit Card is Better For Your Kid?
Other features of the GoHenry debit card include:
The ability to set single and weekly spending limits
Choose where the card can be used (ex. at ATMs, online or in-store)
Block and unblock cards with the touch of a button
Receive real-time notification of purchases/expenditures
You can try GoHenry for 30 days for free. After that, it costs just $3.99 per month per child. And you can cancel your membership anytime.
Pros
Customizable chores feature
Earn, save, spend, and give options
Easy-to-use parental controls
Real-time spending notifications
Cons
Monthly fee for each child
Minimum age requirement
Apple Store Rating: 4.6 out of 5
Learn more: GoHenry Review: Is It a Good Debit Card Option for Kids?
4. Step Visa Card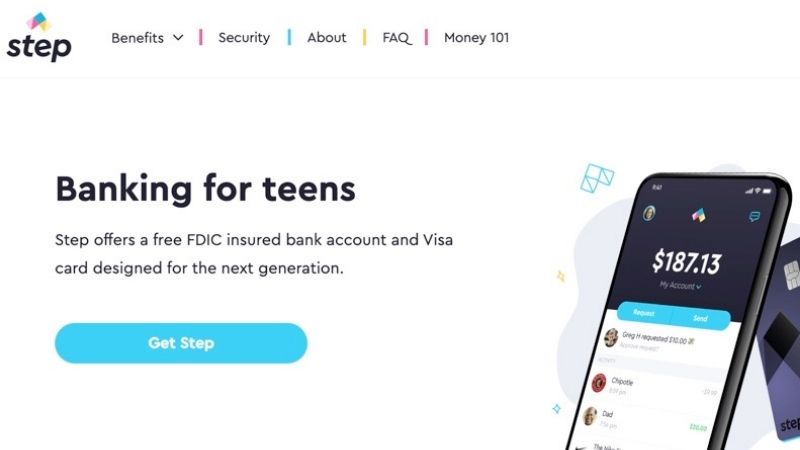 Step offers a free FDIC insured bank account and Visa card designed for the next generation. If you are under 18, a sponsor can help you get your account set up.
The card has no interest or fees. Using the Step app you can easily send, receive and track your money. Spend with Apple Pay, Good Pay.
Set up direct deposit and get paid faster. Traditional payments can take a few days. Using direct payment offers you piece of mind and on time or earlier payments.
Other benefits include no monthly fees. Plus your account is FDIC insured up to $250,000.
Pros
No monthly fee
Simple to use
Ease to use app
Cons
No interest earned on account
Trustpilot: 4.6 out of 5
Learn More: Step Card Review: Mobile Banking For Teens
5. BusyKid Prepaid Visa Spend Debit Card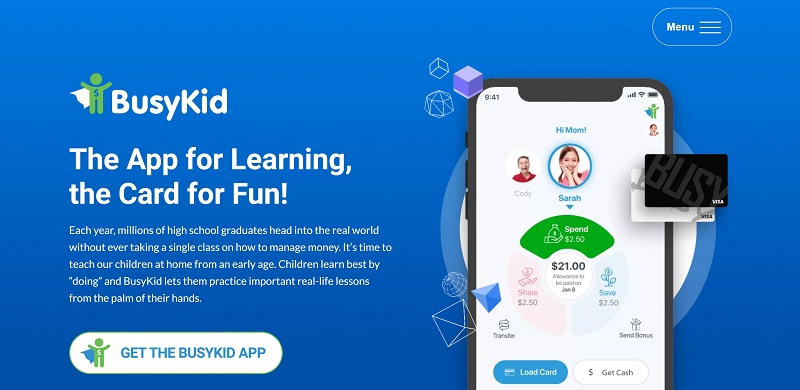 BusyKid is a prepaid Visa spend card with a variety of features designed for kids between 5 and 17. Here's how it works.
You use the BusyKid prepaid card to give your child money. Simply assign an amount to be put on the card every week.
You can also tie the money to completed chores with the BusyKid chore app.
When your kid wants to spend their money, they can use the debit card at stores as they choose. Bonus: the BusyKid chore app also allows your kid to give to charity and invest.
It costs $3.99 per month, or $38.99 per year, to get a family subscription to BusyKid. That includes one card. It's an additional $7.99 for each extra card.
Pros
Customizable chore list
Cheaper than most other cards
Charitable giving option
Investing option
Cons
Additional annual charge to get cards additional kids
Limited list of charities to give to
Trustpilot: 3.8 out of 5
Learn more: BusyKid Review
6. Copper Banking For Teens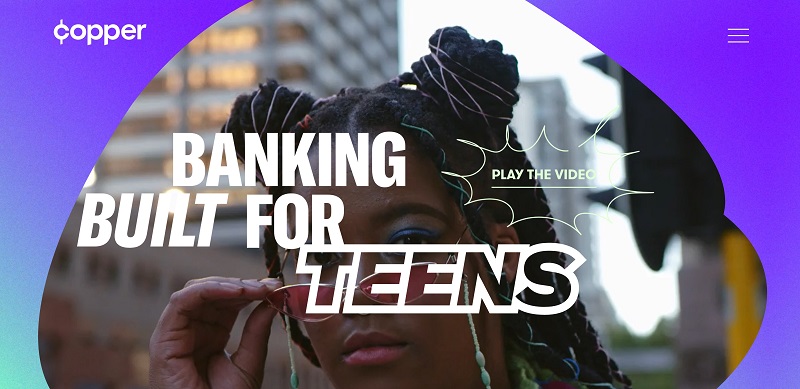 Copper Bank prides itself on creating a debit card and app just for teens. Their focus is built on kids ready to be a part of today's gig economy.
Located in Seattle, Washington, Copper Bank is becoming one of the fasted cards for teens. Its popularity stems from their app that is easy to use.
The app is great for setting up savings goals as well as tracking spending.
Track spending, create savings categories and even set up auto contributions to categories such as college fund or a car fund.
Funding to the teens Copper Wallet is done through a parent account which is linked to an existing account with a different bank.
Parents refill the child's Copper account as needed or auto refill.
Additionally, refilling the card can be done by setting up direct deposit.
For teens with jobs this is a great feature having funds sent directly to their Copper checking account. Plus you can tie the card to Venmo and CashApp.
Here are some of the features of Copper Banking account:
No minimum balance
Buy where Mastercard, Google Pay, Apple Pay are accepted
No Credit Checks
Zero liability protection plan
No overdraft fees
Withdraw cash at over 50,000 ATM's nationwide
Deposits are FDIC Insured through our partner, Evolve Bank & Trust.
Pros
Easy to use app
Minimal fees
Can tie to Google Pay, Apple Pay, Venmo, and CashApp
Cons
Funding limits
Customer service via chat rather than phone
Apple Store Rating: 4.9 out of 5
Learn More: Copper Banking Review: Is this Bank Account For Teens Worth It?
7. Current Account For Teens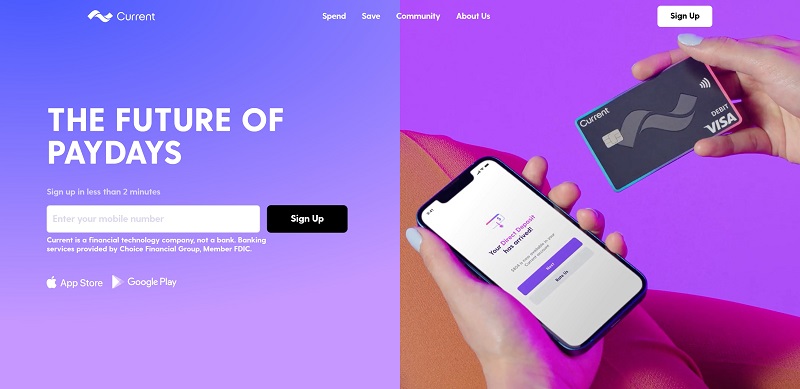 Current was founded with the goal of making banking affordable for everyone.
When you open a Current account for yourself, you can also open Current Teen Accounts for your teens.
Teen account features include:
$0 account minimum balance
Purchase in person or online with the Current debit card
No monthly or annual fee
Add to your savings pod by transferring or using roundups from purchases
As a parent, you get total control features over your teen's spending too. You get notifications for all purchases and you can set spending limits for your teen.
You can also block certain merchants, automate allowance payments or transfer money manually from your Current account.
And you can tie allowance to a chores list as well. Also, multiple family members can add money to your teen's Current account.
Note that your teen does need to have one of three forms of photo IDs to get a Current Teen account: A valid and unexpired drivers license, a valid and unexpired passport or passport card, or a valid and unexpired permanent resident card.
Pros
Variety of parental controls
Chore management feature
Autopay for allowance is available
Cons
No joint accounts allowed
Must have specified photo ID type
Trustpilot: 4.1 out of 5
Learn More: Current Review: A Banking App Where You Can Get Paid Up To 2 Days Faster
8. American Express Serve
The American Express Serve card has three card options. Which one works best for you depends on your teen's usage and spending habits. We'll outline the features and fees of all three here.
American Express Serve Pay As You Go
The American Express Serve Pay As You Go card is Amex's most popular prepaid debt card.
Here's a list of the features that come with the card:
Free Early Direct Deposit. This feature that allows you to receive availability to Direct Deposit funds up to two full days earlier
Free online bill pay
$2.25 ATM fee
Cash reload prices of up to $3.95 per load (price varies by retailer)
$1 transaction fee
American Express Serve Free Reloads
The American Express Serve Free Reloads card is best for those who add frequent reloads onto their card.
Here are some of the other features of this card:
A monthly fee of $6.95 (no fee in TX, VT or NY)
Free online bill pay
Fee-free ATM withdrawals (At Money Pass ATMs)
Free reloads
If you find your teen is needing to reload their card with money often, this might be the best choice for you.
American Express Serve Cash Back
The American Express Serve Cash Back card is likely most beneficial for bigger spenders.
Here are some of this card's features:
A monthly fee of $7.95
Free online bill pay
Free ATM withdrawals (at Money Pass ATMs)
Cash reload prices of up to $3.95 per load (price varies by retailer)
Unlimited cash back of 1% on all purchases
So, depending on what the spending habits are of your kid, you have three American Express cards to choose from.
Pros
Three card options to choose from
Not necessarily geared toward kids
Cash back on purchases available
Cons
Reloads can come with a fee
Other fees besides monthly fee may apply
Consumers Affairs: 3.5 out of 5
9. Chase First Banking Card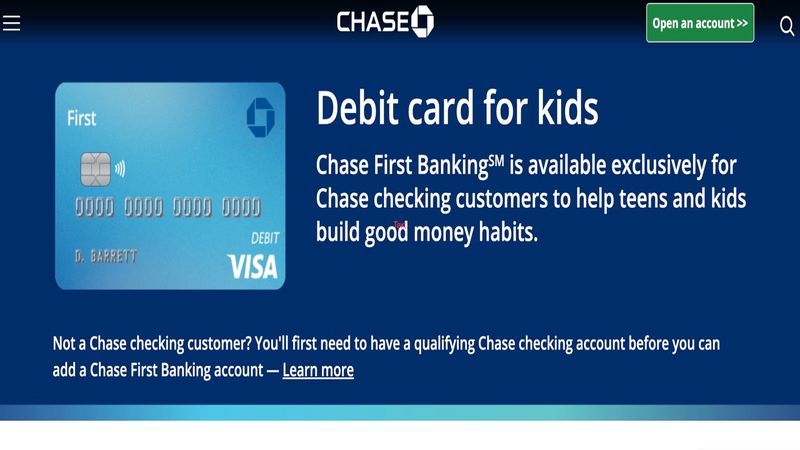 The Chase First Banking account is a checking account created especially for kids aged 6 to 17. And it comes with a debit card to help your teen learn how to live within a budget.
Here are some of the features of the Chase First Banking account for kids.
No monthly fee charged to this account
Zero minimum balance for the account
No monthly charge to have a debit card
Fee free ATM usage at participating ATM locations
The Chase First Banking account also has attractive parental control features.
Parents can set spending limits based on specific categories (for instance, restaurants) and they can set ATM limits as well.
Kids can request money via the app, and parents can decide whether to approve or deny the request.
There is also a chore/allowance feature with this account, and kids can track their account activity through the app as well.
Note that parents have to have a qualifying Chase bank account in order for kids to open a Chase First Banking account.
Now that we've talked about some of the best prepaid cards and debit cards, here is some more useful information.
Let's talk a bit about why you might want to consider getting a prepaid or debit card for your teen.
Learn more by checking out our Chase First Banking Review.
Pros
No monthly service fee
Set up alerts to you track spending, withdraws and more
Cons
Must be existing customer to open account for your child
10. TD Go Prepaid Visa
The TD Go Prepaid Visa is a product of TD Bank. TD Bank uses the Visa Buxx prepaid card for teens.
Here are some of the features of the TD Go prepaid debit card:
$0 monthly service fee
$0 purchase fee
Free ATM usage in-network
$1 for card reloads
$2.50 per month for inactivity (after 12 months with no transactions)
This is a very affordable option for teens and parents alike. Parents can also set up email notification to keep abreast of card balances and expenditures.
Pros
Real time spend tracking
No monthly fee
Free in-network ATM usage
Cons
Reload fee for each reload
Monthly inactivity fee after 12 months of inactivity
Truspilot: No ratings yet
Related: 10 Best Bank Accounts for Kids
Why Should I Consider a Prepaid Card or Debit Card for My Child?
You might be wondering why you should consider getting a prepaid card or debit card for your minor child.
While we at Well Kept Wallet don't advocate carrying monthly credit card balances, we do believe it's important to help your child learn to navigate the world of credit and spending.
A prepaid card can help him or her to do just that. When your child has a prepaid card or a debit card, they can spend money electronically.
Like it or not, the electronic world of financial management is here to stay.
And that electronic spending world does have its benefits, especially for parents whose kids are learning about money.
Prepaid cards and debit cards can help your child learn about money while helping you keep an eye on their spending.
Electronic money management helps people see where every dime they earn goes each month. And that knowledge can be a valuable tool in the world of adult money management.
Related: 7 Best Books That Can Teach Kids About Money
They Help Put Limits on Spending
One nice thing about these types of debit cards for kids is that they allow you to impose a spending limit for your child.
An unrestrained budget in the hands of a teen can give them the illusion that money will always be there.
However, with prepaid cards you can make a rule that you'll put X dollars in your child's account each month.
This spending limit will help them to learn to live in real life where one's money supply isn't endless.
It will help them learn that they need to make choices about how they spend their money. If their monthly cash allowance runs dry, they can learn what happens when money runs out before month's end.
They Give You a Birdseye View
Adding to that, prepaid cards and debit cards let you see every one of your child's purchases. This benefit makes way for conversations about value-based spending.
Simply put, value-based spending means spending your money on the things that matter most to you.
As your child sees their spending habits at a glance, they can learn to identify important vs. non-important purchases. For instance, they might decide that a trip to the movies with friends is a value-based spending choice.
Conversely, they might decide that daily trips to the fast food drive thru are not important.
As they (and you) get that birdseye view of monthly spending choices, they'll learn an important truth.
They'll learn that they need to decide which spending choices help them make the most out of life. They'll also learn that some spending choices simply waste their money.
This type of financial management training can help your child develop wise money management habits in adulthood.
Prepaid debit and credit cards may not be for every child, but they can do wonders for one's financial education. Consider prepaid cards and other financial education tools as you raise your young ones.
Prepare them for a life of financial responsibility and security made by their own hands – with some help from you.
Debit Card Comparison Chart
| COMPANY | TRUSTPILOT SCORE | MONTHLY FEE |
| --- | --- | --- |
| Greenlight | 4.3 | $4.99 |
| FamZoo | 4.6 | $0.63 |
| Busykid | 3.8 | $1.67 |
| GoHenry | 4.0 | $3.99 |
| Current | 4.2 | $3.00 |
| American Express Serve | 3.5 | $6.95 |
| TD Go Prepaid Visa | Not Rated | $0.00 |
| Movo | 2.6 | $0.00 |
| Copper Bank | Not Rated | $0.00 |
| Chase First Banking | Not Rated | $0.00 |
Summary
Helping your kids learn good money management skills is a must in today's world. When they learn to properly manage cash through the use of prepaid cards and debit cards, life becomes easier.
And when they use the other financial management tips shared here, they've got tools to make money management fun.