Want to make money as a kid?
In this article I will go over some of the time-tested ideas as well as several unique ways kids can make money.
53 Ways to Make Money as a Kid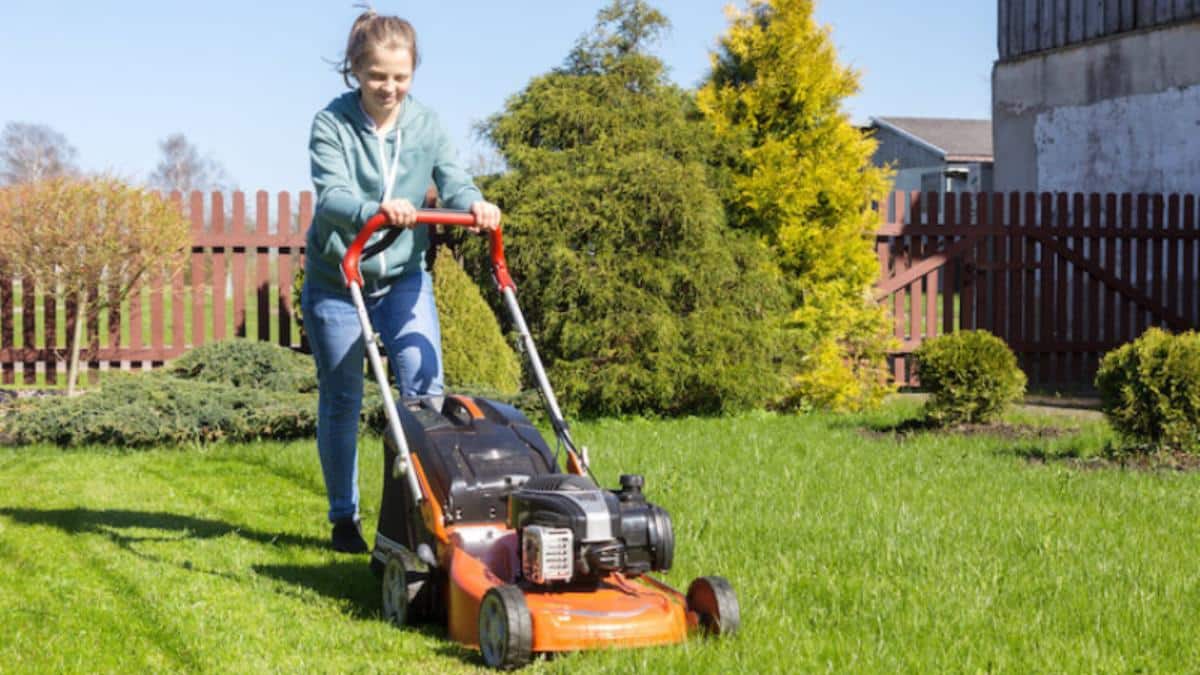 Since everyone is different, we wanted to give you a variety of ways to make money as a kid. Here they are.
1. Have a Garage Sale
A garage sale is one excellent way to make money. Not only will this help with an immediate cash flow problem and clean out the house, but it will hone a child's project management skills.
If you don't want to slave away at an in-person yard sale all day, you could always try selling stuff online as a way to make money from items around the house. One easy option to consider is Decluttr.
This site allows us to just scan bar-codes of products and they will instantly give you the price they pay for it.
2. Sell Your Crafts
Etsy is not only an amazing way to make some extra cash selling crafts, but it can also help younger kids tap into their inner creative selves.
Kids can sell anything from paintings to candles, and everything in between. It's a great way to learn how to develop a product that sells based on market feedback.
Time management skills also come into play due to the fact that there are so many moving parts in building an Etsy business.
This is one of the best ways to make money for kids.
3. Start a T-Shirt Business
Is your child creative and intuitively knows what people want? If this is the case, they should definitely consider starting a T-shirt business and developing their creative side as a way to make money.
This could be an additional product to sell in an Etsy shop. Or your child can sell the t-shirts on Redbubble or Cafepress, or sell them in local markets.
And there's no need to stop at t-shirts! You can put the same designs on tote bags, phone covers, and more.
4. Offer Pet Care Services
Anything from walking, washing or overnight stays with furry-legged friends, pet sitting and dog walking can be a fun way for kids to make extra money.
Older children may be able to start a Teen Caregiver account on Care.com to find pet-sitting jobs. Asking around the neighborhood is a good way to start this enjoyable income stream.
Earning potential: $17.50 per walk for dog walking
5. Take Online Surveys
Taking surveys often requires you to be over age 18, but with Swagbucks, children 13 and older can take surveys to earn money.
Lifepoints is a survey site that allows you to take online surveys starting at age 14 and offers similar payouts. You can even play video games for cash on some sites.
This is also one job that can be done in the comfort of your own home, so it's one of the best ways to make money online.
6. Start a Babysitting Business
Moms need a break sometimes. If your child is good with younger kids, this is a great option for them. Teenagers can also set up a profile on Care.com with the help of a parent.
Babysitters can often earn at least $15 per hour. But make sure that your child is mature enough to handle the responsibility that comes with this option.
This is one of the best ways kids can make money.
Earning potential: $16.75 per hour on average in the U.S.
7. Do Small Jobs Online
Older children may be able to do small jobs online via websites like Fiverr, and Snagajob. Fiverr requires a minimum age of 13 and Snagajob's minimum age is 14.
This is a great way to make some quick cash by helping people around the house when you need it.
Check out these places that hire 14 and 15-year-olds.
8. Started a Design Business
The creative field can make a lot of money! Try starting out with designing logos or smaller things for people's websites.
Businesses of all shapes and sizes use graphic designers to create the perfect image for their brands. You can offer your services on Fiverr for $5 for small graphics and you can charge more for bigger projects or add-on services.
If your kid excels at a particular type of software, they could specialize to charge more.
This is one of the top ways kids can make money online.
9. Start an Instagram Account
Mila Stauffer, has stolen the hearts of over 333,000 Instagram followers with her sassy, yet adorable videos of her thoughts. She's found an excellent way to make money online.
Want to know how old she is? She hasn't even made it to the double digits yet. She is 3 years old. And she has been able to get social media sponsorships from major players like Tylenol.
If you learn how to make money with Instagram you could pay for college before starting kindergarten! Social media can be a great way to earn money.
10. Start a Jewelry Business
Jess Lively states in a podcast episode with Pat Flynn that she accidentally started her own business at the age of 15 when she was making jewelry at a pool and people were coming up to her and wanting to purchase it.
She made a couple hundred dollars. Not bad for a day lounging around for a day at the pool.
If your child has an eye for design, this could be a creative way to earn money.
Related article: 10 Best Places To Sell Jewelry Online
11. Have a Lemonade Stand
This is a timeless way to make money as a kid.
Having a lemonade stand can teach them the ins and outs of product-oriented business with inventory control, cost management, advertising, and customer service.
It's possible to tackle this opportunity with a couple of friends and neighbors to make the experience more fun. All that your kid needs to do is stir together a pitcher of lemonade.
Plus, it's easy to add other products to your lemonade stand as the need arises. For example, hot chocolate might sell better in the winter.
12. Wash Cars
Washing cars is an excellent way for kids to get out from behind the computer and out in the sun to exercise while making money.
The start-up materials are fairly basic. But be sure to budget for a bucket, soap, rags, and towels. It's possible to charge more by offering an interior clean with the help of a portable vacuum.
And of course, you'll need access to water. You could set them up in your driveway. But many customers will let the kids access their own water hose, making this a good way to earn money.
13. Win a Pageant Show
You don't have to put on 10 pounds of makeup to make good money with pageant shows.
If your child has a specific skill set that they love doing and they are genuinely good at it, definitely sign them up for a pageant show.
These skills could include but are not limited to singing, dancing, miming, playing an instrument, etc.
14. Become a Boat Cleaner
If you live near the ocean or another body of water, this is a great way to not only make some great money but get some exercise.
Cleaning up after a boat outing isn't a chore relished by many boat owners. So, you'll find plenty of customers if you live in the right area.
If you don't live near a body of water, then consider offering to clean campers or other recreational vehicles.
15. Water Plants for the Elderly
Oftentimes the elderly are too tired or forget to water their plants. This is a great opportunity to not only make some extra cash but give back to the community as well!
If a senior needs help to water the plants, they might be looking to hire help for other odd jobs. For example, they might have to run errands, tidy up their home, or even just play a round of cards.
Local retirement communities are a good place to start looking for this kind of work.
16. Change People's Car Oil
Getting your oil changed is often one of the most dreaded tasks of being an adult. You may have to sit in the waiting room for hours at the dealership, sometimes even if you have an appointment!
If your kid can pick up the skill of learning how to change the oil and offer to let the customers wait in the comfort of their own homes, that will give your child a competitive advantage against other oil-changing services.
17. Repair Cracked Windshields
Again, this is an unpleasant and often times unexpected task that is a hassle for many people.
If your child can offer this specific service and meet their customers at their homes, this could give them a competitive advantage against dealerships.
18. Have a Bake Sale
A bake sale can be a great way to not only make some extra cash but also improve your skills in the kitchen.
You could sell your goods at a farmer's market, or maybe even a local business fair or craft show. However, it's a good idea to check on the local laws about selling baked goods before jumping in.
19. Put Up Holiday Decorations
Holiday decorations often look beautiful. But it can take a lot of time and energy to make a home look festive for the season. Many homeowners simply don't have the time to spend precious hours putting up each year.
If your child has spare time to do this task for busy parents or the elderly, they can make some extra cash and give back to the community.
20. Clean Tile Grout
This is a dirty and time-consuming job that many people don't want to do. It involves scrubbing between the lines of the tiles and showers.
It can be a lucrative job due to the fact that no one else wants to do it. According to Thumbtack, property owners pay between $0.75 to $3 per square foot to have their grout cleaned.
21. Clean Gutters for Your Neighbors
Having dirty or overfilled gutters can cost a lot of money for homeowners down the road if they are not cleaned out on a regular basis.
You can clean them out by using a portable sprayer. As an extra service, you could even install gutter guards for your customers. This will save them money and time down the road.
But you'll need a sturdy ladder to get started. And due to the risky nature of this work, it's best for serious kids or teens who can remember to be careful on the job.
22. Aerate Lawns
Yards not only need to be cut and watered, but they also need oxygen in order for the lawn to be healthy. If you own or rent an aerator, this could be a lucrative endeavor for your child.
23. Clean Furniture
Cleaning furniture may mean disinfecting beds, couches, chairs, and more. Believe it or not, furniture needs to be cleaned on a regular basis.
To make more money, try to target homes with dogs. Pet owners tend to have their furniture cleaned more often.
24. Wash Windows
Windows collect dirt and handprints that can make the interior of the space miss out on ideal lighting opportunities. You can fix that problem by carefully washing windows.
A lot of higher-end homes have tall windows and can afford to outsource this task. To maximize revenue, you can offer services for inside and outside work.
You can also offer your services to local stores with lots of windows as well.
25. Organize Closets
Many homeowners dream of an organized closet. But carving out the time to tackle this often daunting chore is easier said than done. If your child has a special gift for keeping things organized, then this money-making opportunity is a great option.
Most people don't have time or the desire to keep their closets neat and organized and may be willing to pay someone else to do it for them.
If you are looking to make money as a kid with this option, start by putting the word out to family and friends. After you do a great job, word of mouth will help you land new clients.
26. Paint the Exterior of a Home
Painting the house is a major job that homeowners often put off due to the fact that it is either too hot out or too cold.
However, kids may be able to offer this service during spring break or summer break. They can also charge a good amount of money due to the fact that it is such an unwanted task.
27. Paint the Interior of a Home
Again, this is another time-consuming task that oftentimes homeowners put off. They may be very willing to outsource it to someone else.
You'll need to be very detail-oriented to do a great job as a painter. But it's a great skill to learn. There are always homes that could use a fresh coat of paint, and you'll be there to provide what they need.
28. Paint Window Frames
Does your child have a careful hand? This can be beneficial in terms of dealing with the crevasses of the door and window frames.
Window frames need touch-up paint jobs done every so often. If you do a great job, word will get out to property owners that don't want to commit any time to this tedious task.
29. Paint Garages
Garages are often the last part of a home that gets any TLC. If your child has spare time and this has been on the to-do list of your neighbors, they may be able to help get it crossed off. For a fee, of course!
30. Paint Fences
People love to have their homes have a cohesive feel, however, that requires a lot of tedious work. If a homeowner already has everything else painted, your child might be able to step in and paint the fence to finish the job.
Homeowners are willing to pay to get their fences painted, making this a good opportunity for kids to make extra cash.
Plus, wooden fences need a coat of paint every few years to prevent deterioration. If you aren't sure where to get started, turn to a YouTube channel for helpful DIY painting tips.
31. Offer Manicures or Nail Painting
A lot of women love being pampered. Being pampered in the comfort of their own home is an added bonus and offers a competitive advantage to your child. Plus, you can likely charge less than a salon and still earn a great profit.
Consider practicing with friends and family until your nail skills are at the professional level. When you are ready, having a great set of nails offers an instant recommendation for your skills.
32. Brush and Groom Dogs
A lot of dogs need to be brushed daily and bathed regularly. However, it can be a hassle for pet owners, especially if they have long, curly hair, like a cocker spaniel.
If your child loves animals and has the patience for squirming animals, then this is a definite option for them. As a bonus, they'll get pet snuggles!
33. Change Air Filters
It can be difficult for some people to get to high ceilings and change the filters themselves. This is a great service to offer, especially for the elderly or a soon-to-be mom.
This is also a service that your child could perform regularly, giving them a chance at repeat income.
34. Install Fences
Homeowners love the idea of the white picket fence, but they don't always have the time or willpower to put that idea to fruition. If your child is handy, they may be able to help make it happen for homeowners with this money-making opportunity.
Although it can take a significant amount of effort, the feeling of accomplishment will pair well with a nice payday.
35. Clean Out Motor Homes
This is a great service to offer to people that you know who are about to go on vacation, or people that use their camper frequently.
Cleaning is never a fun task, so they are probably all too happy to hire your child to do it for them. Come to the job prepared with cleaning supplies and trash bags to tidy up the RV.
If someone uses their camper on a regular basis, they might quickly become repeat customers.
36. Shine Shoes
People have gotten so busy with work that they forget the small details that make their wardrobe seem put together.
Offering this service could put a little bit more of a pep in their step from looking sharper, as well as your child when they have a little more jingle in their pocket.
37. Dispose of Christmas Trees
People love picking out trees for Christmas, but dismantling and disposing after the fact is an entirely different scenario. It can be a challenge to tear down the beautiful setup.
This could be a great option for your child, especially if your child can drive or has access to someone who can drive, as well as a truck to haul them away.
Many cities offer tree recycling services, so you'll even be doing a bit of good for the planet.
38. Run Errands for Moms
Moms are really busy, especially new moms. Offering your services to get lunch or pick up some baby food is a great way to make some cash on the side.
If possible, advertise your services in neighborhoods that are close to popular stores. Otherwise, make sure to factor in the cost of travel time and gas when setting your rates.
39. Weed Gardens
Homeowners love to outsource this, as it is more of a tedious task. It's a win-win situation for the homeowner and your child. The homeowner doesn't have to do it and your child makes some extra cash.
Not only will you offer them a helping hand, but also get paid in the process.
40. Build Sandboxes for Families
If your child is handy, they may be able to build sandboxes for families in your neighborhood. This is a cheap way to keep that family's kid entertained for hours.
The materials to make a sandbox are fairly affordable. But make sure to consider your time and effort when pricing out this service.
41. Operate and Repair Sprinklers
Sprinklers need to be maintained and repaired from time to time. Like all things, they can break, leak, or need to be installed. For handy children, this can be a great business.
Young kids will likely need some basic tools to get started. But it could be a worthwhile investment for a DIY-inclined child.
42. Catch and Sell Lizards for Pets
If you live in a state where lizards are common (which is most of the U.S. and the world), why not catch young lizards and sell them as pets?
Lizards can make great pets for reptile lovers and can be very personable despite their somewhat off-putting appearance (I'm talking to you, moms and dads).
Note that in order to make money selling lizards, you'll have to check with your state's Department of Commerce. This is because some states have specific rules for selling lizards and other reptiles.
Also, you'll have to have habitats in your home that are conducive to keeping the lizards safe and healthy as you wait for buyers. Advertise the lizards you have for sale amongst your friends at school or via social media.
43. Collect and Sell Firewood
Everyone loves to enjoy a fire surrounded by friends and family members. However, collecting and splitting wood is not fun for everyone.
If your child loves to be outside and wants the exercise, this is a great option to make money.
It's especially useful if you have access to a free supply of wood.
44. Start a Fundraiser
If your child is looking to make money for a notable cause, starting a fundraiser is a great way to do so.
Organizing an event will also help your child practice their communication and persuasion skills.
Related Post: 9 Sites Where You Can Get Strangers to Give You Money
45. Lay Sod
More homeowners are using sod instead of seeding a new batch of grass. Laying sod is a labor-intensive job that involves a lot of time outside.
If your child can handle this task, it's another great way to get exercise while making money doing it.
46. Mow Lawns
Mowing lawns is a classic way of making money as a kid. You can not only get some extra income but work out at the same time.
If your parents have a lawn mower, ask if you can borrow it. Otherwise, consider purchasing a lawn mower as an asset to help you earn money by mowing lawns.
You can advertise your services on social media.
47. Collect and Sell Eggs
This one requires a little more maintenance as your child would have to maintain the chickens in order to collect the eggs. Nonetheless, there is a great potential for profit and make money fast.
Eggs could be sold at a Farmer's market, or just marketed locally through word of mouth.
48. Sell Flowers
If your child has a green thumb and a knack for arranging flowers, they may be able to sell flowers for the various holidays and events throughout the year.
People get busy with work, kids, and other issues that can come up in life. However, they still know and want to show appreciation for their loved ones on holidays.
If your child is in the right place at the right time, they could make a killing.
49. Sell Glow Sticks
If your child has an entrepreneurial spirit then this is a great seasonal money-making opportunity for them.
Your child can buy glow sticks for cheap when they are on sale and sell them at major events like the Fourth of July and make money fast.
50. Tutor Others
Have your child become a tutor for kids in their class who struggle in the things that your child excels in.
Is your child really good at math or can he or she churn out beautiful papers? If so, this is a great way to make cash, practice communication skills, and help others.
If tutoring is not your thing but you know how to play an instrument, you could even consider giving music lessons.
51. Create a YouTube Channel
It is amazing how many young kids are making money on YouTube these days. If you like making videos and can be consistent, this can be not only a fun hobby but a way to make some money as well.
You can make money from ads, selling products, landing sponsorships, working with brands, or licensing your content on your YouTube channel.
Your channel could include anything from tips on playing video games to music lessons and more.
Take a closer look at YouTube as an income stream in this full piece.
52. Sell Your Photos
Do you like taking pictures with your phone? Do you have an eye for getting the perfect shot?
Well, there are actually sites out there like iStock and Shutterstock where you can sell your photographs for their stock photography library.
In addition to selling photos, you can also earn money by selling drone footage, videos, and vector graphics. This is a fun way to turn a hobby into an income stream.
53. Get a Paper Route
Although the newspaper is not as common as it used to be, this is still a way to make some extra cash as a kid.
You can deliver papers early in the morning, which makes this a good option if you are still in school and can't work a job during the day. Check with your local newspaper to see what the requirements are to get started.
There are even online tutoring gigs available that help address any transportation hurdles.
Summary
The options for making money as a kid are plentiful, especially in this day and age. Making extra money doesn't have to mean slaving away and working at a minimum-wage job that your kid doesn't like.
Having a little bit of creative thought and knowing their natural talents cannot only prove lucrative for your child but can help them learn new skills and hone their talents as well.