The cost of living is high, and many people are looking for ways to earn extra money to pad their bank accounts. However, it can be difficult to sort through all the options to find the best side gig for your unique situation.
If you're looking for the best odd jobs to make money, look no further. We've compiled a list of unusual jobs that pay well and will fit almost any skill set or schedule.
Top Odd Jobs to Earn Money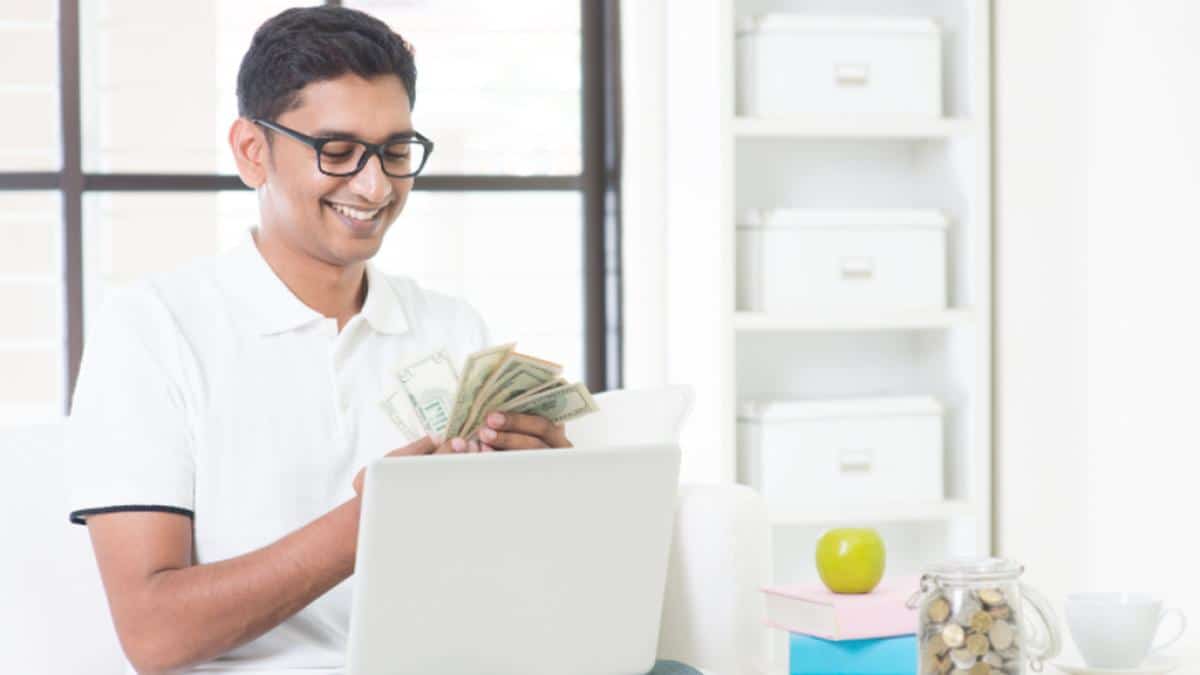 Whether or not you have experience, there's a side gig out there for you. In fact, you might be surprised at how much you can earn while doing some of these unusual jobs.
In order of highest earning potential, here are the best odd jobs to make money.
1. Professional Cuddler
Would you consider working as a professional cuddler? Professional cuddlers provide platonic affection to clients and can earn good money doing so.
In this odd job, you might cuddle with your client on a couch as you watch a movie or hold hands as you walk in the park. Or, you might just hang out and talk with your clients, giving them an occasional hug.
Professional Cuddlers meet with clients in the client's home, the cuddler's home or a public place.
Signing up with a professional cuddling company, such as Cuddle Comfort, is probably the best way to find jobs in this industry. Using a professional cuddling company will help ensure your safety as you work as a cuddler.
This might be a good odd job for you if you like caring for others.
Earning Potential: $40-$100 per hour
2. Freelance Gigs
When it comes to the best odd jobs to make money, you'll want to look at your own skill set. This is because you might be able to earn money by freelancing any of your current skills.
Some of the skills you can use to freelance and earn extra cash can include:
Freelance writer
Resume writer
Lawn and landscaping skills
Teaching music lessons
Cutting hair
Wardrobe consultant
Organization consultant
Interior decorator
Photographer
Website designer
Graphic designer
And more. Start by writing down a list of your current skills and interests. Then you can search for ways to earn money by using those skills.
For instance, if you have graphic design skills, you could design and sell t-shirts and other items on sites such as Redbubble or CafePress.
Alternately, you could use your writing skills to create resumes for college students or write freelance articles for websites or blogs.
We all have skills that others don't. You might as well use yours to earn extra cash.
Earning Potential: $20-$60 per hour
3. TaskRabbit
When you become a Tasker for TaskRabbit, you can sign up to complete a variety of jobs that pay well.
Some examples of tasks you might be able to do on TaskRabbit include:
Help someone move
Small handyman tasks
Assemble furniture
Grocery shopping
Online tasks
Errand running
And more. TaskRabbit has over 50 categories you can choose from if you want to work as a Tasker.
As a Tasker for TaskRabbit, you will pay a $25 registration fee when you sign up. All other fees are paid by clients.
In addition, you get to choose the hourly rate you charge as a Tasker, while TaskRabbit handles all client payments for you.
Earning Potential: $21-$50 per hour
4. In-Home Makeup Artist
Do you have a gift when it comes to applying makeup? If so, you can use that talent to create an odd job earning good money by starting your own in-home makeup business.
Many people hire in-home makeup artists to do their makeup for weddings or other special occasions. You could even reach out to local theater companies near you and find work as a makeup artist.
Be sure you can apply a variety of different looks, from natural to outlandish, so that you can develop a large customer base.
Additionally, you can advertise your services on local buy/sell sites and social media channels. Moms of teens are always looking for creative birthday party ideas. Host a makeup party is a great way to get your name out there.
Earning Potential: $15-$50 per hour
5. Mobile Dog Groomer
If you have skills as a dog groomer, you can earn a decent hourly wage by offering mobile grooming services.
This side hustle will require you to have certain equipment. You'll need grooming tools and a water supply for this odd job unless you're planning on using your client's water source.
Higher-end professional groomers often have vans that carry water and other resources. Other mobile dog groomers bathe and groom dogs in the client's homes.
Grooming in a client's home is the most cost-effective route if you're going to start a mobile dog grooming business.
Be sure to check out your state's licensing requirements for providing dog grooming services so that you don't get fined.
Earning Potential: $15-$35 per hour
6. Virtual Assistant
As a virtual assistant, you'll complete various tasks for clients right from the comfort of your own home. It's one of the most flexible odd jobs.
Virtual assistants are similar to administrative assistants in that they assist business owners or individuals with a variety of tasks.
Tasks you might be asked to complete as a virtual assistant include:
Answering or returning phone calls
Making appointments
Managing social media accounts
Overseeing a blog or website
Bookkeeping
Managing a social and business calendar
Booking social or business trips
And more. You might also be asked to perform customer service or data entry duties as a virtual assistant.
Your hours will vary based on the individual job, as will pay. That said, you can earn good money with this odd job.
If you are organized and like helping people, you might be a good fit for a virtual assistant job or business.
Earning Potential: $15-$35 per hour
7. Tutoring
Are you great at teaching others? If so, you might like the odd job of working as a tutor. There are a variety of tutoring opportunities available, both online and in person.
For instance, you could teach reading and math online with a site like BookNook.
Other options for tutoring online include teaching science, Social Studies, Economics and other subjects.
You can teach any age, from preschoolers to adults. Most online tutoring sessions run between 20 and 55 minutes.
If you want to tutor kids in person, you can work at tutoring centers near you. Alternately, you can start your own tutoring business teaching subjects you like teaching the best to whatever ages you prefer to teach.
Keep in mind that some tutoring companies require a teaching degree or a Bachelor of Arts degree in order for you to tutor with them. Other companies simply need you to pass an online test to show competency.
Earning Potential: $10-$35 per hour
8. Bounty Hunter
Working as a bounty hunter is another odd job that can pay well. As a bounty hunter, you'll work to find criminals on the run.
Bounty hunters earn a cash reward when bringing escaped criminals or bail jumpers to the proper authorities.
While most bounty hunters don't make the kind of cash that the notorious Chapman family makes (i.e., Dog the Bounty Hunter), bounty hunting can be somewhat lucrative as a side hustle.
The hourly wage you earn is dependent on two things. This includes the reward for the criminal you capture and how many hours it took you to capture the criminal.
Earning Potential: $21-$30 per hour
9. Clinical Trials
When you join clinical trials, you'll get paid to participate in clinical studies. This odd job can range in responsibilities from taking medications to completing certain actions.
It's important to note that these studies require specific participants based on age, health history and more.
In addition, most clinical trial study companies will only allow people to participate in studies a few times a year.
Earning Potential: $10-$30 per hour
10. Dog Walker/Pet Sitter
If you love dogs, one of the best odd jobs that pay well is being a dog walker or dog sitter.
As a dog walker, you'll walk dogs for people who don't have the time to do it or the ability to do it themselves. Or, when working as a dog sitter, you'll care for dogs when the dog owner is out of town or away for the day.
You can advertise your services on a site such as Rover. The site lets you create a profile for those seeking pet services to view.
This can be a great side hustle if you like dogs and have a flexible schedule that allows you to care for them.
Earning Potential: $12-$25 per hour
11. Line Stander
As a professional line stander, you can get paid to stand in lines for concert tickets, media events, prize giveaways and more.
You'll get paid to stand in line for the event, and you text your client when you get close to the beginning of the line.
At that point, your client will come and trade places with you, give you your earnings and you can go on your way.
You can find line stander jobs on task sites such as TaskRabbit or advertise your services and search for odd jobs on sites such as Craigslist.
Earning Potential: $9-$25
12. Delivery Driver
Another way to earn money with an odd job is to work as a delivery driver. You could deliver restaurant food, packages, groceries and more.
For instance, working at DoorDash will help you make good money by delivering restaurant meals to people.
Although your per-delivery wage might be low, you can earn tips that can help increase your overall income.
The best delivery apps let you choose which jobs you take, which hours you work and more.
Earning Potential: $8-$25 per hour
Do you like driving? If so, why not work as a rideshare driver? Rideshare drivers are on-demand drivers that take people from point A to point B.
When you're a rideshare driver, you can choose the days, hours and times that you work. You can even choose the rides you accept during your shift.
Pay can vary based on the time of day you work, the location of the ride, the day of the week and more.
While the hourly wage for this odd job isn't very high, you do have the potential to earn tips if you provide great service. Tips can boost your income exponentially.
Check out our article on Lyft vs. Uber for more information on becoming a rideshare driver.
Also, be sure to take your vehicle's gas mileage and other factors into play before choosing this as a side hustle. The better gas mileage your car gets, the more money you'll earn as a rideshare driver.
Earning Potential: $8-$25 per hour
14. Space Filler
As a space filler, you could get hired for several different odd jobs that pay well. For instance, you could be hired as an extra on a movie set.
Movies often need space fillers and extras to take up spaces in a restaurant, shopping mall or other crowded space for scenes.
Other companies hire space fillers to take seats at galas or other events. You'll need to contact a casting service near you to get more information on available jobs.
Sites such as Crowds on Demand can help you find jobs to be space fillers in a variety of venues.
Note that these types of odd jobs can often require long days and many hours of standing or sitting as you wait until you're needed.
Earning Potential: $10-$20 per hour
15. Amazon Mechanical Turk
Amazon Mechanical Turk (also called mTurk) hires people to do online tasks that require some level of human intelligence to complete.
As an example, you might complete tasks such as transcribing audio or doing data entry work.
Although pay is low for most tasks, there are often many opportunities available. Your speed at completing a task can help you earn more, as many odd jobs are paid by the job and not by the hour.
For instance, if you choose to complete a data entry task, you'll earn the same amount of money no matter how fast you type.
However, if you complete the task quickly, you can move on to another task faster, thereby increasing your hourly rate.
Working as a contractor for mTurk is one of many online jobs that can pay well.
Earning Potential: $5-$12 per hour
16. Craigslist
Can you earn money on Craigslist? Yes, but it depends on what services you offer.
You can sell your stuff on Craigslist and earn as much as you can by clearing your house of unwanted stuff.
It's also possible to earn good money by offering services such as house cleaning and lawn mowing on Craigslist.
Search your local Craigslist website for how to earn money through odd jobs.
Earning Potential: $5-??
17. Complete Small Tasks
Another side hustle idea is to complete small tasks. Companies such as Clickworker will hire you to complete small odd jobs, including data entry jobs, answering questions, translation jobs and more.
Although the pay isn't substantial, you do get to work from home and choose your own schedule when you work for companies that pay you to complete short tasks online.
Earning Potential: $1-$10 per hour
18. Complete Surveys
If you like sharing your opinion, you could earn money by answering surveys. Survey sites like Survey Junkie need your opinion to help companies develop products and services.
While the pay for these types of odd jobs isn't high, you can work from home.
In addition, the best survey sites let you choose the surveys you want to complete based on the pay level and how long the survey will take.
Earning Potential: $1-$5 per hour
19. Screen Phone Calls
If you're searching for odd jobs that pay well and don't require any human interaction, this might be the job for you.
Companies such as Humanatic hire call screeners to assess phone calls between company customer service reps and their call-in customers.
As a call screener, you simply listen to the calls and answer a few questions about the call. Then you're done.
Unfortunately, the pay for this odd job is quite low, especially for beginner call screeners. However, call screening companies often promise higher pay once you've proven that you can do the job well.
You can choose the times you work, the days you work and review as many or as few calls as you'd like.
Working as a call screener is one of many great work-from-home jobs.
Earning Potential: $1-$4.50 per hour
20. Rent Your Stuff
Do you have items you could rent out for others to use? You could rent out your car, your boat, your snowmobile, your ATV or other recreational equipment as an odd job.
Sites like Turo or Hyrecar help you list your car to rent out to others. You choose your fee, and Turo charges a small commission for helping you set up the rental agreement.
Turo takes care of insuring your car and collecting the payment. You simply provide the vehicle and share open rental dates as well as times on your Turo profile.
Renting your stuff could be especially lucrative if you live in an area where there are lots of activities and action.
For example, you could rent out your car often if you live in a major city. Otherwise, you could rent out sports equipment if you live in an area where boating, skiing or other sports are popular.
Earning Potential: $30-$250 per day
21. Rent Extra Space
If you have extra space you're not doing anything with, you could turn it into an odd job and rent it out to earn some extra cash.
For example, you can rent a spare room in your house to someone in need of housing. Or, you can rent your garage or basement storage area to someone who needs a place to put their stuff.
With Neighbor, you can rent out your garage, your attic, your basement or even a parking pad for non-residential use.
You decide how much you'll charge to rent your space, and Neighbor will take a 4.9% plus $0.30 fee for connecting you and your renter.
Another option for renting your space is to use PeerSpace. With PeerSpace, you can rent out an office, warehouse or other space for business owners who need an office, party space or a location for other events.
As with Neighbor, PeerSpace will charge a fee for connecting you with your clients. You choose your rental price.
You could advertise renting your extra space online with buy/sell sites as well.
Earning Potential: $3-$200 per day
22. Sell Your Used Clothes
Do you have a lot of clothes or accessories you no longer wear or use? Would you consider selling those items in order to earn some extra cash?
Used clothing and accessories are often hot sellers on sites like Craigslist and other resale websites.
For instance, Poshmark will help you sell your higher-end clothing and accessories.
If you want to sell various types of clothing as an odd job, from high-end to value brands, consider Letgo or Mercari.
Or simply have a garage sale and let the buyers come to you. Price your items at 10-50% off retail prices to attract the largest audience.
Depending on how many extra clothing items you have and what condition they're in, you could make hundreds or thousands of dollars when selling your used clothing.
Earning Potential: $5-$75 per item
How The Best Odd Jobs Compare
| | | |
| --- | --- | --- |
| Odd Job | Earning Potential | Experience Needed |
| Professional Cuddler | $40-$100 per hour | No |
| Freelancer | $20-$60 per hour | Yes |
| TaskRabbit Tasker | $21-$50 per hour | Yes |
| In-Home Makeup Artist | $15-$50 per hour | Yes |
| Mobile Dog Groomer | $15-$35 per hour | Yes |
| Virtual Assistant | $15-$35 per hour | Yes |
| Tutoring | $10-$35 per hour | Yes |
| Bounty Hunter | $21-$30 per hour | No |
| Clinical Trials | $10-$30 per hour | No |
| Dog Walker | $12-$25 per hour | No |
| Space Filler | $10-$20 per hour | No |
| Line Stander | $9-$25 per hour | No |
| Delivery Driver | $8-$25 per hour | No |
| Rideshare Driver | $8-$25 per hour | No |
| Amazon Mechanical Turk | $5-$12 per hour | No |
| Craigslist | $5-??? | No |
| Complete Small Tasks | $1-$10 per hour | No |
| Completing Surveys | $1-$5 per hour | No |
| Screen Phone Calls | $1-$4.50 per hour | No |
| Rent Your Stuff | $30-$250 per day | No |
| Rent Your Space | $3-$200 per day | No |
| Sell Your Used Clothes | $5-$75 per item | No |
Summary
If you need some extra cash, there are many great odd jobs out there you can work to pad your budget.
Search through our list and try your hand at a few different unique jobs and find the ones that work best for you.