Have you ever wondered how to make $5 fast? The truth is that if you learn enough ways to make $5 fast, you can combine the ideas.
Then suddenly you've learned how to make $100 in a day instead of just a fast $5. Choose to find some effective ways to invest that $100 and you'll be building wealth in no time.
How to Make $5 Fast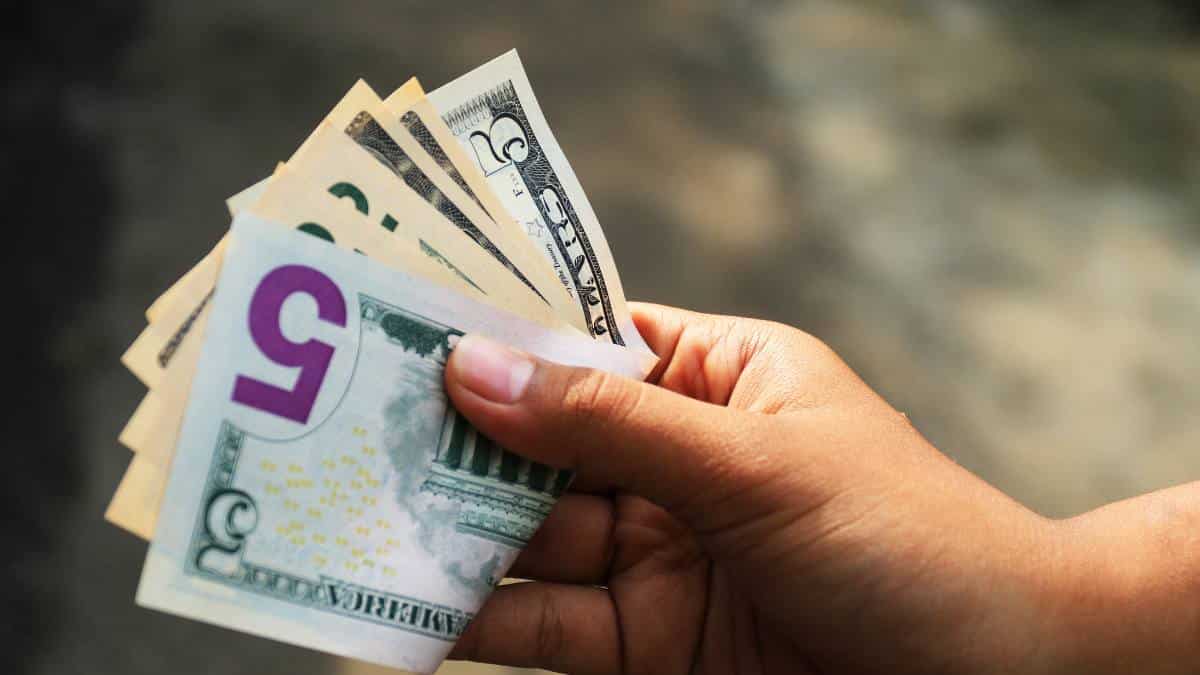 $5 may not seem like much money. But you might be surprised at how fast a few $5 bills can add up to much, much more. Especially if it is free money.
Using the list below, learn which of the ways to make a fast $5 work for you. Then use those ideas to make money and reach your financial goals, whether that be to invest, pay off debt or save for your dream vacation.
1. Sell Unused Gift Cards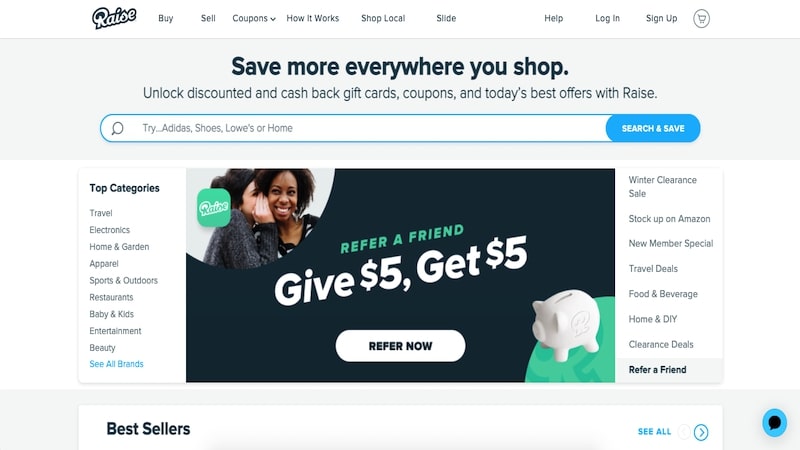 Do you have unwanted store gift cards lying around? Maybe you got a free gift card for Christmas and forgot to use it? Why not sell them to earn some quick cash?
When you use Raise, you can sell your unused gift cards on a worldwide marketplace. Raise will allow you to list gift cards from thousands of retailers.
Eager buyers browse the listings on Raise and then buy cards when they're interested. After your gift cards sell, Raise deposits the funds into your Raise account.
From there, you can choose to have your earned funds deposited to your PayPal account. Or you can ask for an ACH deposit to your bank account.
Note that Raise will take a 15% commission fee off of your sales price. Bonus tip: You can earn an extra $5 when you refer friends who then use Raise.
2. Earn With Ibotta
Ibotta helps you earn cash when you shop for groceries. The process is easy: Just download the Ibotta app for free.
Then search grocery stores you shop at for money off of your favorite brands. There are also discounts on non-brand items such as "any bread" or "any one-dozen eggs."
When you complete your purchase and take a photo of your Ibotta receipt on the app, you'll be credited for the amount you save. This app is a great way to make money or get free gift cards.
You can get your credited funds transferred as cash to your PayPal account. Or you can use the funds to buy store gift cards.
Note that Ibotta works both in-store and for online shopping purchases.
3. Complete Short Tasks
Another way to earn $5 fast is to complete short tasks. You can do this on your own by reaching out to family and friends to see what tasks they would pay you for.
Or you can sign up to be a Tasker on TaskRabbit. Taskers on Taskrabbit create a profile to offer tasks such as yard clean-up, cleaning tasks, moving services, handyperson services, and more.
You choose your hourly wage, and then people pay you through TaskRabbit when your task is complete.
You keep 100% of what you earn, plus tips! And TaskRabbit deals with the money end of it so you don't have to.
4. Sign Up With Fiverr
Signing up with Fiverr is another way to earn $5 fast. In fact, that's what the site is all about. You'd create a profile on Fiverr offering services such as:
Writing a song
Writing a poem or letter
Drawing a picture
Doing short graphic design tasks
And so on. You choose the amount you will charge for each task. Choose to offer tasks you can complete quickly to make money fast.
And although the target task would cost users $5, you can definitely charge more for bigger tasks.
You can withdraw your earnings via PayPal or via bank transfer. Note that Fiverr will keep a $20% commission on your sold services.
You'll want to keep that in mind when you price your services.
5. Sell Unwanted Stuff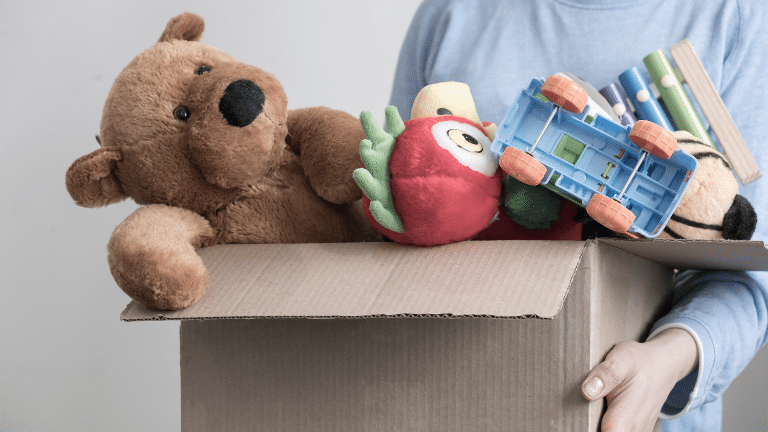 Do you have unwanted stuff lying around in your home, garage, basement, or storage unit? Sell it now to earn $5 fast.
Use apps like OfferUp to list your items for free. Then rake in the cash when they sell.
OfferUp doesn't charge any fees for most listings/sales. Similar sites like Craigslist usually don't charge you a fee to sell your stuff either.
The nice thing about a lot of these sites and apps is that you can sell locally, which means you'll get your money quickly.
Pro tip: Only accept cash when selling locally. You'll avoid paying fees and avoid potential scams. Selling your stuff is a great way to declutter your home and make cash at the same time.
6. Use the Trim App To Cancel Unwanted Bills
The Trim app is an app that searches your financial transactions to find unwanted bills or subscriptions.
Nearly everyone has monthly or annual subscriptions they no longer want or use. When the Trim app finds these costs, they ask you if you want to continue paying them.
If you reply "no", Trim will call the company and get the subscription or charge canceled on your behalf.
Trim also works to lower bills that you do want to keep, such as utility charges, insurance bills, and cable TV costs.
They'll call the company and negotiate a lower price for you, or find a cheaper service.
7. Sign Up for Swagbucks
Swagbucks is a GPT (get-paid-to) site that will pay you $10 just for signing up. Who doesn't love a little free cash?
With Swagbucks, you earn points for doing micro tasks and other activities on the site.
Earn points called SB for doing the following:
Taking online surveys
Watching videos
Playing games
Shopping online
You can convert the SB you earn into PayPal transfers to get super-fast cash. You can also use your points to get free gift cards from popular retailers.
Swagbucks is free to use and is available to everyone aged 13 and older. It can be found on the Google Play Store or Apple App Store.
8. Walk Dogs For Others
If you like dogs, you might consider doing dog walking for extra cash. Dog walkers can often easily earn $10 per hour per dog.
Walk one dog for one hour and you've got a fast $10. Add a few other dogs into the mix and you can earn even more.
Ask family members and friends if they want their dogs walked. Put an ad in your neighborhood Facebook Marketplace. Or put a flier up at a nearby grocery store or local gas station.
Or sign up on a site like Rover and create a profile that nearby dog owners can find you on.
With Rover, you set your price and Rover handles the details. You can earn even more money if you add dog sitting to your list of available services.
See our complete Rover review for more details.
9. Search Craigslist for Gigs
As we talked about earlier, Craigslist is great for selling your unwanted items. But did you know you can also find gigs on Craigslist to make extra money?
The Gigs section on Craigslist's home page contains short jobs in a variety of areas that could help you earn $5 really quickly.
As with any job ad, be careful to use discernment and practice safety rules when working with people online. Look out for scams that say you can make money fast. And ask for references.
10. Test Websites and Apps
Did you know that there are companies that will pay you just for testing websites?
Companies such as User Testing work to help business owners to ensure their websites are working properly.
By simply sitting at your computer and running a list of specified activities on a site or app, you can earn some extra money.
Read our article on how to get paid to test websites for more information.
11. Join a Focus Group
Focus groups are groups of people that work together to test products and services.
Companies such as Pinecone Research will organize focus groups for manufacturing companies to test potential products.
These focus group meetings often pay much more than $5 for a couple of hours of your time and your opinion on a developing product.
You'll participate in the focus group and walk out the door with a check for the pre-specified pay amount. Your cash rewards options include bank transfers and virtual free gift cards.
See our full Pinecone Research review for more information.
12. Get Paid to Shop (Rakuten)
The Rakuten app will pay you in cash when you shop online through the app. Just download the Rakuten app onto your phone or use it on your PC.
When you access stores through the Rakuten app, and complete your purchase through Rakuten, Rakuten will pay you the specified cash back.
Get cash back for shopping at popular stores such as Walmart, Macy's, and Petsmart. You can get cash back for travel bookings as well. You make money just for shopping.
Your earnings will be credited to your Rakuten account, and Rakuten will send you a check for your earnings.
You basically get free cash for purchases you were already planning to make.
See our full Rakuten review here to learn how to make extra cash with Rakuten.
13. Deliver Meals
If you like driving, you could make a fast $5 by signing up with DoorDash. DoorDash will pay you for delivering meals to customers.
You'll use the DoorDash app to decide which deliveries you want to take. Then you pick up the meal from the restaurant and deliver it to the customer.
Not only will you make money on a pre-specified amount of cash for food delivery, but Dashers often earn tips as well.
Earn even more during busy times such as Friday and Saturday nights. See our DoorDash review for more information.
14. Take Surveys
There are several companies that will pay you for taking surveys, enabling you to make $5 really fast.
Companies such as Opinion Inn give you surveys to take and will pay you a specified amount for each survey you complete.
These companies want your opinions on new and developing products and services in order to help companies develop better products and services.
Bonus: Opinion Inn will give you $10 just for signing up with a new account. Surveys take anywhere from 5 to 20 minutes each, which makes them a great way to make money in your spare time.
15. Get a Bank Sign Up Bonus
Did you know that you can earn $25, $50, $100 or more when you sign up for a new bank account with a bank that offers sign-up bonuses?
Banking apps such as Aspiration and SoFi Insights will often give you money just for opening a new bank account. And who doesn't like free money?
Depending on the deal a bank or banking app is offering at the time, you can earn $10 or more when you sign up.
Note that some of these bank bonuses come with stipulations. You may have to deposit a certain amount of money to earn the bonus.
Or you may have to set up a Direct Deposit with the bank. See each bank bonus Terms page for detailed information.
16. Deliver Groceries (Instacart)
Not interested in delivering restaurant meals? How about delivering groceries? There are many ways to deliver groceries these days. Amazon offers Amazon Fresh and Whole Foods. One of the more popular options is Instacart.
When you sign up with Instacart, you can earn money for every delivery you make. Many clients also pay a tip to their delivery person.
Just pick up the grocery delivery from the local grocery store and bring it to the client. You can earn extra money when you shop for groceries and deliver them.
Read our Instacart review for more information.
17. Join Fundrise
Fundrise is an investment site that will help you invest in real estate for as little as $10. And you get a sign-up bonus when you open a new Fundrise account.
If you have an interest to make money in investments, this might be a viable option. Invest in real estate, private loans, and venture capital, with the potential to earn higher returns at an affordable investment dollar amount.
Fundrise does charge an annual fee of up to 1% when you invest with them. Build a portfolio of private assets like real estate and venture capital.
Frequently Asked Questions
How can I make $5 instantly?
Likely the fastest way to make $5 instantly is to sign up for a GPT service like InstaGC which pays instantly when a task is done. Other sites like Swagbucks allow you to play games online and make 5 dollars fast.
How can I get $5 sent to my PayPal account?
Swagbucks and similar sites will often send the money you earn to your PayPal account upon your request.
How to get $5 for free from the Cash App?
You can get a free $5 bonus just for signing up to use the Cash app. The Cash app is an app that helps you give and receive money, stocks and bitcoin.
Summary
We've shown you how to make $5 fast in a number of different ways. From playing games, shopping online, taking online surveys, and more. Use the list here to make money for whatever you need it for. Some options give you free money just for joining.
This is a great way to make money. Pay your bills, build up your emergency fund, save money for early retirement, or save for that new car. The choice is yours!