Are you dreaming of more flexibility in your life? Many people aspire for the perfect job. For many, it would be staying home and getting paid while working in whatever attire they want (hello pajamas!). Becoming a Virtual Assistant (VA) is a way you can achieve your goal and earn money.
This too was my dream, I am a virtual assistant who makes over $10,000 a month. I have written this guide to help you learn how to become a virtual assistant.
If you are unsure where to go next, the information below can guide you through the process.
How to Get Started as a Virtual Assistant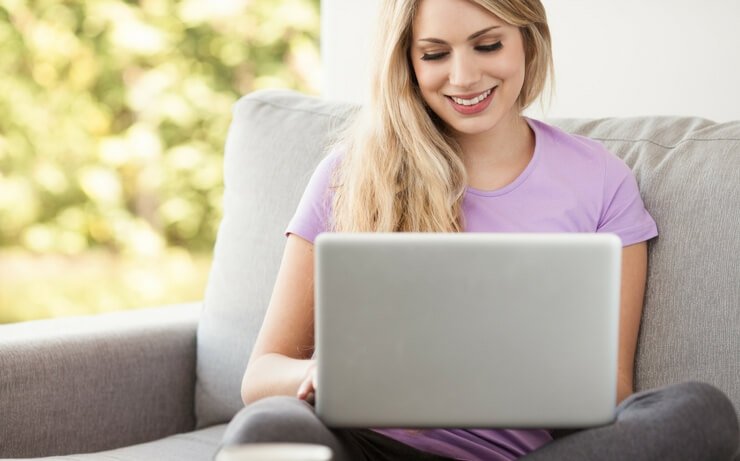 Having a good background and understanding of the online business world is essential to starting your own business as a virtual assistant.
But it takes more than that to get your start. There are legal and tax considerations as well as paperwork to file all before the actual work begins.
There are training courses available to help you get started as a virtual assistant. These courses can give you tips and pointers that increase the probability for you to get a good start in your business.
Below are some of the things you must do to work from home as a virtual assistant.
1. Decide What Services to Offer
Deciding whether or not to work exclusively for one business or many clients instead plays a part in what services you offer as a virtual assistant.
When you work for only one company you are somewhat constrained by their business needs. You also have the opportunity to become somewhat specialized in one or two areas.
If you get very good at what you do there is a great potential for making a good income.
If you would rather work with several clients you can have more versatility in the services you provide. This is a good way to keep your options open if you worry about working for a single client and then losing their business.
Other factors to consider when deciding what services to offer include your own experience, knowledge, and passions.
2. Create a Website
Creating a website is an important part of becoming a virtual assistant. It gives potential clients a place to go where they can see work you have done as well as testimonials and how to reach you.
You want to appear professional at all times so put some thought into your website as you build it. Consider how others would view it and think about having a successful, trusted friend give you feedback.
Market Your Services
Marketing can be done is a variety of ways. Decide on a couple and use them regularly. If you aren't sure which to choose, consider those that will be fun or that you already know how to do.
When you have fun doing your marketing you will be more likely to get it done consistently each day.
Here are some marketing options you can choose from:
Cold calling or emailing
In-person networking
Social media
Blogging and guest blogging
Public speaking
Printed advertisements
Recommendations and endorsements from others
Facebook groups
After you make the first contact with a potential client it is important to also do follow up. Try calling a second time or sending a second email just to make sure the first ones weren't missed.
If your list is large, try contacting five or six business or individuals daily to build a steady client base. Remember to also ask for other leads or referrals to give you new prospects and continue building your business.
3. Invest in Your Business
Those that excel in their fields in the professional world do not sit idly by once their businesses are up and running. It is important that you don't either.
Invest back into your business after it is established is important to future growth.
Obviously one option is to take additional training courses. But you can also read books, attend conferences, engage in group discussions, watch and listen to webinars, and hire a business coach to mentor you.
Each of these options will help you learn more and sharpen your skills. With continuous learning and improvement you can make your virtual assistant business grow to be successful and profitable.
4. Find an Outside Job
If you would rather work for one company than for a multitude of clients, there are plenty of ways you can get a job. You can still market yourself in many of the ways listed above.
In addition you can look on job boards, or search the internet.
It helps if you use search bars and type in the words "virtual assistant" as you look for jobs suited to you.
A few of the job boards to try are:
Monster
Indeed
Assistant Match
Career Builder
People Per Hour
Job Duties of a Virtual Assistant
To become a virtual assistant, or VA, you must have good computer and communications skills. Your online job duties would be to provide professional support to the companies or individuals who are your clients.
This means you would do many different tasks for them depending on their needs and your skills. The responsibilities of a virtual assistant are nearly limitless and basically include anything you can do by phone or computer.
Some examples of work performed by a VA are:
Providing technical assistance
Scheduling social media posts and campaigns
Invoicing customers
Handling accounts receivable
Making phone calls
Sending and answering emails and other messages
Conducting research over the internet
Proofreading and editing
Making appointments
Data entry
Managing Facebook, Twitter, and other social media accounts
Blog management
Marketing
Graphic design
Customer service
Client consulting
Creating newsletters
There are even different types of virtual assistants, so you can choose to specialize in certain types of tasks you enjoy, or you can work as a general VA and be responsible for a variety of different tasks.
Should You be an Employee or Contractor?
It is possible to work as a virtual assistant for another individual or business. Or you can be self-employed and contract with only the businesses you decide to work with.
The advantage of working as an employee of a single business is that you won't have to find a bunch of clients to make a good income. You also have a guaranteed paycheck as long as you come to work and do your job.
The downside is that your hours, pay, and any other benefits will be decided by that employer. You have very little authority or control over anything.
On the flip side, when you are a contract worker, you don't have the luxury of a guaranteed paycheck. In addition, as a self-employed contractor, you have to pay self-employment taxes on a quarterly basis.
You will also have the task of finding your own clients. Without them you won't have a paycheck at all or be able to pay your own bills.
Obviously, there are some good points too, such as being able to decide your own schedule as well as which clients to work with and which ones to turn down. You have full control over your rates and start-up costs are low.
To get started as a virtual assistant, you will need a computer, internet connection, printer, scanner, website, cell phone, and business cards. If you are concerned about setting up a website try Bluehost. They make it easy.
How to Get Virtual Assistant Training
You don't have to have a lot of training or a special degree to do virtual assistant work. However, you do have to be able to manage time well and be organized. Good communication skills are also extremely important.
For instance, you may learn how to approach and sign your first client, set prices, and market the services you offer.
Furthermore, they can also show you what not to do so you can avoid mistakes and blunders that could hurt your business.
Some will even teach you how to outsource some of the work so you can increase your business to its full potential.
Some of the courses available for you to take are free and others are not. Keep in mind that just because a class is free doesn't mean it will give you the best value.
At times, paying a few hundred dollars for training is well worth the investment and will pay you back many times over.
There are also virtual assistant groups, forums, and associations that you can join. These offer great discussion and tips, coaching, and networking options. Their guidance can be helpful as you approach unfamiliar situations.
How Much Does a Virtual Assistant Make?
Just as the job duties of a virtual assistant vary widely, so does the amount of money you can make as a virtual assistant. Although it partly depends on the services offered, it also matters how much experience you have.
Beginning virtual assistants start around $12 an hour. Possessing experience and skills can increase the pay to as much as $60 per hour or more. As a home based business of your very own, there really isn't a limit to how much you can make.
For example, I work as a virtual assistant and I earn over $10,000 per month. I have also started an online course called $10k VA to help other people start and scale their own virtual assistant businesses to do the same.
If you want to work from home as a virtual assistant you are control of what you charge. You have the option of setting up your billing by project, by the hour, or as a package of services if you choose.
You can take on as many clients as you have the time for. The number of hours you work is completely up to you.
If you wish to only do virtual assistant work part-time, you can. Or, if you want to work 40 or more hours per week and make a higher income, that is an option also.
Why Businesses Hire Virtual Assistants
Hiring a virtual assistant offers many advantages to business owners and individuals. Some of them include the following:
Lower Costs
Any successful business has to manage costs. That is just one of the reasons a business might hire a VA. It's far cheaper to pay someone by the hour to do the specialized work that others can't than to hire another full time employee, especially if full time hours are not needed to complete the work.
No benefits have to be paid to contract workers such as virtual assistants significantly lowering costs for those who hire them. Vacation pay, sick leave, health insurance, retirement plans, and other benefits are not included in contract arrangements.
Of course, there are other benefits as well. Employers and clients do not have to find space to put another body or pay for a desk and supplies. This further reduces their overhead costs.
Extensive training is not necessary for most virtual assistants. Not having to invest in a significant amount of training saves both money and time for the business owner contracting with them.
But it is also helpful when the reverse is true. If the virtual assistant has technical knowledge the client lacks, it can save the client from having to waste time figuring it out.
Saving Time
Another advantage for the client is time savings. Contracting with a virtual assistant allows the client to maximize their time by passing off tasks that can be done by others. This allows the business owner to complete projects they have expertise in and pay someone else to do the more mundane tasks.
There's also no time lost due to workplace drama for the business owner when they hire a contractor. You won't catch a virtual assistant gossiping on company time, coming in late, or taking paid breaks. These are a few more reasons virtual assistants are appealing to their customers and clients.
Flexibility
Many virtual assistants offer flexibility to their clients that regular employees can't provide. For example, a virtual assistant might work over the weekend or during evening hours to get a project completed. Employees, on the other hand, will work their shift and go home whether or not a task is finished.
Of course, you may have to pay more for a virtual assistant to put in those odd hours, but if they'll do it, your project may be finished sooner.
Honest Feedback
The employees in a business may be too afraid of losing their jobs to be honest when asked their opinions. However, a virtual assistant most likely has other clients that pay for their services as well.
This means they are less threatened by potential job loss and will give honest feedback when asked.
Having honest feedback is important to a business owner or client because it can help them avoid costly mistakes at times.
Summary
If you want to stop dreaming about the perfect job and turn your visions into reality, consider learning how to work from home as a virtual assistant. Plenty of other people have done it and you can do it too.